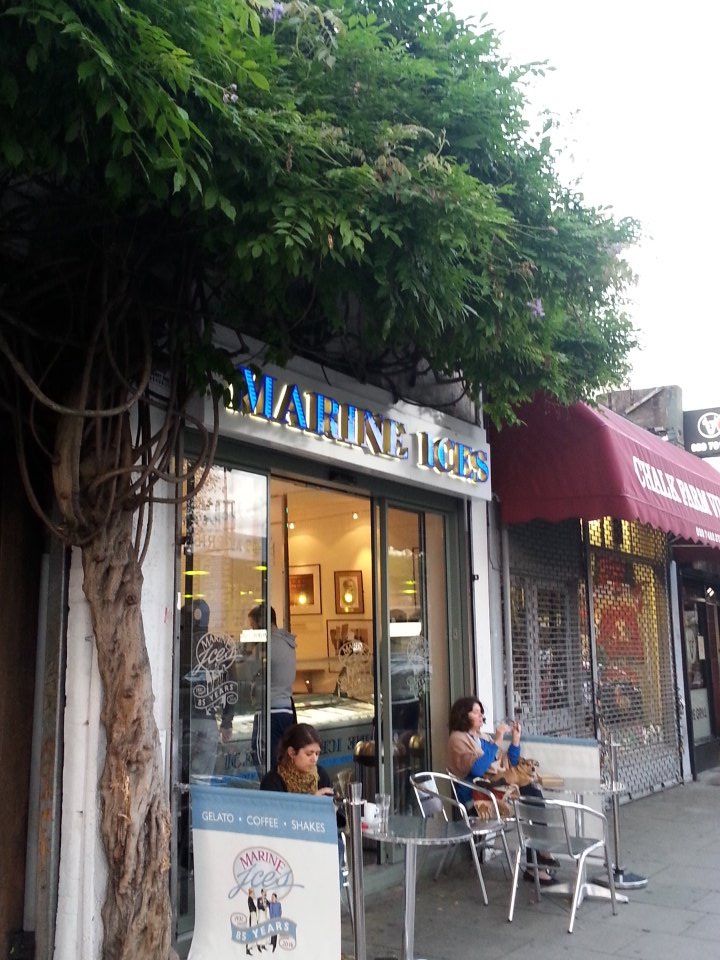 On a bright summer's evening, we headed off to Camden for a gelato tasting session at Marine Ices. Love the wisteria, especially when it is in full bloom!
After a warm welcome from Eddie and Kitty, we settled down with fellow food bloggers in their bright private events room with coffees and teas and perused their standard and daily specials menus to see what treats we were in store for – sadly though, it was too cool that evening on the terrace to be enjoying their gelato comfortably; for another day to explore!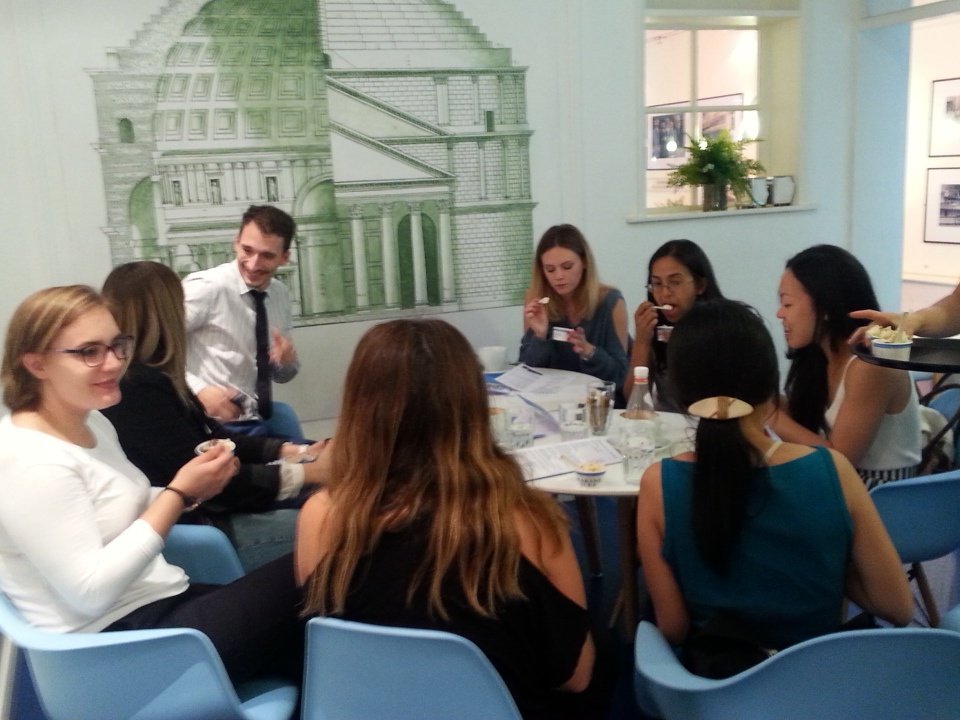 Choices, choices …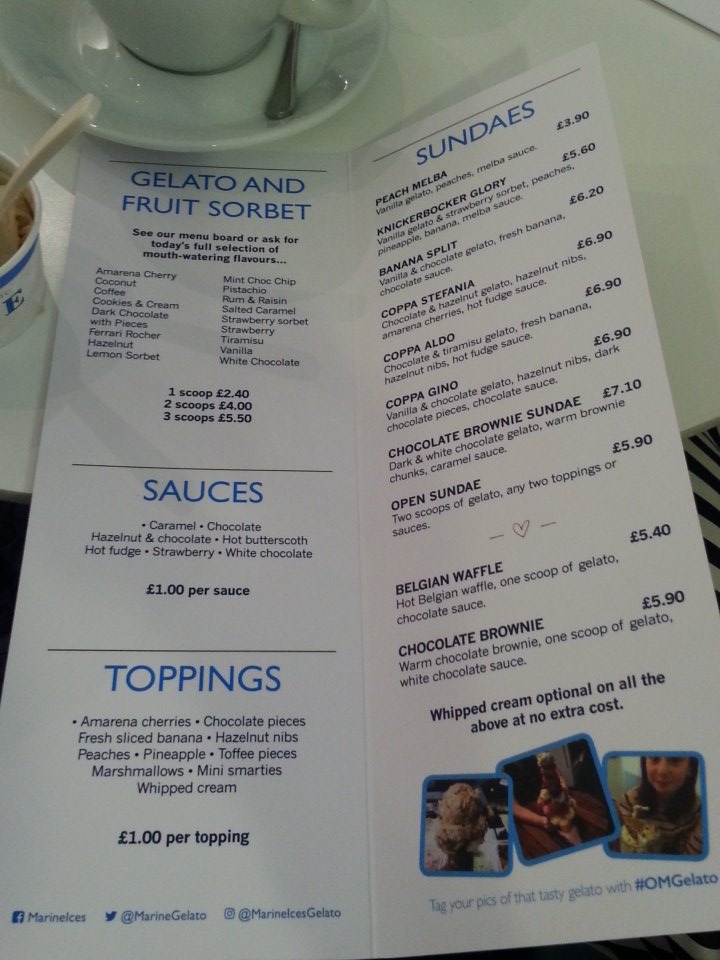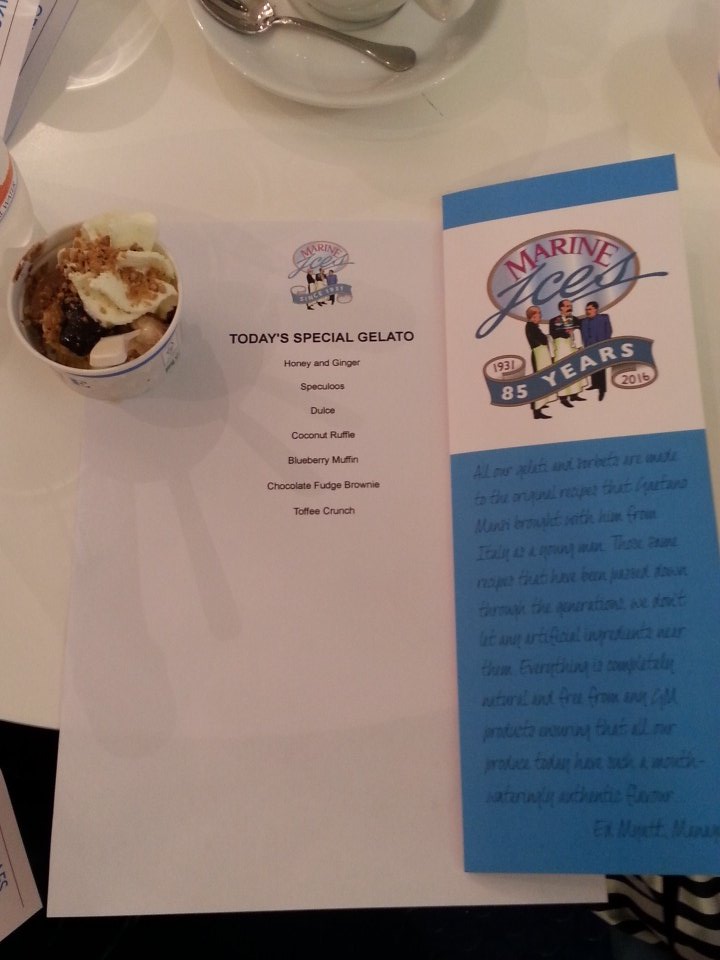 … now a bit of history and background to this unique gelateria:
Marine Ices was opened in Camden, London in 1931 by founder and gelato pioneer Gaetano Mansi bringing real Italian gelato to discerning Londoners; but then relocated down the Camden Road to larger premises with a terrace on 23rd August, 2014. Also, they migrate social media from @marineparlour to @MarineGelato in September, 2015. All change – and for the better!
They have a reputation for producing perfect gelato with authentic Italian flavours, plus also having inventive and interesting new flavour combinations on their ever changing specials menus. Also, they supply many restaurants, ice cream parlours, quality food shops and delicatessens around the country, so if you can't make it to their own parlour in Camden your can still get their tasty gelato somewhere near you.
The gelato is now made in a state of the art creamery on the Myatt family's own Suffolk farm, but they still stay true to the original Italian recipes of their founder.
We kicked off with Coppa Aldo : chocolate and tiramisu gelato with banana and hot fudge sauce.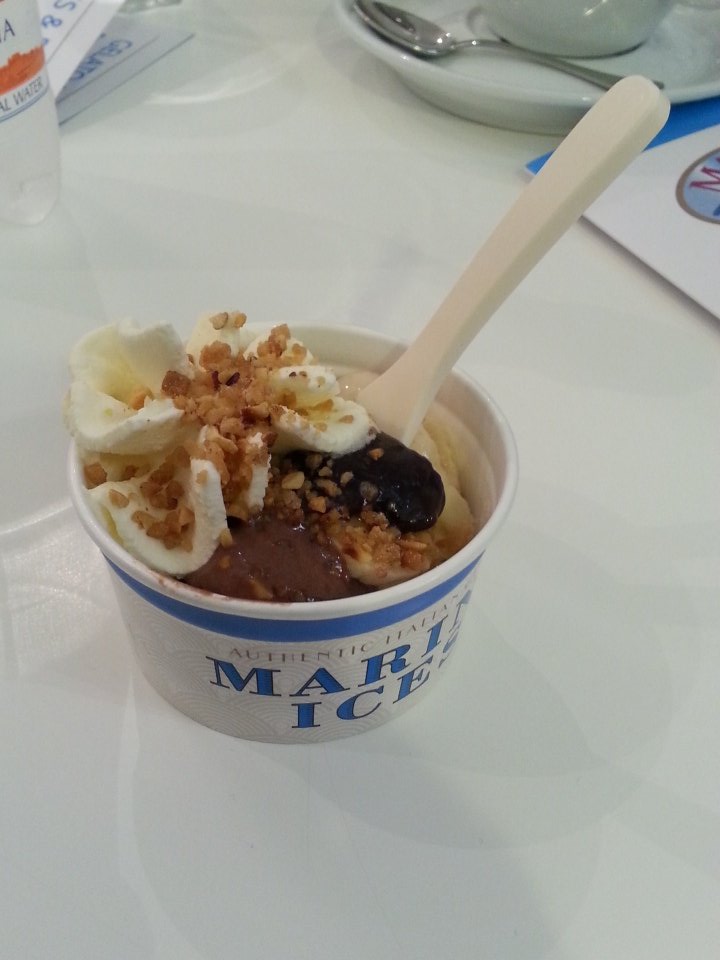 We enjoyed the gelato, but were not keen on the addition of the banana. We hoped the next gelato surprise with please our palates more.
We were not disappointed – next was a Knickerbocker Glory. We loved the freshness of the peach and strawberry sorbet. The feeling of summer in a dessert!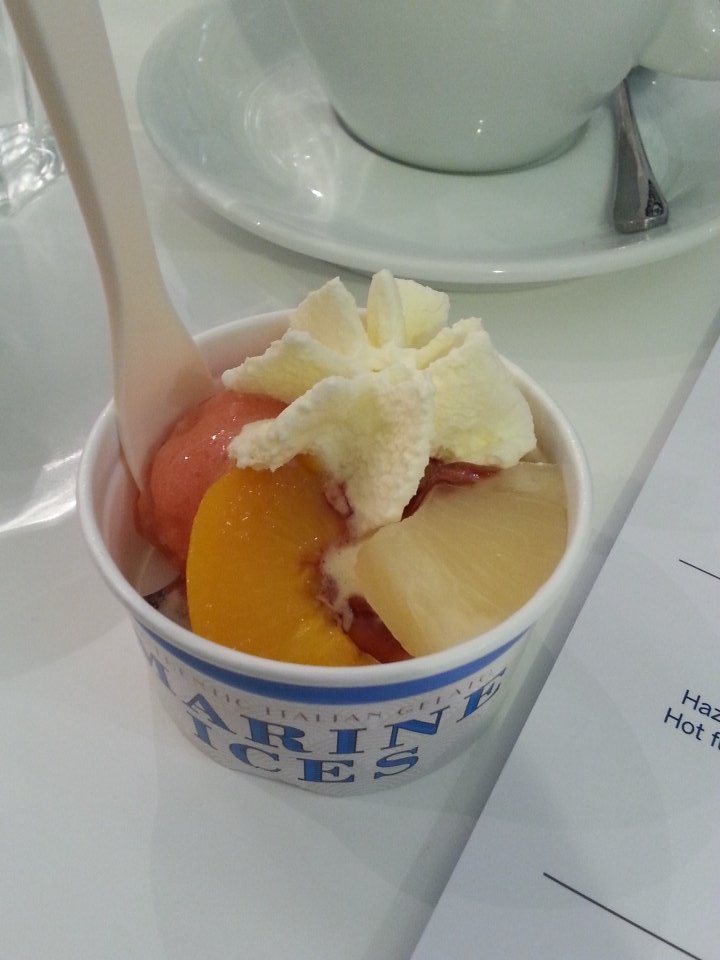 Brownies we can never resist, so Chocolate Brownie Sundae was next on the list – wish we had smell o vision, it smelt So Good: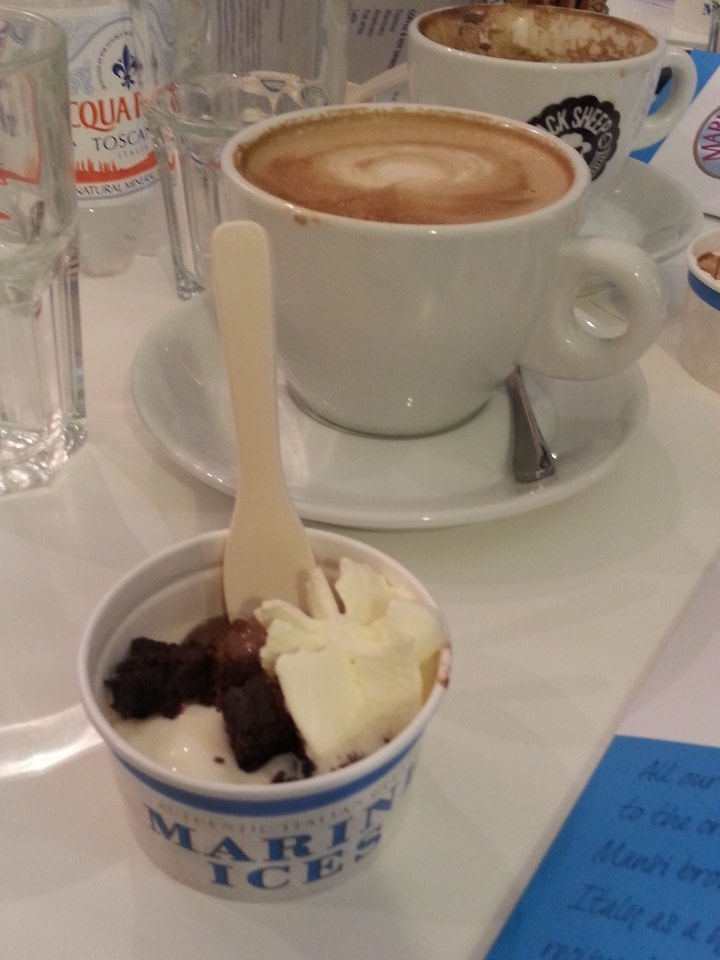 Lovely contrast of warm brownies against cold chocolate gelato – and a flat white, as coffee and icecream are a great combo.
They also serve a range of good quality Black Sheep coffees, as was the consensus around the table.
Everyone loves chocolate, so no surprise that a Coppa Stefania followed: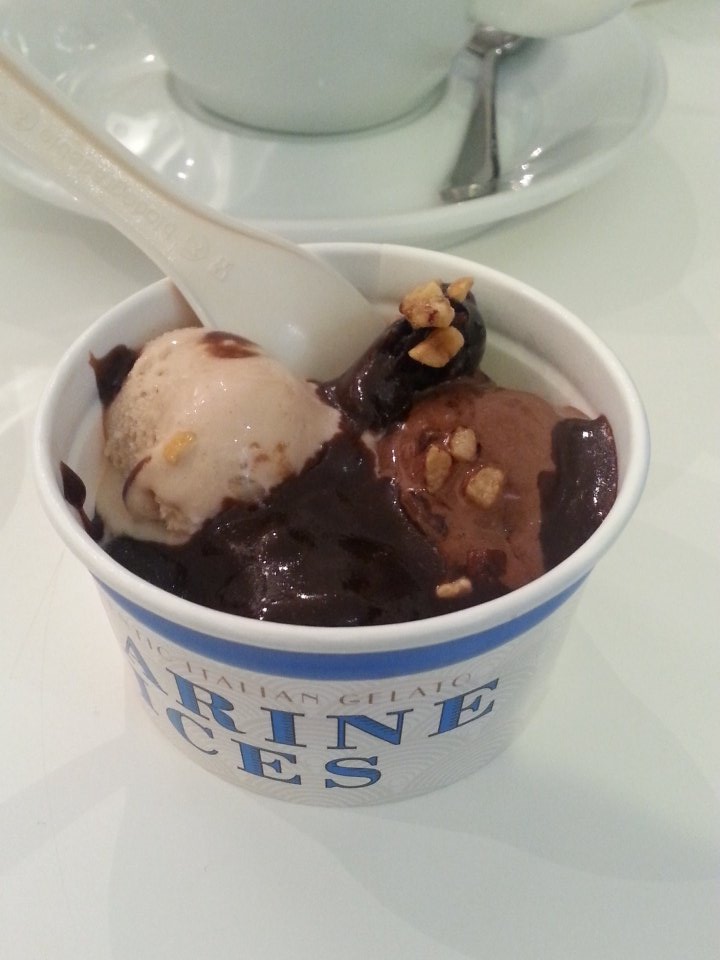 Particularly loved the addition of the liqueur soaked amarena cherries, which were complemented by the great texture created by the hazelnut nibs.
What better way to break up the marathon of gelato than with warm Belgian Waffles slathered in warm, velvety chocolate sauce! Perfect to provide that comforting feeling inside now that we are heading into Autumn.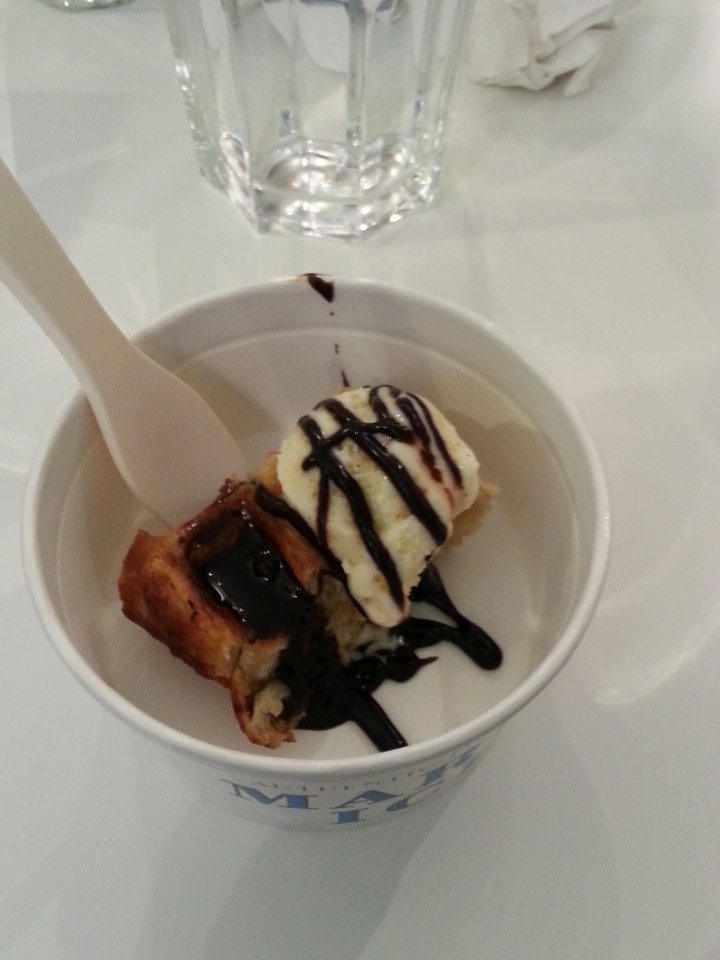 Next: Peach melba – loved the juicy peaches complemented by the melba sauce. Though this time we thought that you could loose the cream on top. Saying that, this is personal preference; especially as we had already gone through quite a lot of gelato by this point!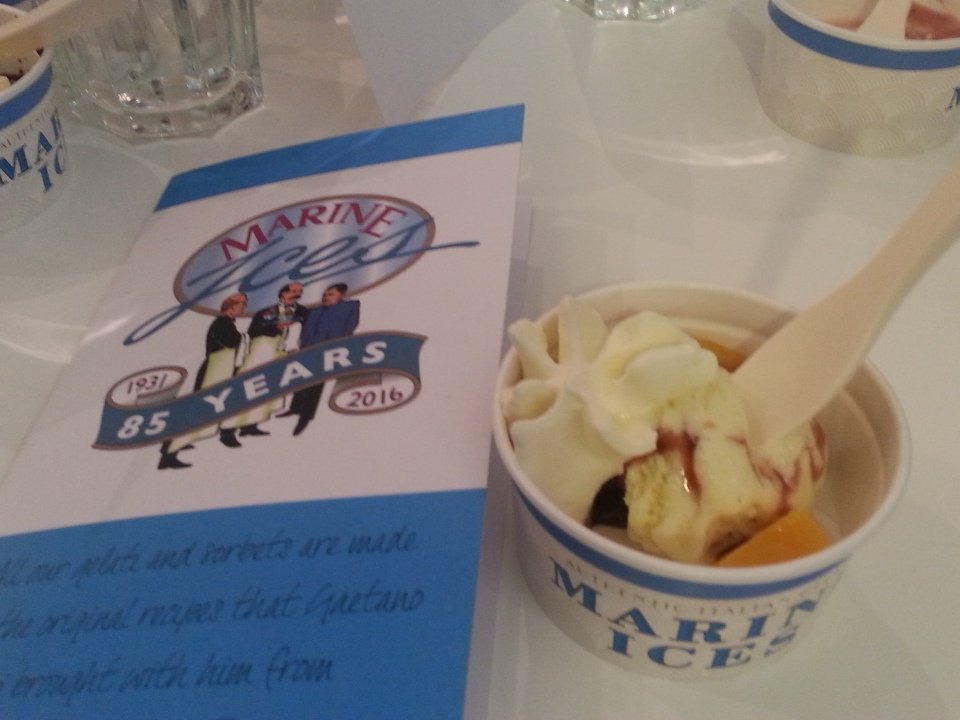 If you are not sure what to get, then go for an open sundae: a combination of flavours ; like this one chosen by Maria of chocolate, caramel and brownies (a large version of the coppa stefania):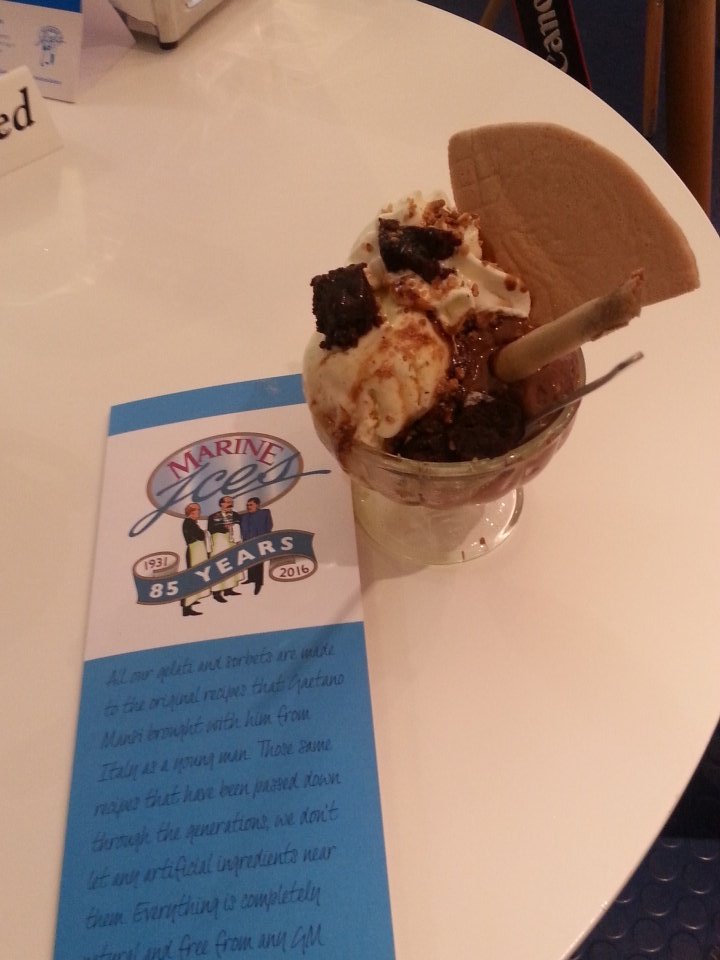 … and a close-up of this divine combination!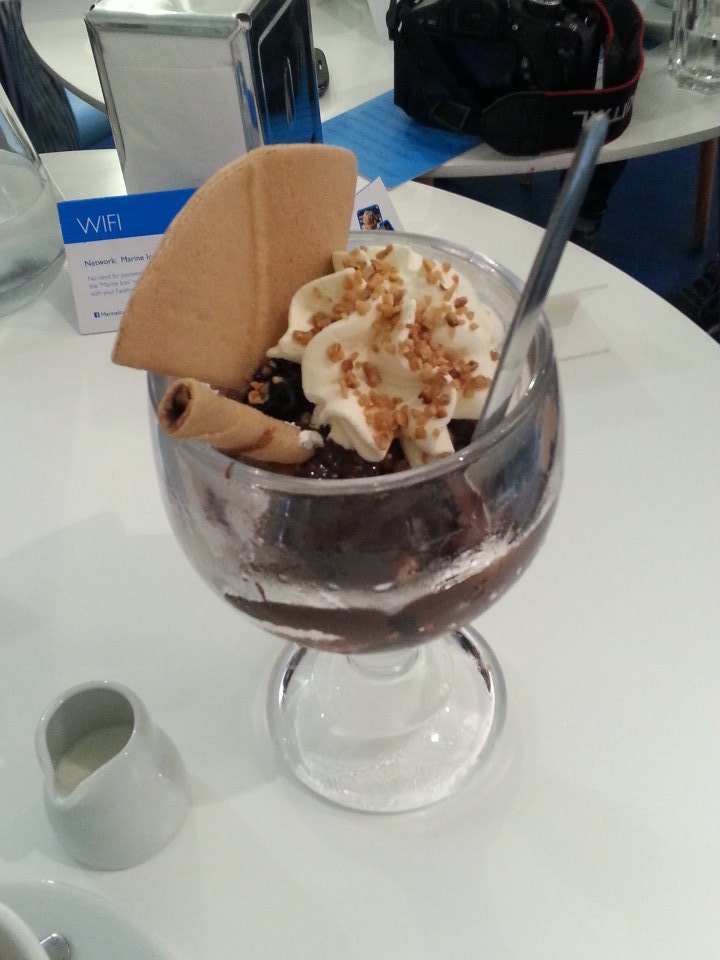 We rounded off the evening with our favourite flavours: Speculoos and Toffee Crunch – in waffle cones!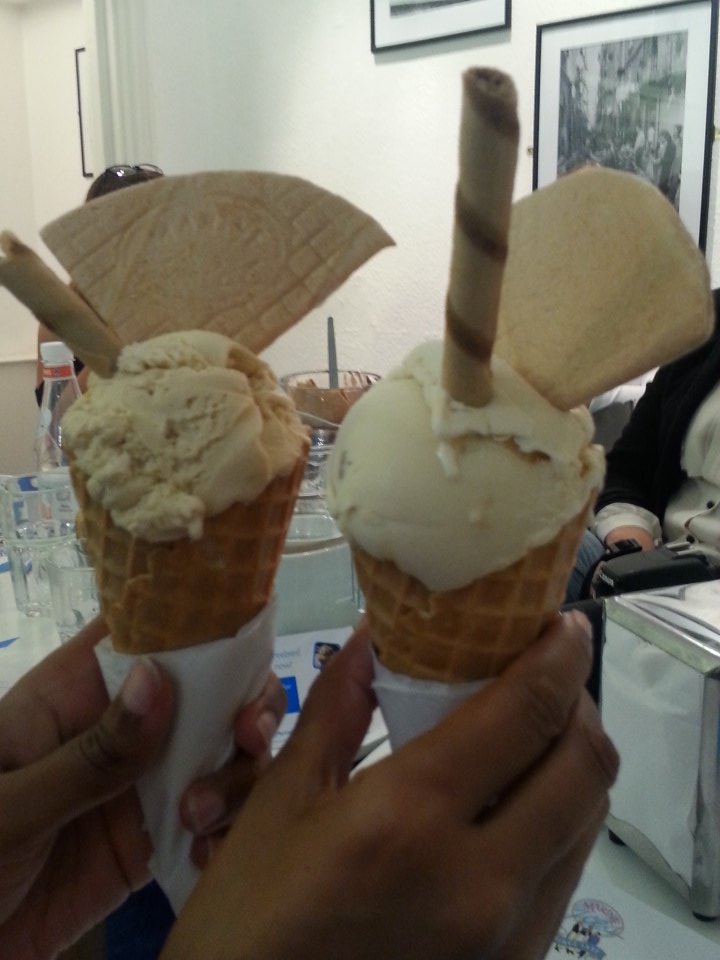 … "I am now ready for my close-up" !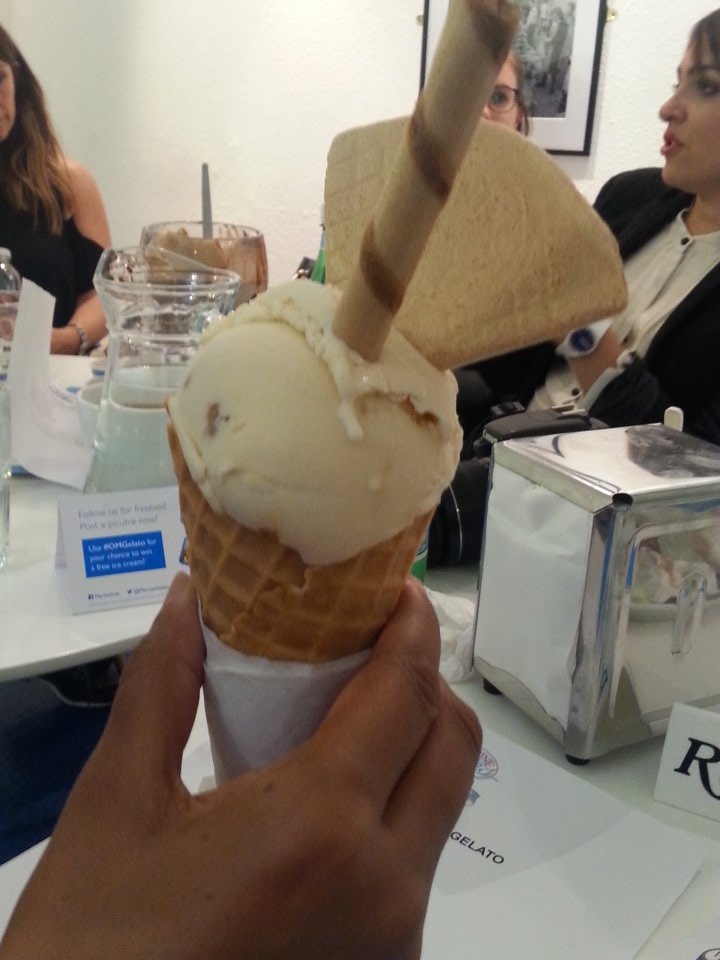 We will be heading back to try their new Ferrero Rocher creation – one of our favourite chocolates, and now in gelato form!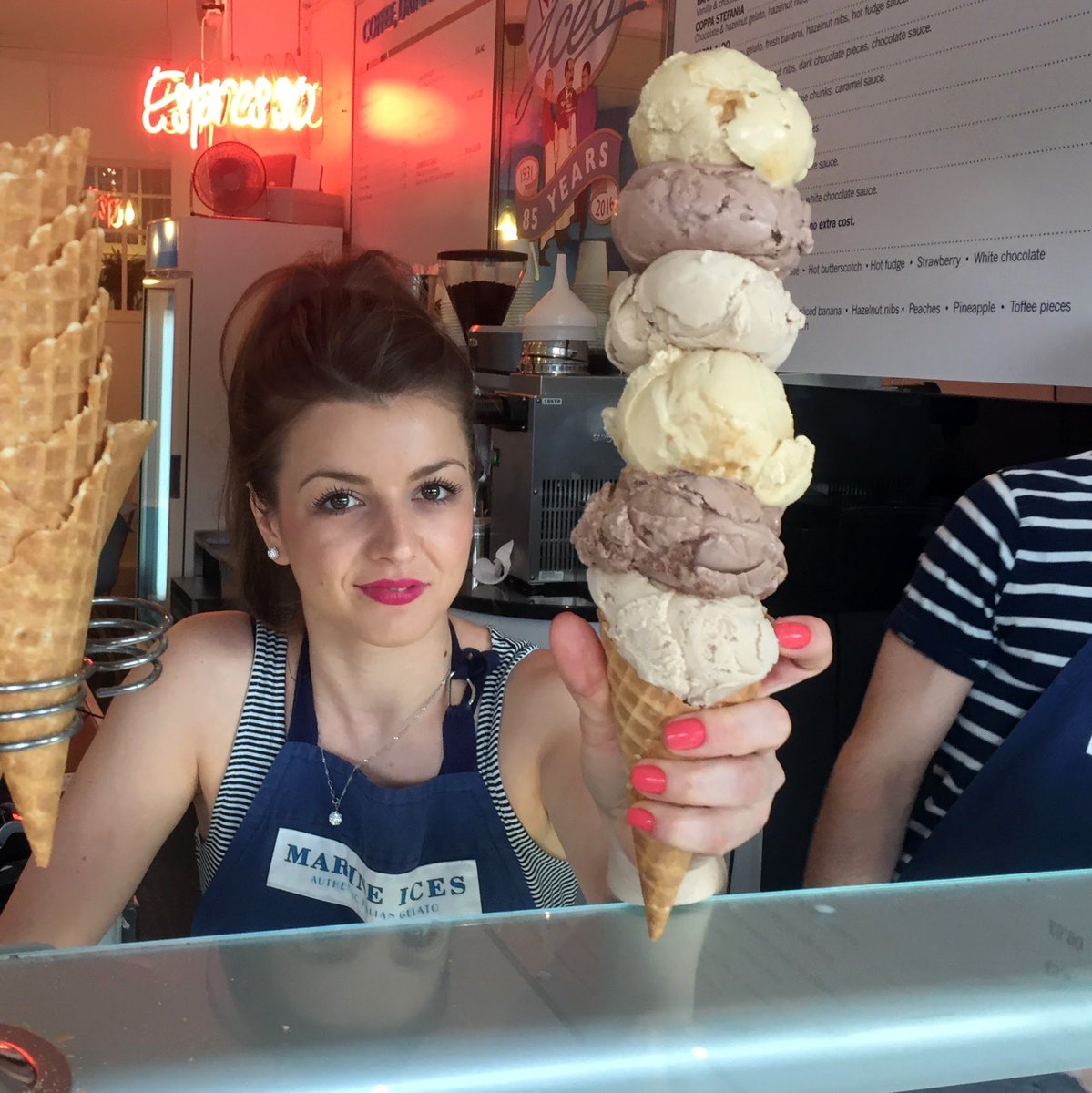 Photo courtesy of: Marine Ices
Highly recommended, as they serve the best gelato we have found outside Italy!
Twitter: @MarineGelato @EdMyatt #marineices #gelato #foodbloggers #london #OMGelato @leavetheherd
#trapeze #media @trapezeltd @trapezegroup @FerreroRocherIT
#camden #london #gelato #tasting #session #perfect #summer #evening #londonisopen #LeaveTheHerd #marineices #wafflecone #Assaporalabellezza #EnjoyTheBeauty #specials #gelato
@AKBoogie @vi_woo @The_CheeksterX @TTzinhaw @baagloo @edgwareviabank @theCocoaChelsea @Indjagar
Website:
Thank you to Lilly and Laura for looking after us during the evening, and to Eddie (manager) and Kitty (Trapeze Media) for organising and inviting us to this fun gelato session.
Great also meeting both familiar and new fellow bloggers Alex, Vi Vian, Felicia, Maria (social manager for baagloo , a global social media app with a social conscience), Iris, Jessica, and Ioan.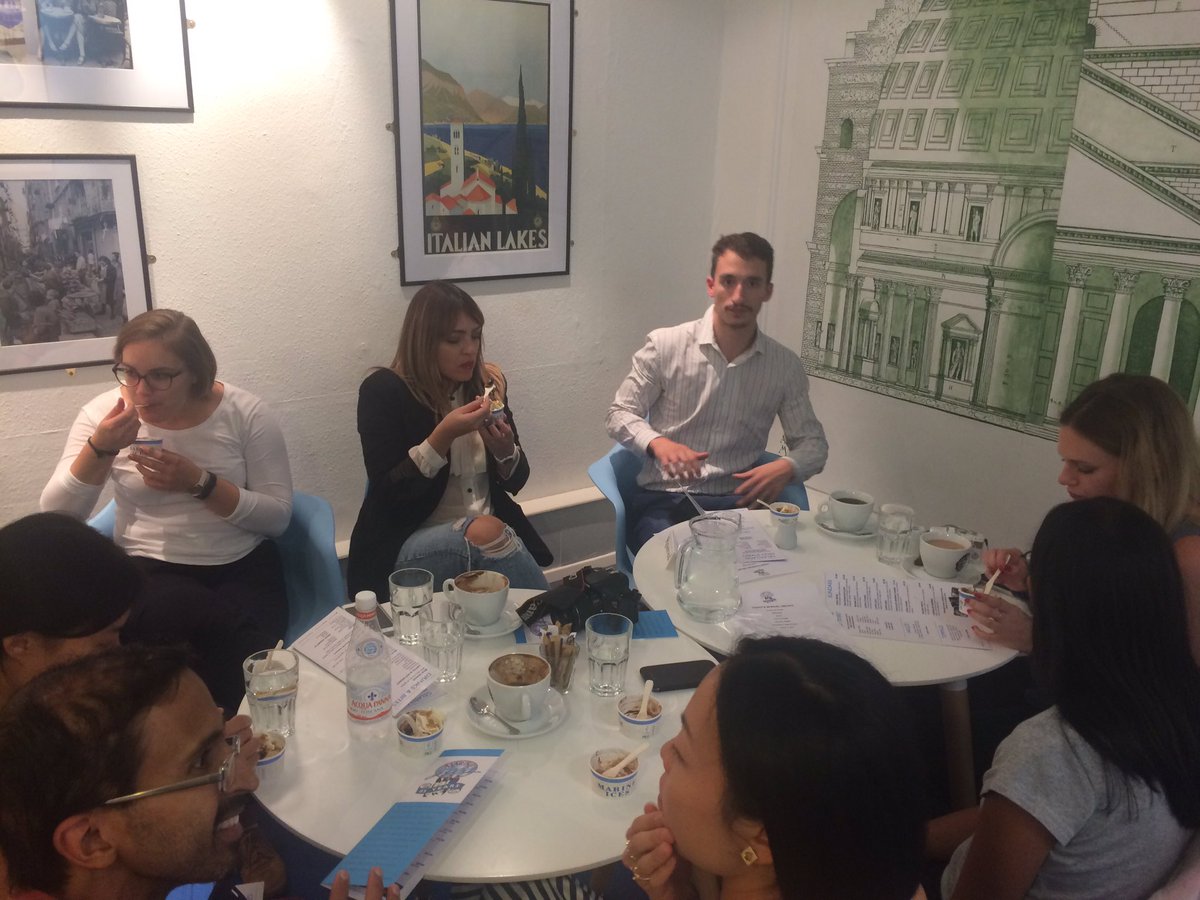 Photo courtesy of: Marine Ices