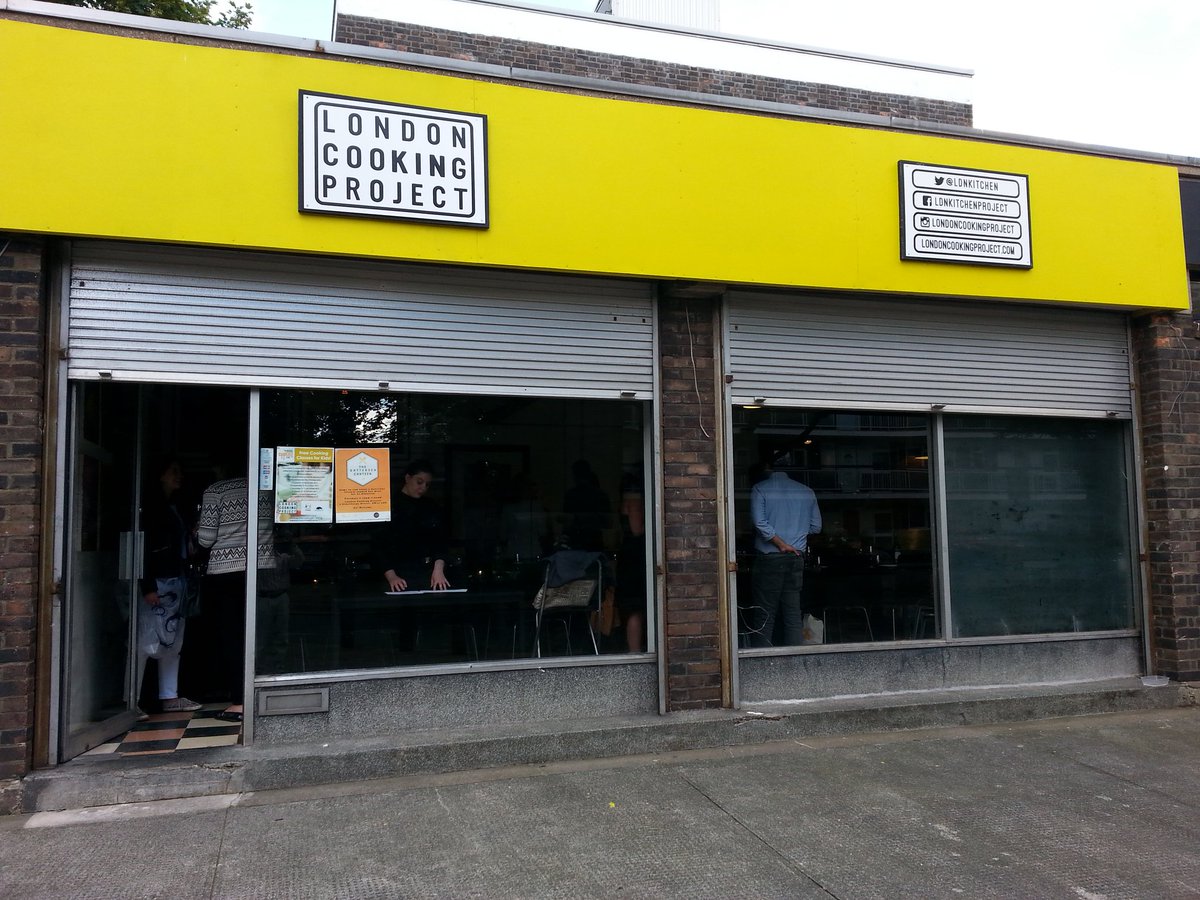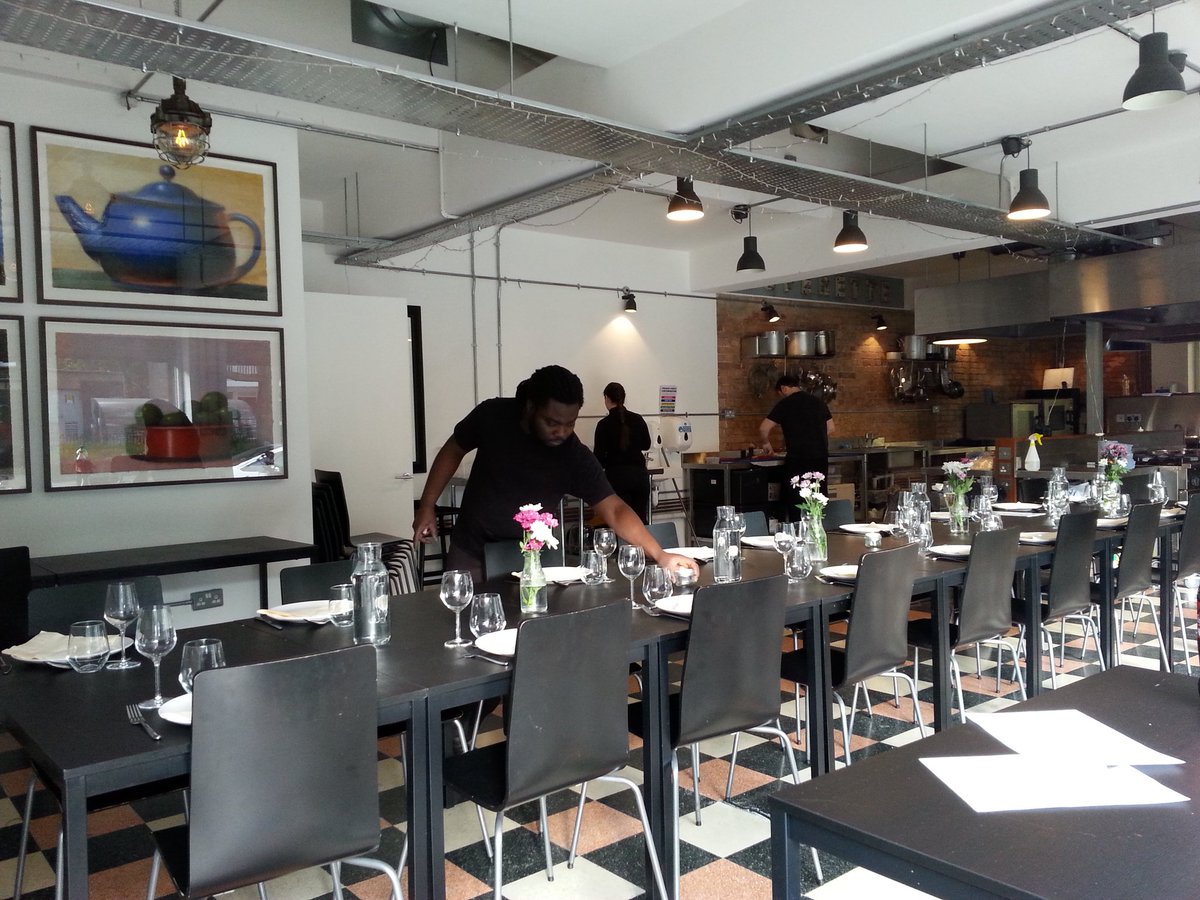 After arriving at the London Cooking Project and receiving a pleasant welcome from Chef Simon Fernandez, even whilst he was prepping for dinner, and a welcome glass of prosecco, we got an equally warm greeting from Kimberly who explained about Ferdies Food Lab and also that they have been using the London Cooking Project for other projects – sorry, we can't divulge, so you will just have to keep an eye on their site for further developments!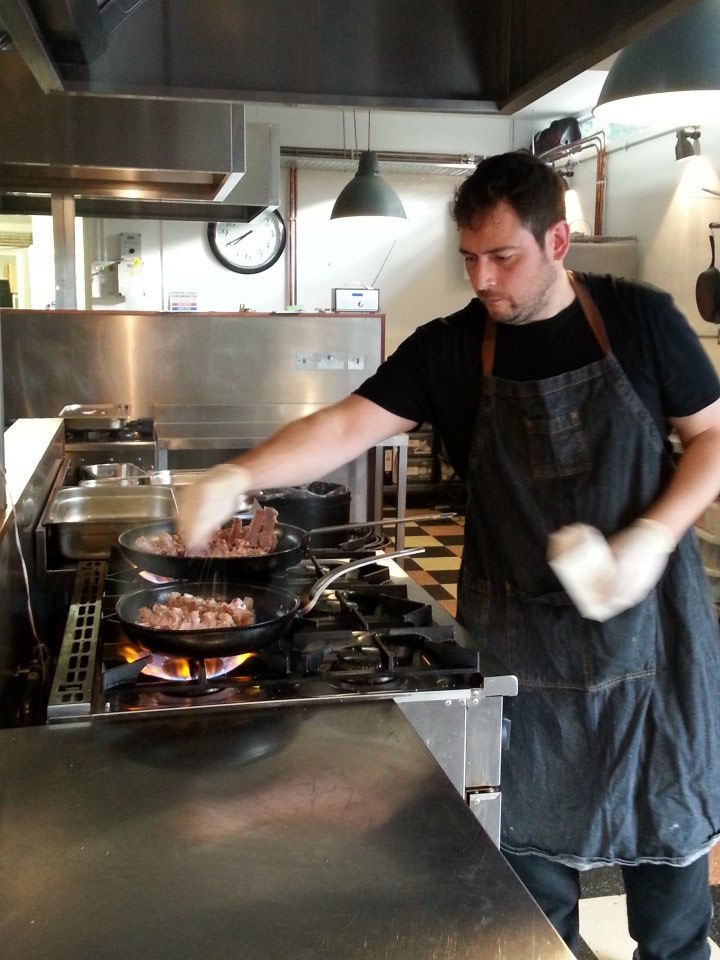 Simon's menu had an array of colourful language that drew you straight in and made you want to enquire about his inspirations for various dishes – plus he had carefully thought out wine pairings as well to aid those difficult decisions!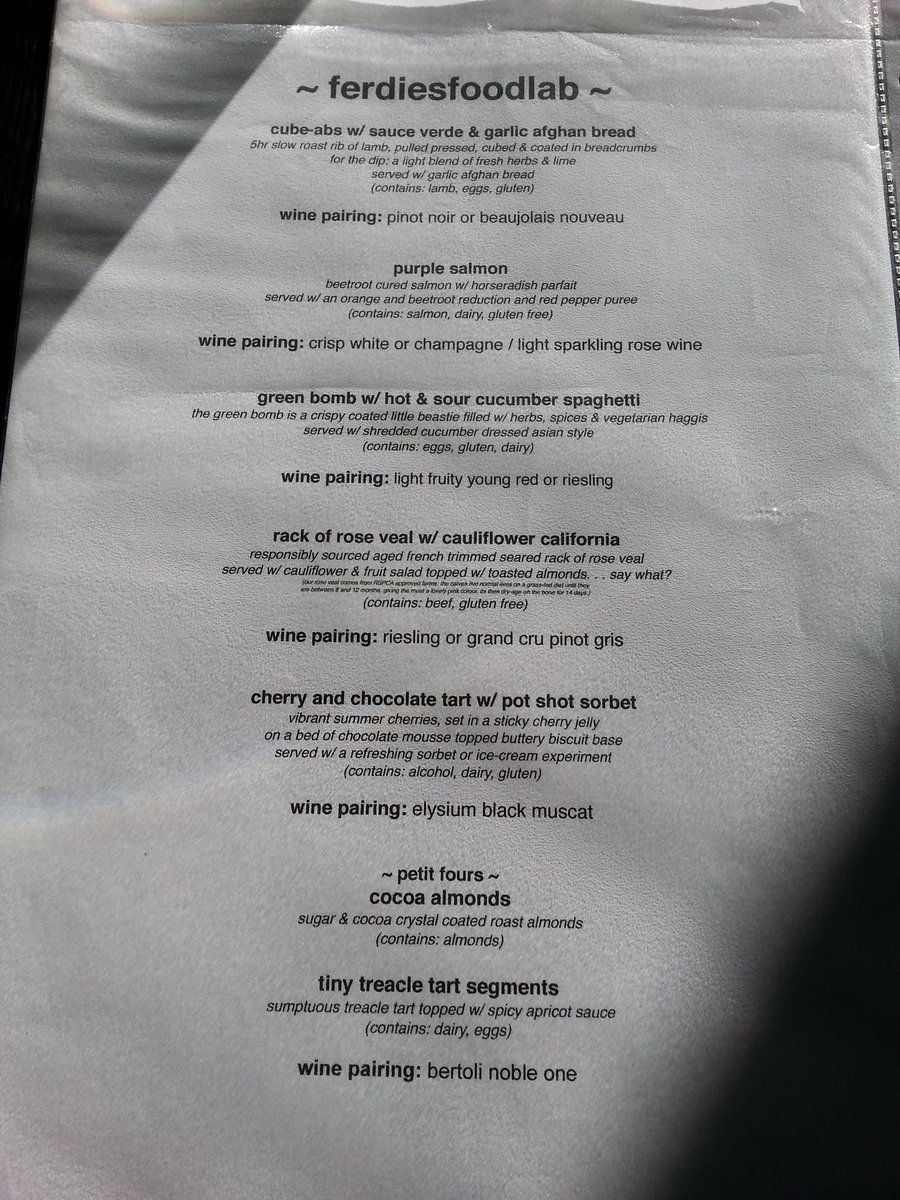 As we settled down to dinner in the bright and airy dining room, we were served little breaded pillows of slow cooked rib of lamb accompanied by a wonderful herby, citrus dip and gorgeous warm, garlicy Afghan bread – we agreed that we could have eaten mountains of this alone and been very content whilst drinking wine, but had to restrain ourselves to save space for the foodie delights that were to follow.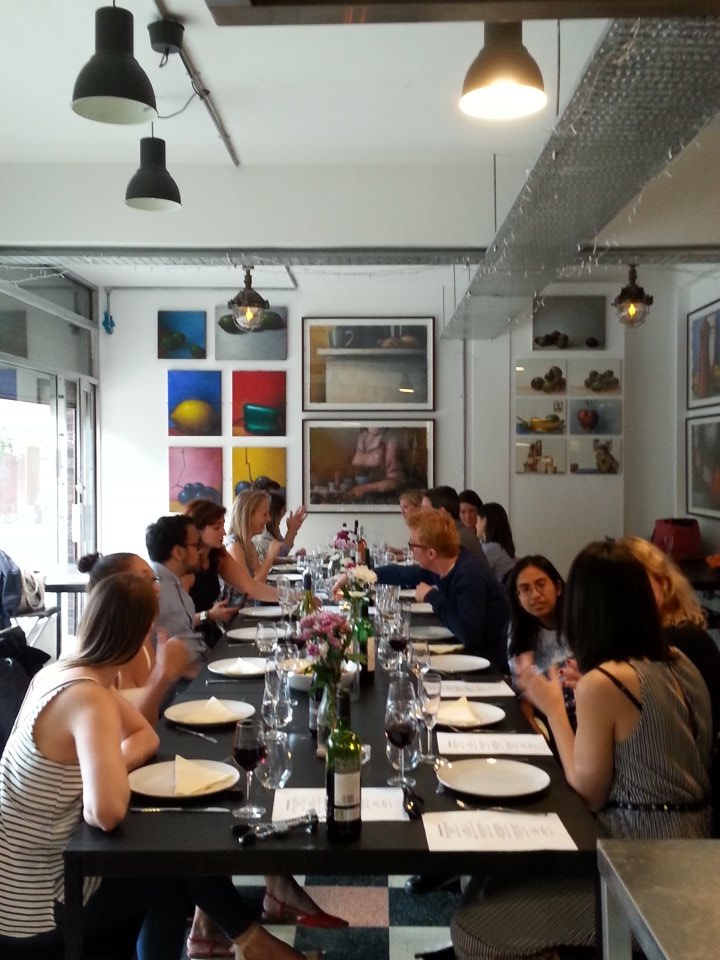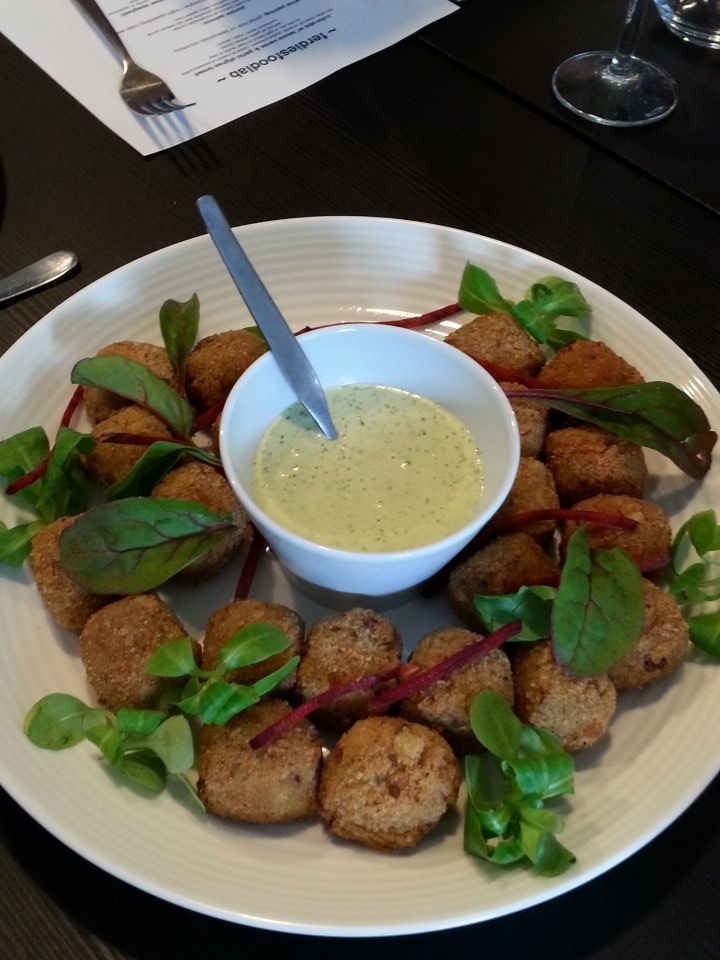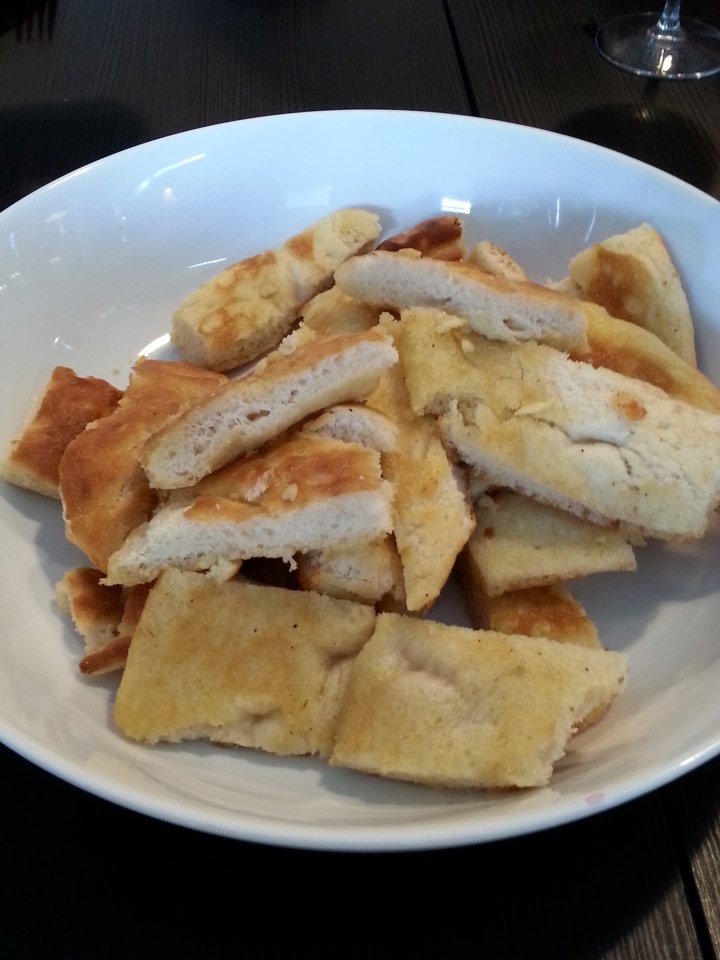 Next was an interesting combination of beetroot cured salmon complemented by a gentle heat from the horseradish parfait, and served in a true French way with lots of fresh crusty baguette and butter.
Loved the chilli heat, herbs and spice notes in the Asian dressing of the cucumber spaghetti which went well with the vegetarian haggis – a new experience for us.
Whilst we waited for our next course, it gave us time to get to know some of the other diners, including fellow foodies and travel bloggers.
Roasted rack of rose veal followed with veal meatballs, and a cauliflower california to ensure we were getting some of our five a day!
We have to note that we found the veal meatballs slightly too sweet for our liking due to the apricots, and the rack of veal had a sea salt crust, but otherwise the veal was tender and delicious to eat. Our favourite was the refreshing citrus and fruit elements of the cauliflower salad: roasted cauliflower with clementines, sour cherries, dried cranberries, grapes and topped with mint and toasted almonds, that danced across your palate and made you keep going back for more as it had a wonderful texture and flavour.
Simon explained to me that he had made a selection of sorbets including a lime and cardamom, almond gelato, and a melon sorbet – and the pot shot aspect came in as he quickly prepared the desserts alternating between sorbets so that the table was a wash of colours at dessert time!
I particularly loved the cardomom notes complemented by the citrus from the lime, but also my second favourite was the almond one. What was more impressive was that I found out it was Simon's first attempt at his cherry and chocolate tart – braver than I would be when having a load of foodies turn up for dinner.
I liked the bed of chocolate mousse, though would have like some other texture in the tart, like cocoa nibs in the biscuit base, but otherwise an interesting summery dessert.
To round of the meal, Simon brought us dainty little morsels of treacle tart and cocoa almonds – particularly enjoyed the spiced apricot sauce on the treacle tart as it helped cut through the sweetness of a traditional treacle tart – that we could enjoy with more wine, and sat down to chat with all of us.
Great also meeting fellow foodies Ben and Manish, Maddy and Nikki, and Jessica and Judie.
We recommend checking out both Ferdies Food Lab and The Tabl to book future events so you don't miss out!
Twitter: @ferdiesfoodlab #supperclub #dinner @LDNCooking @theTabl @Kimberlybhurd @TazzGault @PalomaKara
Thank you to the lovely Tazz at The Tabl for organising our tickets, and to Simon and Kimberly for their hospitality.
http://www.ferdiesfoodlab.co.uk/