The lovely Su-Lin greeted us and took us on a guided tour of Low, Slow and Juke with its little nooks and crannies  – and we were amused by the aptly named 'Meating Rooms'!
This was followed by a selection of cocktails created by our skilled bartender, with their signature cocktails being smoked cocktails, using Apple and Jack Daniels Wood Chips; including David's Smoked Cinnamon Old Fashioned made with a Jack Daniels wood chips smoked bourbon, C's Vanilla & Fig Sour, and my Smoked Cherry Manhattan with oak smoked Bulleit bourbon. Loved the theatre of the smoke billowing out as the cocktails were smoked!
We got a tour of the smoking room from Chef Jonathan :
Getting to see where the magic happens at Low, Slow and Juke – meet the meat in the smoker!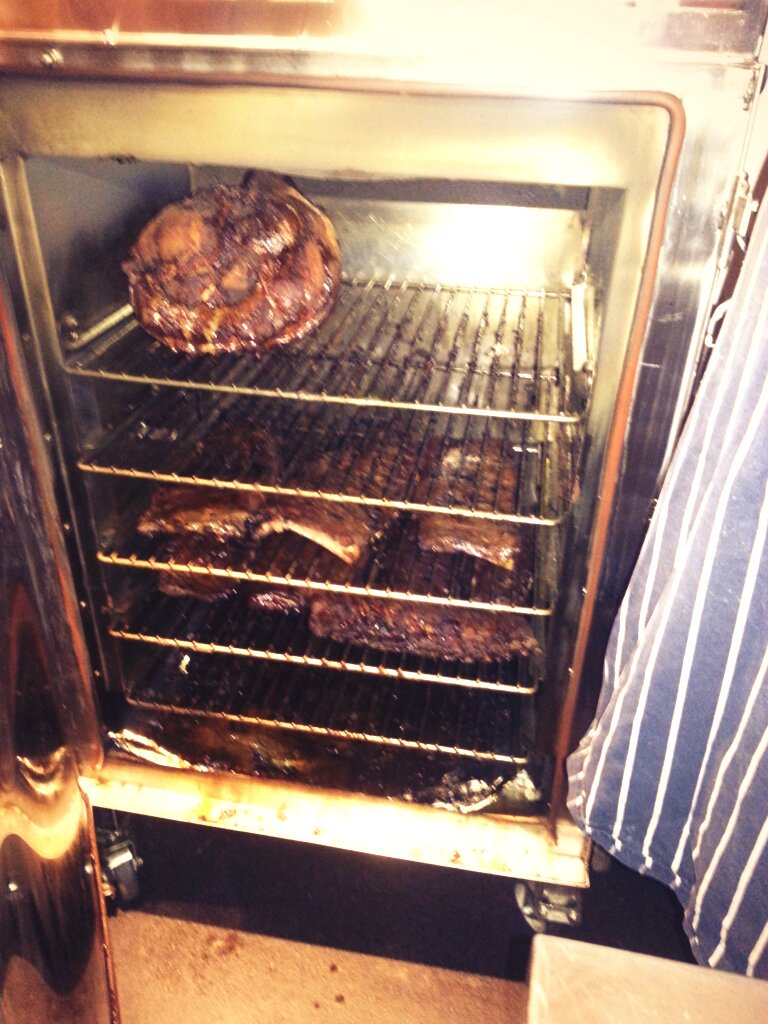 Su-Lin and Dave explained that the house homemade sauces (House BBQ, South Carolina BBQ, Smoky Ketchup, Chilli Vinegar, Chipotle Mayo, and Bastardo Sauce) you can either try individually with the dishes (they will recommend sauces for individual dishes); or you can go off-piste and make your own saucy combo creations!
Sticky chicken wings, deep fried mac and cheese, and smoked baconfat popcorn :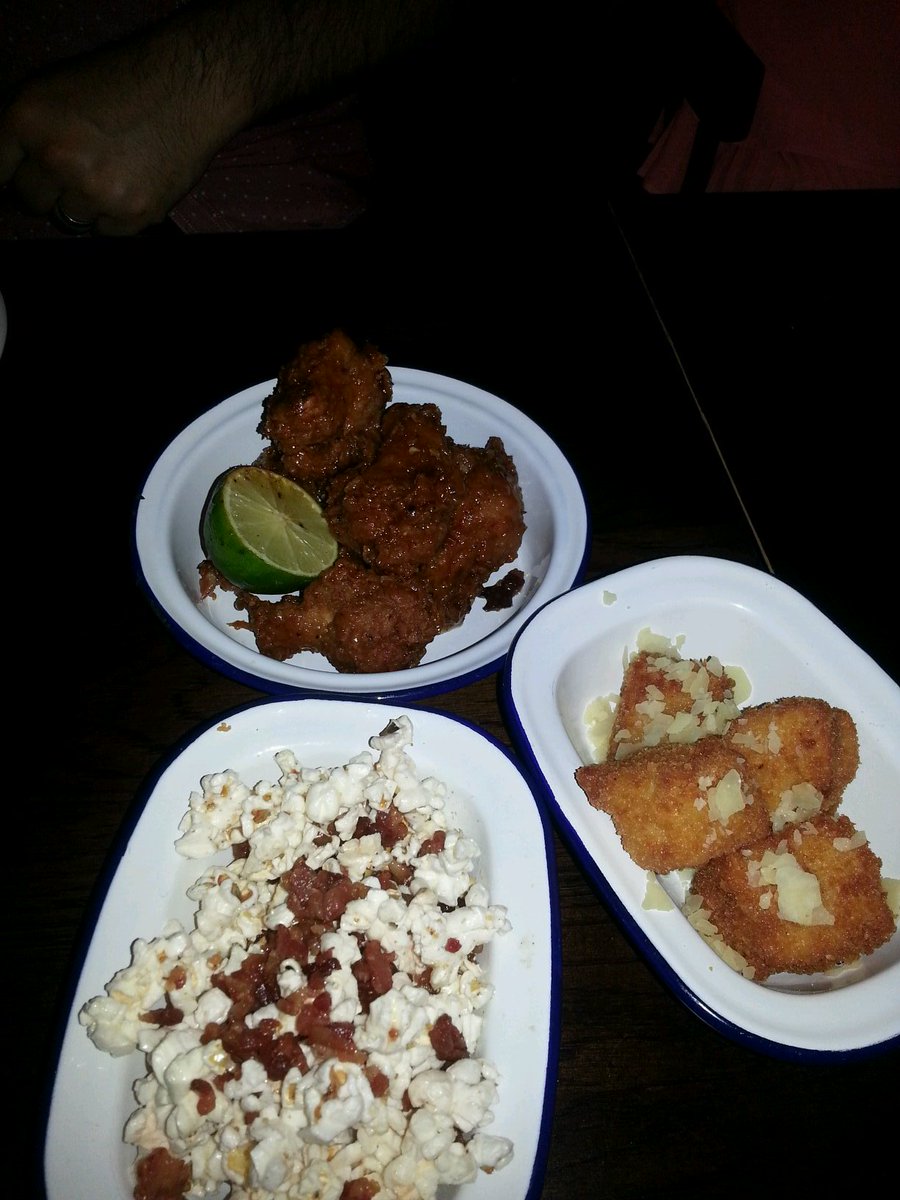 Loved the molasses sweetness on the sticky chicken wings, and it went well with the chipotle mayo. The popcorn went well with our smoked welcome drinks too.
Pork and Jacob's Ladder beef short-ribs, plus french fries and red cabbage / green slaw :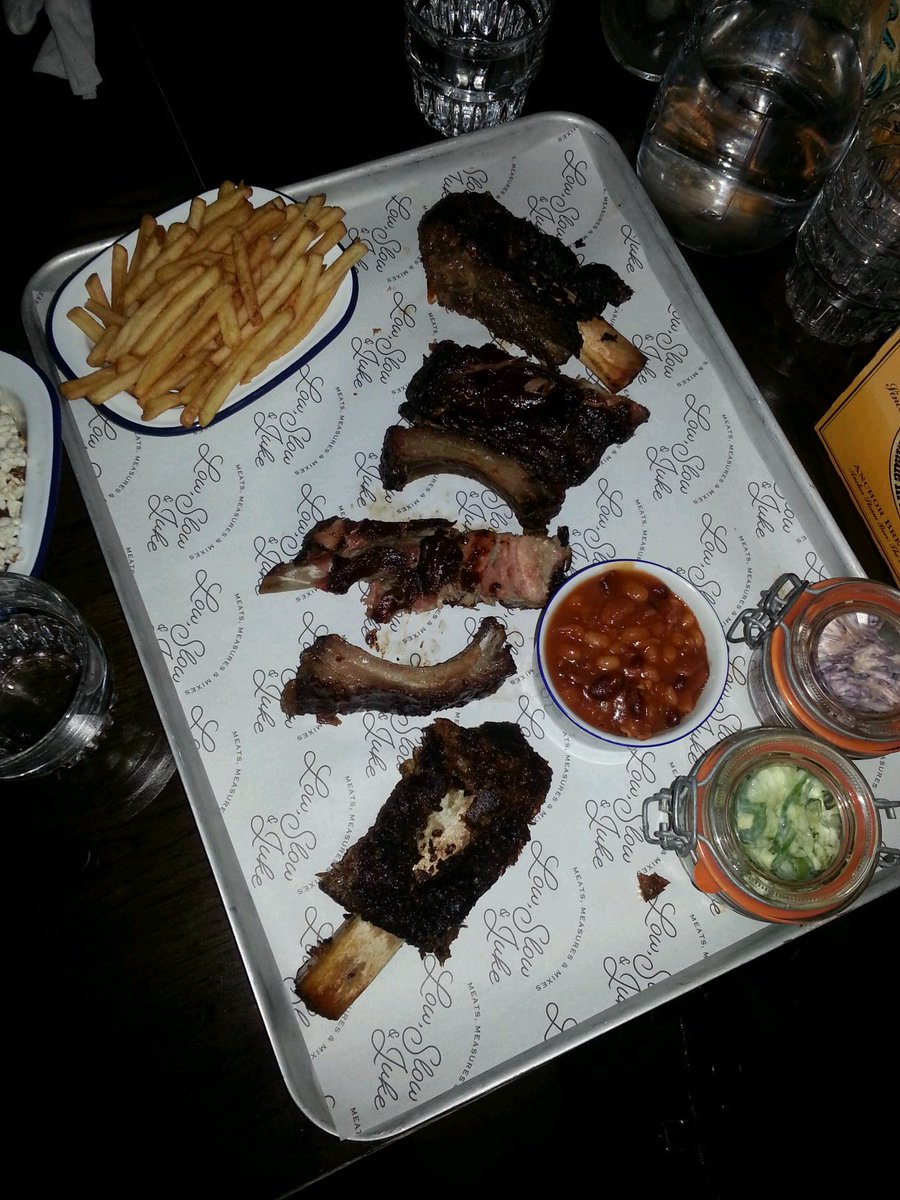 The meat is marinated for 24 hours before being slow and steadily smoked for 16 hours, flavours transporting you to the US Southern States.
Sticky glazed chicken :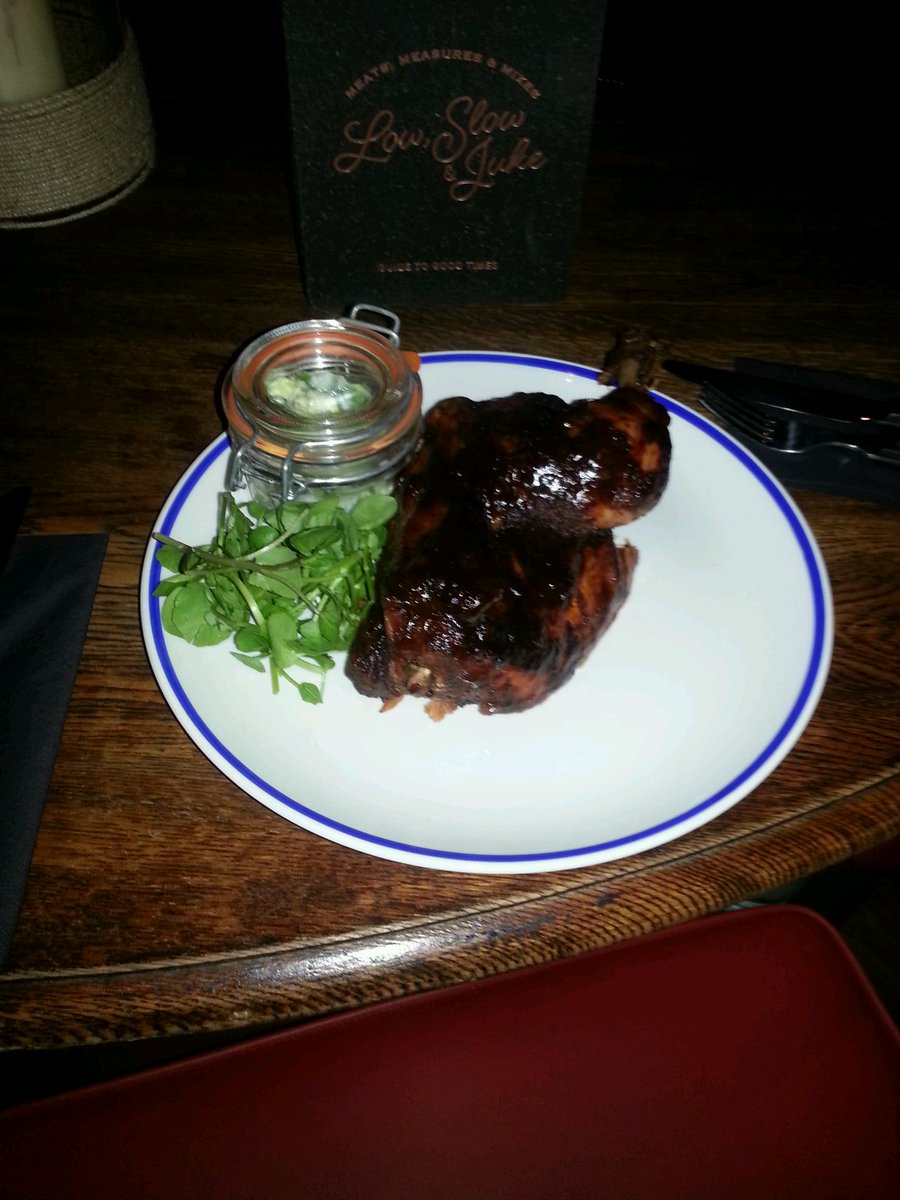 We rounded off proceedings with smokey bacon brownies! Of course accompanied by the obligitory dessert cocktails of Gentleman's Tipple (made with Bourbon smoked Gentleman Jack's Whiskey) , Honey and Basil Smoked Daiquiri (made with Apple wood chips smoked Havana 3 Year Old Rum), and Disarrono Amaretto Sour.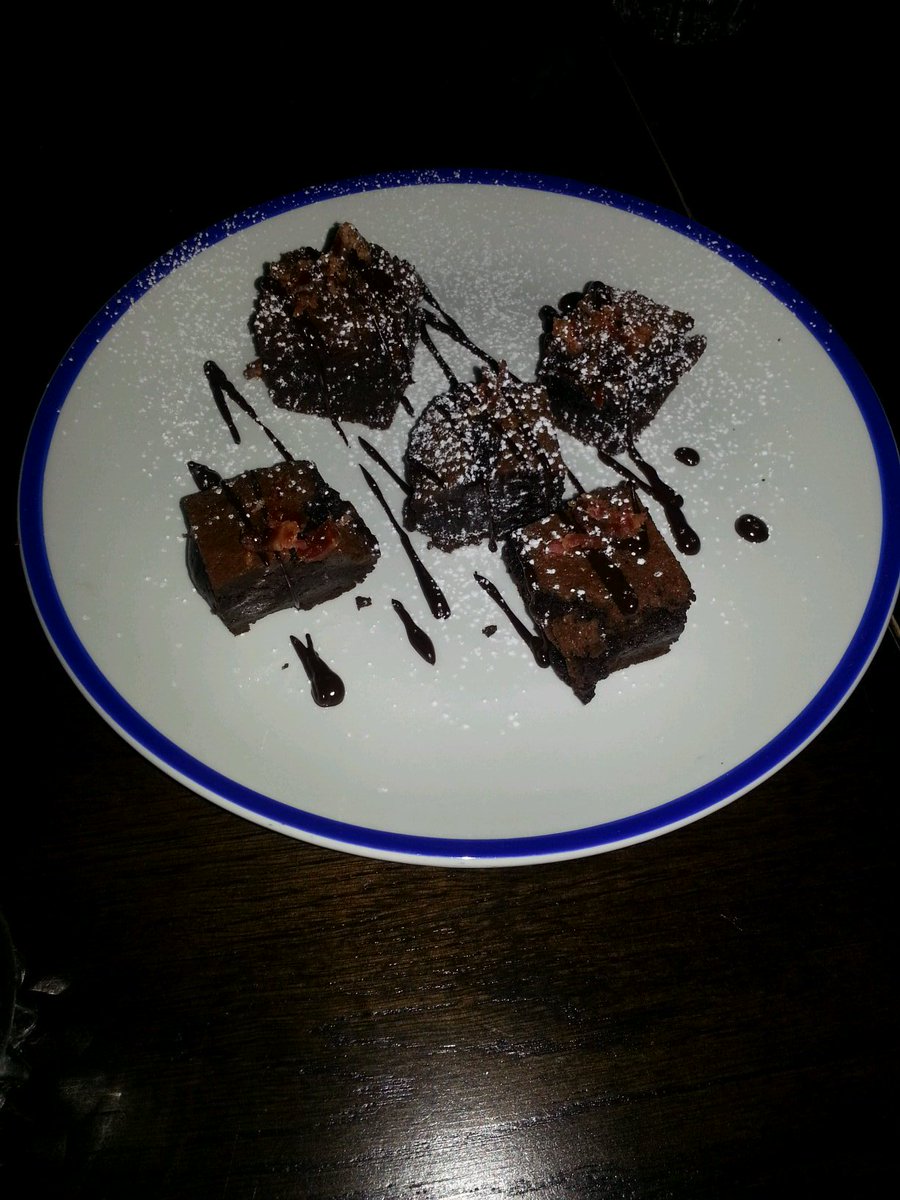 Great meeting and catching up with other foodies including David , Ade and Saff , Fiona , Anna , and the What2London girls .
A fun night had by all with an array of finger licking snacks, smoked bbq meats, cocktails with smoked spirits, and even a smokey influenced dessert – go check them out!
Twitter: @sloLondon @lowslowandjuke @reverepubco #new #revamped #menu #cocktails #foodbloggers #smokeroom
@WeLoveFoodTweet @hero_leander @fionamaclean @MWiPBlog @RocheCom @what2london #smokingcocktails #smokedcocktails #londoneats #londonfood #londonfoodie #lowslowandjuke #afterwork #friendstime #house #homemade #sauces #British #meats #smokehouse #bar #restaurant #housebbq #southcarolinabbq #smokyketchup #chillivinegar #chipotlemayo #bastardosauce #smokedbaconfatpopcorn #foodblog #foodiebloggers #londonbloggers #londonfoodies #eatinguplondon @Disaronno_USA  @Disaronno_UK  @HavanaClub_UK
We were invited by Su-Lin, PR for Low, Slow and Juke, and it was also great meeting and chatting to, and dining with, Chef Jonathan, Andrea (Brand Manager) and Dave (Operations Manager) of Revere Pub Co.
Contact
Low, Slow + Juke
1 Abbey Orchard Street
London – SW1P 2LU
020 7222 5084
Open
Mon – Fri: 11am – 11pm
Sat: Closed
Sun: Closed