We went to review dinner at Tavern at 15, the basement restaurant and bar of the London Capital Club (one of the City's private member's clubs) where diners can experience the culinary delights of a private members club kitchen without the associated annual membership fees.
We were intrigued to see what Mauritian born Head Chef Jean-Didier Gouges, previously responsible for the kitchens at Royal Albert Hall, classically trained in French culinary techniques, would have in store for us. Having perused the menu we had set our hearts on the Scottish lobster on the menu
Jean-Didier has created a menu of British faire with global influences at Tavern at 15. Their signature dishes include: Stonebass Carpaccio (£8.50), Scottish Lobster Burger, Whole Scottish Lobster (£35) and 28 day aged Sirloin (£22).
(The above photographs are courtesy of Yuri and London Capital Club.)
Loved the bright airy feel when you walk in, plus we checked out the food and wine pairing events, it was also great that they have a corvent that allows you to sample some of the more expensive wines by the glass rather than the bottle.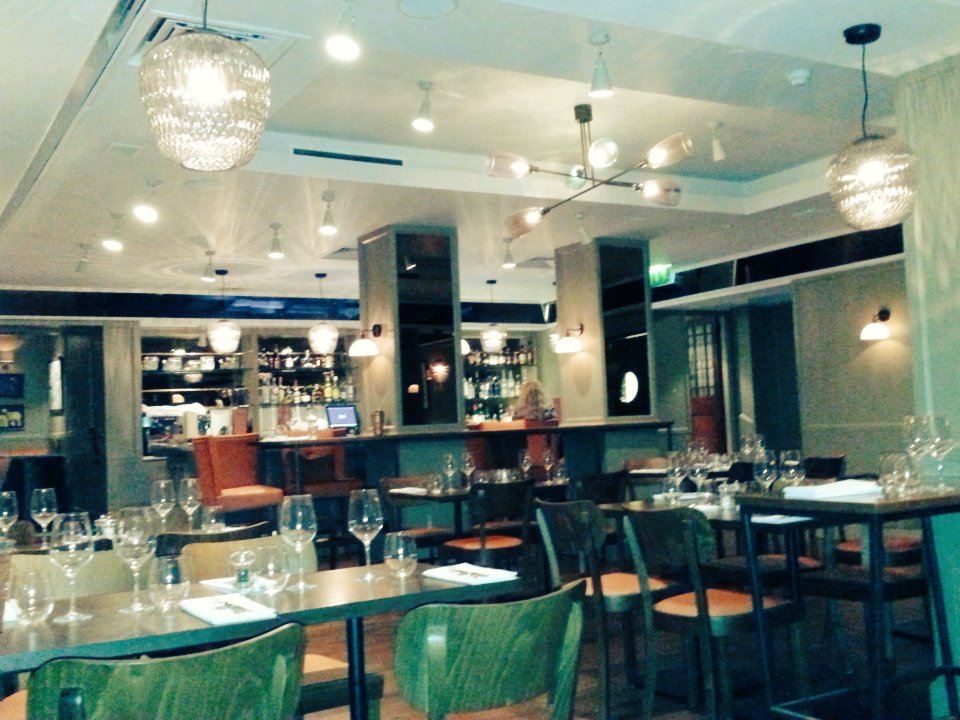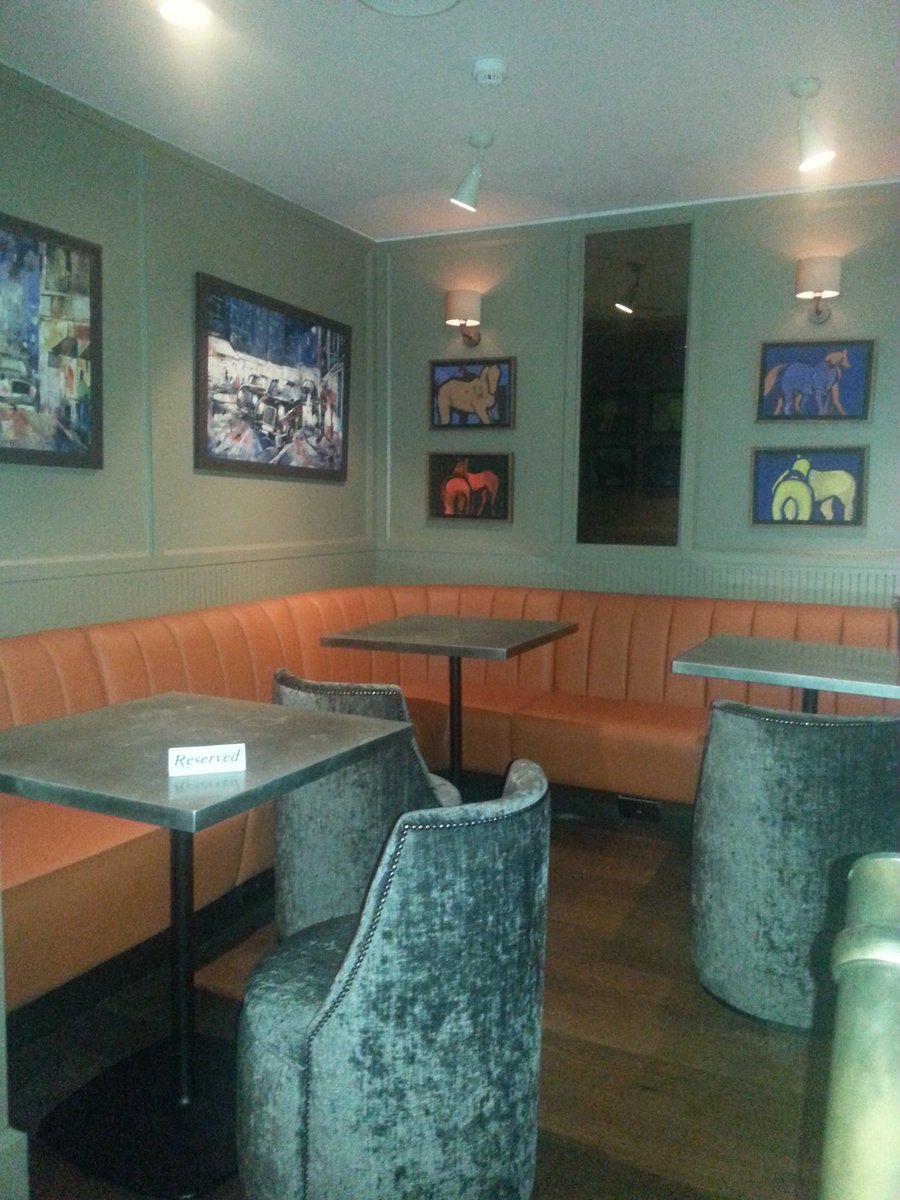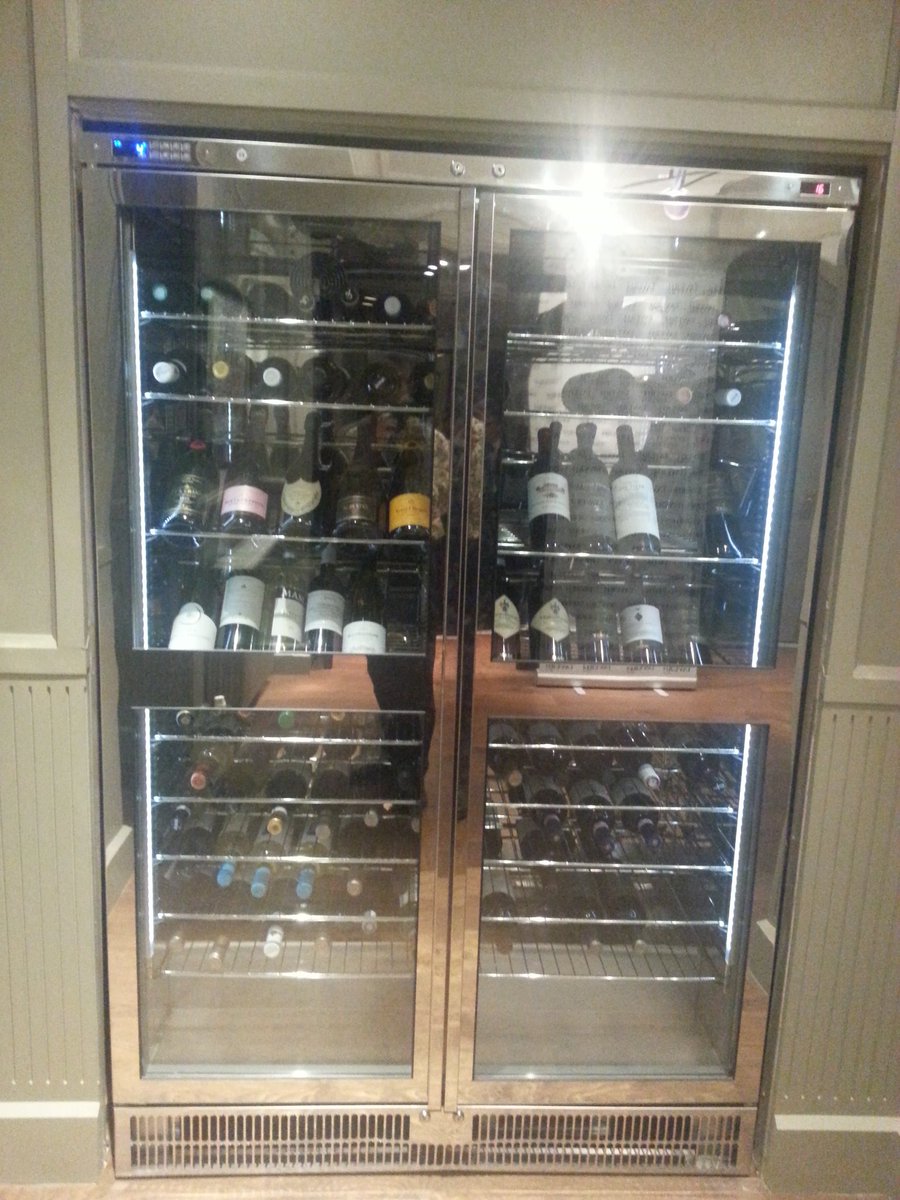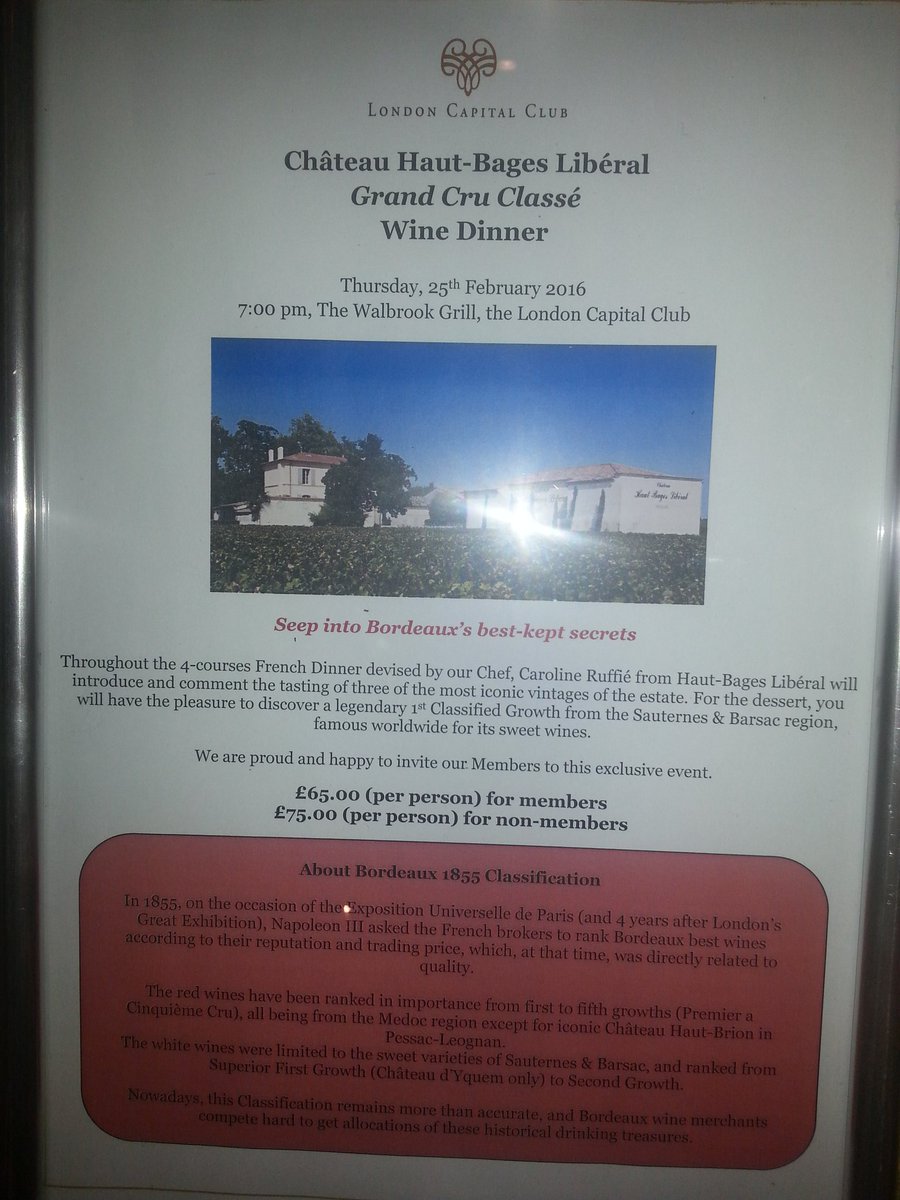 Settling down in our comfy sofa seats, we perused the dinner menu whilst sipping on a beautiful Deakin Estate Brut Chardonnay Pinot Noir NV (£24.50),which was bubbly, light and refreshing, accompanied by flat breads and gruyere toasts.
(The above photograph is courtesy of Yuri and London Capital Club.)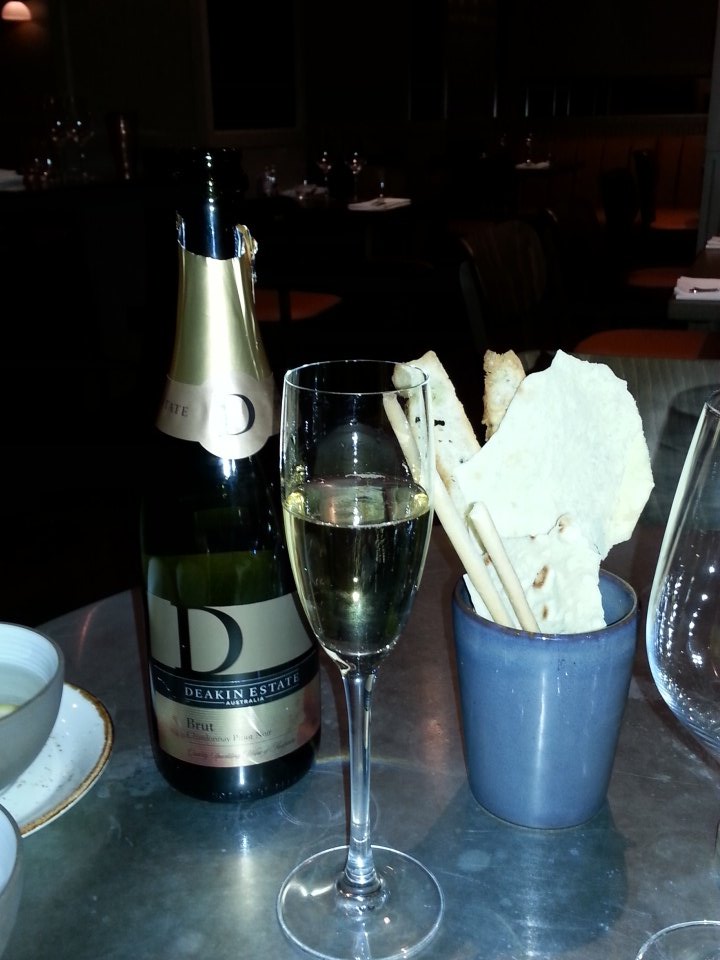 Vlad sadly broke the news that they had run out of all their whole Scottish lobsters at lunchtime, but said that the kitchen would be able to provide us with a lobster linguine and lobster burger instead. We were content as we had drinks in hand and we were still getting to try one of their signature dishes.
We started with delightful mussels in white wine, with french fries, (£9.50) , and velvety chicken liver parfait that came with peach gel and warm brioche toasts (£12.75). Though, we had to ask for more bread, so as not to waste the wonderful broth of the mussels.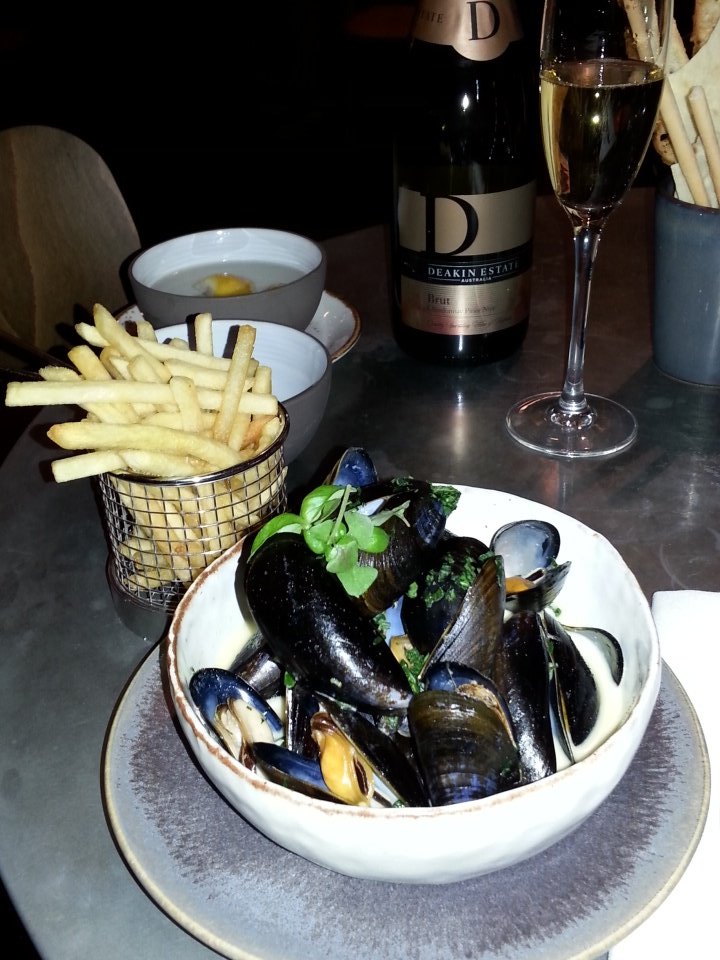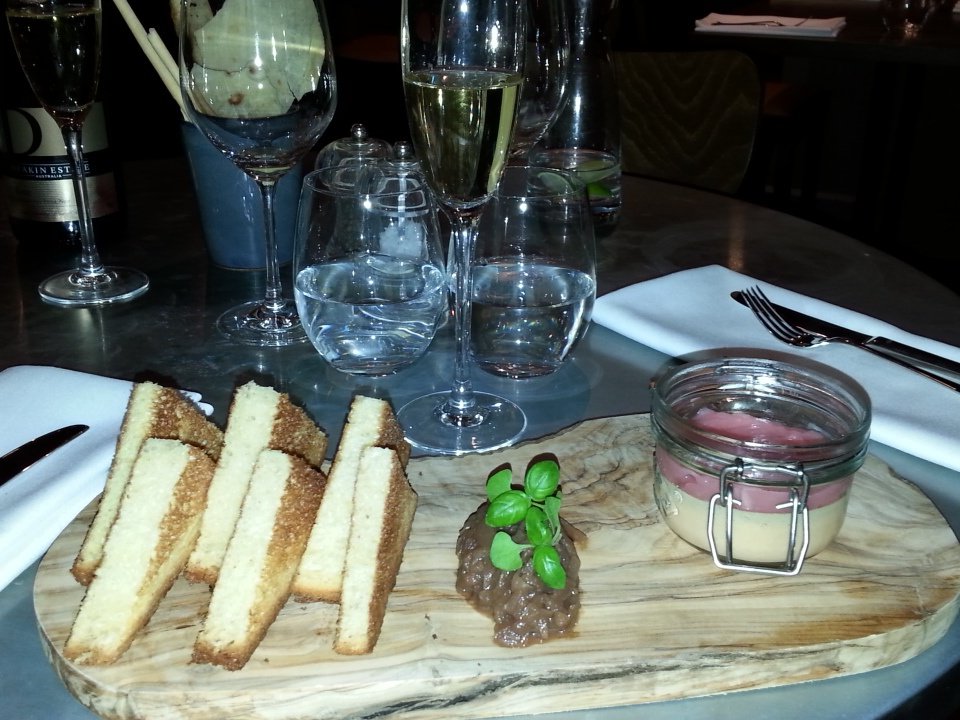 We then had an interesting conversation with Roy Sommer, their Food and Beverage Manager, about his input into the wine list and food and wine pairings for events at Tavern at 15.
When our mains arrived, C was still sad they didn't have her whole lobster, but agreed that her lobster linguine (£35) looked pretty good! It brought back holiday memories of sitting by the sea in the Mediterranean. However, she had lobster envy, as my lobster burger had more lobster in it than hers (the small piece of lobster on top, plus the small piece at the front of the dish, that you can see in our photo were the only specimens of lobster in this dish).  She did report that it was enjoyable, fresh with its chilli and tomato sauce, but that the pasta could have done with more of a chilli kick. When she asked for some fresh chilli, all the kitchen was able to produce was a bottle of Tabasco.
Jean-Didier, please could you next time have some fresh chilli or chilli flakes to augment the dish, as well as add more lobster to justify the £35 pricetag. Many thanks.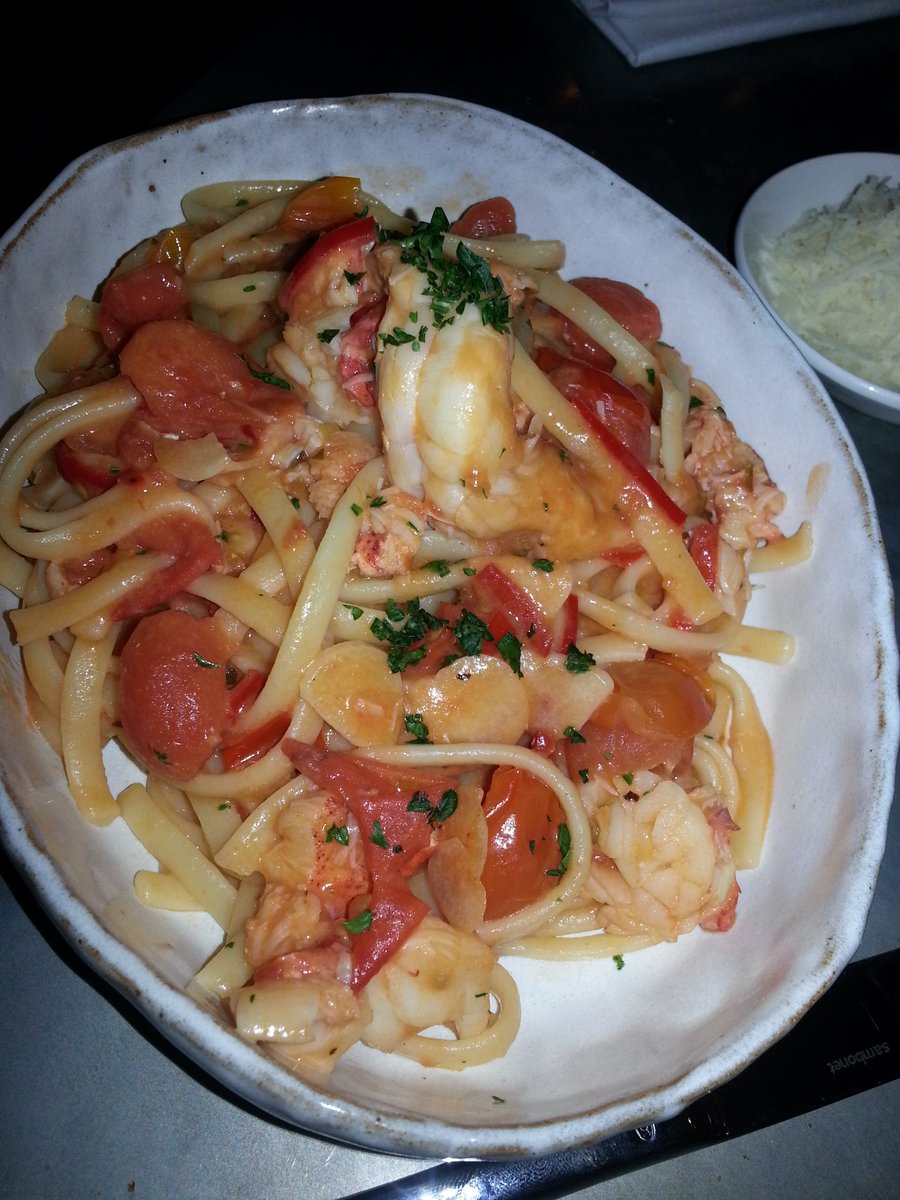 My lobster burger (£28.95) came jam packed with beautiful, juicy lobster pieces and proper chunky chips. The addition of the crab butter was a great twist created by Jean-Didier and brought the burger to life with each mouthful. Loved the texture of the toasted demi-brioche bun also.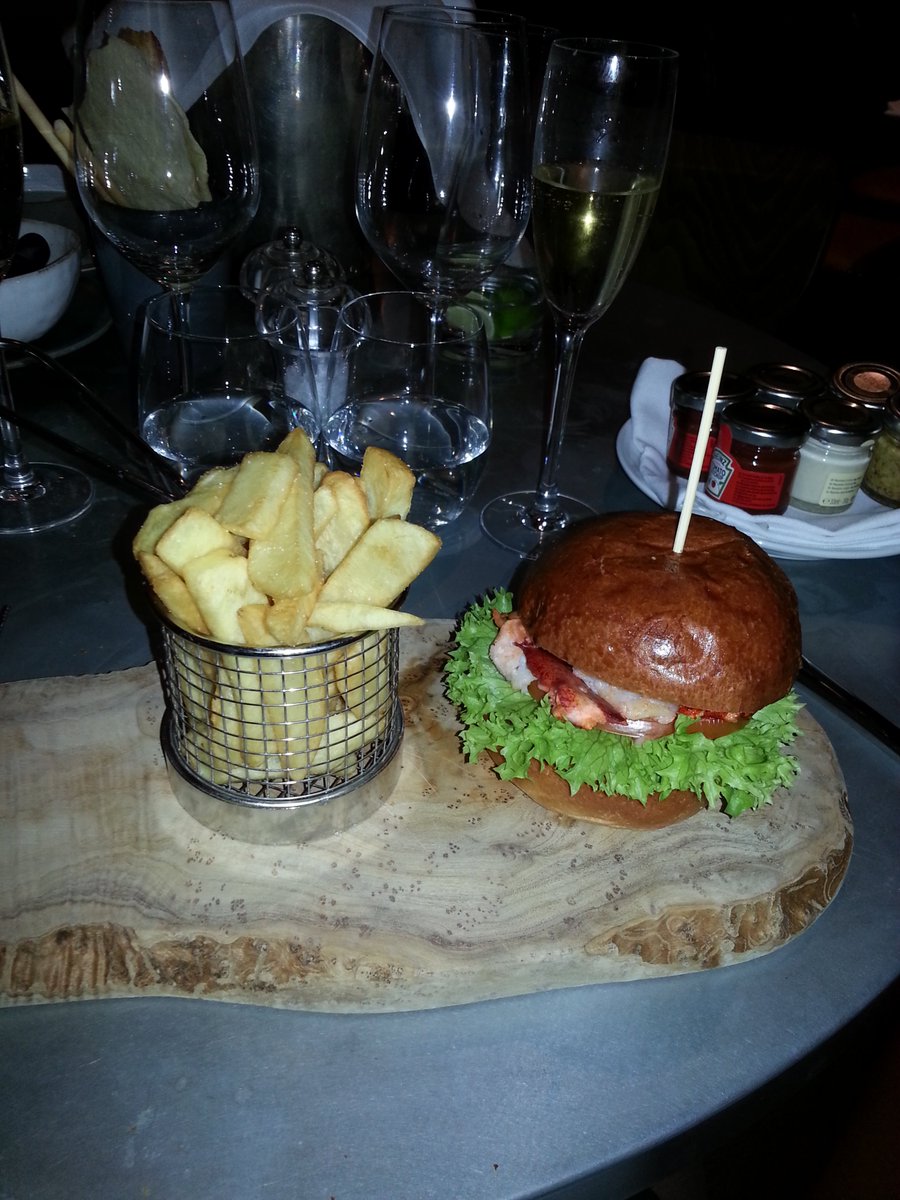 … and the money shot : lobster burger cut through !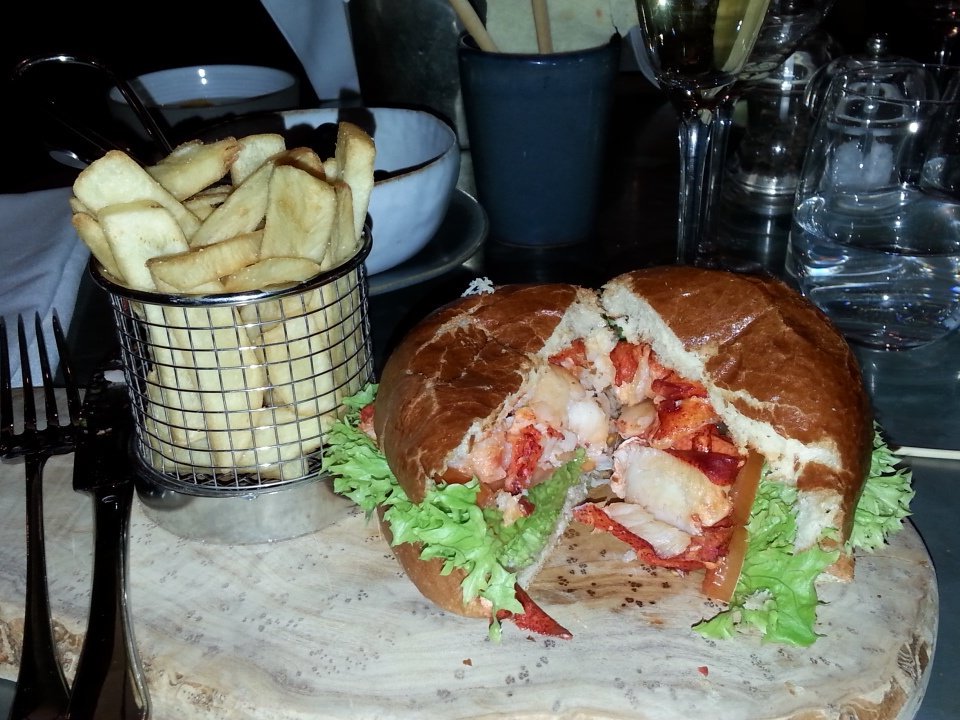 Loved the friendly, attentive service from Vlad, who also had great showmanship whilst creating some wonderful cocktails for neighboring tables.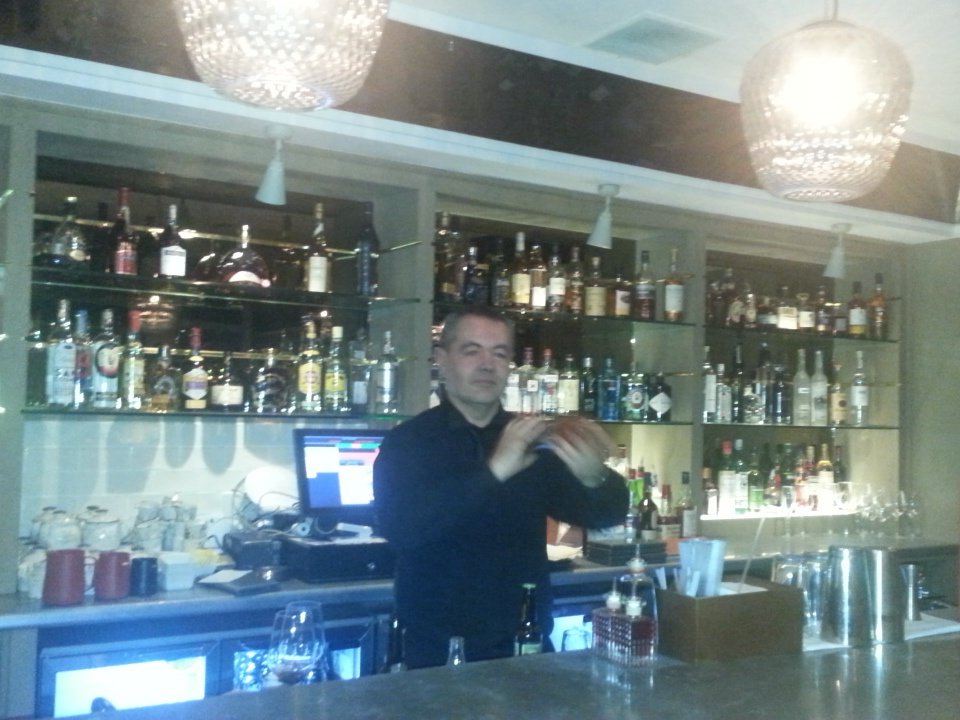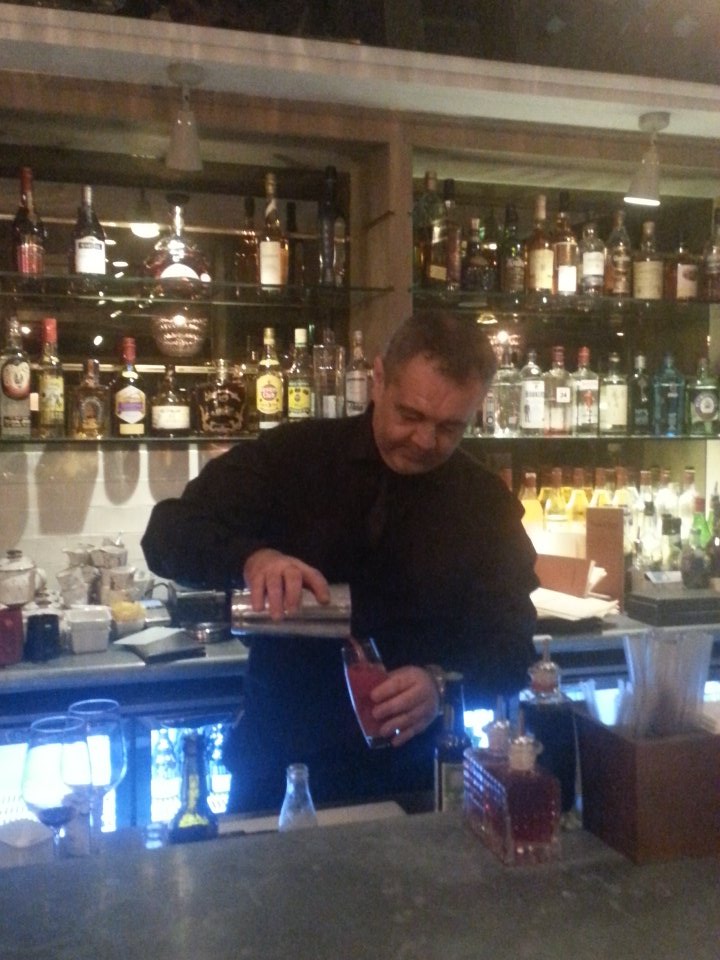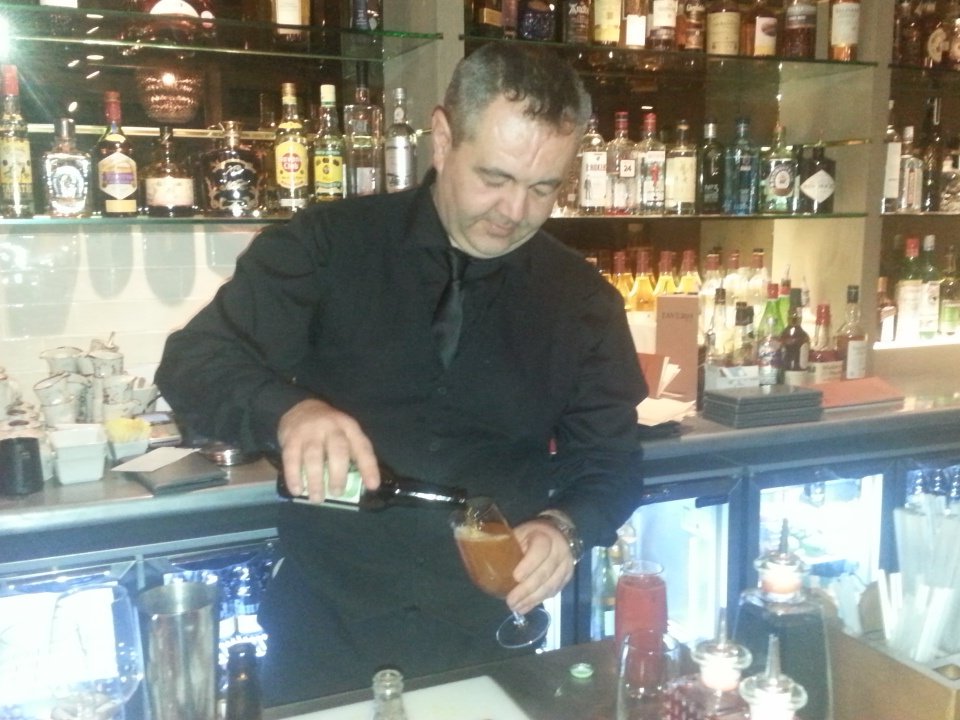 I loved my creme brulee (£7.50) with its crisp sugar top, that is creates so much pleasure when you hear it crack as you tap it with the back of a spoon. Life's little pleasures! It went perfectly with my single shot espresso macchiato (£2.95).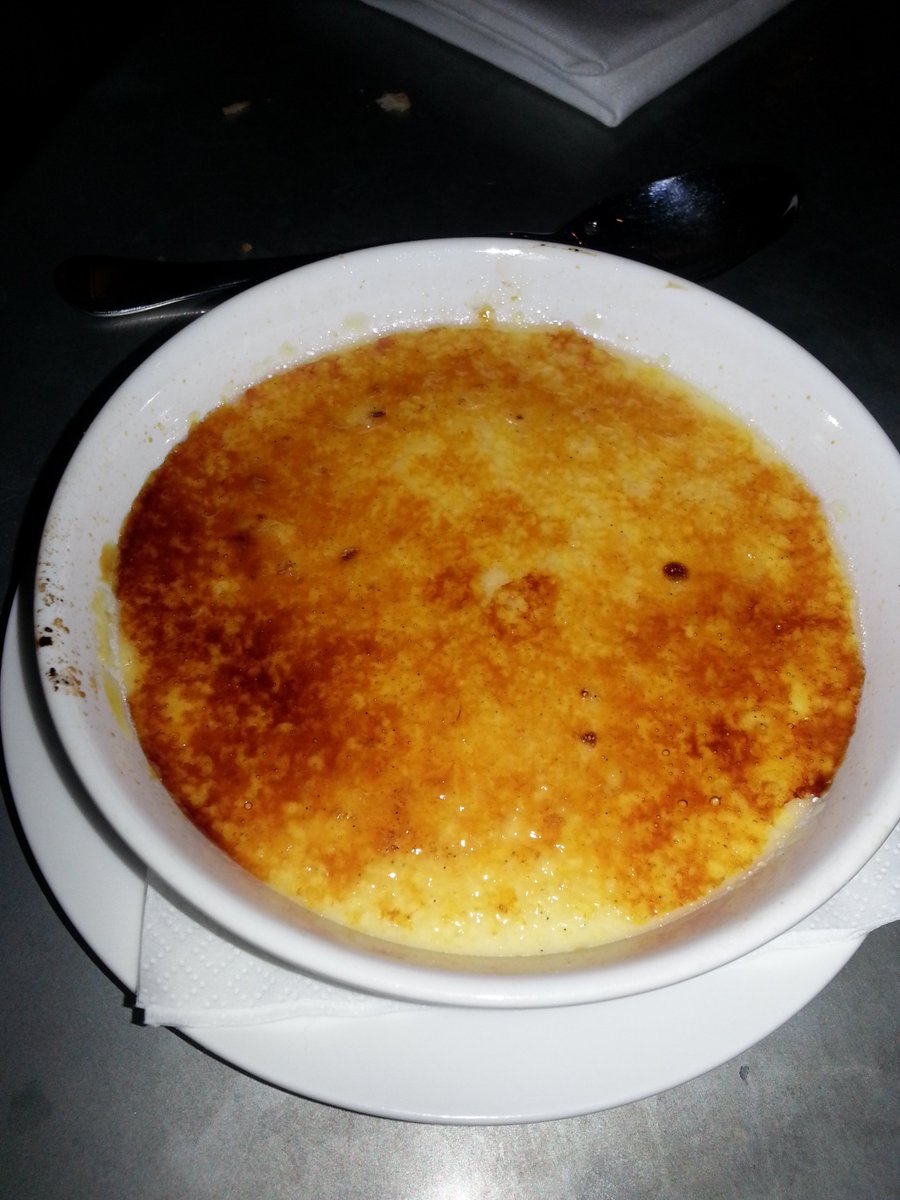 Adored the chocolate speckled crockery!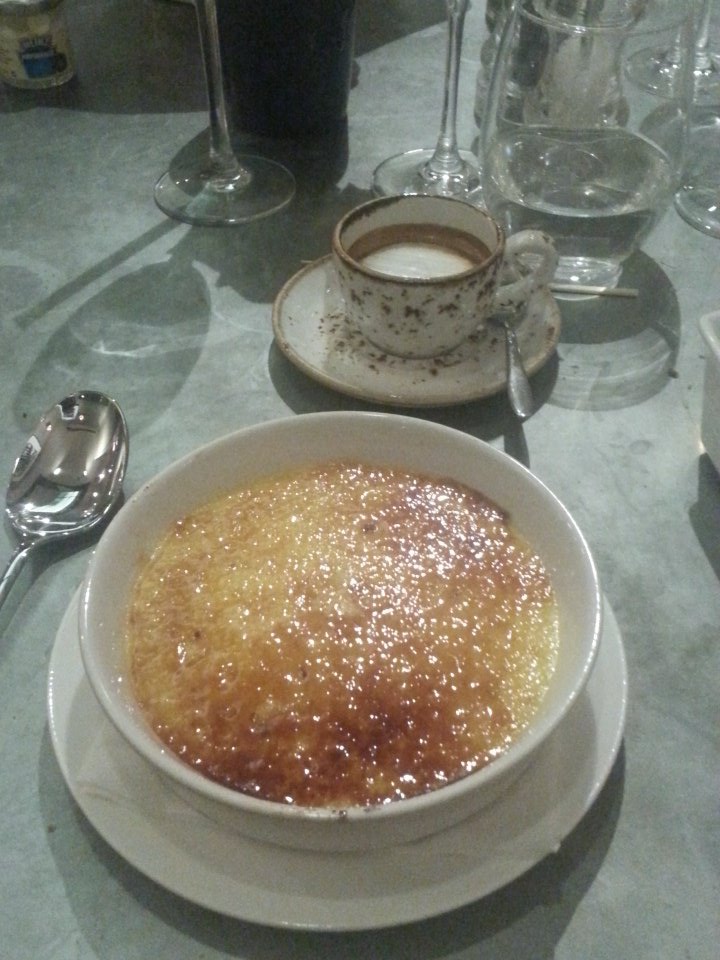 C's tiramisu (£8.95) came nicely presented in a large coffee cup. She mentioned that her tiramisu  was pleasant to eat, but had a bit too much cream for her liking; she prefers the traditional Italian tiramisu with a higher cake to cream ratio. She had this with a filter coffee (£4.00).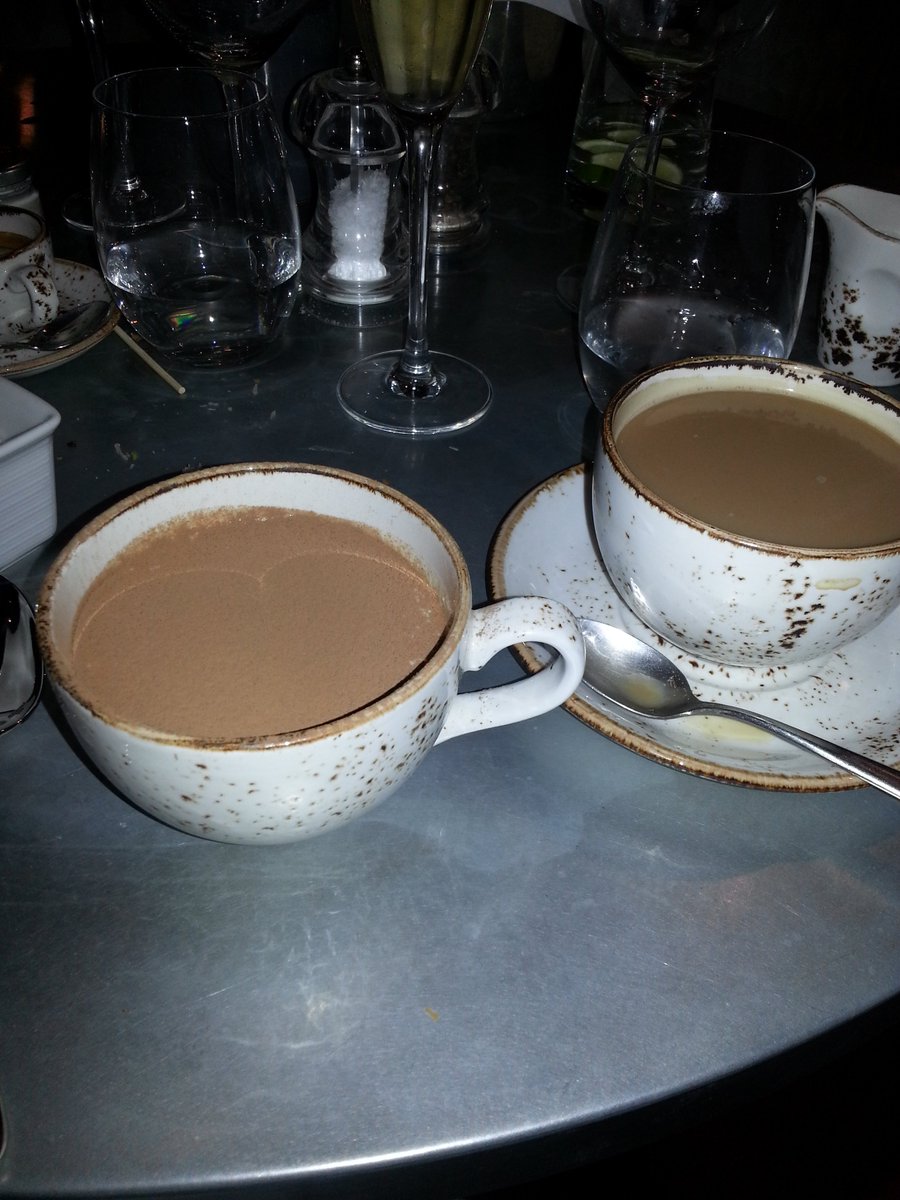 Overall, an enjoyable dining experience with pleasant service, and we would recommend visiting.
Though a note, if you want the lobster it may be an idea to pre-request it at booking, as we will be doing next time!
Go check out their next food and wine pairing event on Thursday 25th February, 2016 held in The Walbrook Grill on the theme of Bordeaux wines from the Château Haut-Bages Libéral in Pauillac and matched French culinary delights by Jean-Didier. Château Haut-Bages Libéral pride themselves on having biodynamic, sustainable vineyards. We adore Loire Valley wines, so this event sounds intriguing!
Twitter: #lobster #dinner @LondonCapClub @Tavernat15 @Sommer3Roy @FBMALDN  @BragaFabrizio @Jd37540893 #yuri #vlad #manon #londonfoodie #foodbloggers #MyFab5
@DeakinEstate #MurrayRiver #Victoria #Australia #AustralianWines
@ChateauHBL #bordeaux #foodpairings #winepairings #dinner @LondonCapClub #TheWalbrookGrill #pauillac #wine #comingsoon #Feb2016 #londoneats #londonfood #toplondonrestaurants @top_london_restaurants 
For membership and other information, please visit:
http://www.londoncapitalclub.com/home.html
http://www.deakinestate.com.au/index.asp
http://www.hautbagesliberal.com/
Translated into English:
https://translate.google.co.uk/translate?hl=en&sl=fr&u=http://www.hautbagesliberal.com/&prev=search
Thank you to Jean-Didier, Roy and Vlad for your hospitality, and to Yuri and Fabrizio for organising our meal. Looking forward to seeing you all again soon.
<a title="Read Square Meal's review of @15″ target="_top" href="http://www.squaremeal.co.uk/restaurant/15?utm_source=Blog&amp;utm_medium=Blog&amp;utm_campaign=Link"><img width="230″ height="125″ src="http://www.squaremeal.co.uk/Views/DynamicImages/BlogBigImage.aspx?restaurant=edc43deda23a46d19d2796c31eb9384f&#8221; alt="Square Meal" /></a>