We were excited to be visiting Engawa, a small, upmarket Japanese dining room found on a side street off Shaftesbury Avenue, serving Kobe beef-focused set meals from an open kitchen, and were impressed by the bright airy feel and contemporary Japanese decor when we arrived for lunch.
Engawa imports the entire cow and does much of the butchering in-house, resulting in a unique range of cuts for diners.
We settled down and ordered cocktails – the Engawa takes on Espresso Martini and Negroni. These are C's and my favourite drinks and we use these as bench marks to gauge a place on the skills of their bartenders and to see what their versions are on these classics.
The bar at Engawa with its beautiful light piece – and the bartender creating our cocktails with flare, and you could watch him in action through the glass screens of the dining room: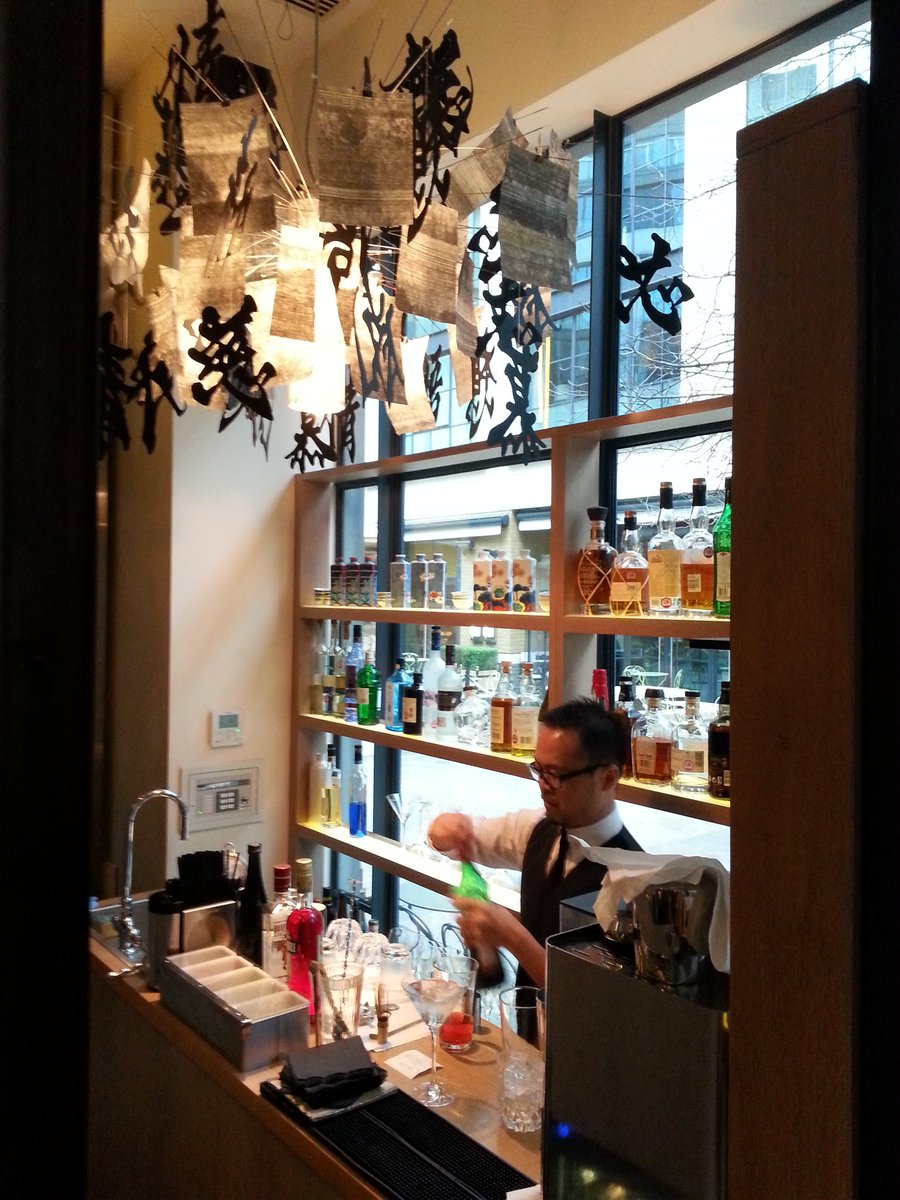 I loved my Japanese Negroni (£13) with its unique yuzu element from the subtle fresh citrus and chamomile flavours of the Tanqueray No.10 gin and notes from the bunraku junmai genshu sake. It was one of the best negronis I have had the pleasure of sampling around the world!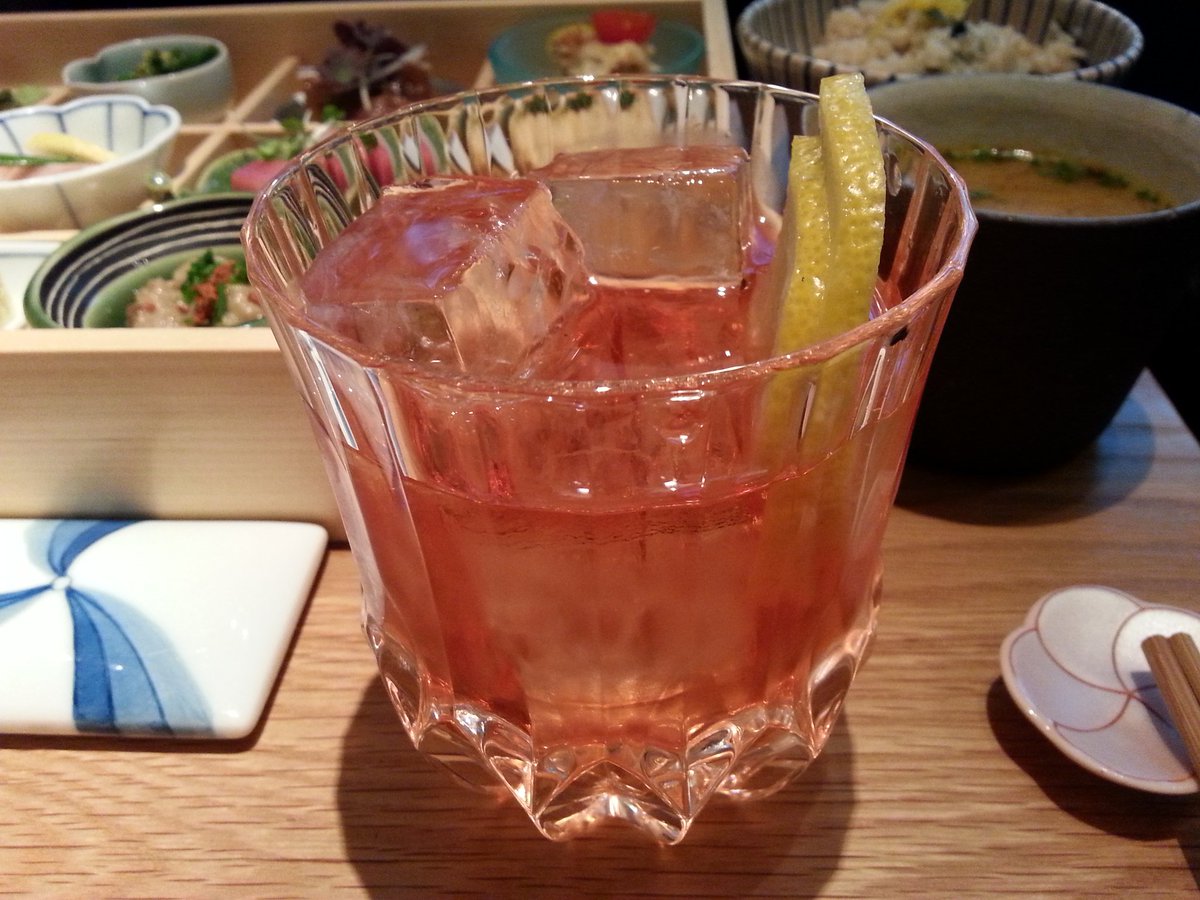 C's Rum Nuts Espresso cocktail (£13) had a wonderful addition of hazelnuts liqueur – she was in cocktail heaven!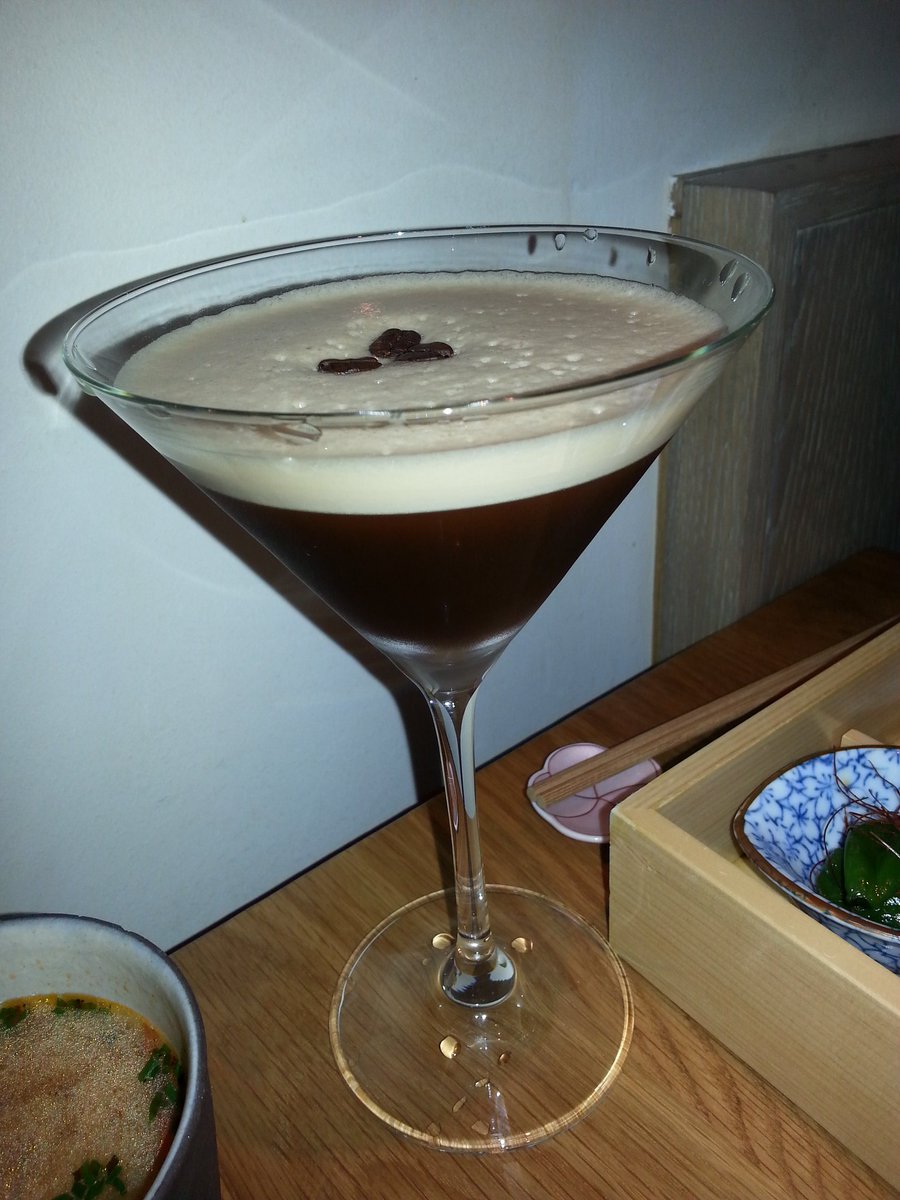 All the tables had pretty centre pieces of purple pansies displayed in little trinket boxes.
Engawa do a selection of bento boxes on their lunch menus ranging from the vegetarian bento box (£25) to the Kobe teppanyaki Hakozen bento box (£70).
Next, our 14 piece selection Hakozen bento boxes (£40) arrived with their lids closed and we loved the theatre of our waitresses removing the large wooden lids with flare, and also aligning with mathematical precision our accompaniments along the side of barley and mushroom rice and miso soup with daikon, carrot, dried tomato, chinese cabbage, onion and konnyaku (yam cake), ensuring our dining experience remained in harmony. The miso soup is useful in cleansing your palate between each item to enable you to experience the full flavours of each dish.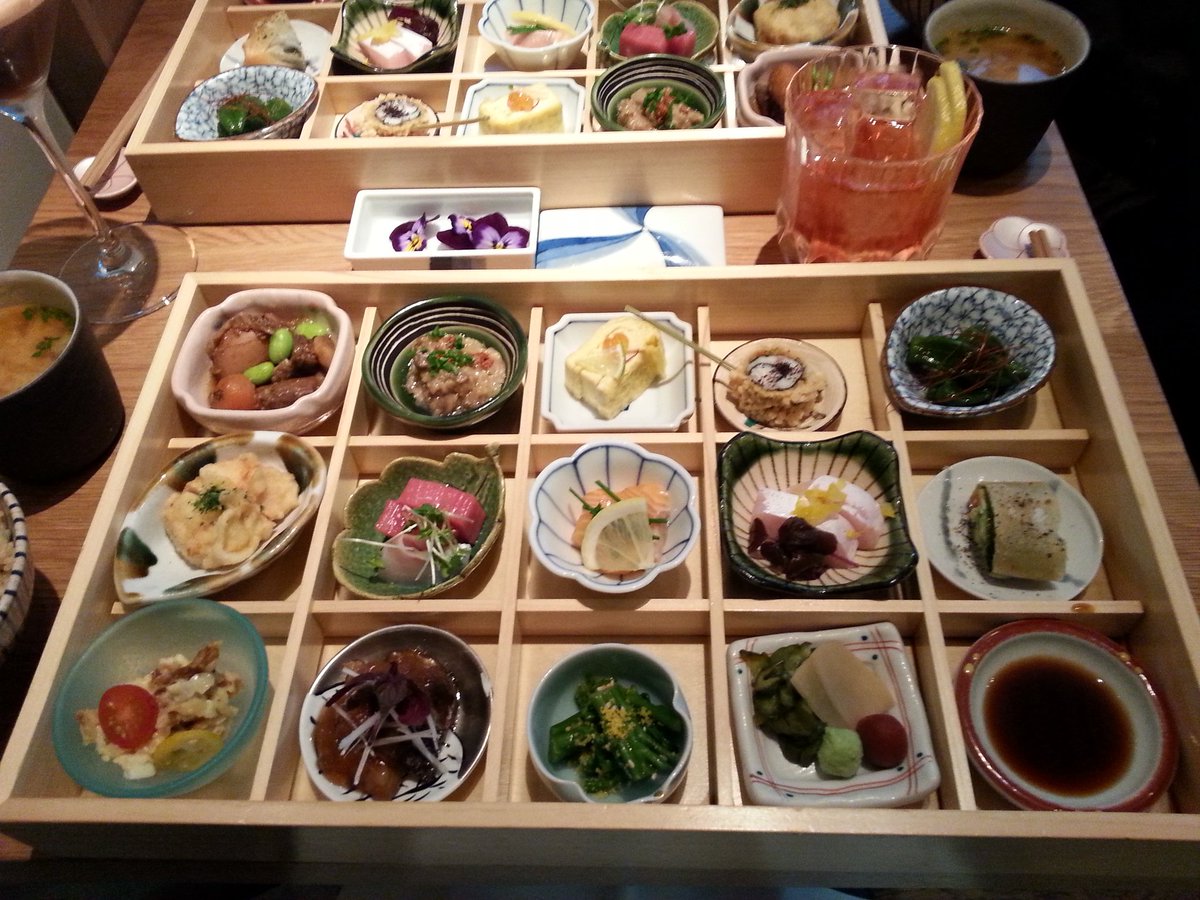 Our favourites were the fried seabass with rice cracker, tuna and seabass sashimi, and the divine Yellowtail sashimi with its light red flesh, slight fattiness but rich with deep flavours. The Kobe beef cooked in teriyaki sauce was perfectly cooked and did not overpower the delicate characteristics of the Kobe beef. However, the two Kobe beef stews were a disappointment; though they were pleasant to eat with the rice, they did not do justice to the Kobe beef. (For a detailed list of all the items in our bento box, check the end of this blog post.)
We will be keen to try next time the Kobe gyu don (£20) – Kobe beef finely sliced and cooked on the teppan with onions and a sukiyaki sauce – and the teppanyaki-cooked Kobe beef steak (Kaiseki lunch – £70).
Great selection of food showcasing the skills of the talented kitchen and bar teams, with beautifully presented items. Overall, an enjoyable experience with good service, and we recommend that you visit to enjoy some wonderful Japanese culinary creations.
Twitter: #cocktails & #bento Saturday lunch @EngawaLondon . Thx guys & #Beth @RocheCom #JapaneseFood #myfab5 #londonfoodie
http://www.tanqueray.com/en-gb/
Thank you to Beth from Roche Communications for organising this opportunity for us to sample Japanese delights in the centre of London!
In case you want to know what each item on the 14 piece bento box was (with another snap for ease of reference):
Top: Left to Right
Kobe beef and potato stew with carrots and edamame
Kobe beef sinew stew
Japanese style egg roll
Fried seabass with rice cracker
Fried padron pepper with dashi broth
Middle: Left to Right
Chicken tempura
Tuna and seabass sashimi
Salmon sashimi
Yellowtail sashimi
Vegetable spring roll
Bottom: Left to Right
Fried potato salad
Kobe beef cooked in teriyaki sauce
Boiled tenderstem broccoli ohitashi
Pickles
Soy sauce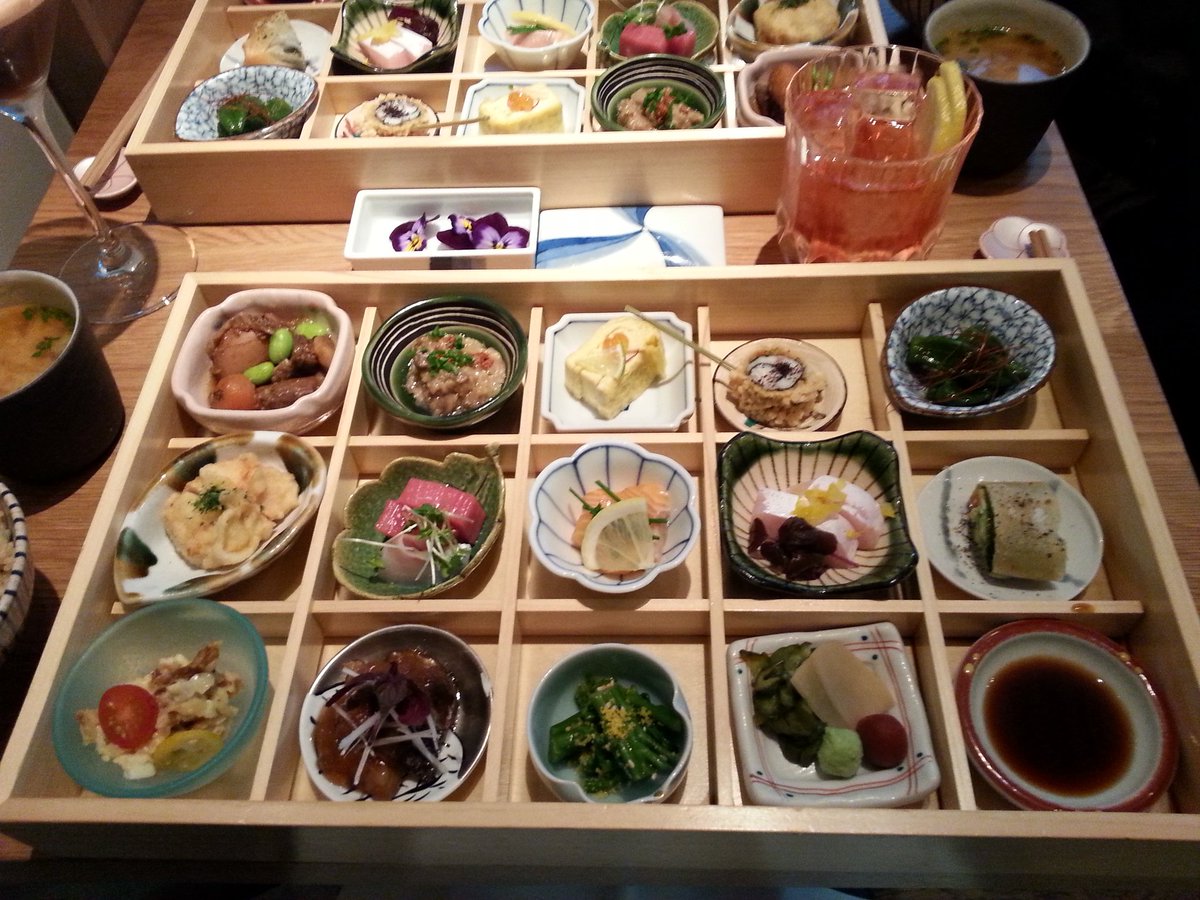 <a title="Read Square Meal's review of Engawa" target="_top" href="http://www.squaremeal.co.uk/restaurant/engawa?utm_source=Blog&amp;utm_medium=Blog&amp;utm_campaign=Link"><img width="230″ height="125″ src="http://www.squaremeal.co.uk/Views/DynamicImages/BlogBigImage.aspx?restaurant=2b06d5844d264b92bb1612327fafec6e&#8221; alt="Square Meal" /></a>