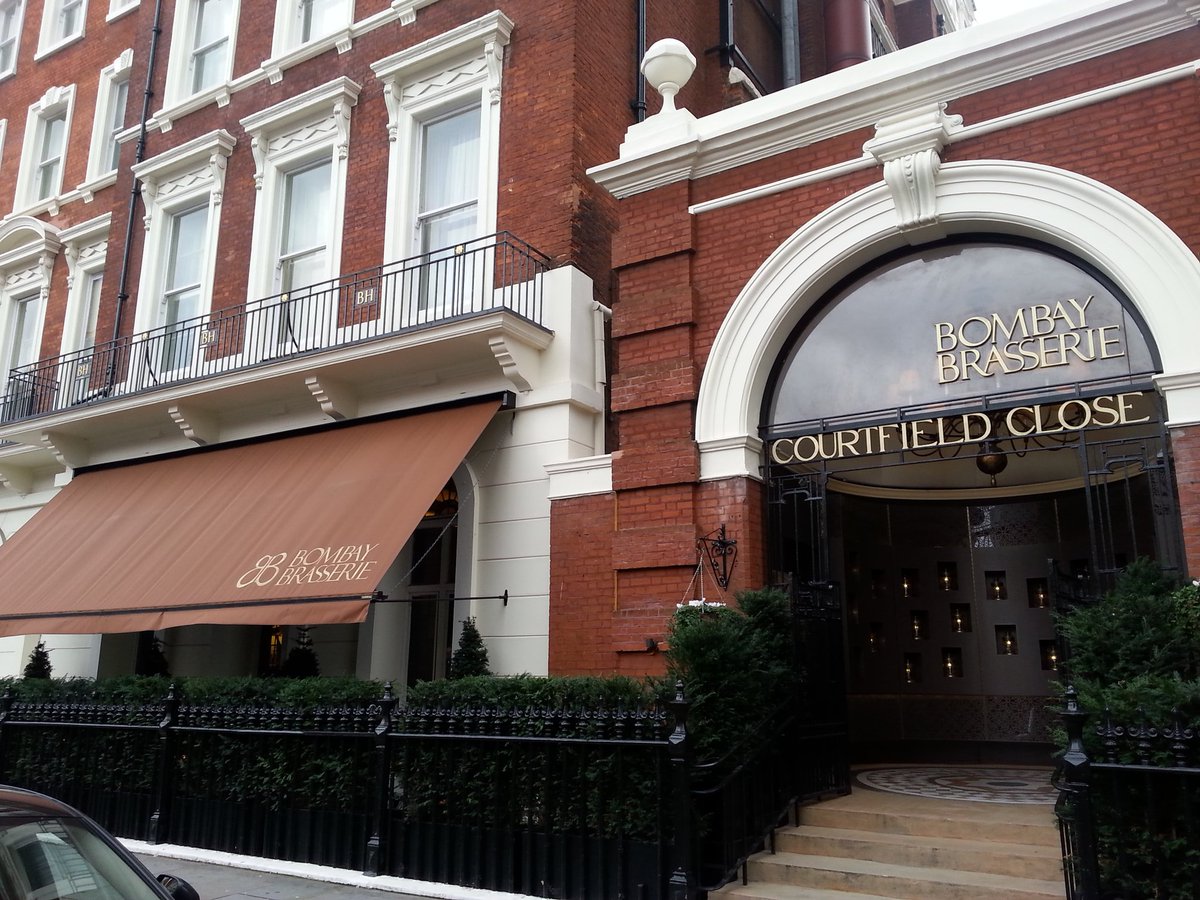 We were invited to review weekend brunch at Bombay Brasserie, the little sister to Michelin starred Quilon in SW1 – and were excited to be visiting a Taj Hotels Group business in London, as we have enjoyed staying at and dining at their properties when we are visiting relatives in Goa.
When you enter you walk into an impressive, sleek bar area with a warm glowing fire and pictures adorning the walls with Maharajahs and Maharinis as well as other notable people.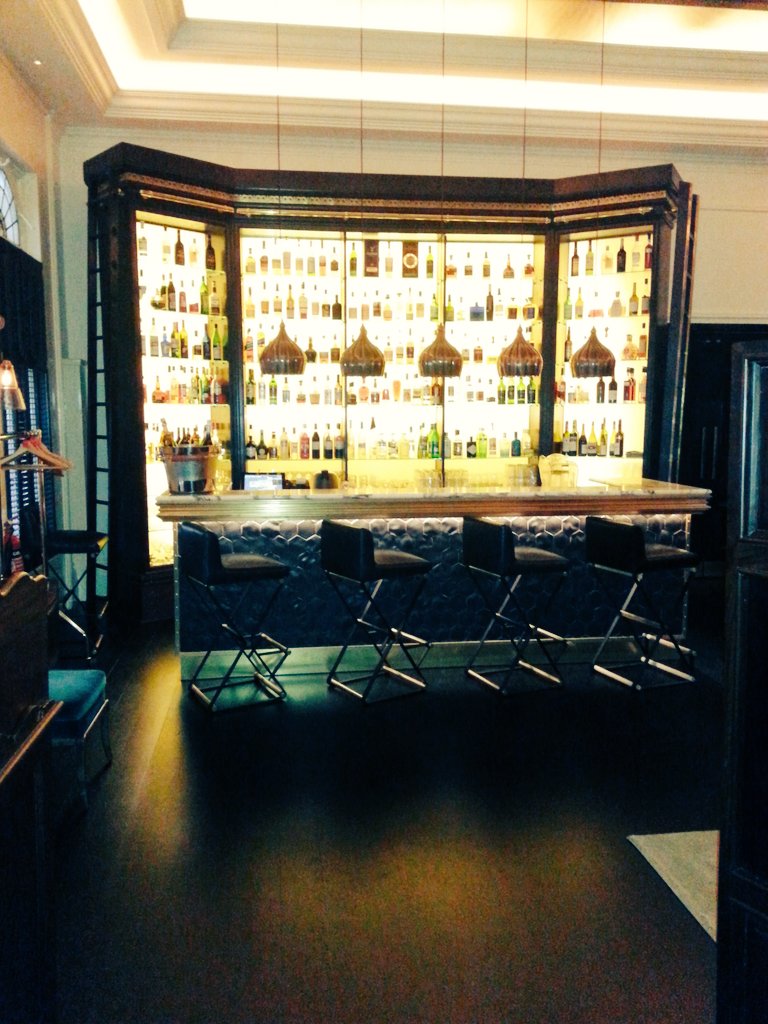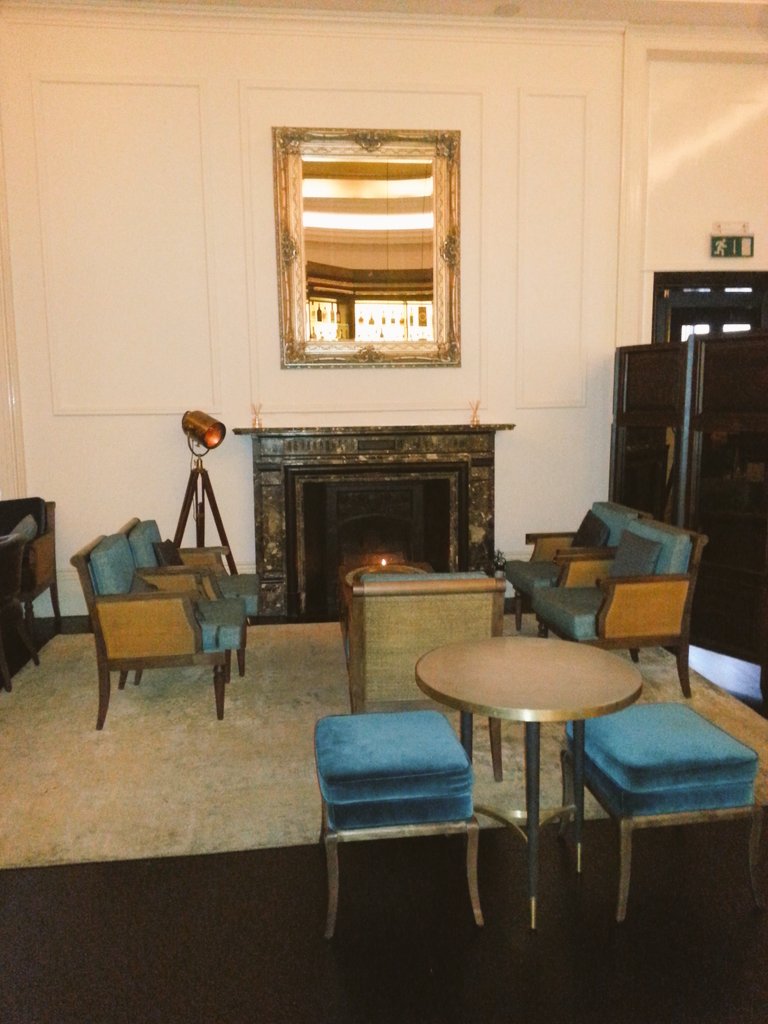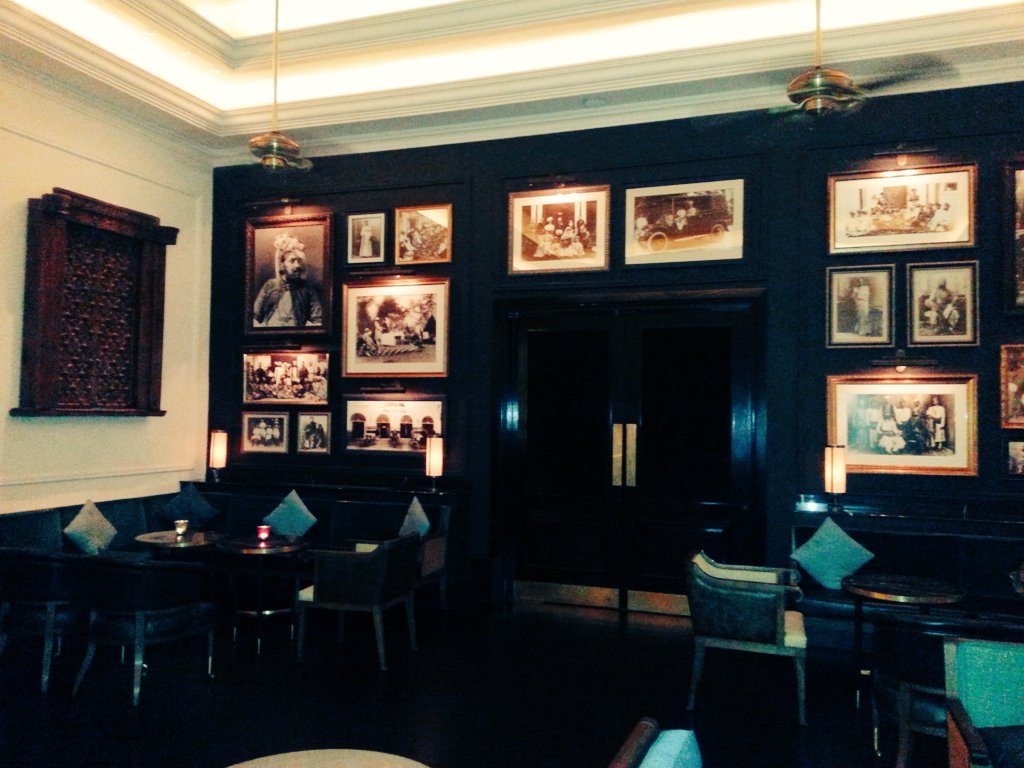 Particularly loved the beautiful wooden screen: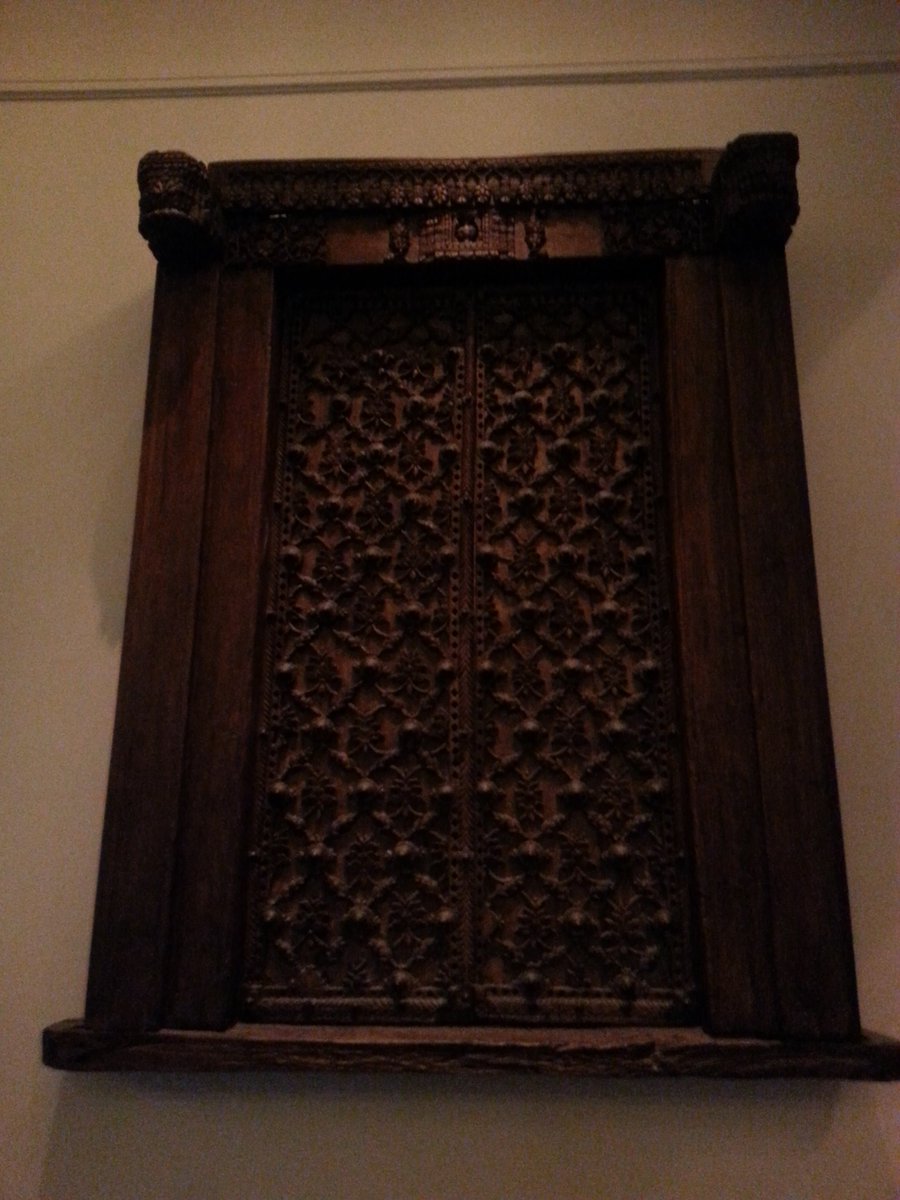 As you walk through the saloon doors, you are greeted by an breathtakingly beautiful chandelier and main dining room with its own resident pianist – who was amazing to listen to!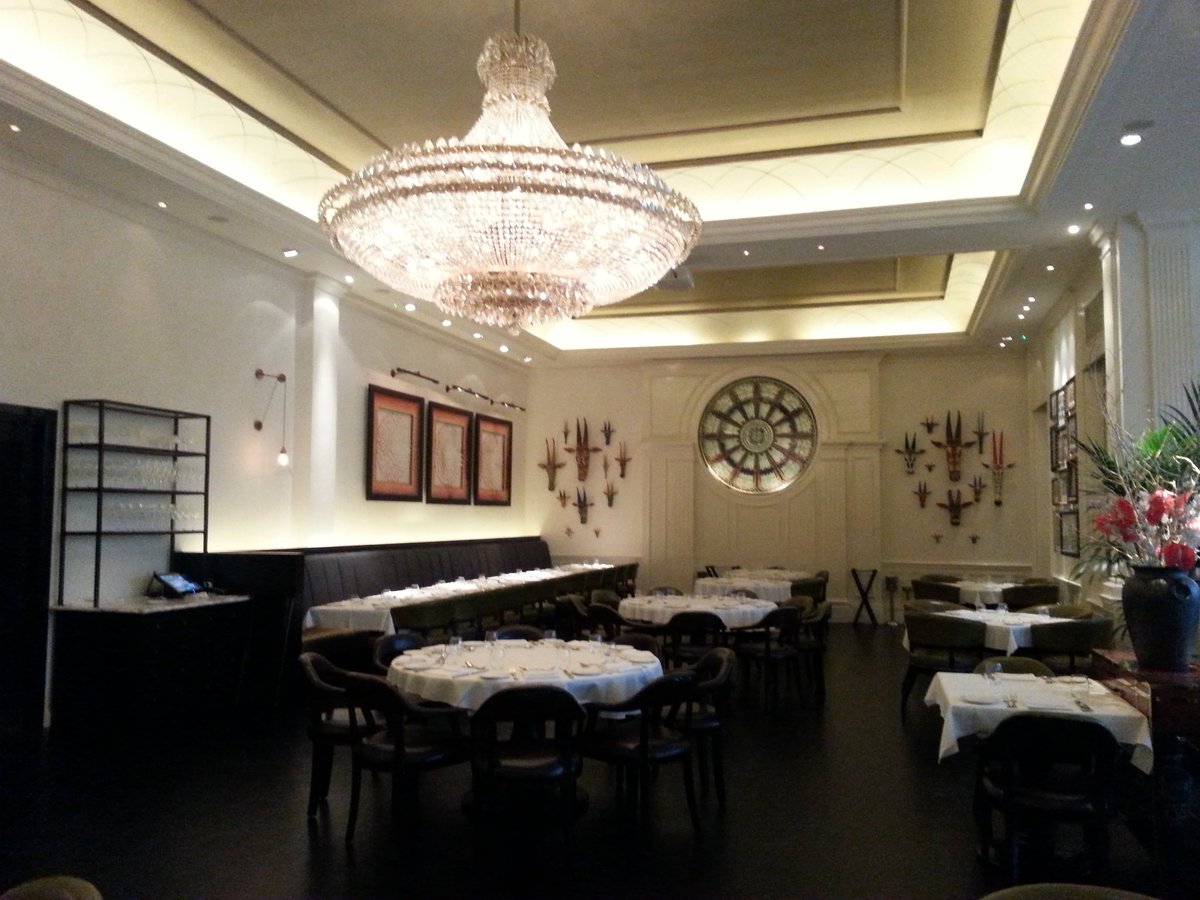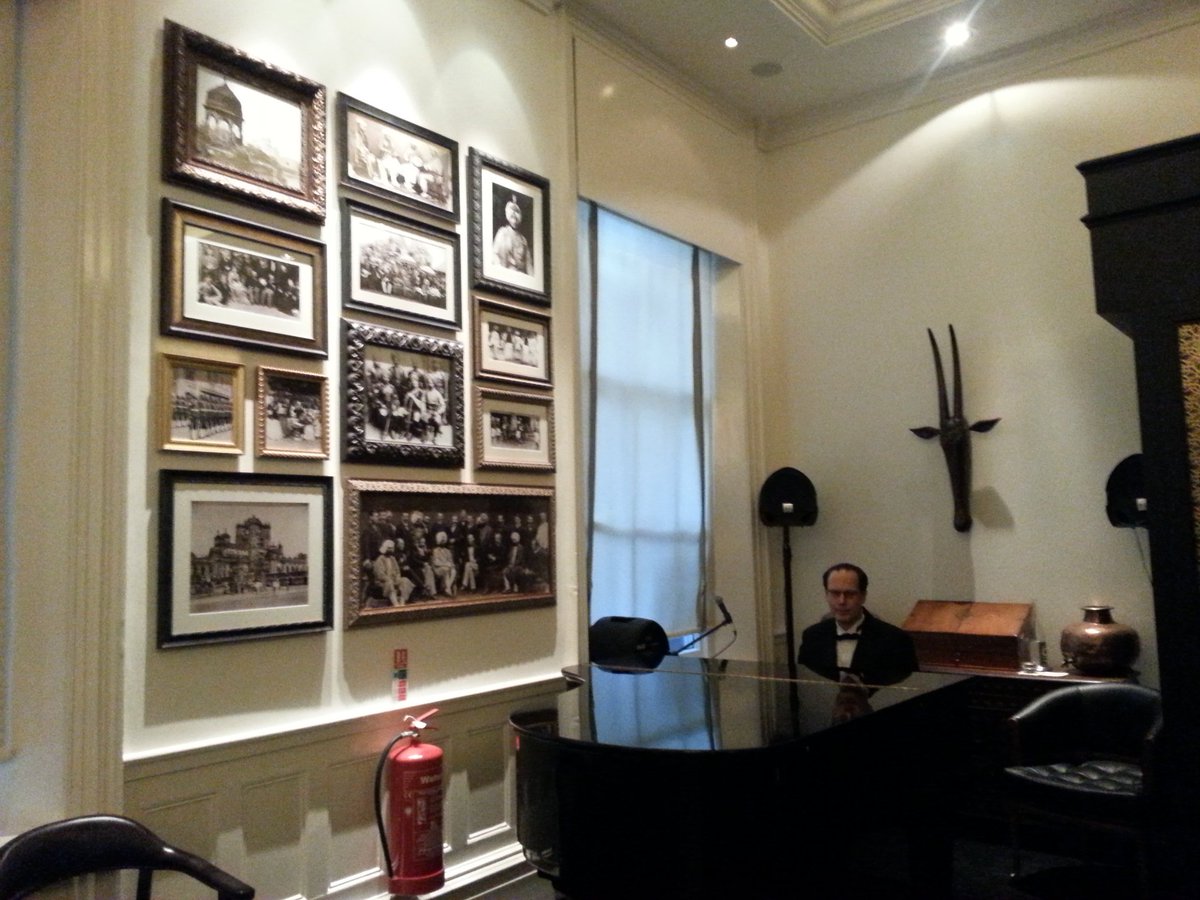 We then were guided into their conservatory for brunch. Loved the relaxed, bright airy feel and decor in the conservatory!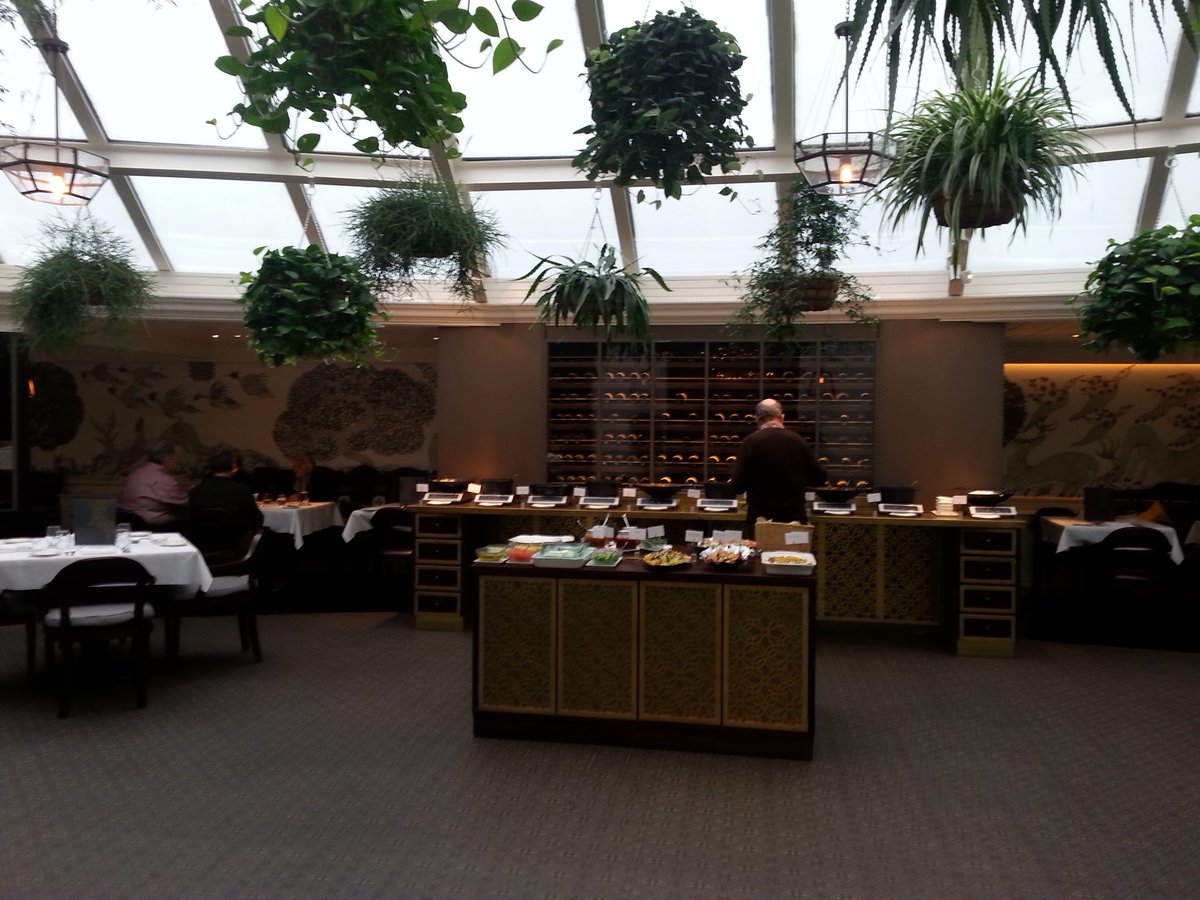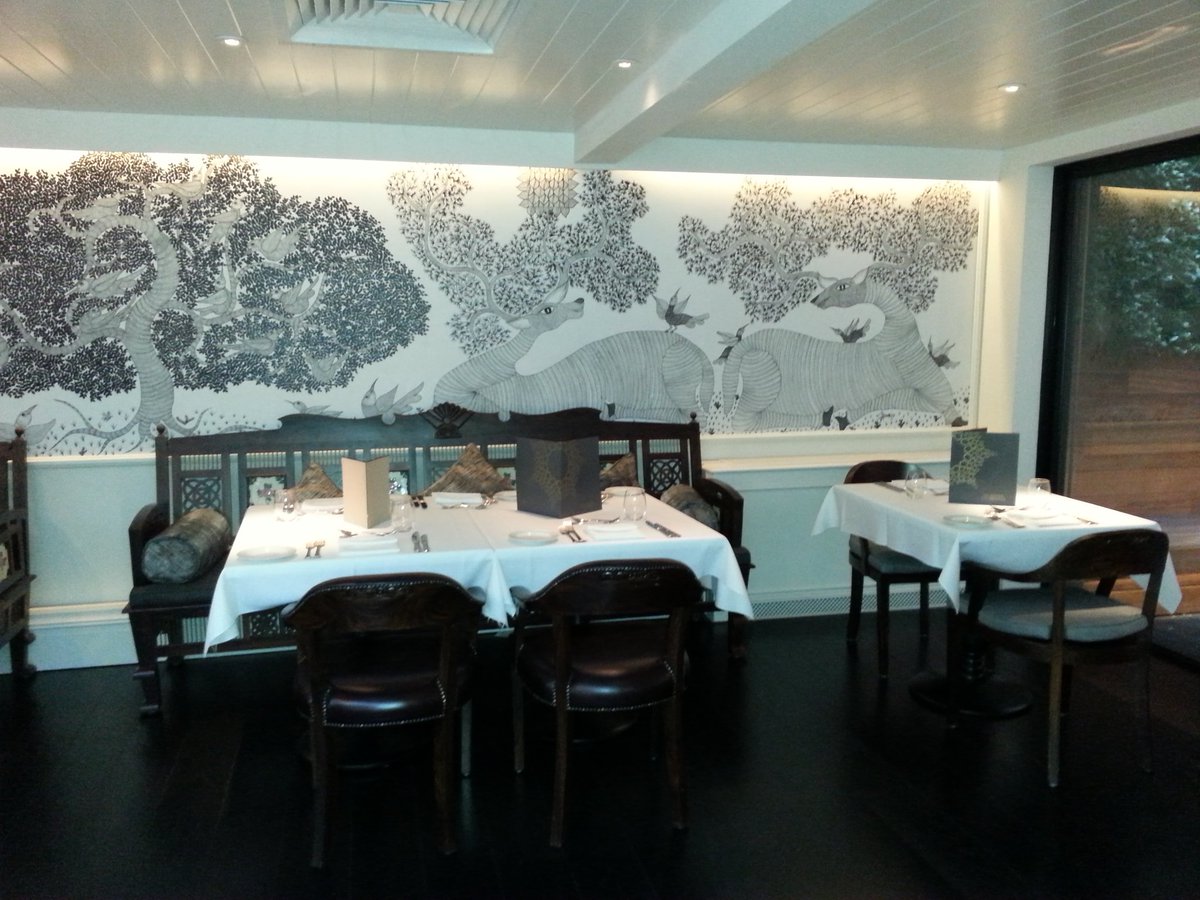 I think you will agree that their venue looks amazing post-refurb!
We kicked off proceedings with a visit to the chaat stand – Bombay Brasserie's take on the street food stalls in India serving quick bite-sized snacks.
We were served an array of chaat stand delights by chef Elvis created with care and precision, as they are delicate little morsels  – including a bhel puri and pani puri sections: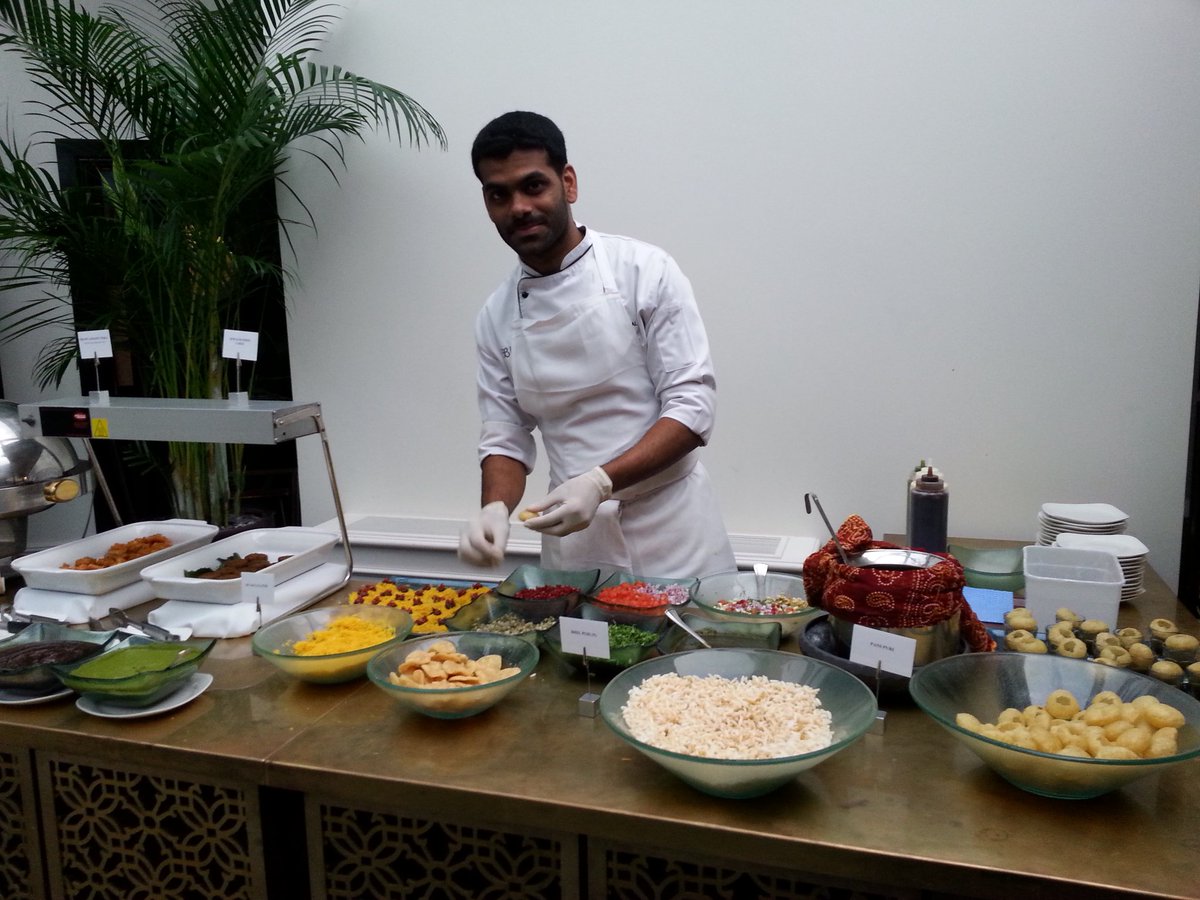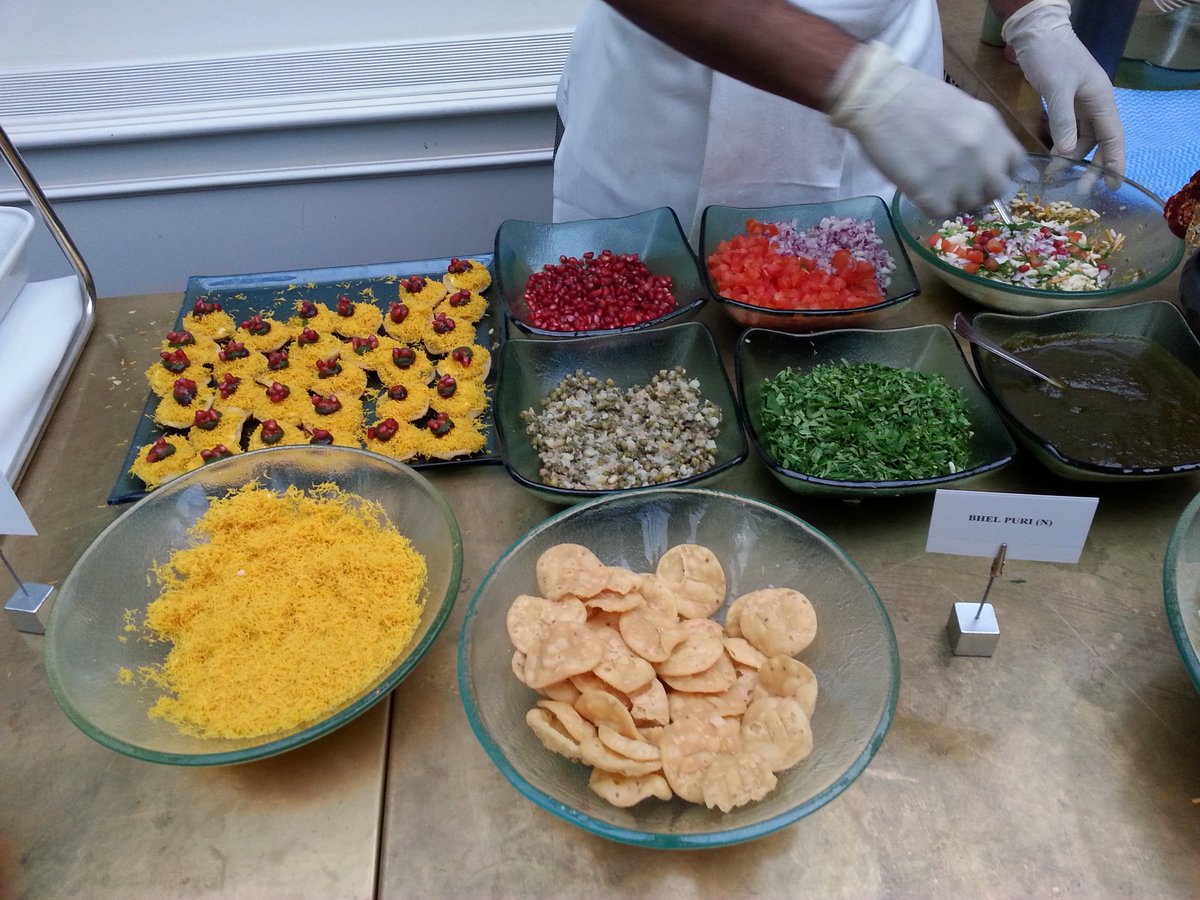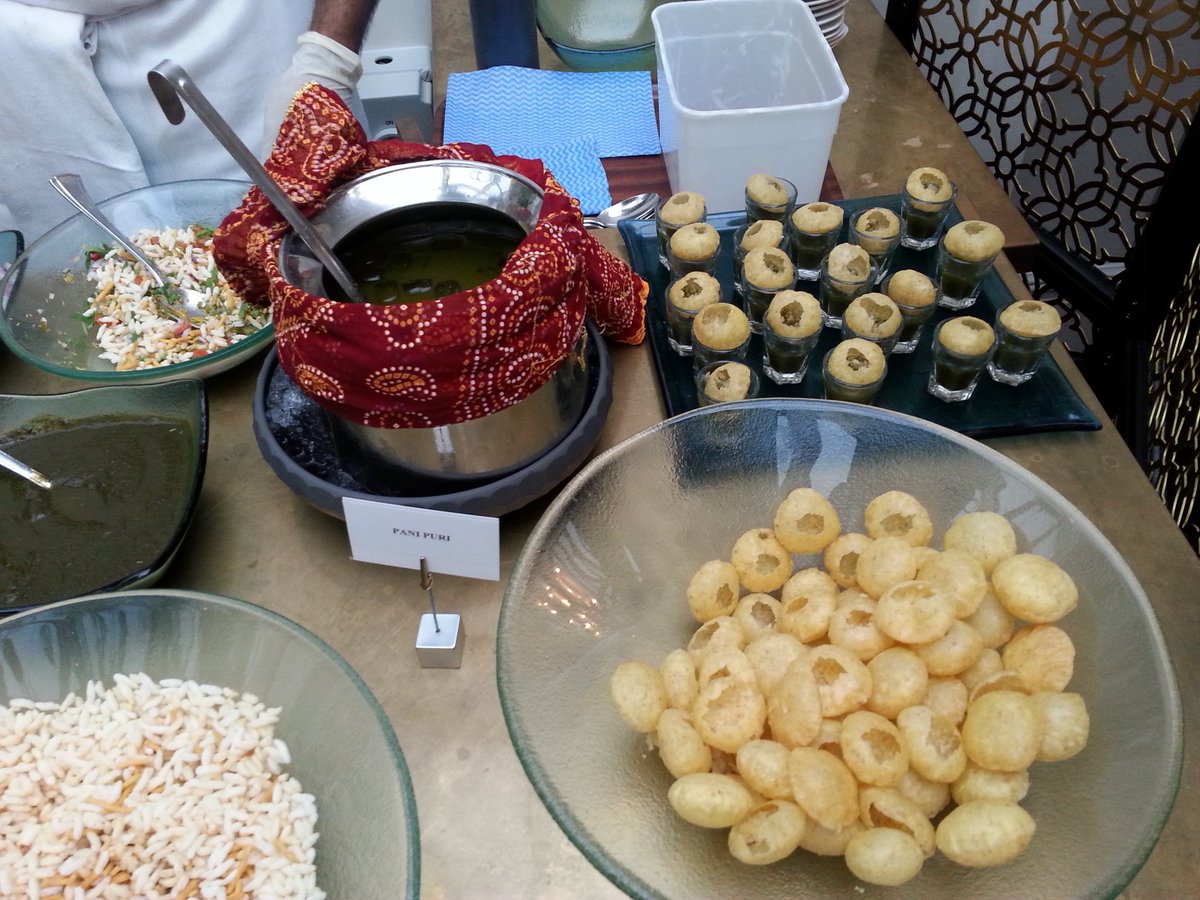 Here is C's carefully selected plate of bhel puri and coconut prawns creatively decorated with tamarind sauce – she wanted to ensure she left space to try the main dishes: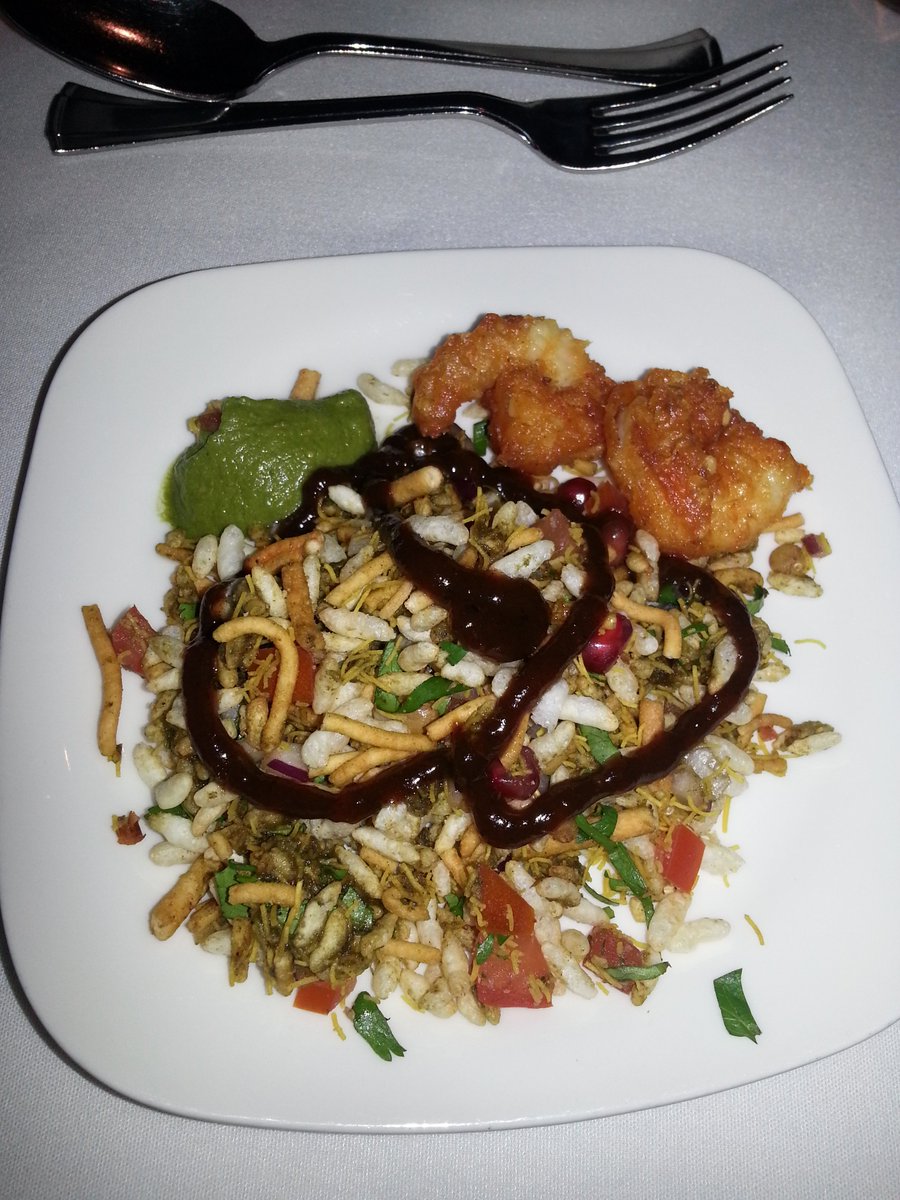 Though, Oster and Elvis insisted on me trying all the items on the chaat stand, so I had the full selection of: bhel puri, coconut prawns, pani puri with vegetable pakora and a tandoor cooked chicken in a dill marinade – a very colourful, and tasty, start to my brunch experience: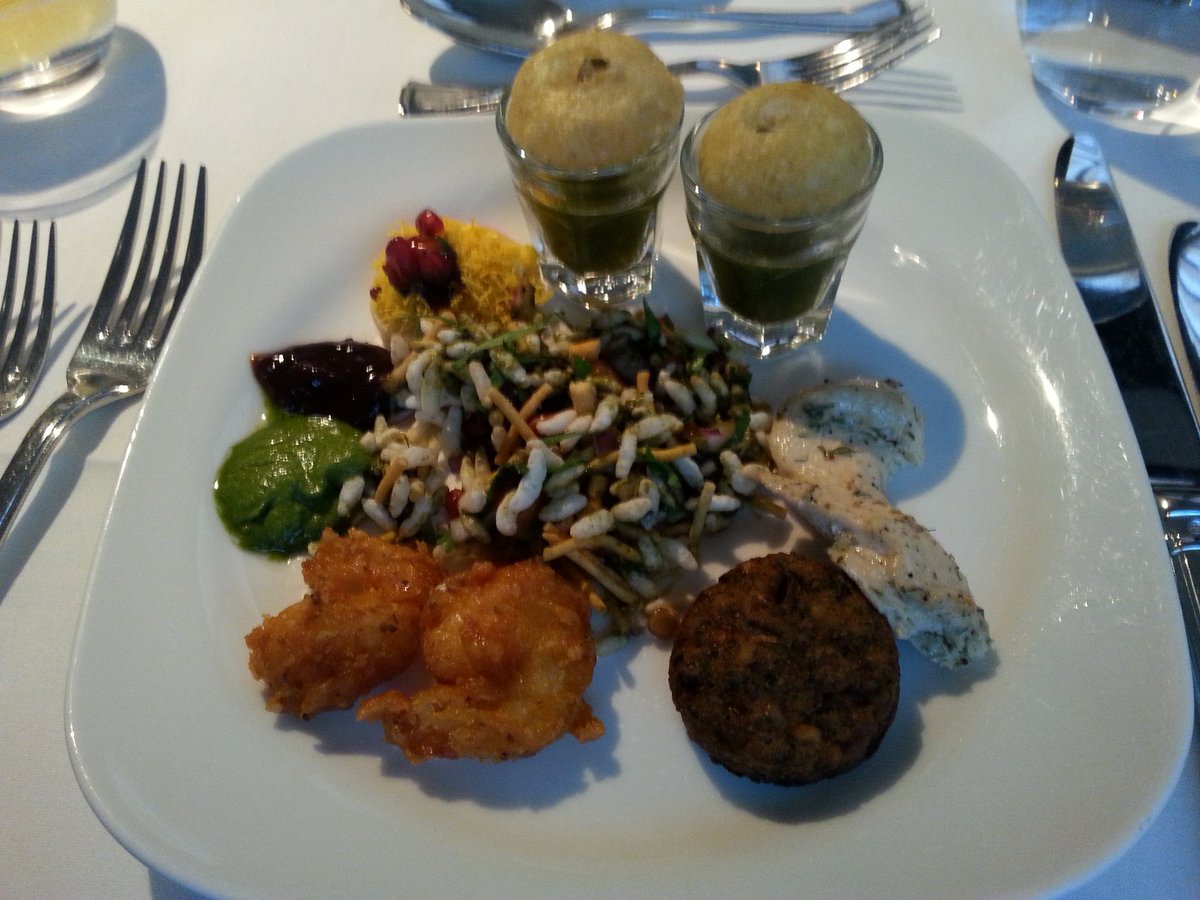 Bhelpuri is made out of puffed rice, vegetables and a tangy tamarind sauce. Panipuri, also called golgappa, is a street snack in several regions of India. It consists of a round, hollow puri, fried crisp and filled with a mixture of flavored water, tamarind chutney, chilli, chaat masala, potato, onion and chickpeas.
Chef Prahlad Hedge came over and chatted to us a few times during our meal, and we learnt that he had trained under Chef Cyrus Todiwala, which he spoke fondly of, and then continued his career moving around Taj Hotel locations, including the hotels in Goa near to our relatives. He was very passionate about sharing his experiences gained from his culinary career as well as the influences of his travels on new menu creations both on the a la carte menu and for the brunch menu.
Next we moved onto mains – too many choices!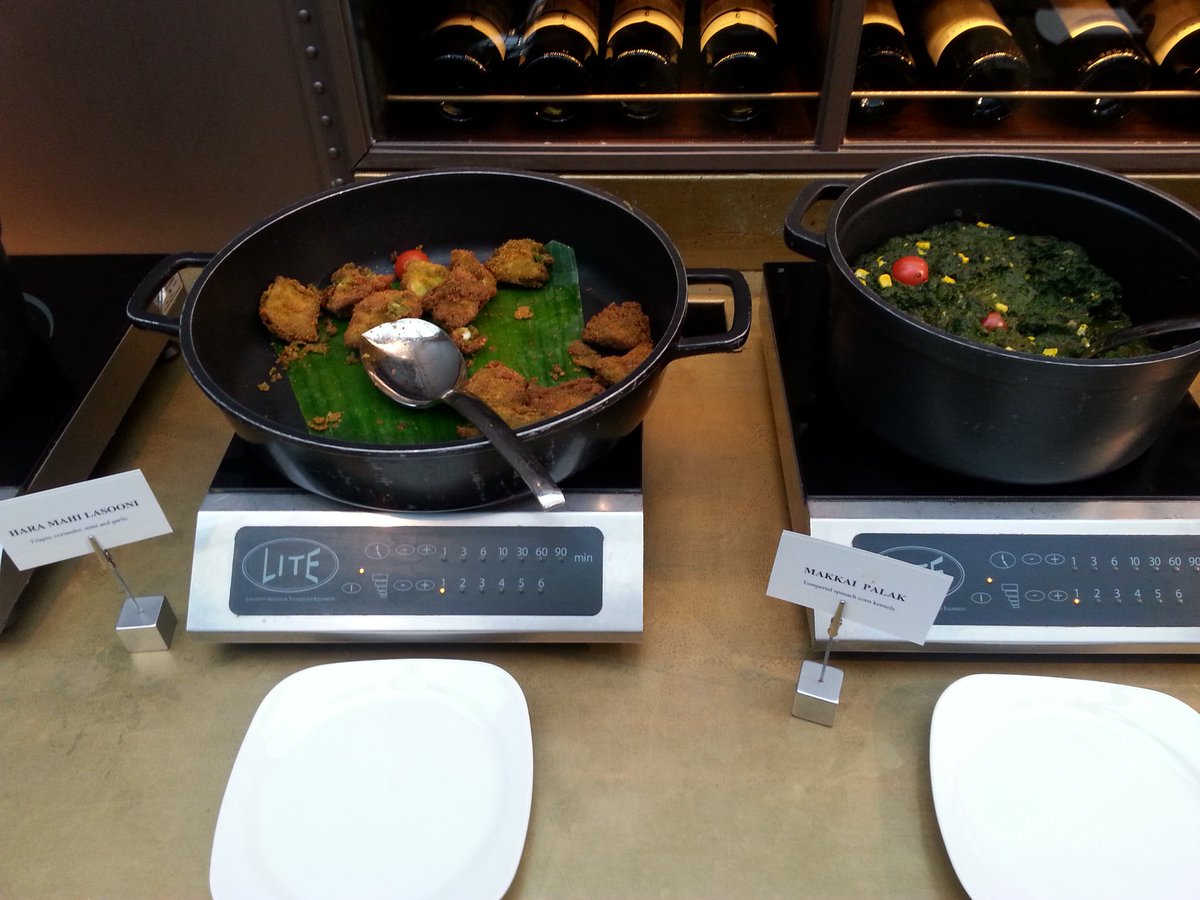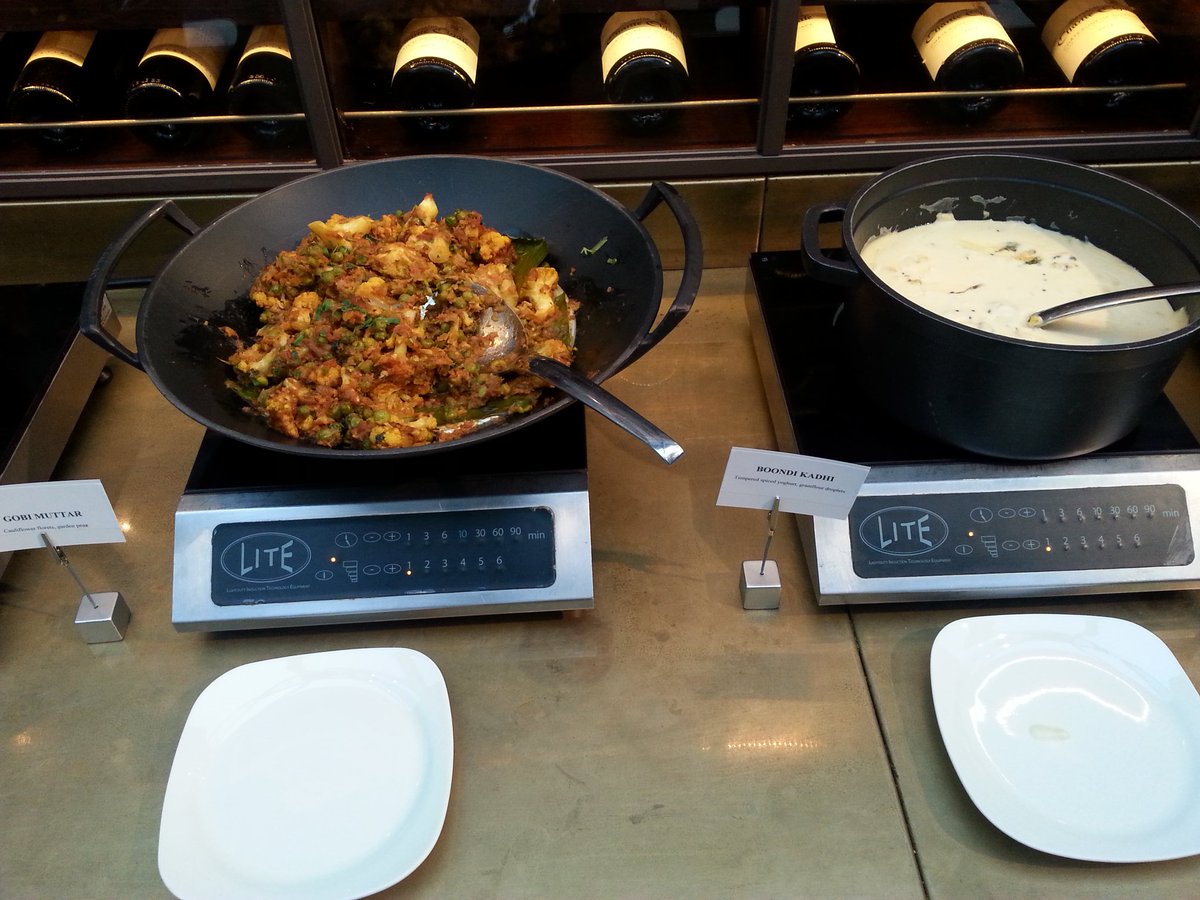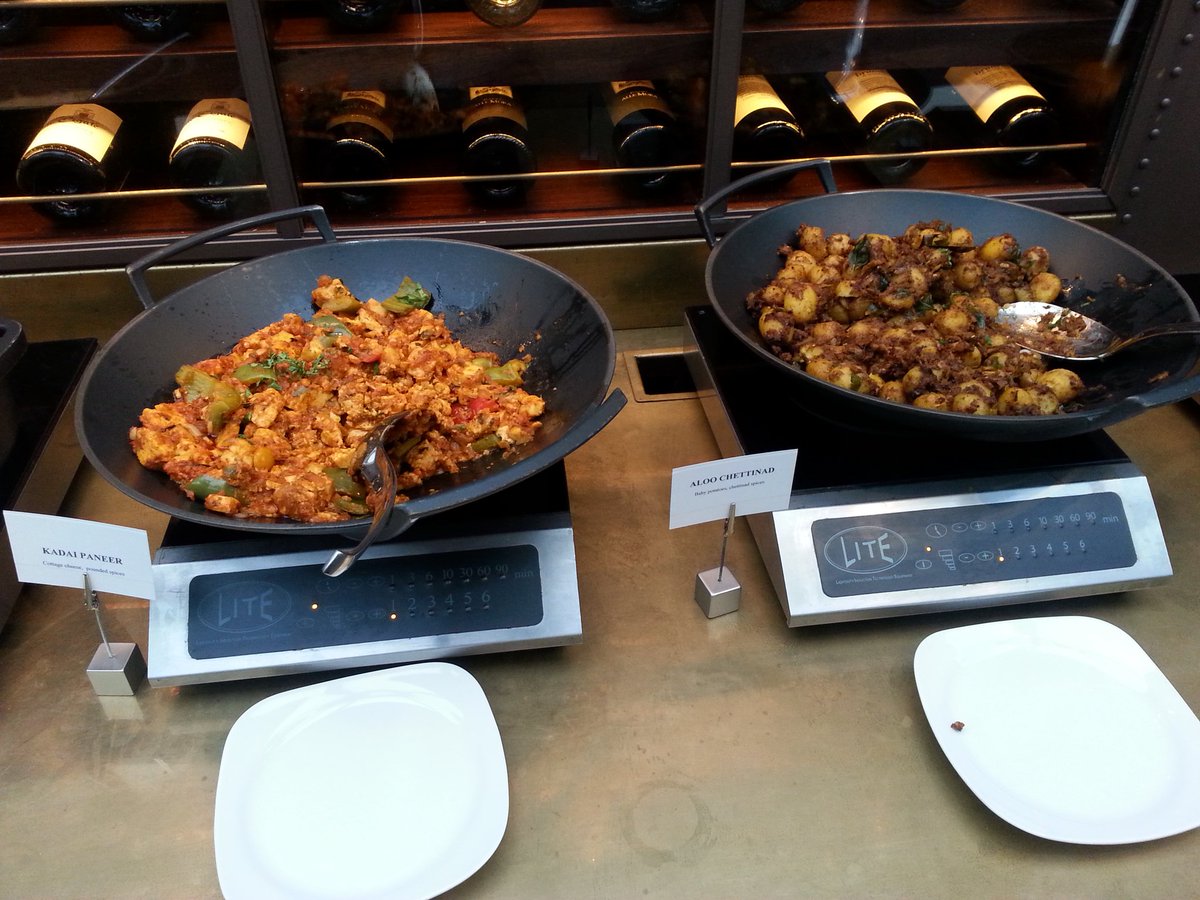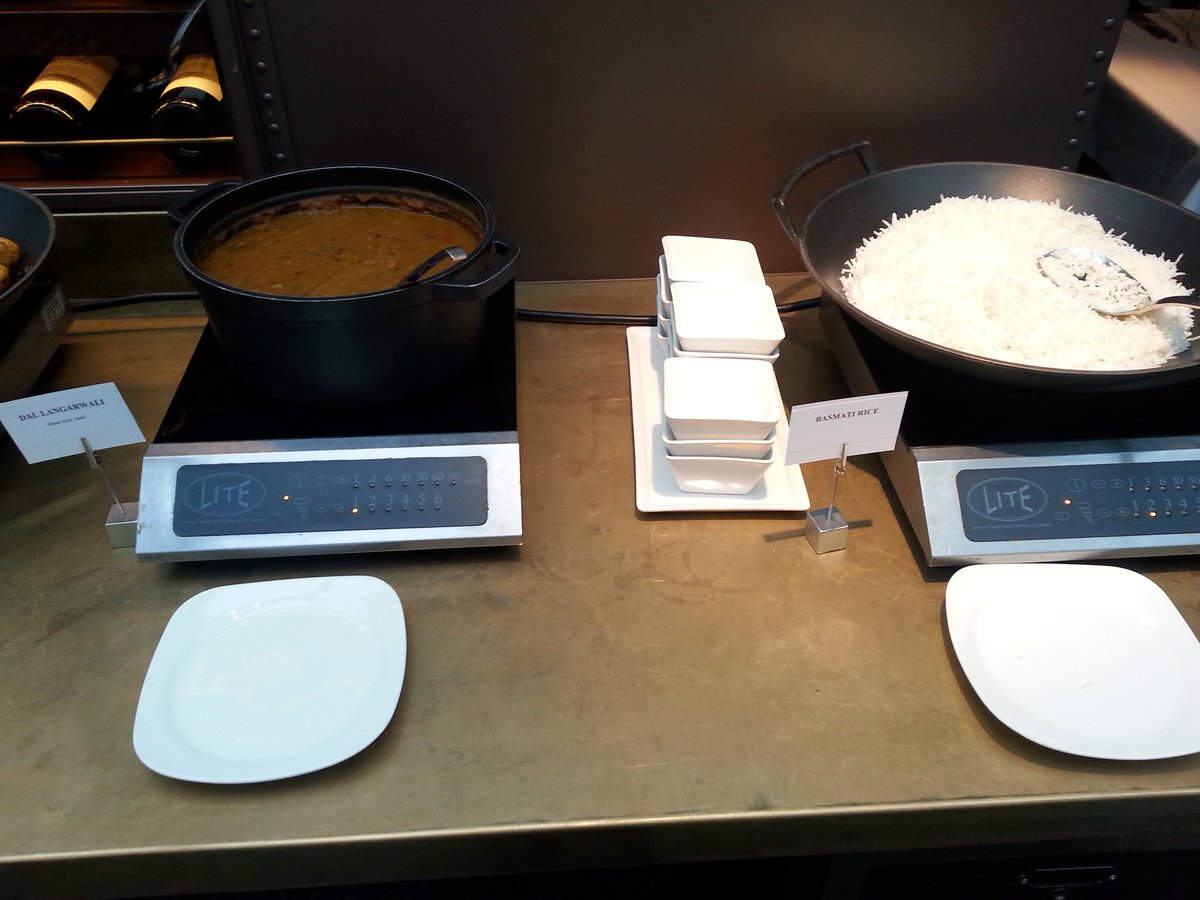 The raita station w/ pickles – to help quell any overload of chillies! :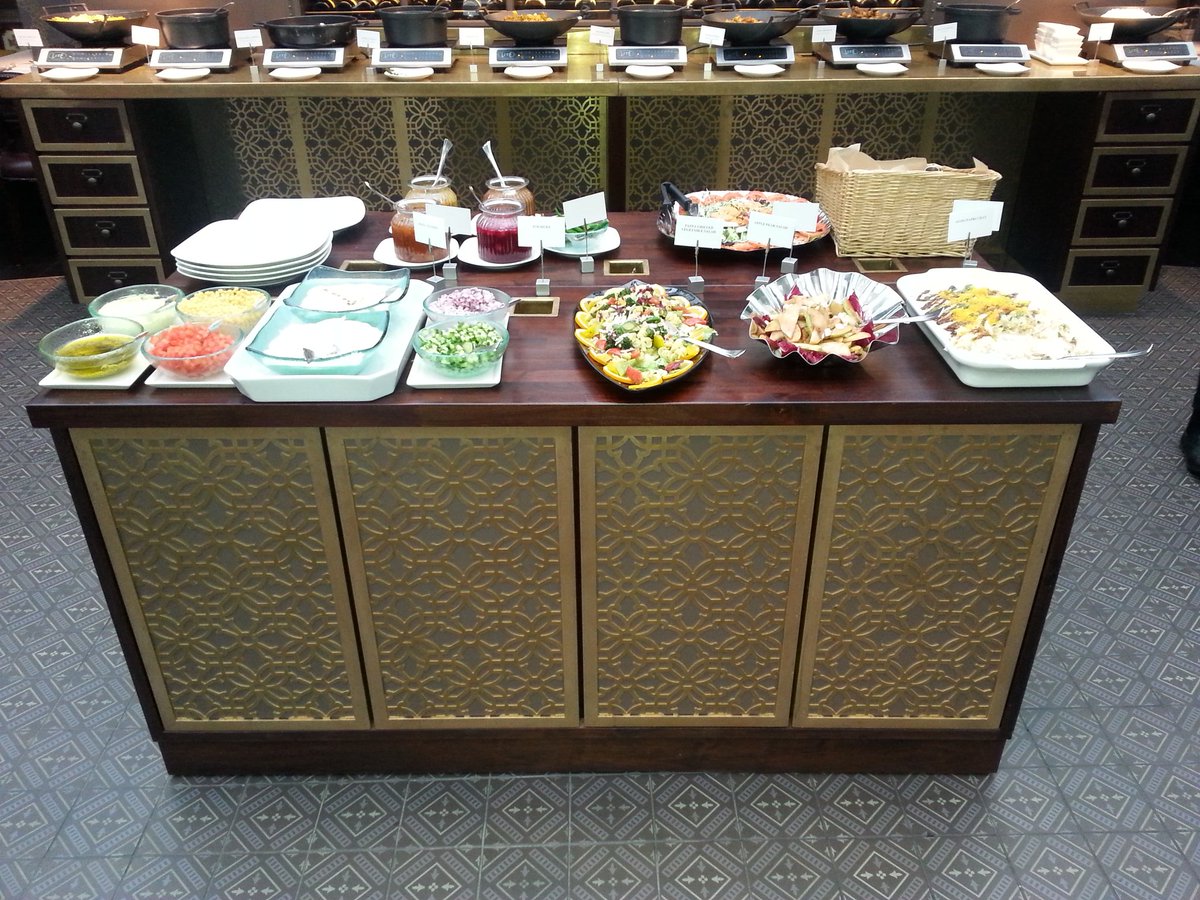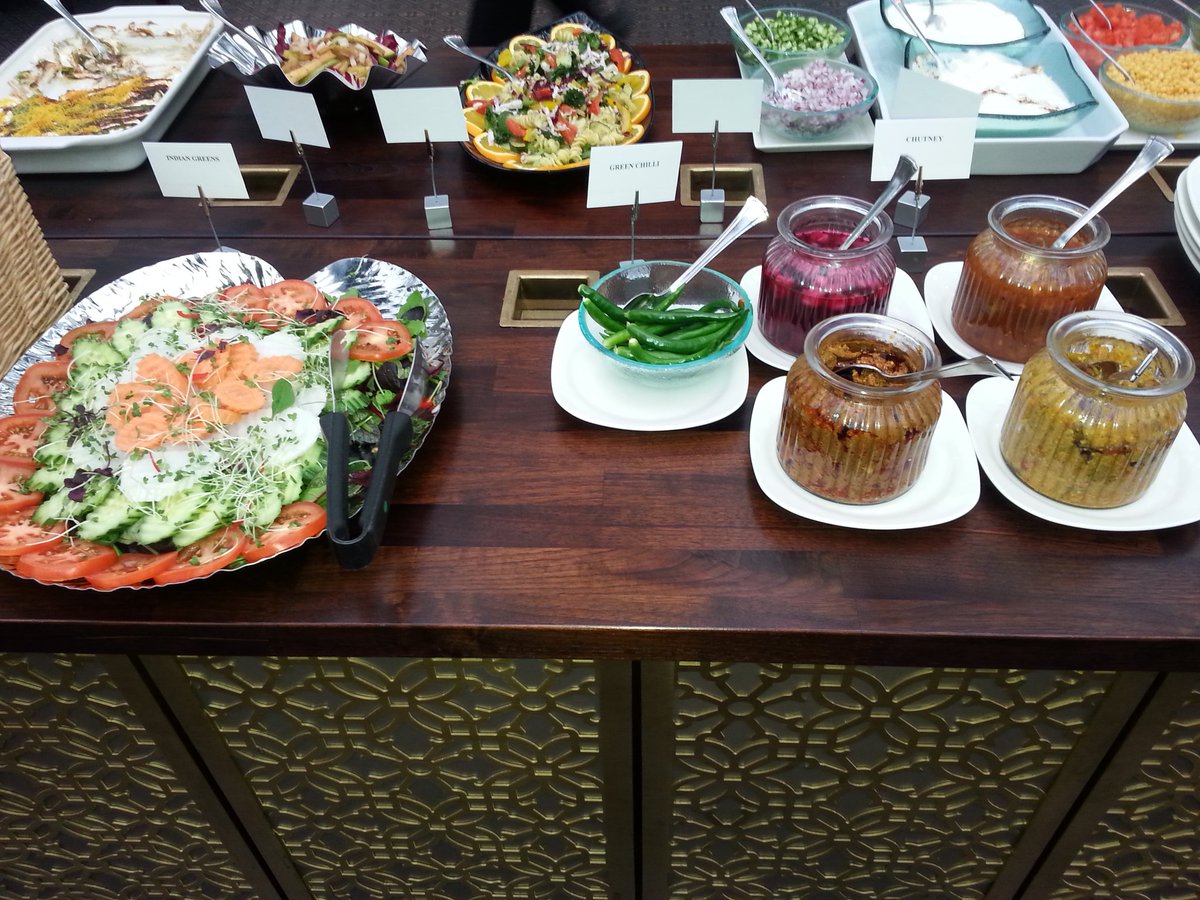 Here is a selection of some of the main dish items on offer: lamb with turnips, spice crusted tilapia, gunpowder potatoes, spinach with sweetcorn, and paneer :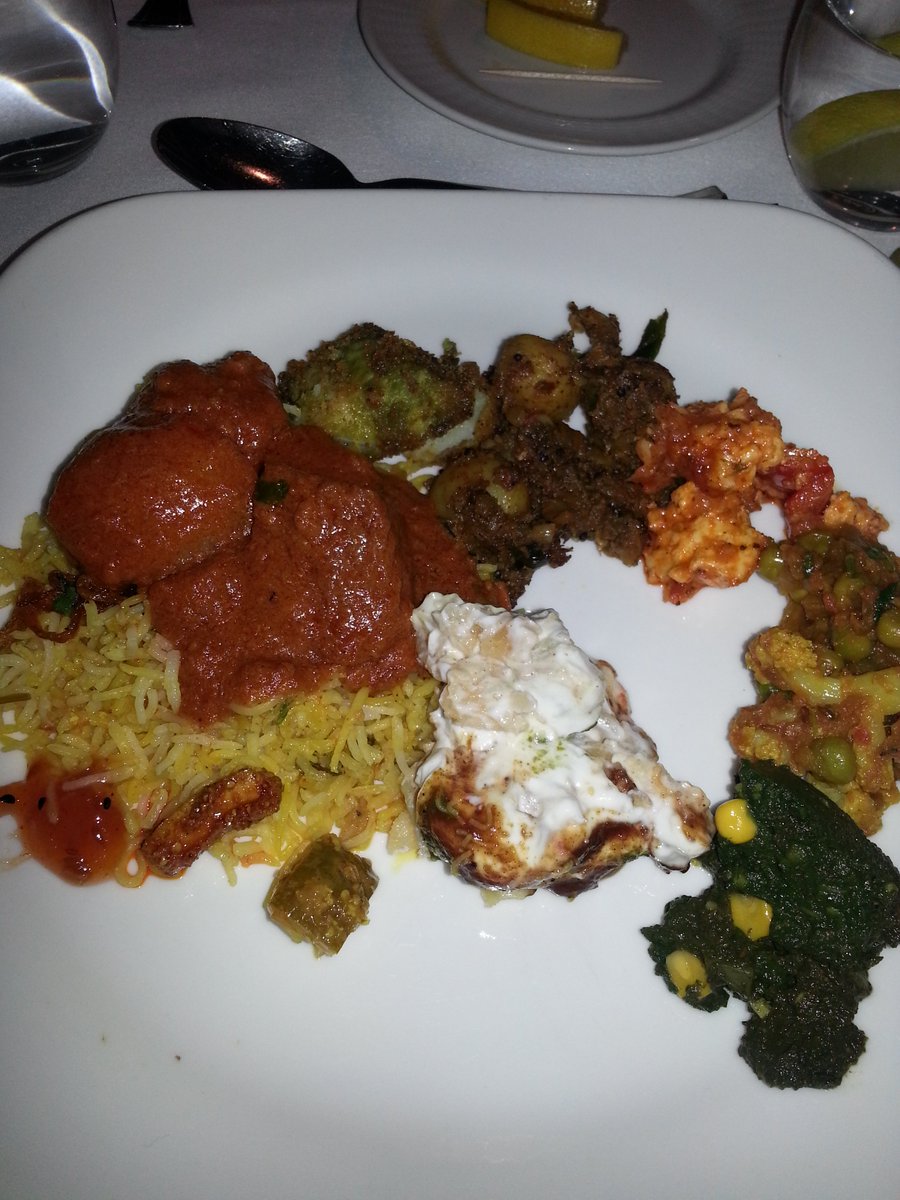 not forgetting the all important … side of hot buttery naan :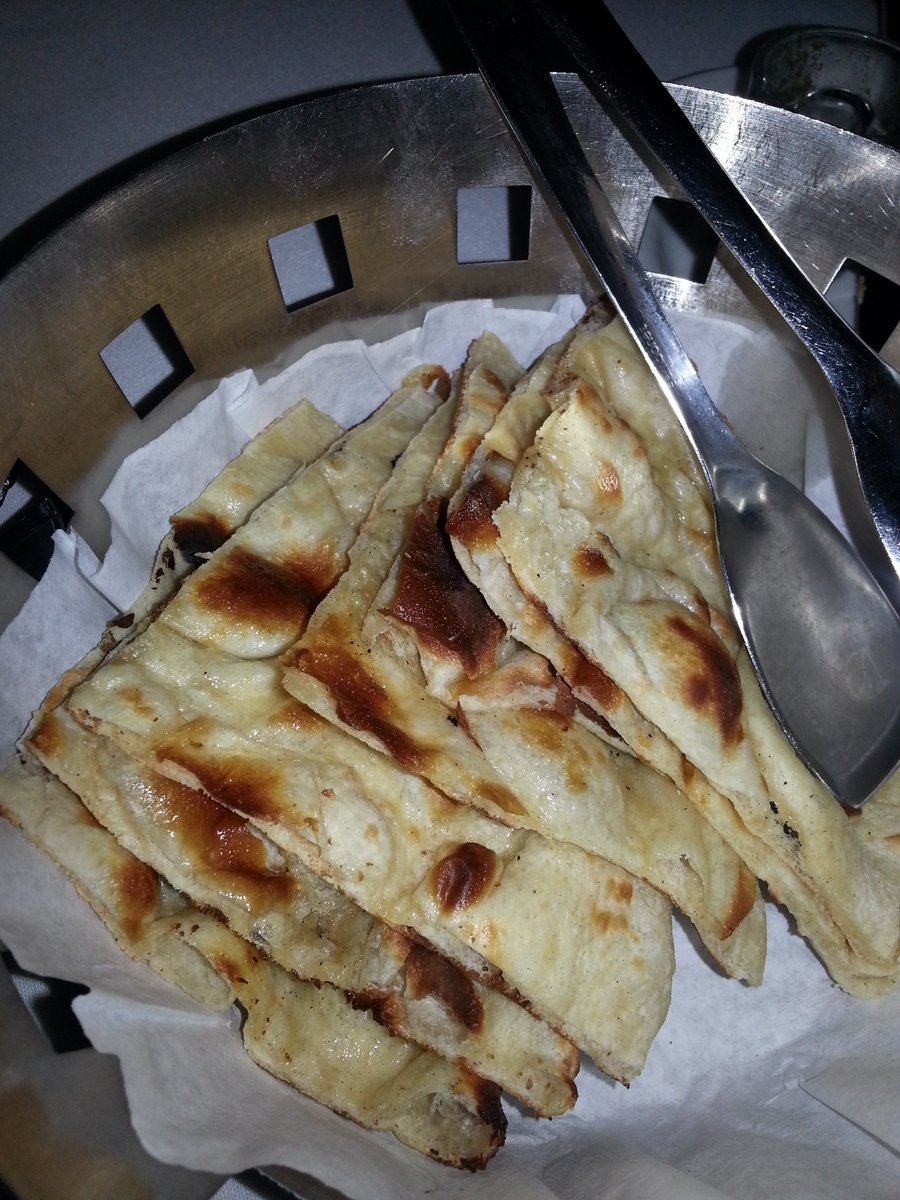 We especially loved the coriander and cumin crust on the talapia, comfort of the soft, pillowy paneer and the spicy hit from the gunpowder potatoes.
Now, as we have a sweet tooth, we had actually checked out the dessert selection even before visiting the chaat stand; can you fault us?!
Amazing desserts on offer, including chikki (caramel brittle) and mango and fig kulfis, chocolate shrikhand (a strained yoghurt dessert), warm gulab jamun, and exotic fruit selection.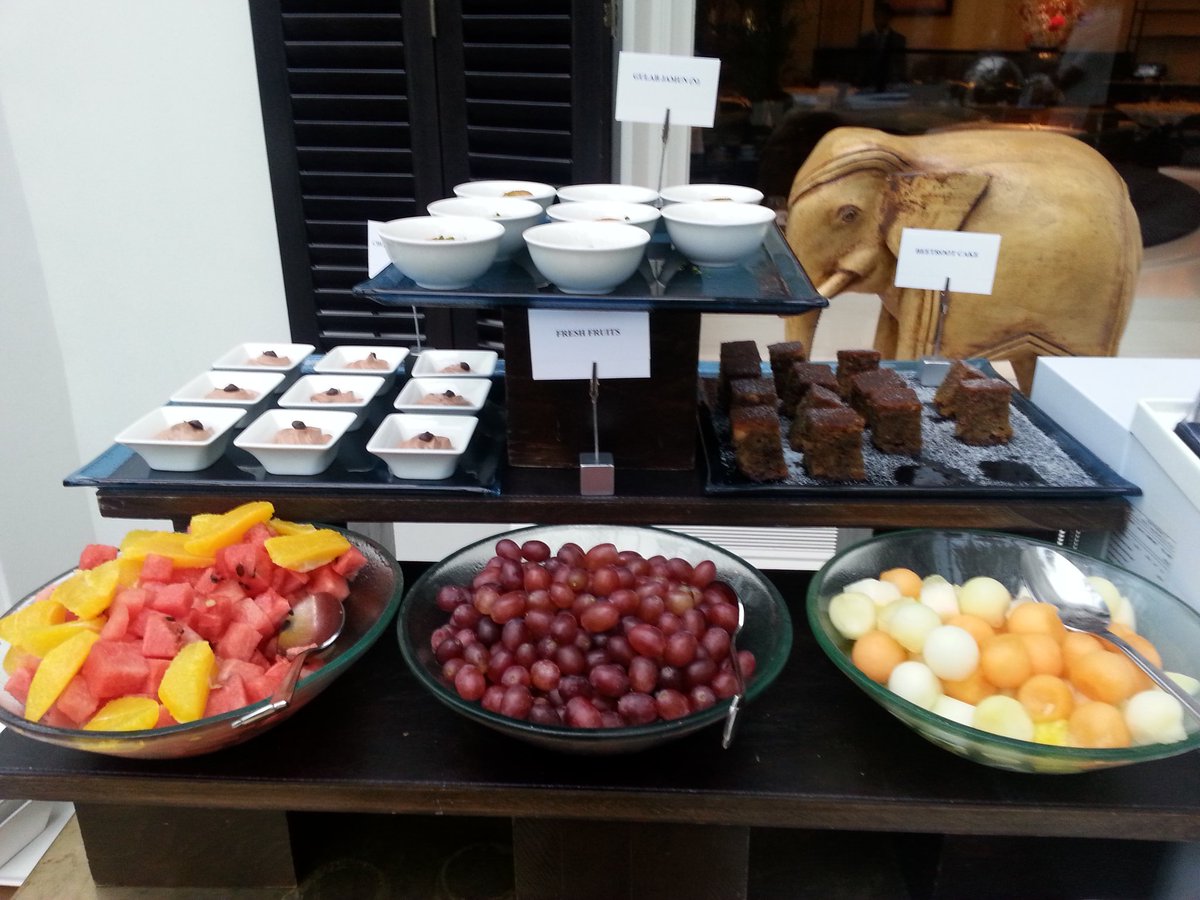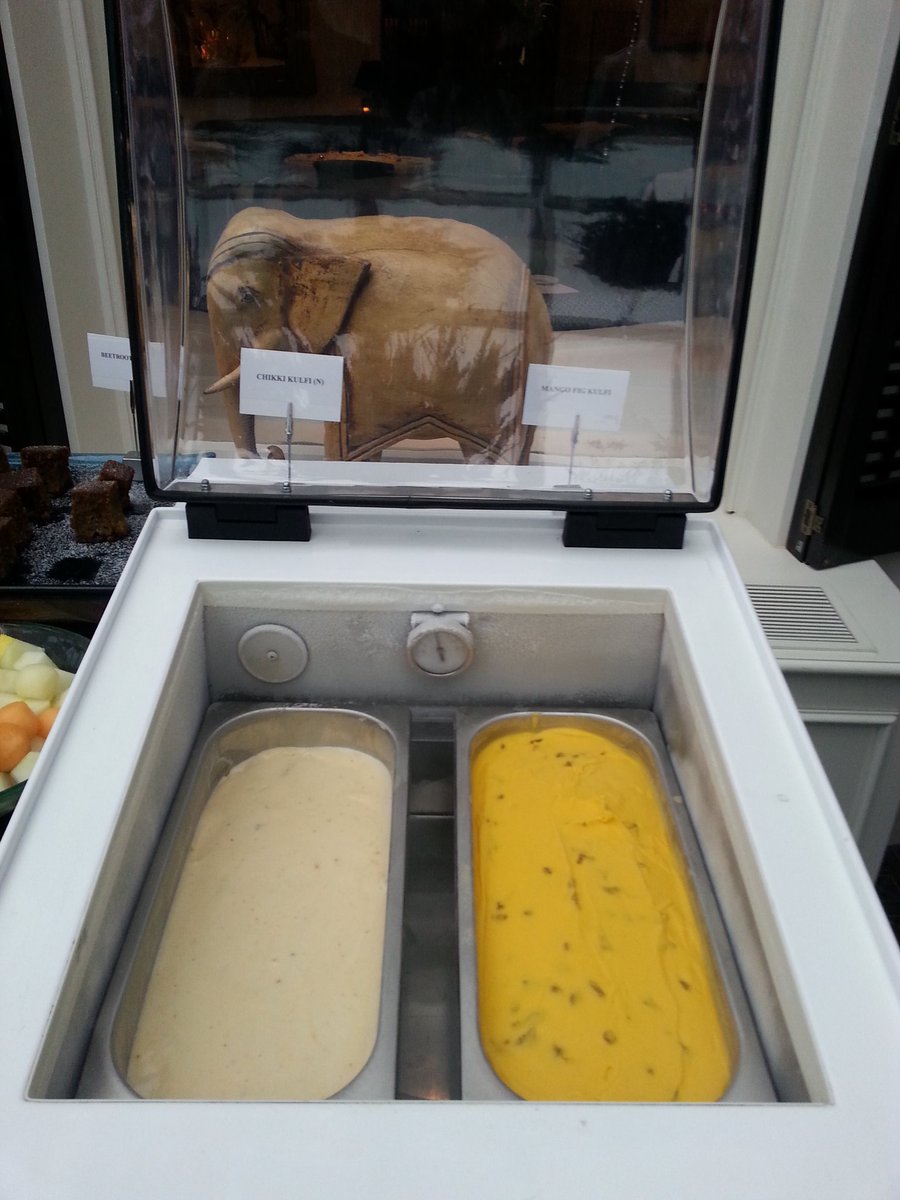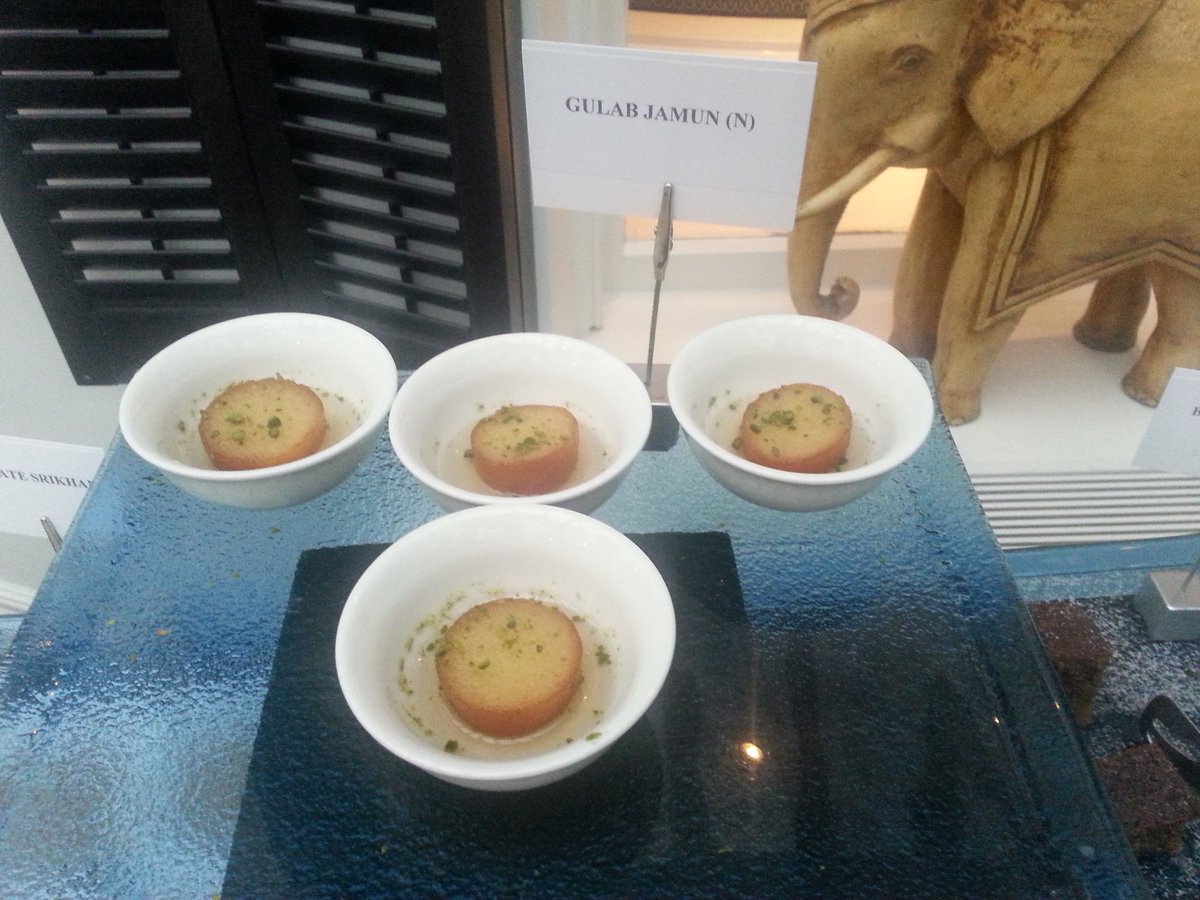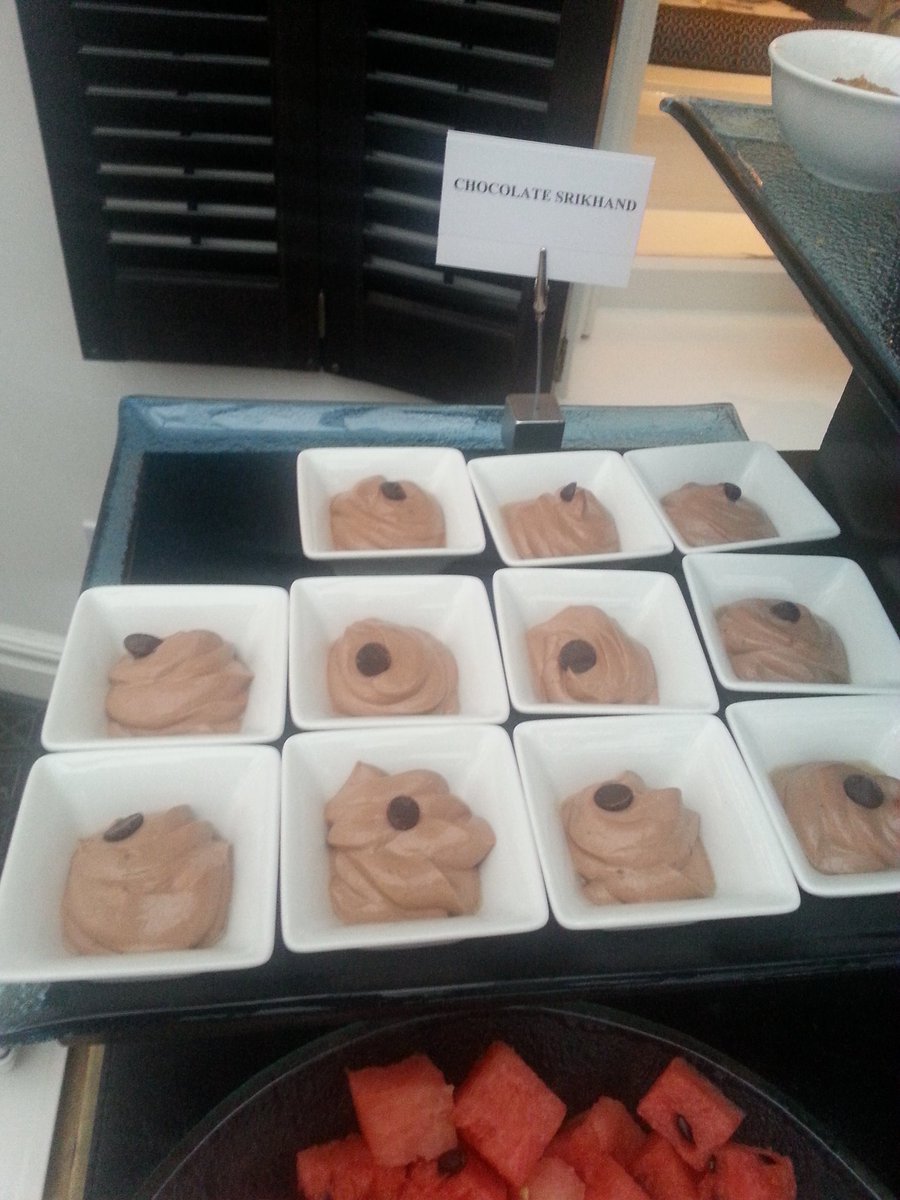 Plus unusual dessert twists: Beetroot cake and tender coconut raisin kheer (rice pudding).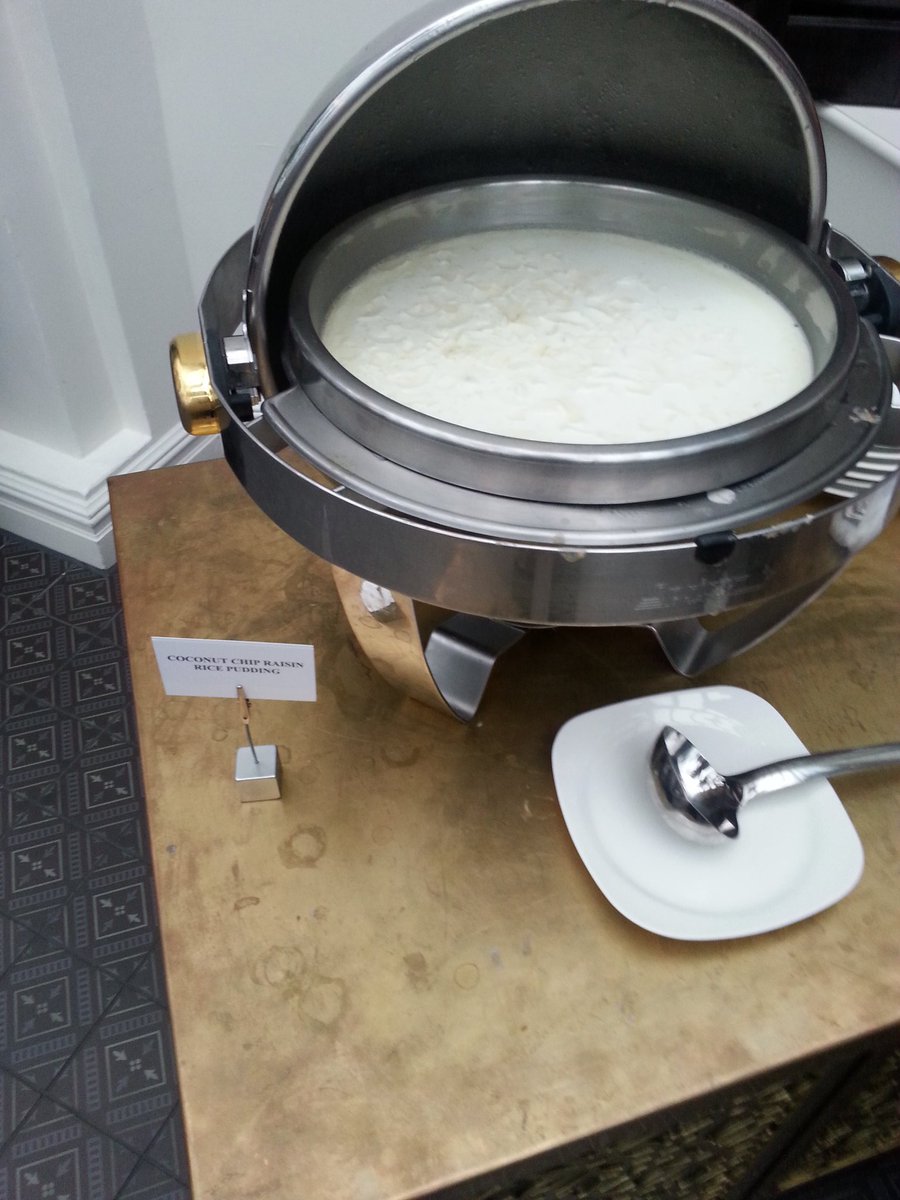 As I said before, we are dessert people and always check out menus and buffets to save space for those sweet delights at the end, so we particularly loved the mango and fig kulfi, as it had such an intense flavour!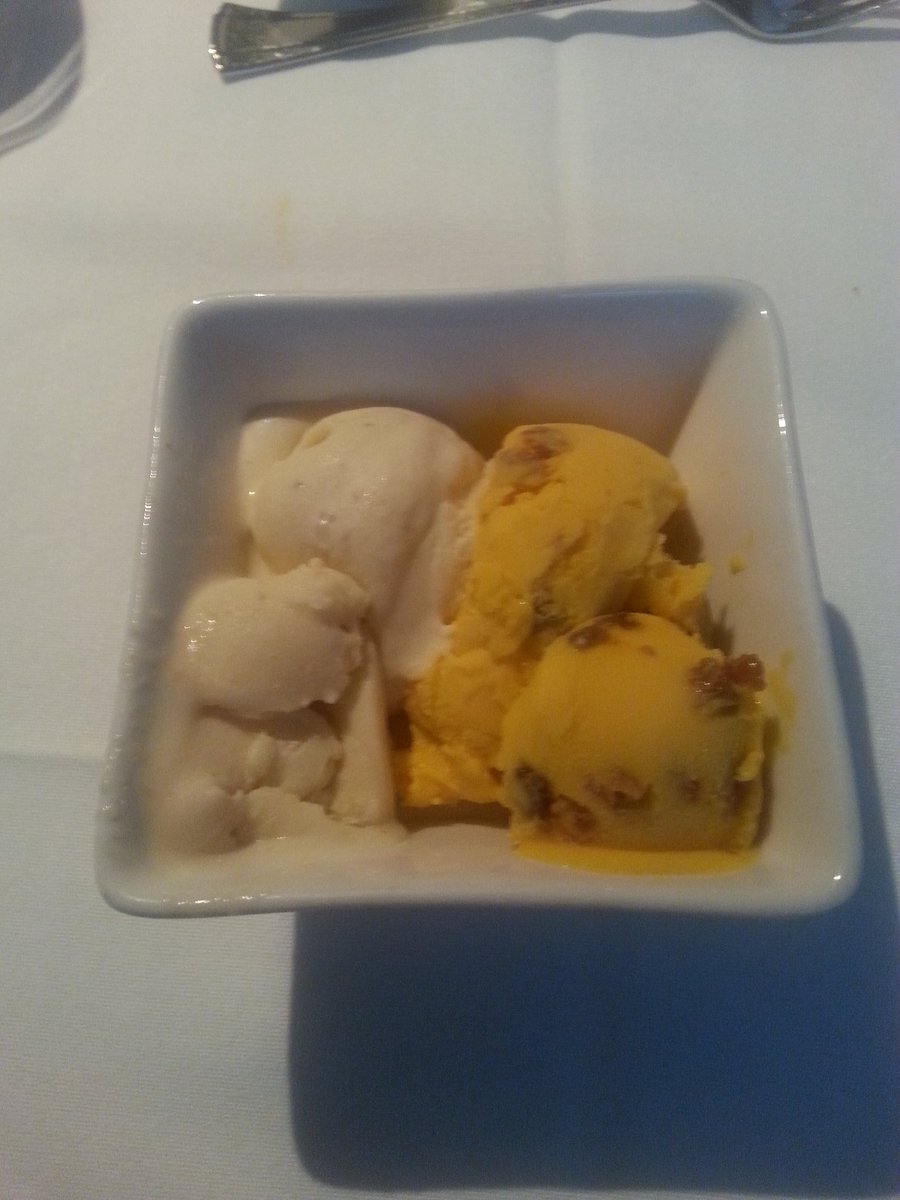 There were a few birthday parties going on at the same time, and it was a great spectacle to see cakes being brought out with several candles and one with a sparkler!
We would recommend visiting for both the ambiance and also to enjoy refined Indian cuisine with traditional, warm Taj Hotels Group service. Recommend visiting, especially for celebrations!
Their weekend brunch offer:
Enjoy an elaborate brunch at Bombay Brasserie every Saturday between 12:00-15:30 Price: £31 , excluding service
Twitter: @BBSW7 @BombayBrasseri @TheTAJHotels @TajHotels #London #highend #Indian #brunch #lunch @ZomatoUK @AKBoogie @Lans917 @ctodiwala @TheQuilon
Thank you to Alexandra from Where 2 Do What for organising with Elani ( @Lans917 ) at Zomato UK for our review visit, and also to Chef Prahlad Hedge (Executive Chef), Mr Shailesh Pandya (Operations Manager), Mr Oster Fernandes (Assistant Manager) and their teams for their hospitality, especially our allocated waiters Seraj & Bernardo. We had a wonderful time and hope to see you all again soon!
<a title="Read Square Meal's review of Bombay Brasserie" target="_top" href="http://www.squaremeal.co.uk/restaurant/bombay-brasserie?utm_source=Blog&amp;utm_medium=Blog&amp;utm_campaign=Link"><img width="230″ height="125″ src="http://www.squaremeal.co.uk/Views/DynamicImages/BlogBigImage.aspx?restaurant=52096a6262d94a0f808e78621448027f&#8221; alt="Square Meal" /></a>