We received an intriguing invite from The Tabl, a new food collective who match guests with adventurous chefs, that was suitably mysterious about what to expect on our evening out. Well, challenge accepted!
When we arrived at The Parlour, a cute and cosy pub tucked down a side street in Kensal Green, we were a bit nervous about our guinea pig status, especially when we were greeted by a man in a white coat. What had we let ourselves in for?! Luckily our initial nerves were speedily allayed by a colourful welcome Kensal Green Tea cocktail and chatting to friendly other bloggers, hello Connie Consumes, London Pop Ups and Eat Cook Explore !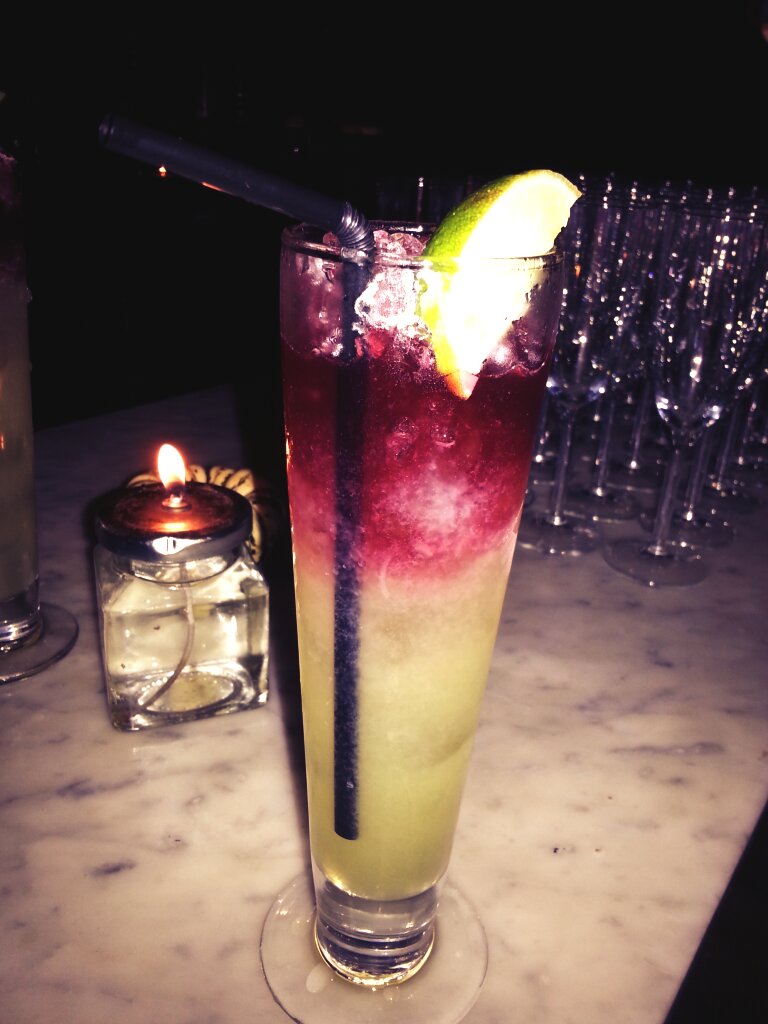 Then we took our seats and waited for all to be revealed. It turned out that the man in the white coat was University of Oxford experimental psychologist Charles Spence, who has worked with Heston, and the night was going to be all about how various aspects of the environment and ourselves interact to create our dining experience.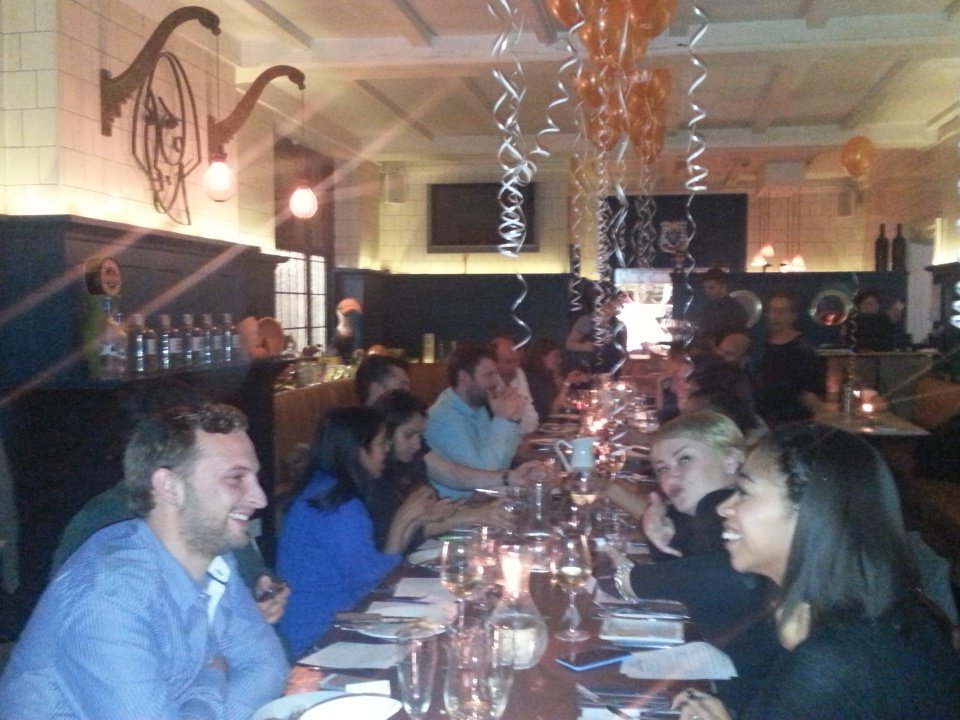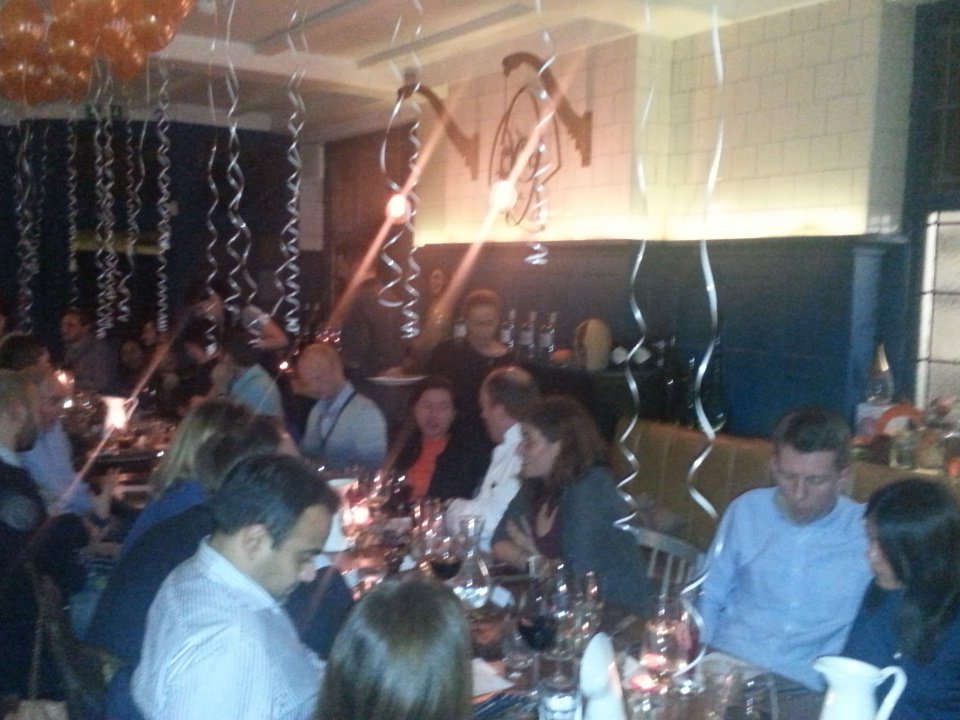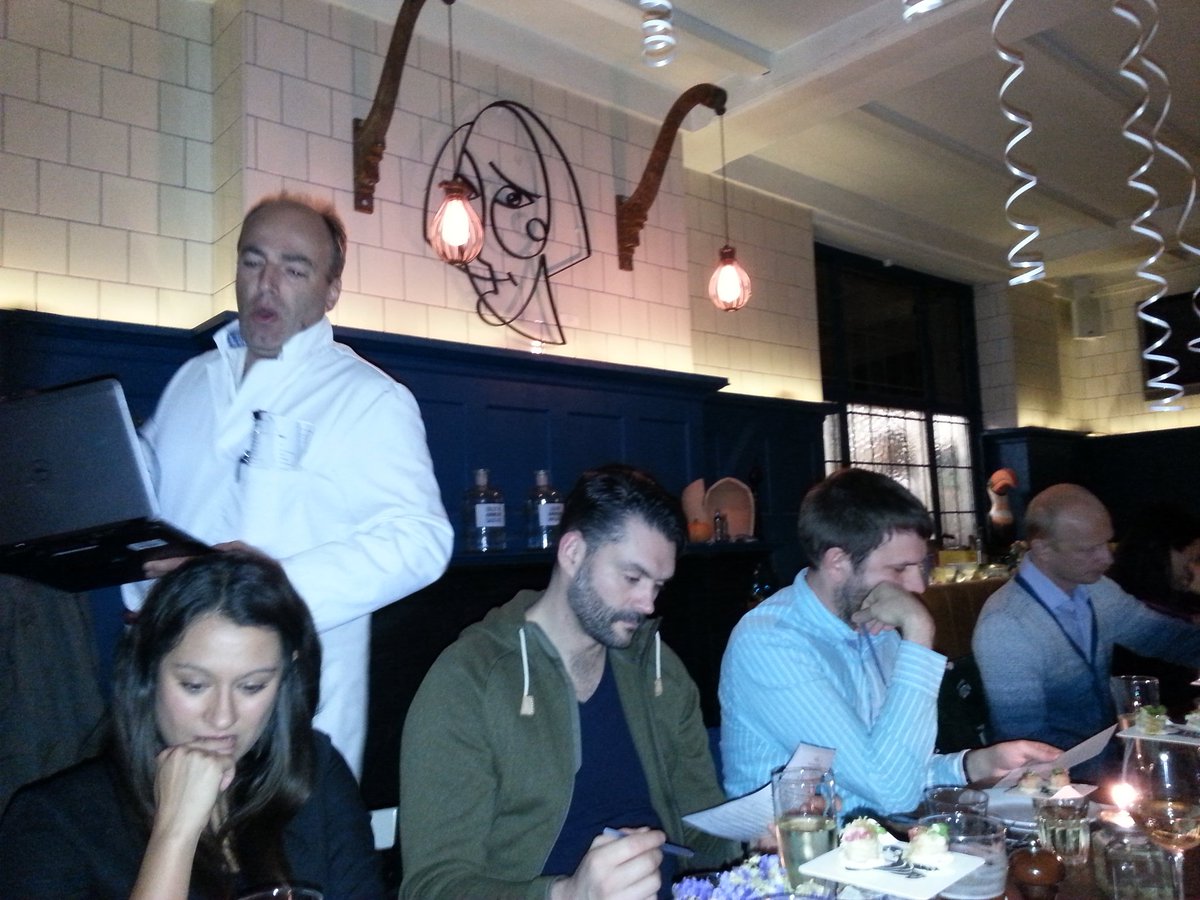 Firstly we put a piece of innocuous looking paper in our mouths. The reactions around the table varied dramatically from people screwing up their faces in disgust to people who couldn't understand what all the fuss was about. The papers we were given weren't different, it was infused with a bitter substance, but our tongues are. Some people have substantially more taste buds than others, qualifying them for "supertaster" status. So if you think Brussel sprouts are disgusting, you're not just a picky eater you may actually be experiencing the flavour more intensely than the rest of your family (my new excuse for this Christmas!)
To help us recover from this shock, we nibbled on chestnut hummus and popcorn chicken with paprika mayonnaise washed down with cava.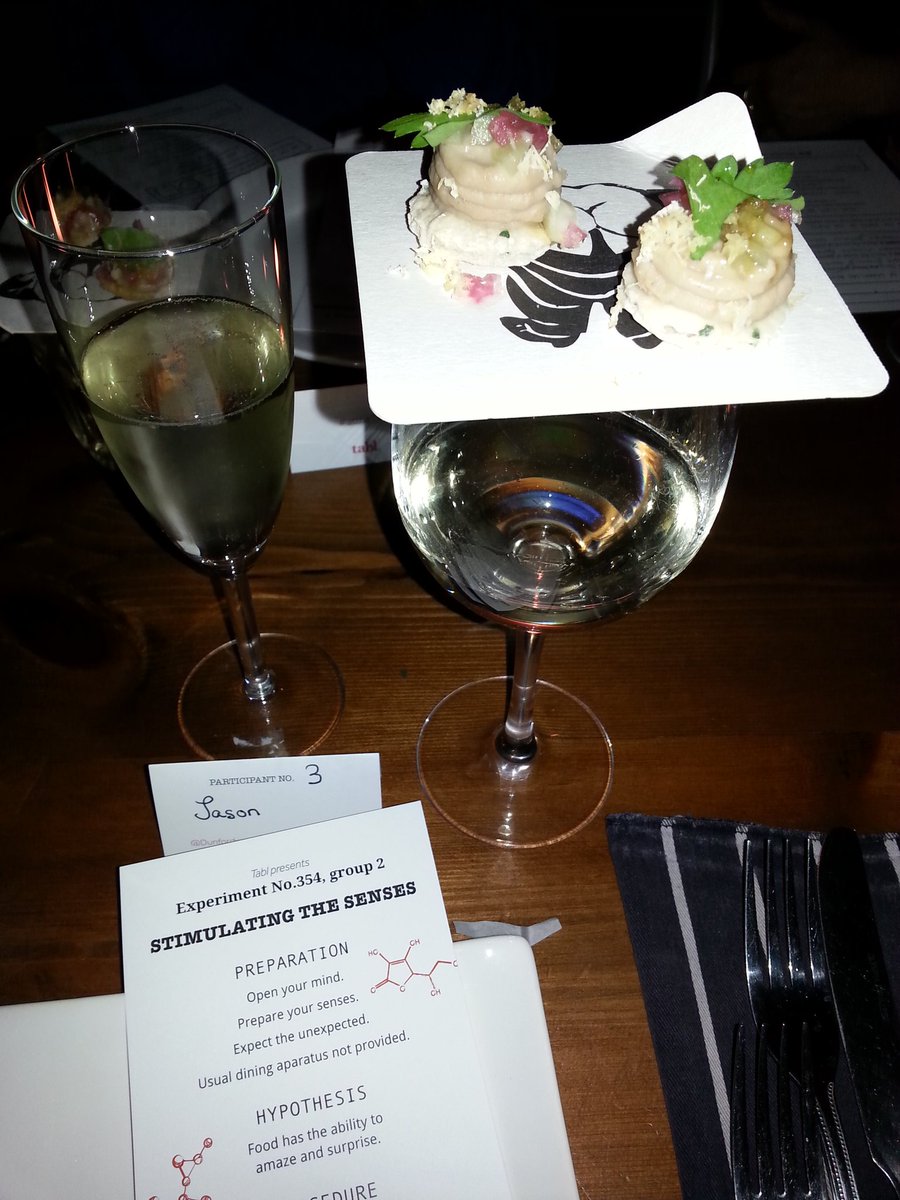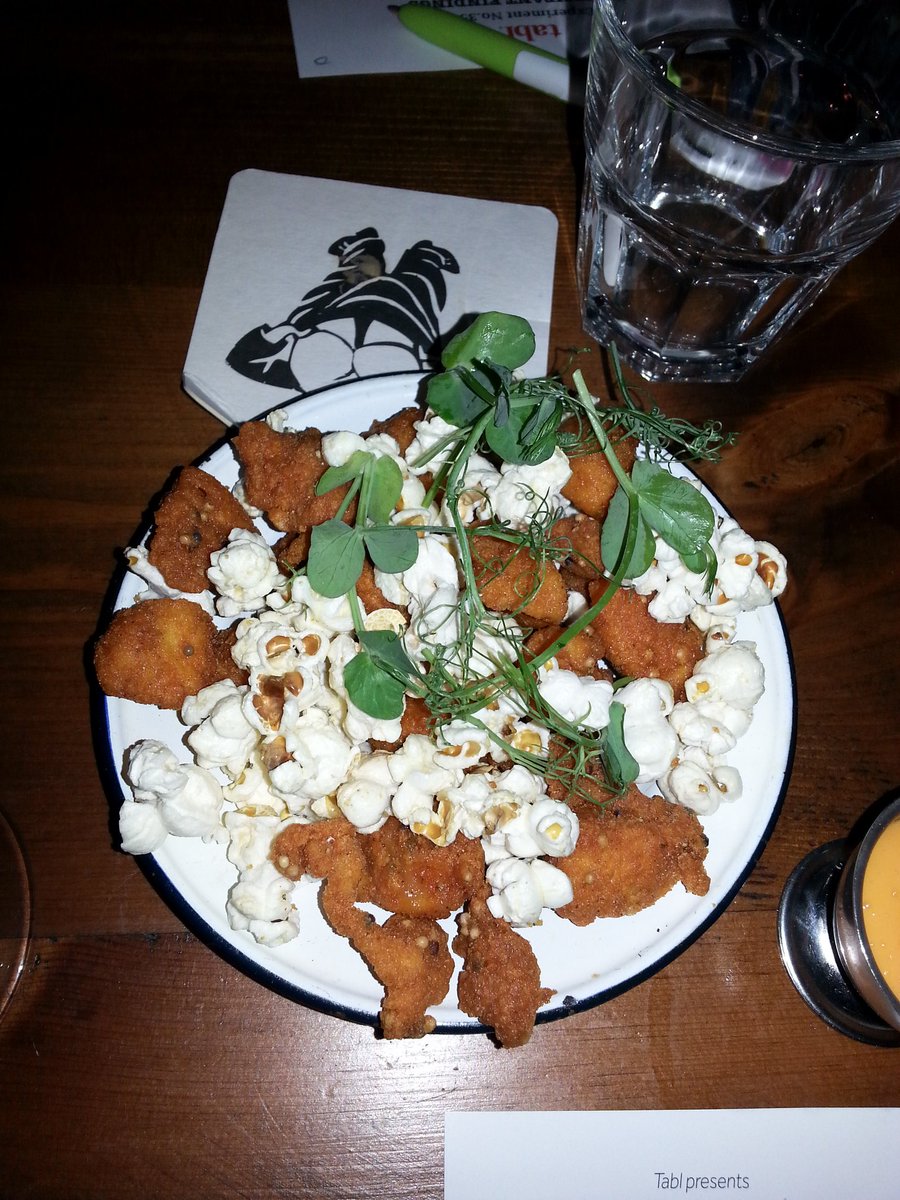 Next we found out how much of what we think is taste is actually smell, and you can do this experiment yourself, hold your nose and chew on a jelly bean. All you can really detect is sweetness. Half way through let go of your nose, suddenly all the flavour rushes back in! Your brain just synthesises the two together, fooling you into thinking it's your tongue that's relaying all the info.
This was followed by a textural combined with social interaction experiment of getting to know and feeding your neighbour griddled asparagus and parsnip with hazelnut puree – finger licking good!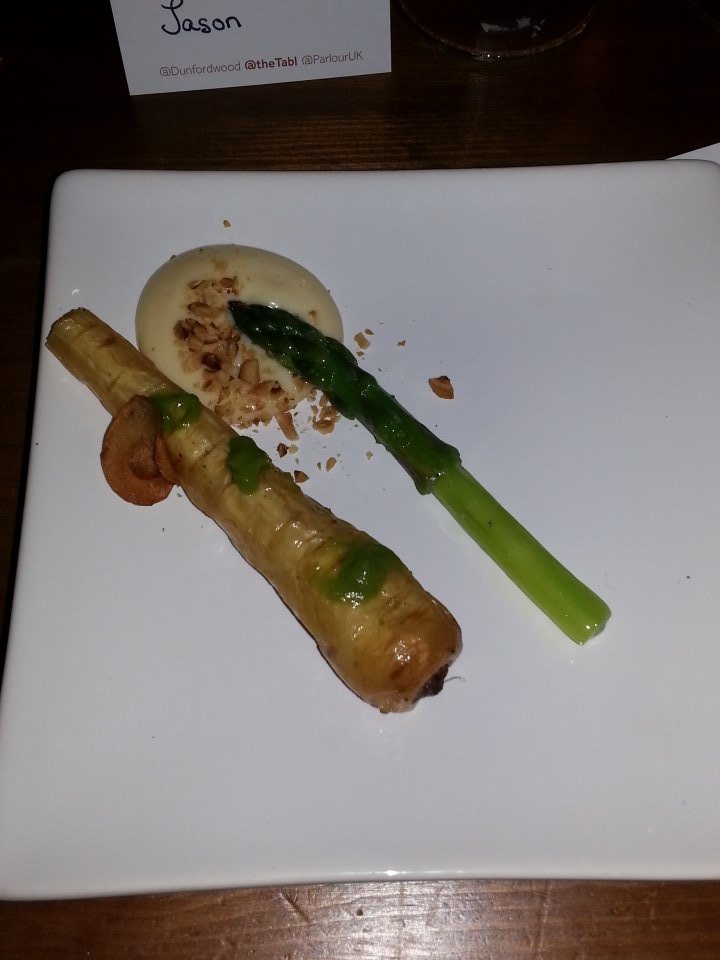 Then we began with the actual courses created by chef Jesse Dunwood. Raw sea bream with citrus fruits and olive oil was fed to us by the person sitting on our left. It either came on a giant spoon or a normal one. Weirdly the implements you use to eat/ drink things seem to have a profound effect on how you experience them. Restaurants who insist on serving things in odd dishes take note!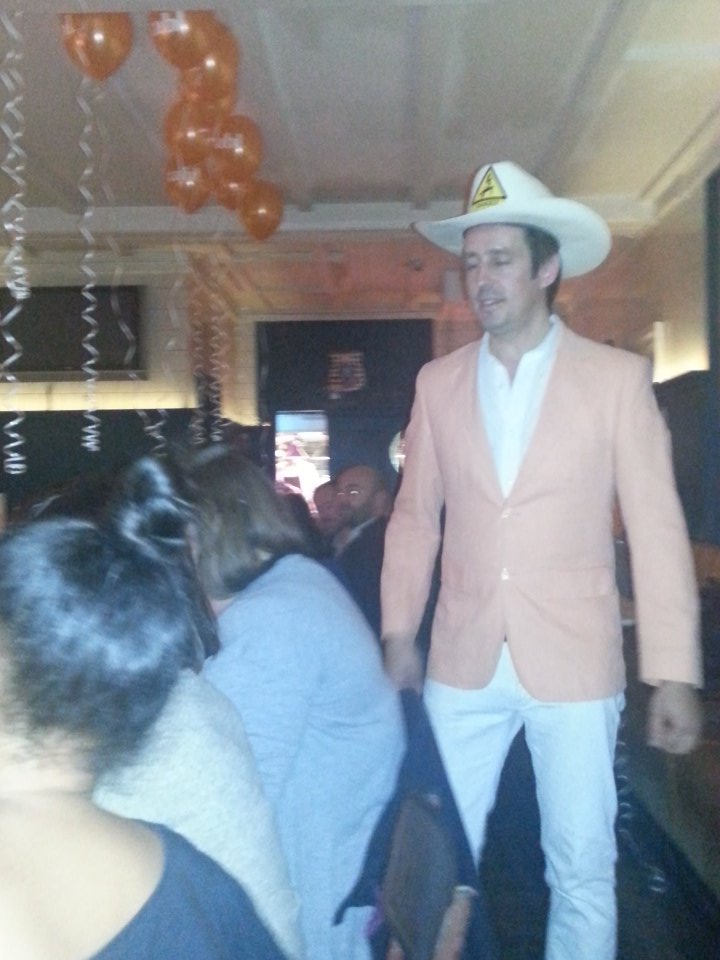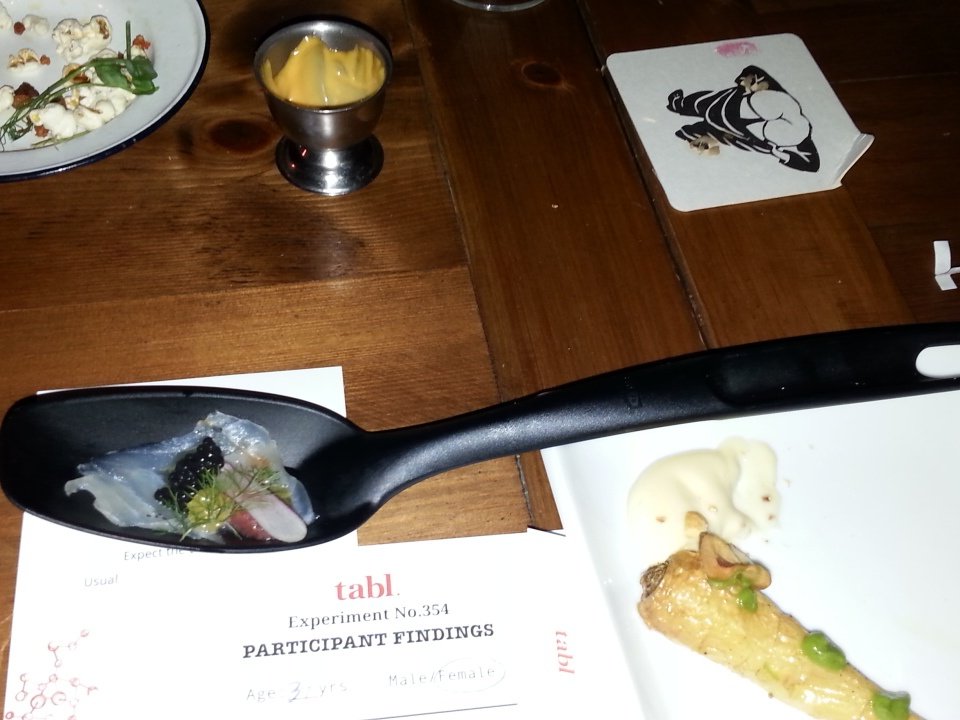 There are too many dishes to mention but my favourites were the smoked salmon with crispy salmon skin and salmon caviar, and an egg box that looked like it had normal eggs but when you opened it up inside were eggs containing a blue cheese custard with hazelnuts.
Applewood smoked salmon and crispy salmon skin caviar , and served with gorgeous, warm soda bread: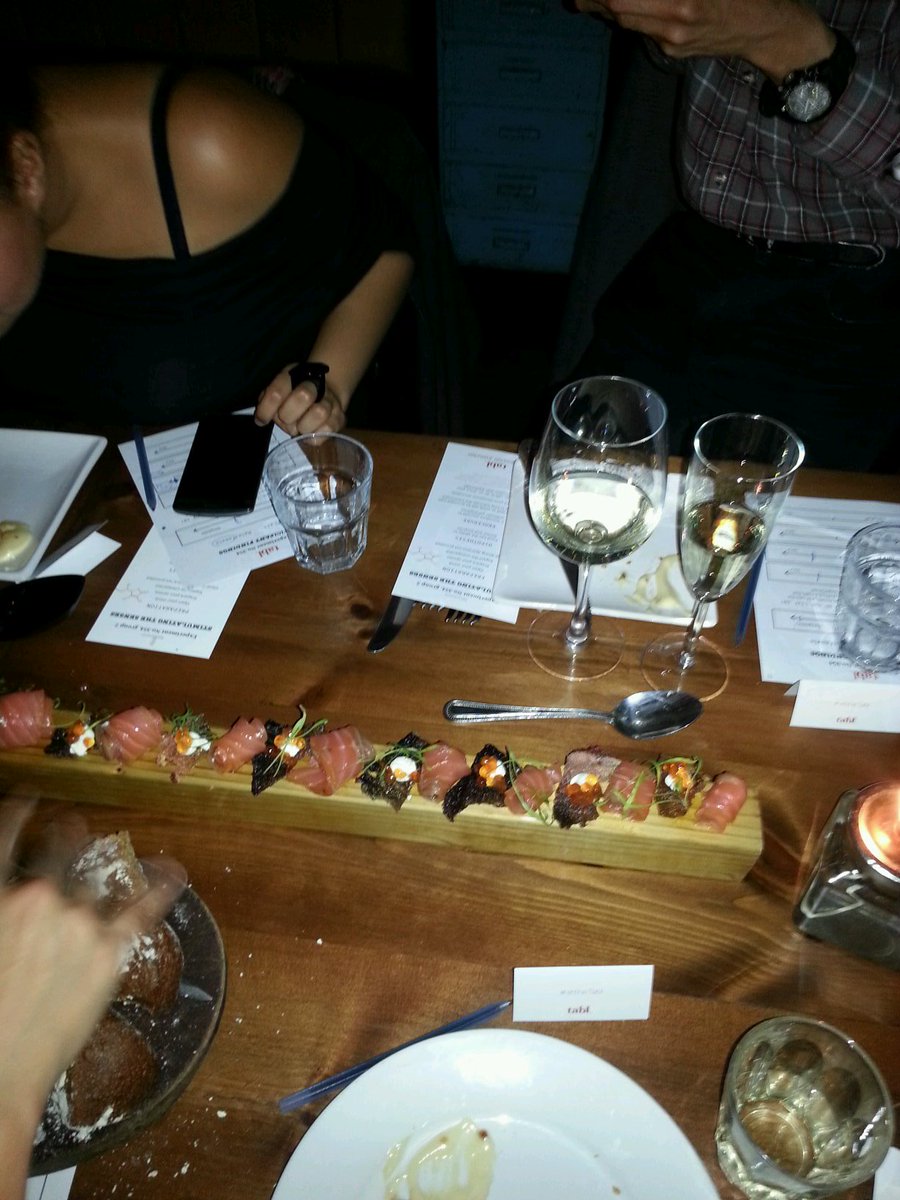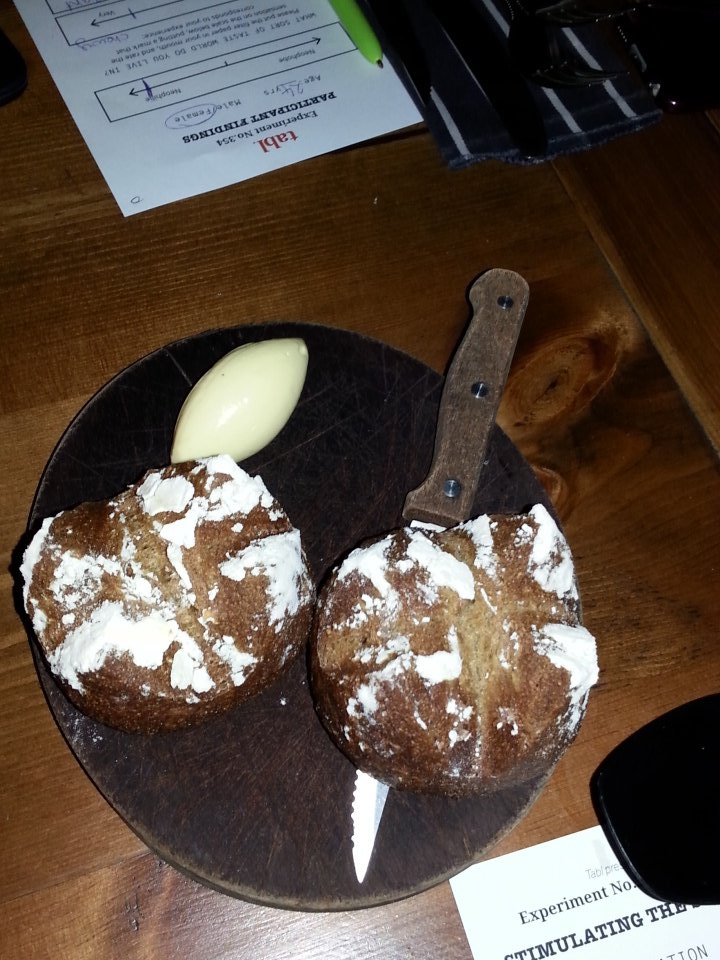 Duck liver pate and orange mist: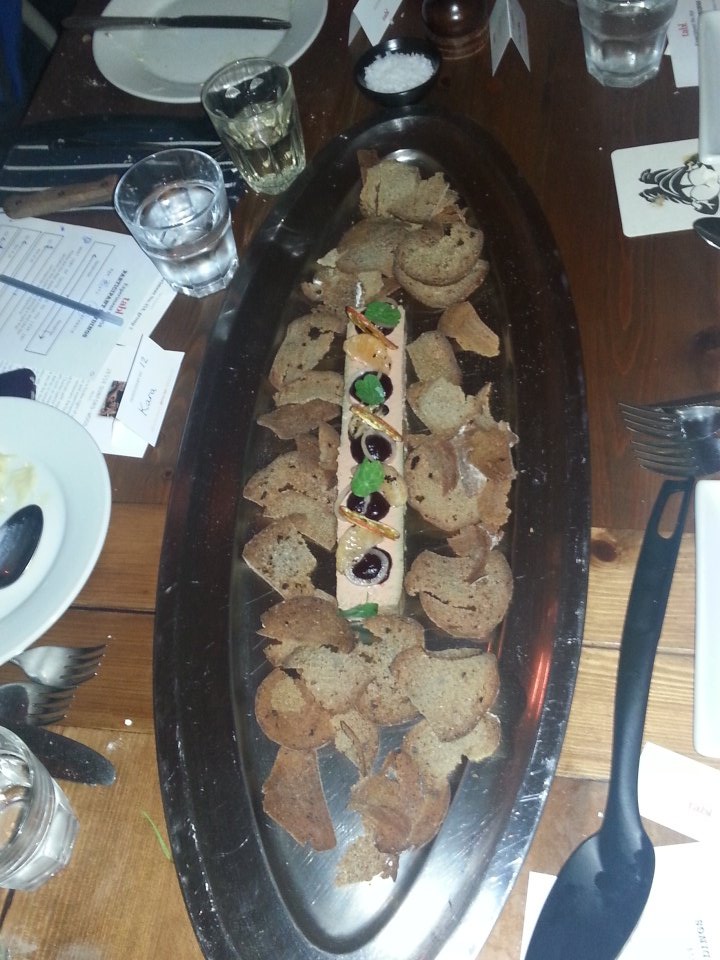 Goats cheese mousse with golden beetroot swede , watermelon radish kohlrabi: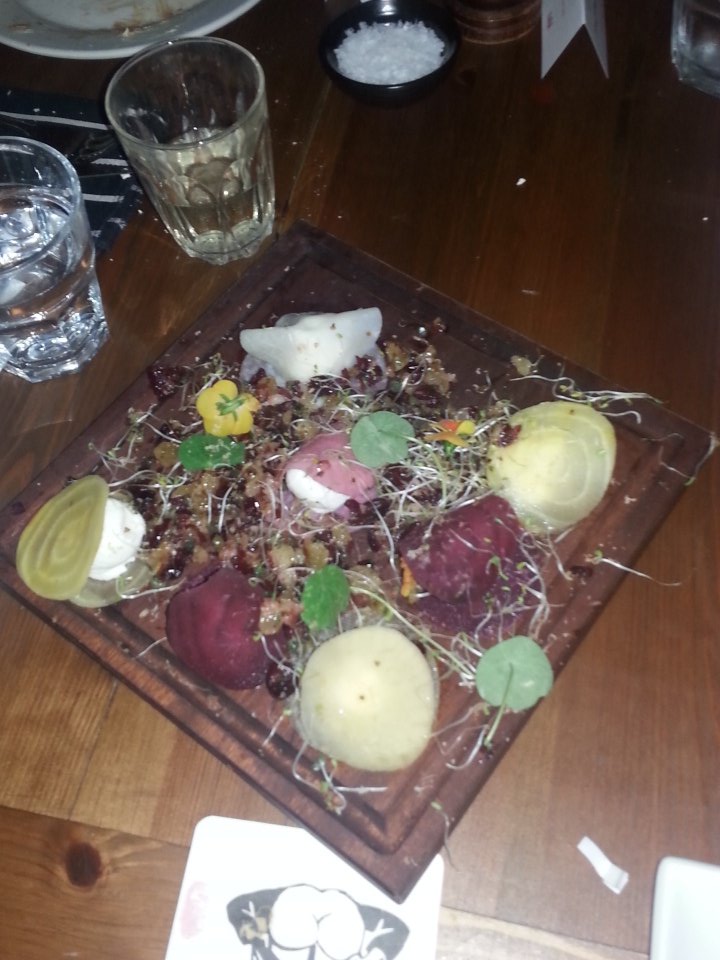 Egg surprise with a blue cheese custard and hazelnut crumb served with bread sticks: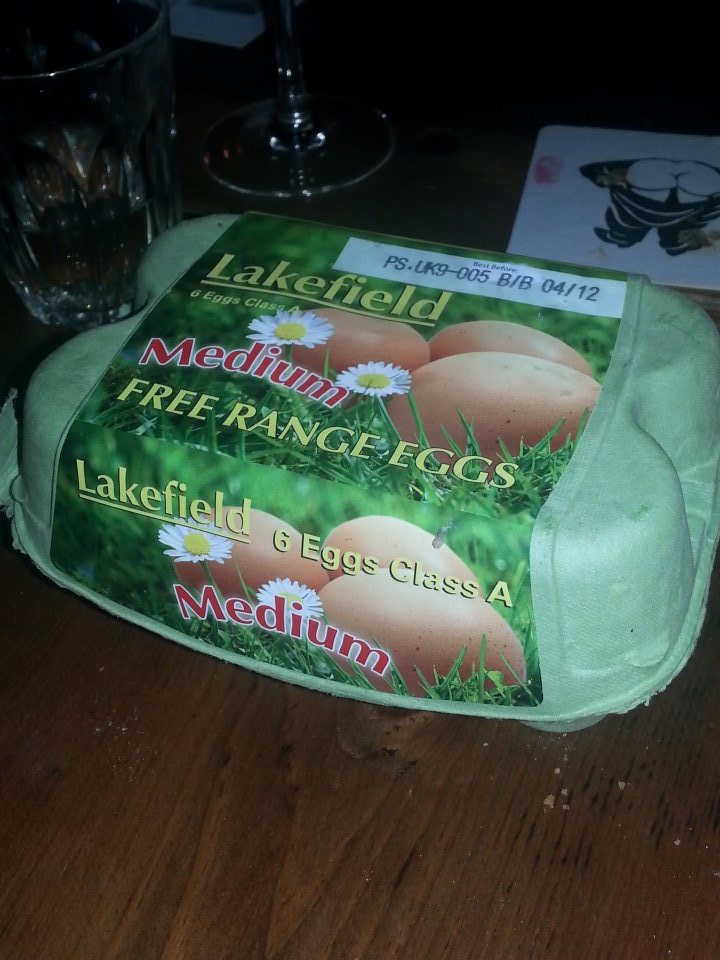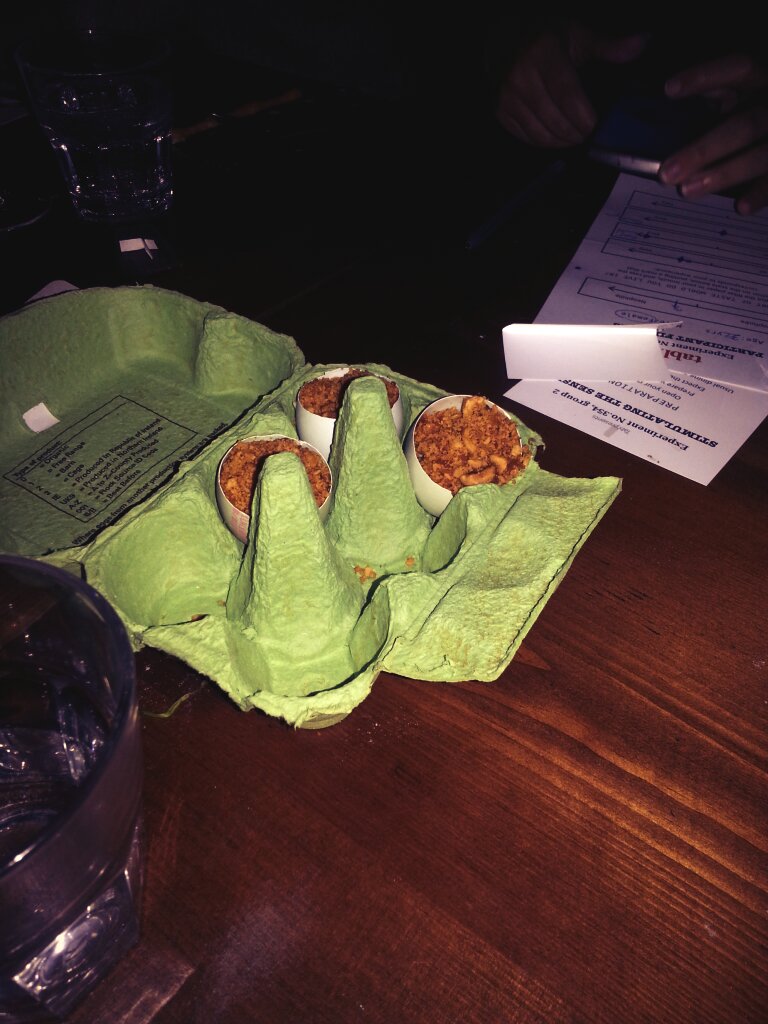 For main courses everyone had different dishes placed in front of them and it definitely looked like some people had fared better than others. Some people had giant spherical chicken kieves, others had sea bass with pine nuts or plaice with capers. Sadly the plate that arrived in front of me contained just cabbage and J's just a swirl of mashed potato. I did think it was a test of our altruism to see if the people who had complete plates of food would share with those who did not! Other people had clearly reached the same conclusion and started carving up their dishes (what can I say, we food bloggers are a lovely bunch!) Luckily, Kara from The Tabl was sitting next to me and whispered that we were not as hard done by as it first appeared. She was proved right when the people who had side dishes were rewarded with the appearance of a cow pie like in the Desperate Dan comics I used to love as a kid. Joy of joys it even had a bone with marrow in it sticking out of the top. As everyone had subdivided their dishes by this point, we all shared anyway and it was brilliant to get to try a bit of everything, but I still think the cow pie was my favourite in the end.
Chicken Kyiv: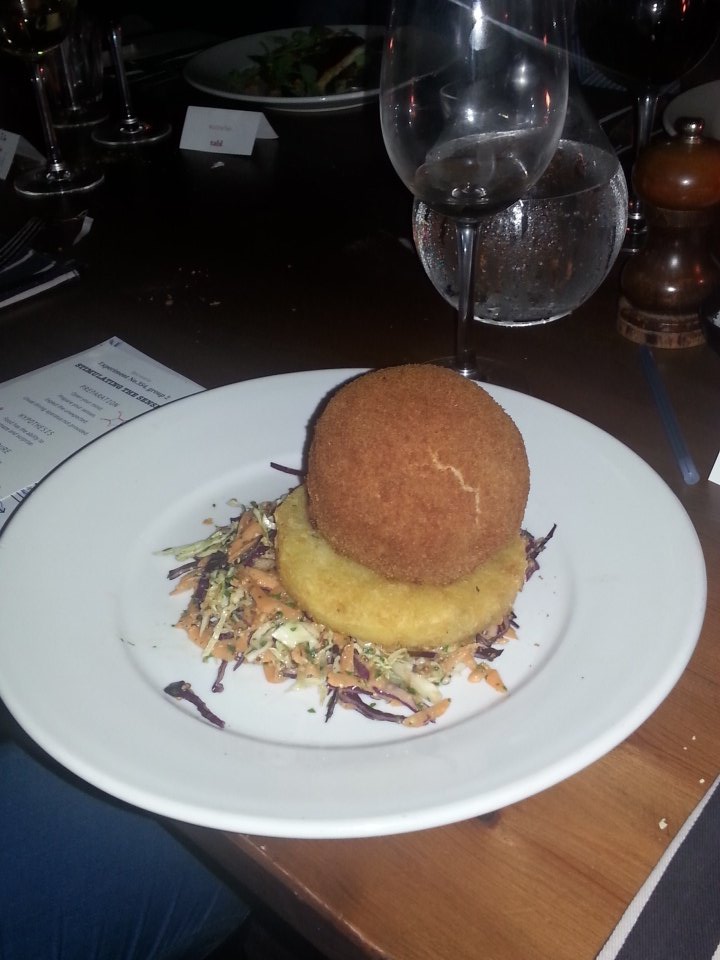 Sea Bass with Cardoon, Rosemary and Pinenuts: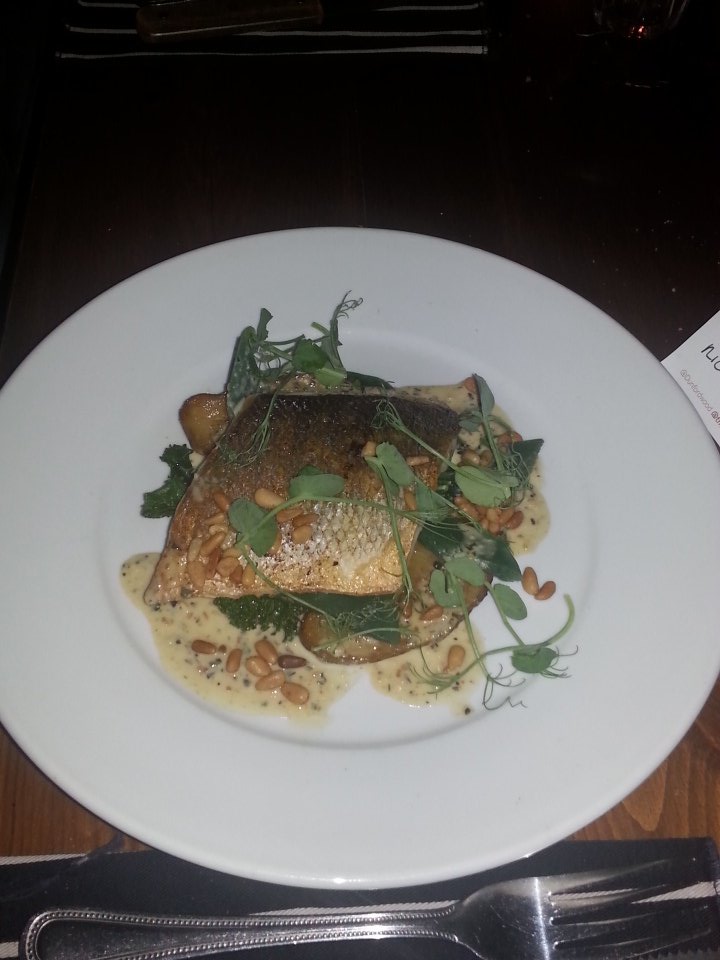 Mushroom Flan with bantam egg and artichokes: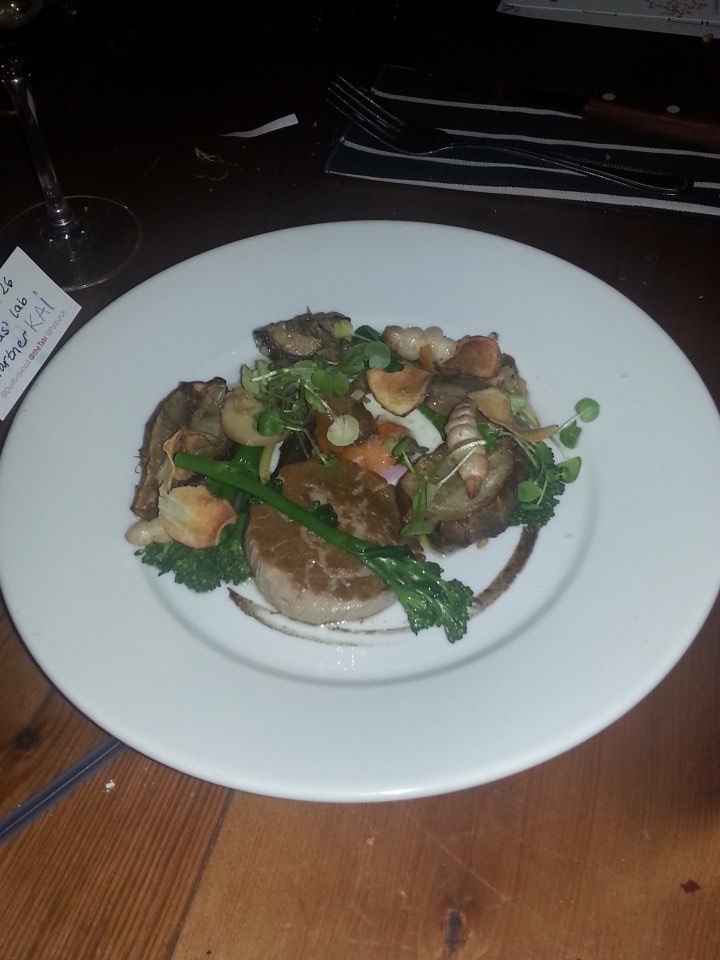 and short-changed? with…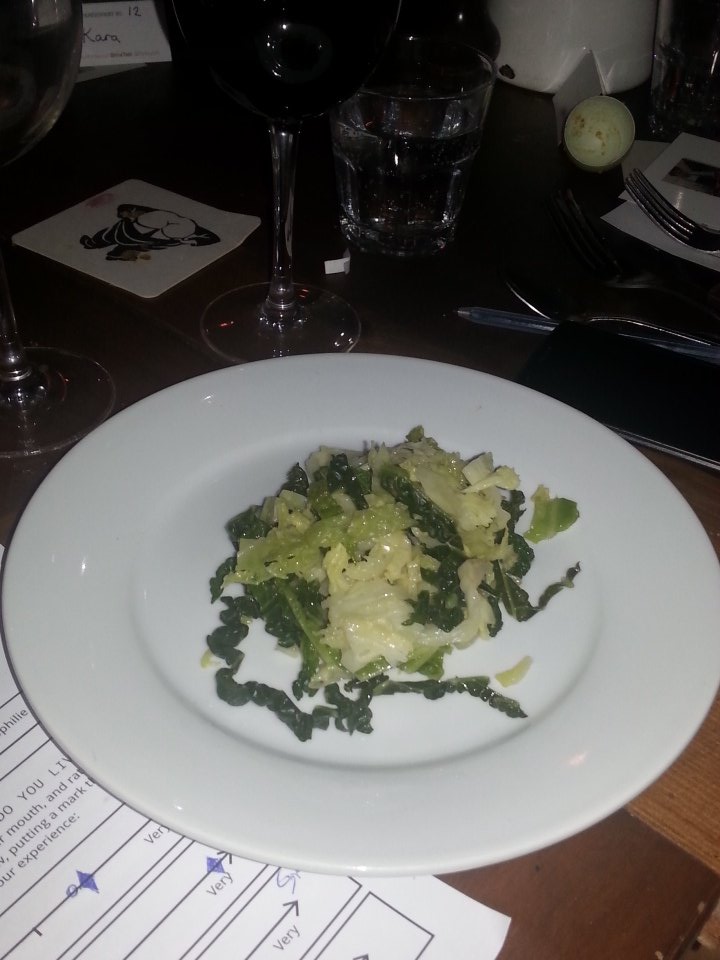 … then Cow Pie followed!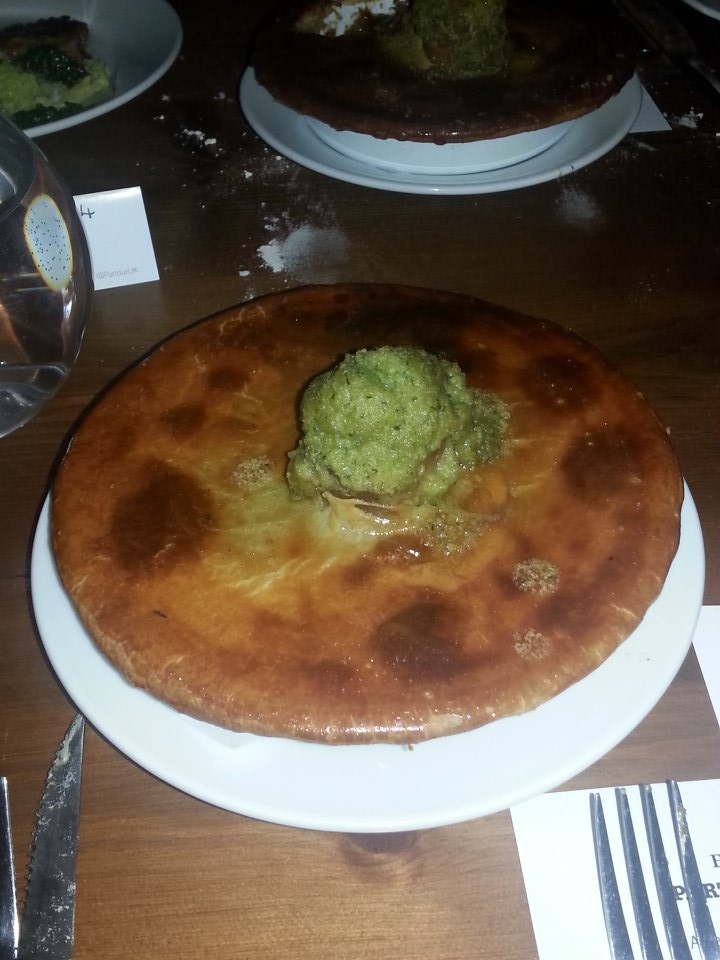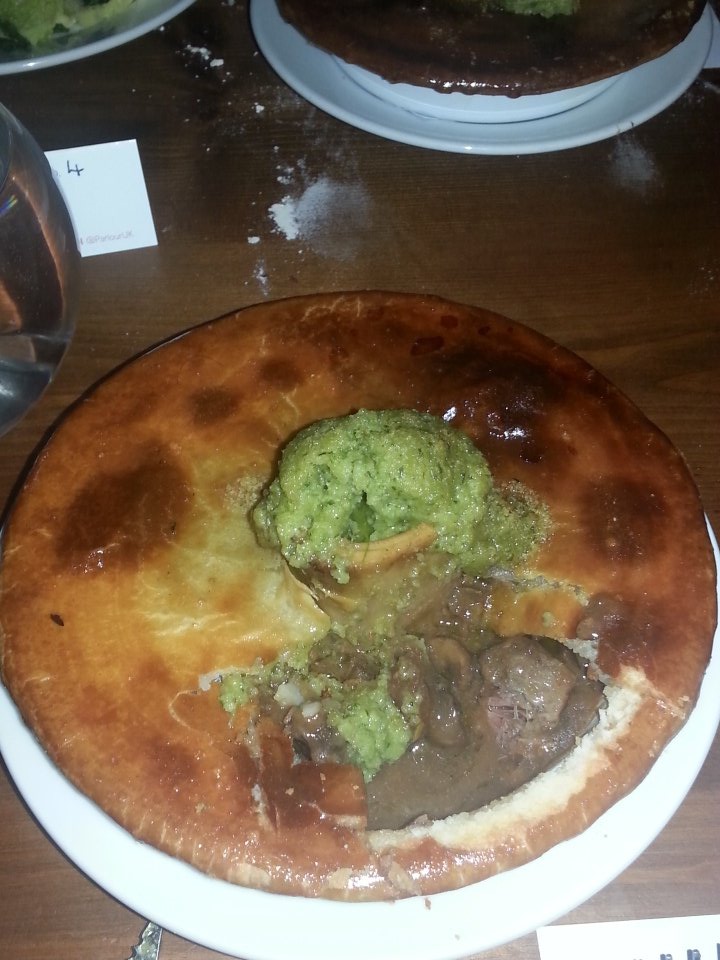 These delightful dishes were accompanied by free-flowing wine – including being served by the lovely Kara. Are you sure that is a big enough bottle Kara?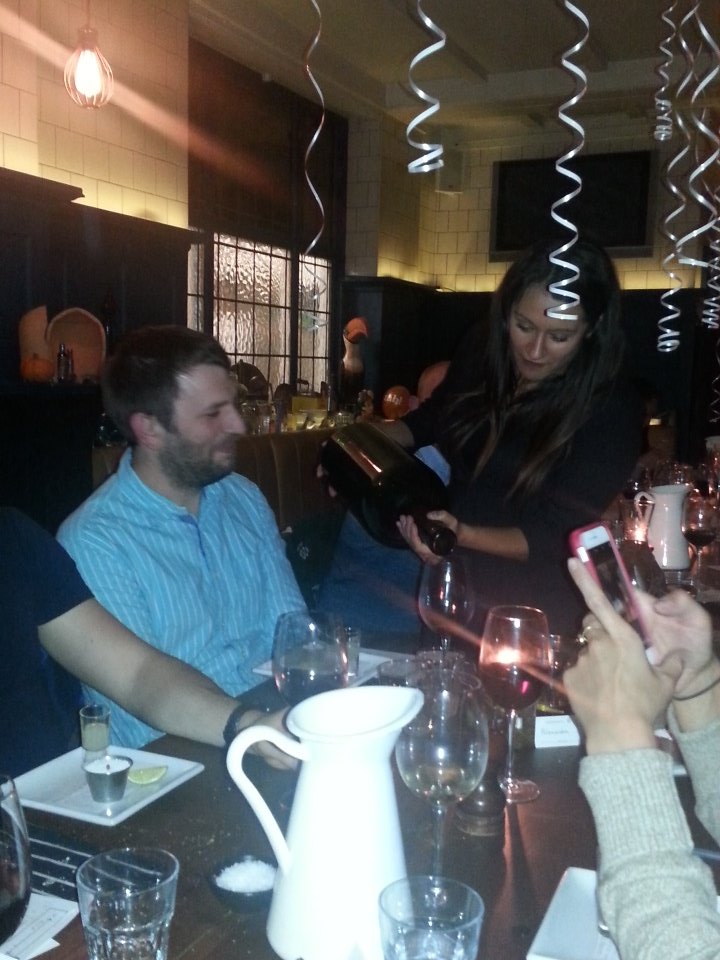 Continuing with Charles' experiments, we were served a miracle pill that turned sour into sweet (lemon juice and lime wedge):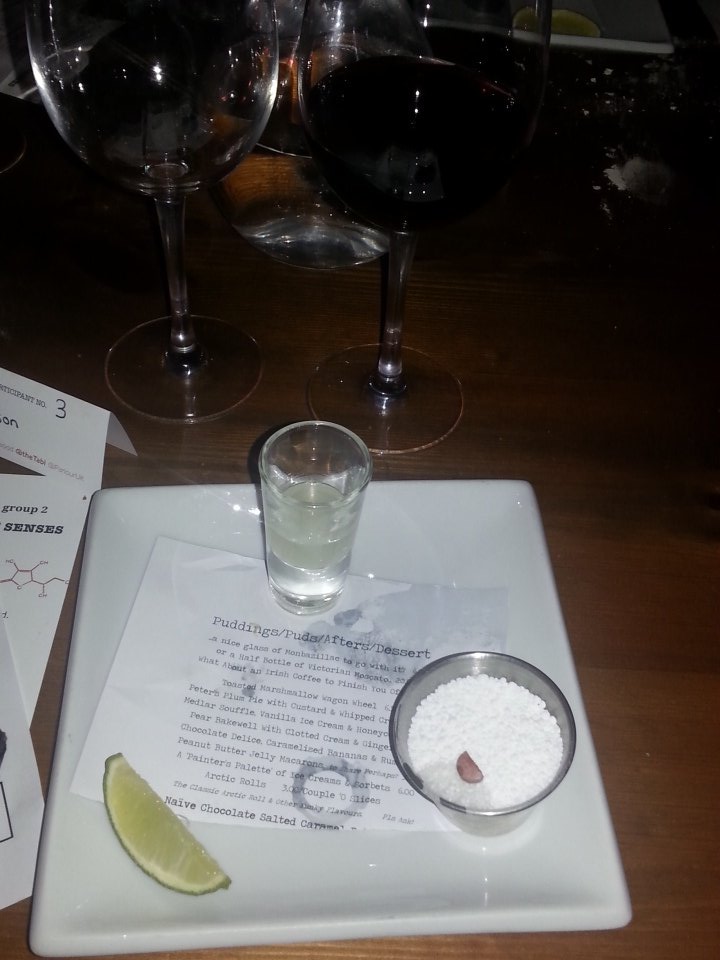 Finally dessert and it was like watching a live art installation. A long roller was run down the length of the table and we were given headphones which played dessert appropriate music, such as A Spoonful of Sugar and Flight of the Bumblebee, whilst watching the chefs flit around and create a masterpiece of dessert tableaux comprising waggon wheels, chocolate and hazelnut battenburg, popcorn macarons with popping candy and many, many more. I abandoned the paintbrush that had been assigned to me and grabbed proper cutlery so I could fully experience the cornucopia in front of me. We all got to run around like little kids tasting and exclaiming over every new delight. By the end I was so full I thought I might burst like Verruca Salt when the Oompa Loompas roll her off to be squashed flat!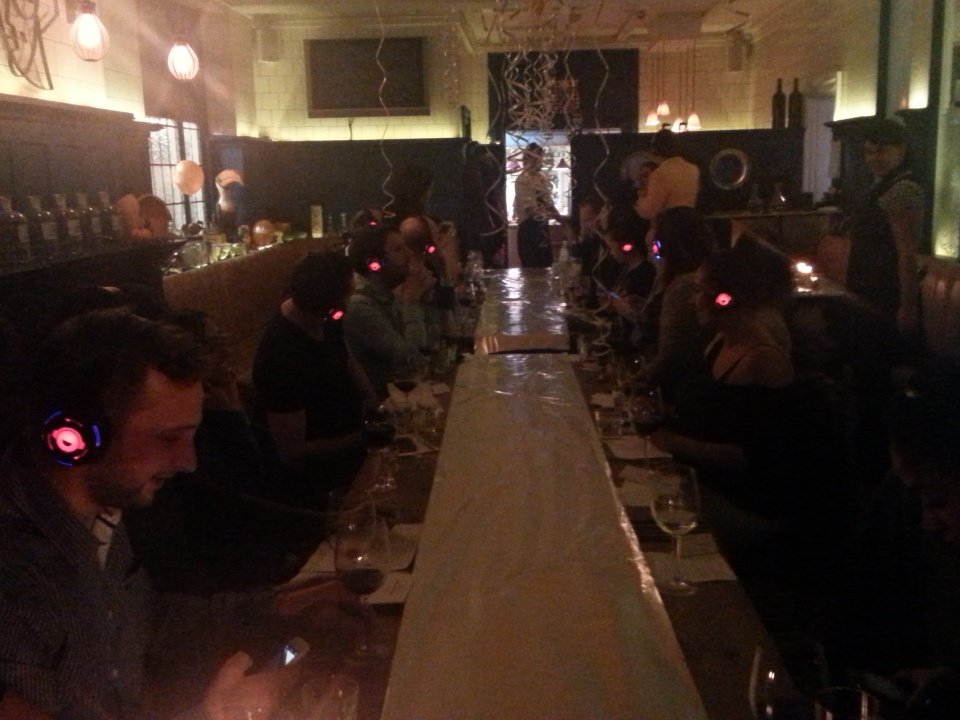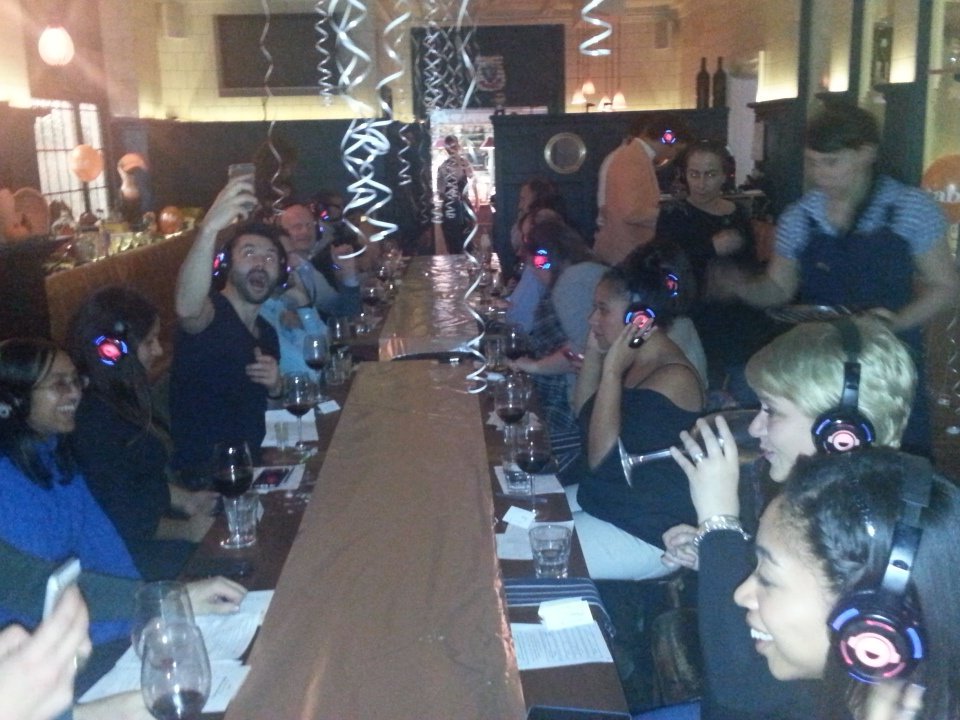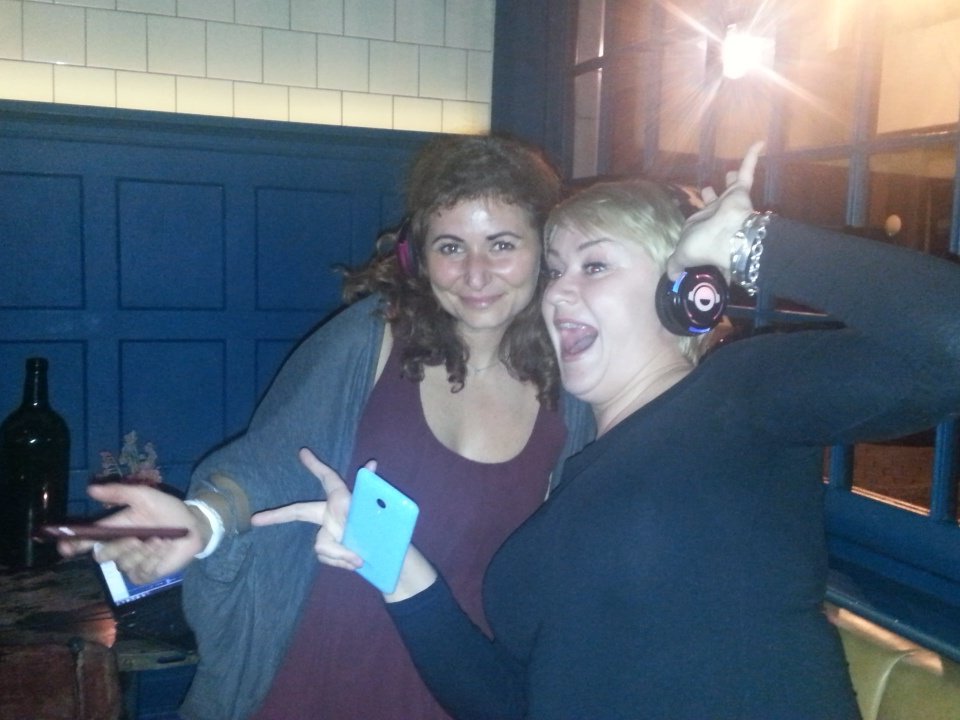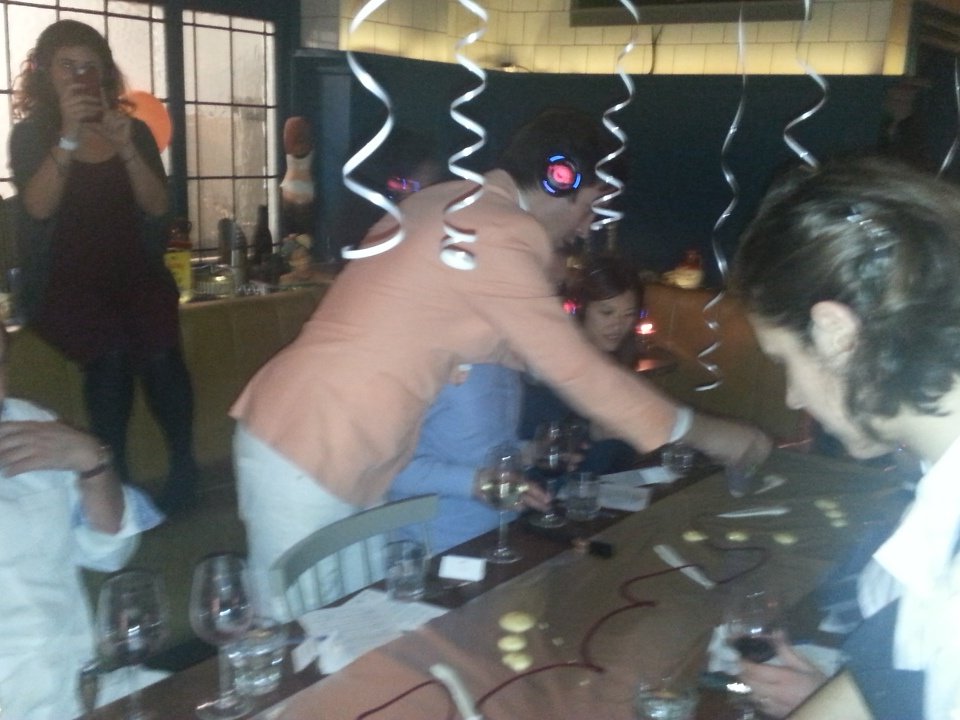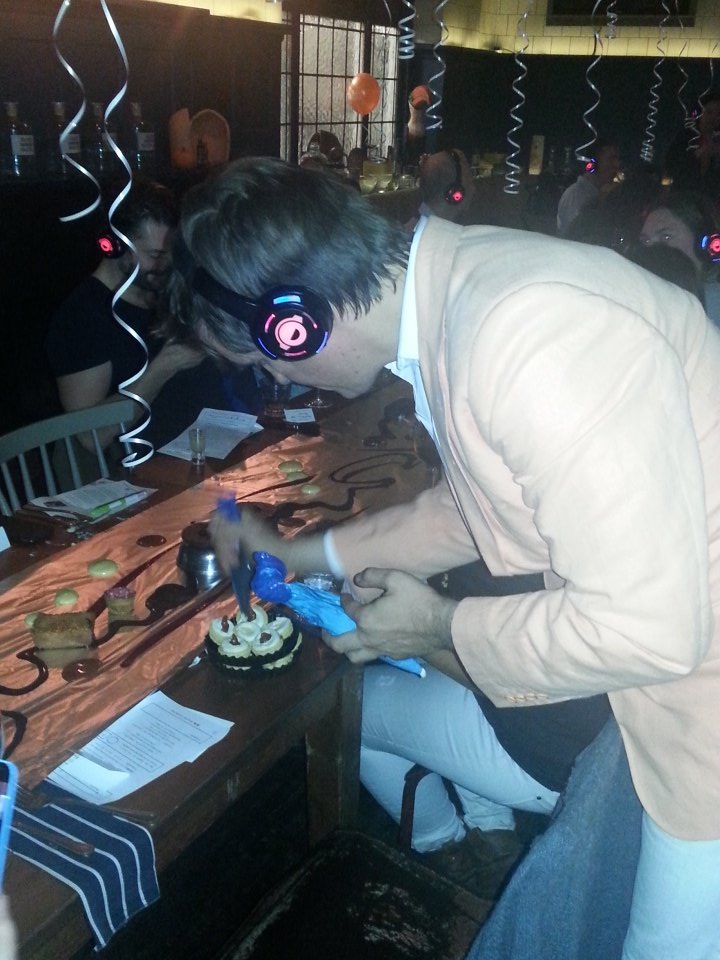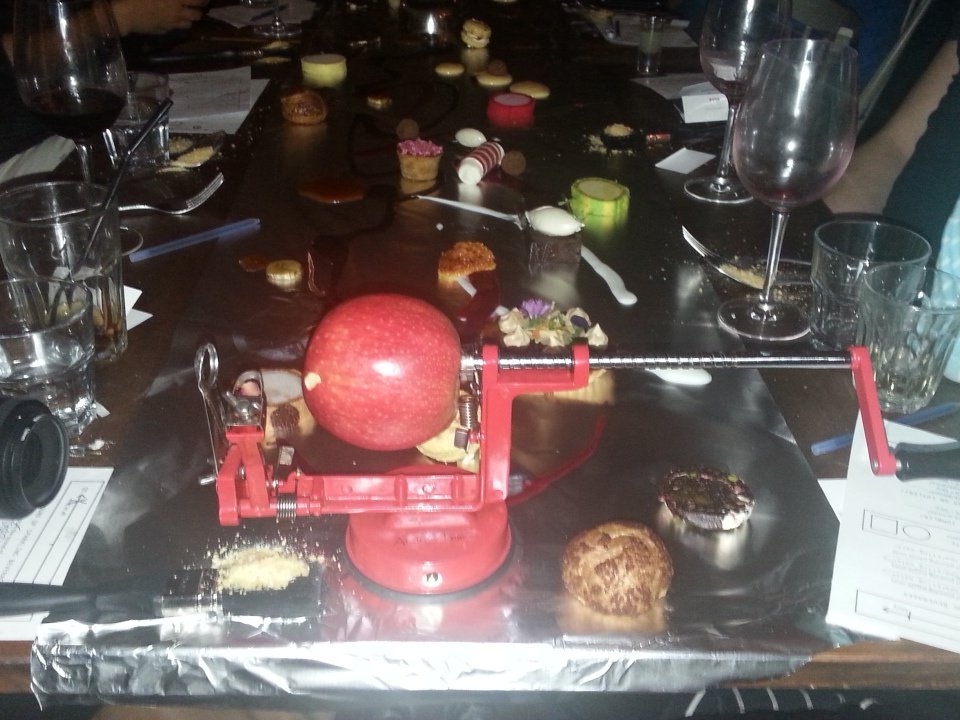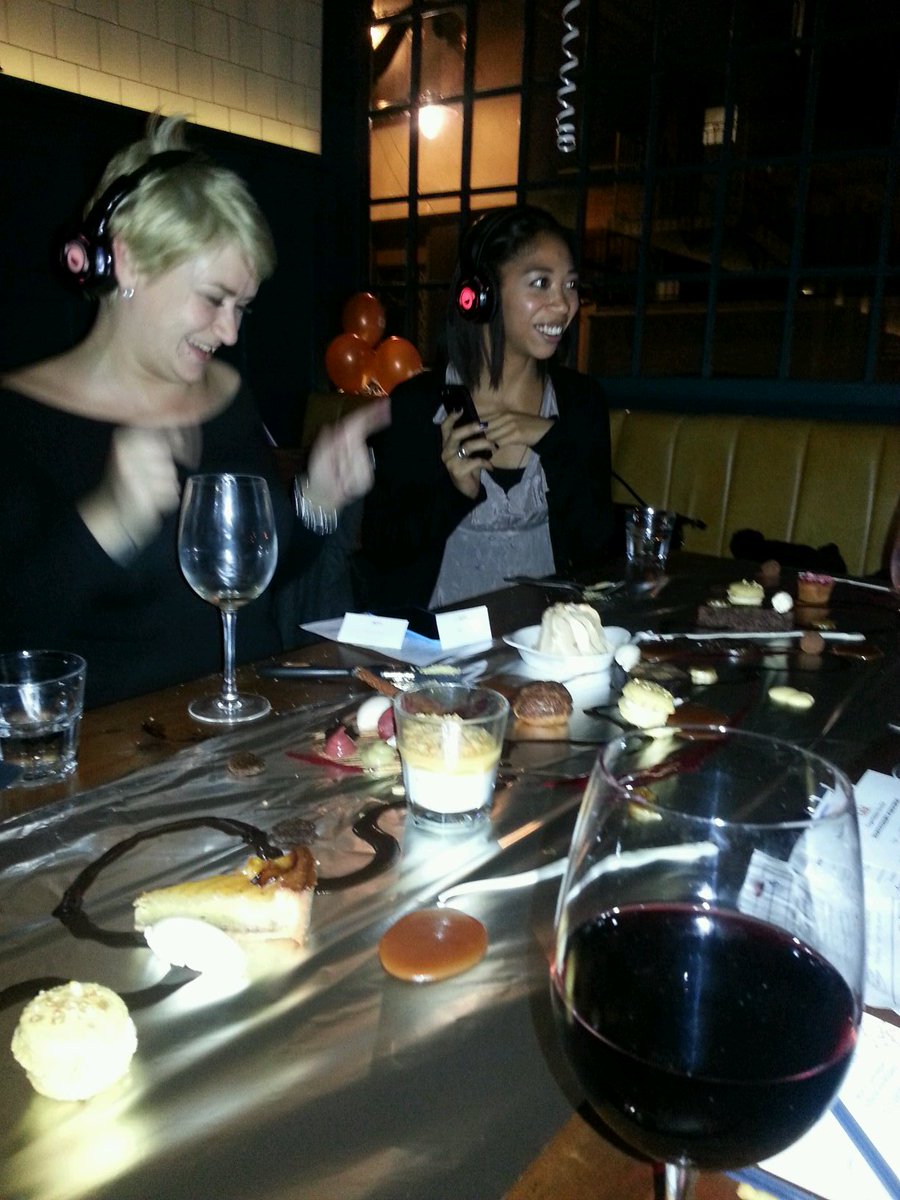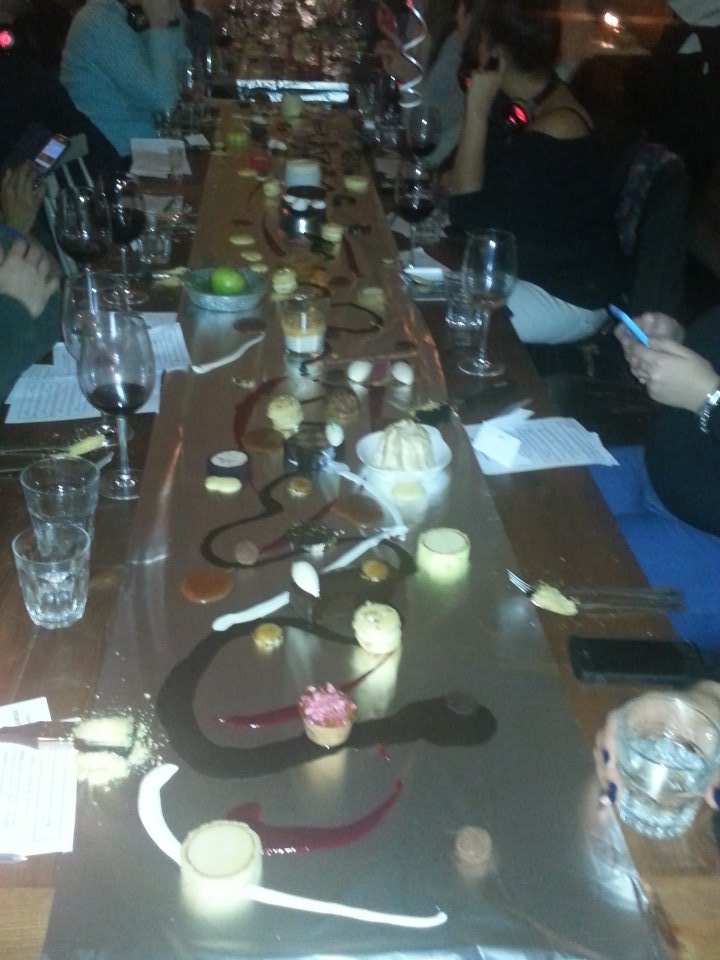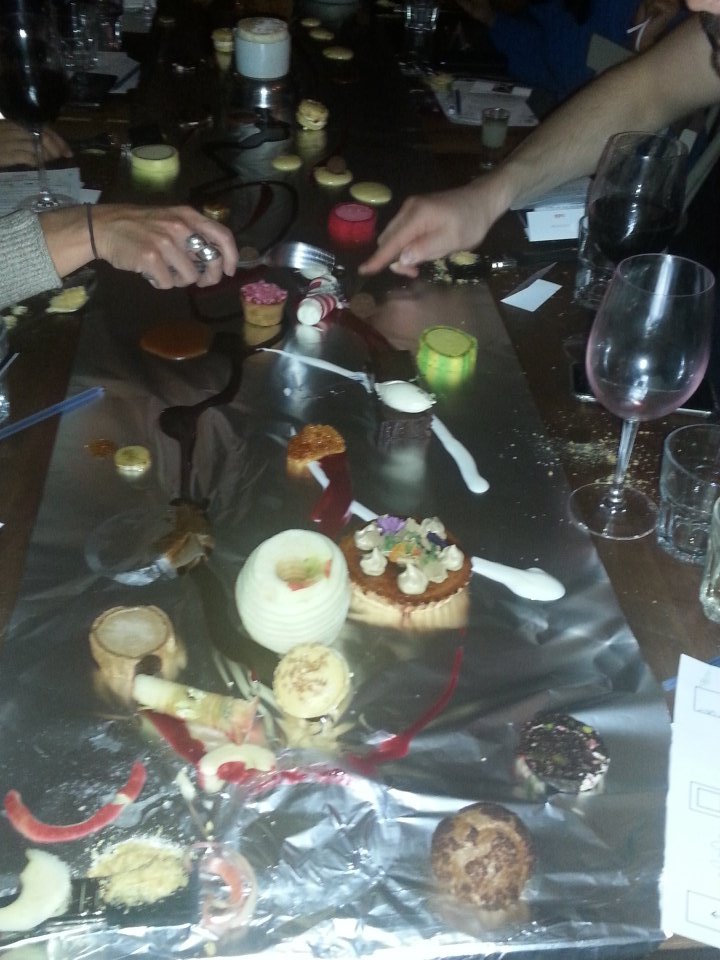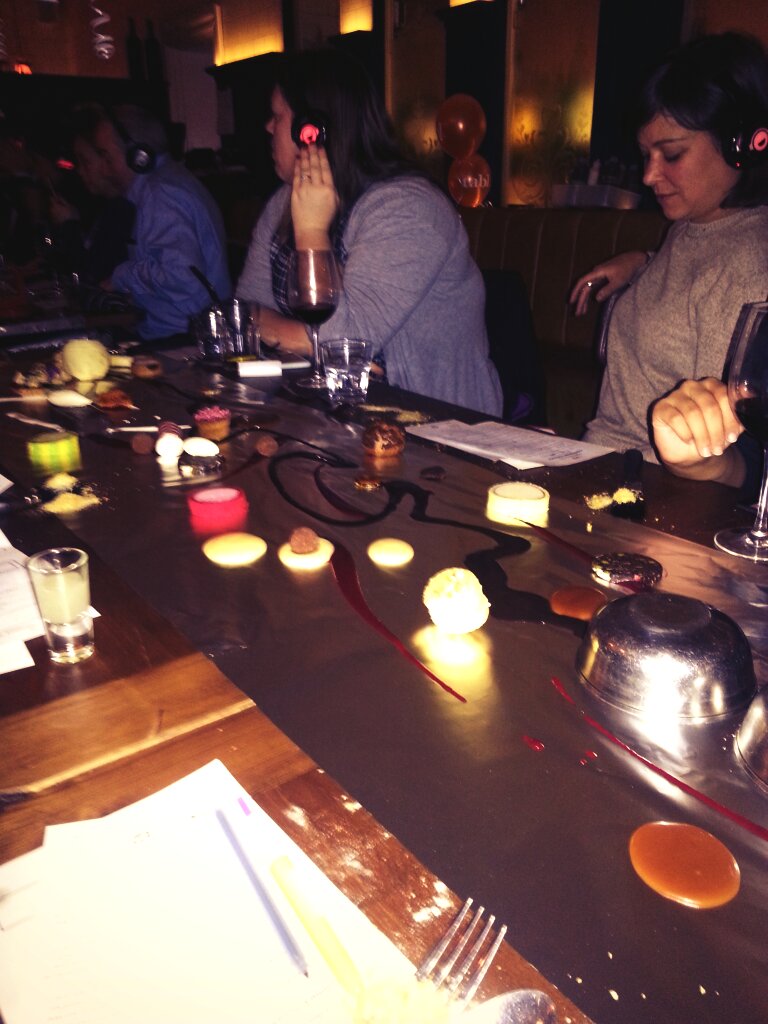 Hopefully I've conveyed some of the sense of theatre and excitement we felt, if you get a chance to be taken on an adventure by The Tabl jump at it!
Twitter: @theTabl @dunfordwood @parlouruk #food #experimentalpsychology #atthetabl #launch
@Kimberlybhurd @PalomaKara @ChefRyanLowery @ClarenceCourt @uniovoxford #CharlesSpence #surprises
#foodbloggers @ginglesnuff @connieconsumes @LondonPopUps @RiseGuide @TazzGault #supperclub #foodcollective
Thanks to Kara (PR and Social Media) from The Tabl for inviting us to one of their launch events, as well as Kimberly, Jesse and Ryan for their hospitality, and Charles for the interesting educational component.
<a title="Read Square Meal's review of Parlour" target="_top" href="http://www.squaremeal.co.uk/restaurant/the-parlour-5-regent-street?utm_source=Blog&amp;utm_medium=Blog&amp;utm_campaign=Link"><img width="230″ height="125″ src="http://www.squaremeal.co.uk/Views/DynamicImages/BlogBigImage.aspx?restaurant=bd2a72c015c54ffcb2dbf9f51f41052c&#8221; alt="Square Meal" /></a>