After enjoying the previous Presenting Japan event held in May, we were keen to understand more about Japanese Culture and Food.
We learnt about The Washoku Way – the Japanese nuanced approach to food. Intrinsic to the concept is the balance between the way foods are prepared, presented and enjoyed. Also, the approach stresses that the ingredients should be handled with care and gratitude, and that as they are the are the very source of life and so nothing should be wasted. This attention to detail ensures that your sensory experience encompasses all five senses and that the resulting food that you enjoy is pleasing to the eye. The morning session was moderated by food writer Sybil Kapoor.
We gleaned how sake is produced using traditional methods from experience 14th generation sake producer Tokubee Masuda.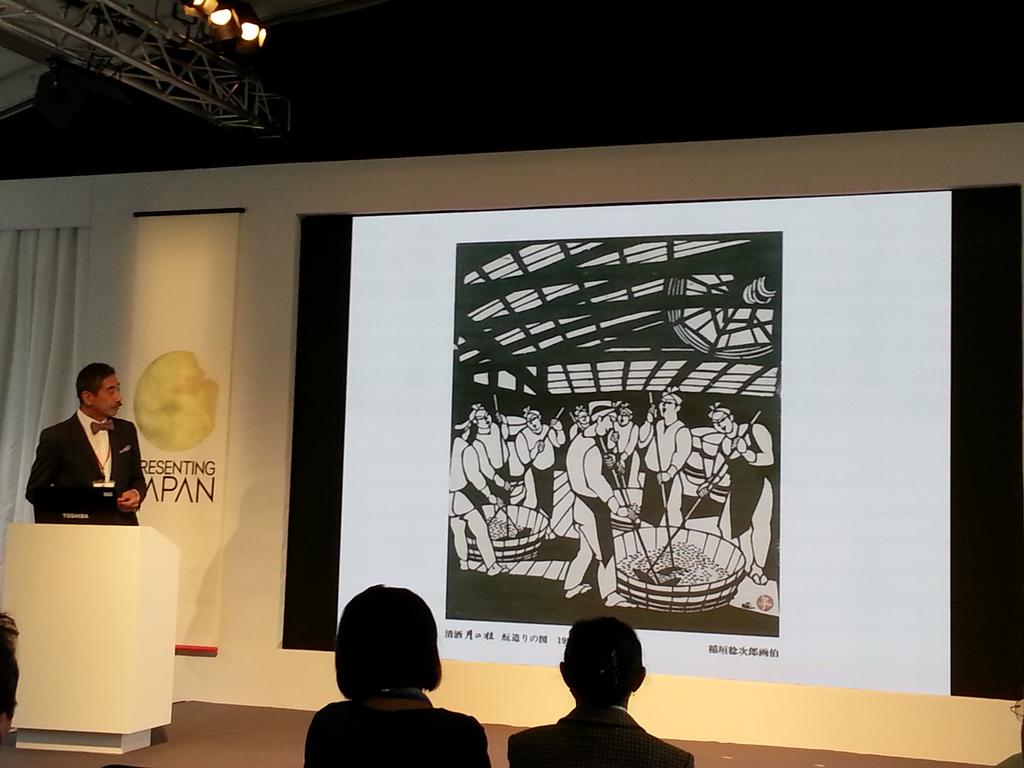 It was great watching and later briefly speaking to Chef Yoshino Ishii, Executive Head Chef of Umu Restaurant, and learning more about his passion for maintaining Japanese traditions and reflecting these in his food, but elevating them to a 2 Michelin Star level.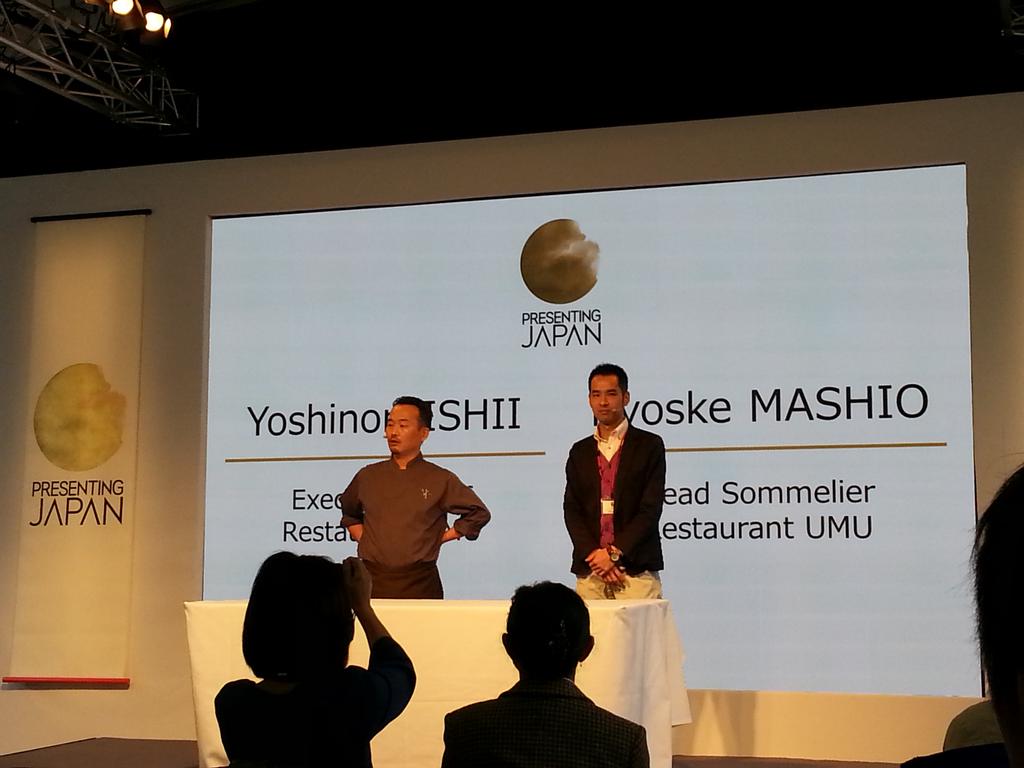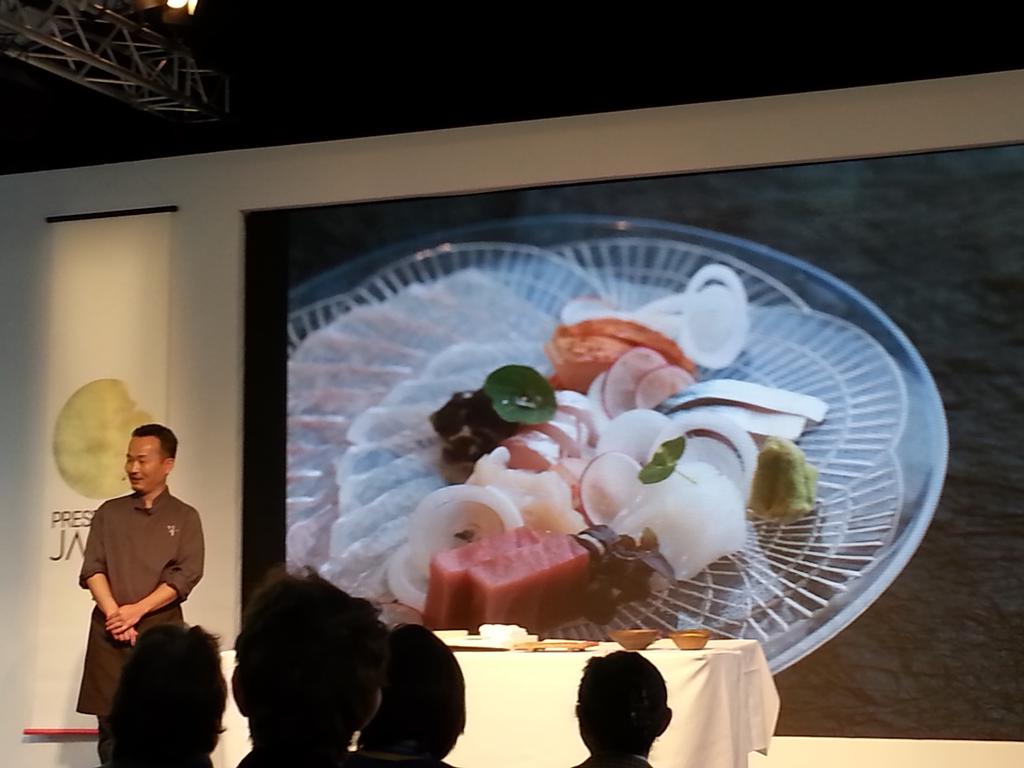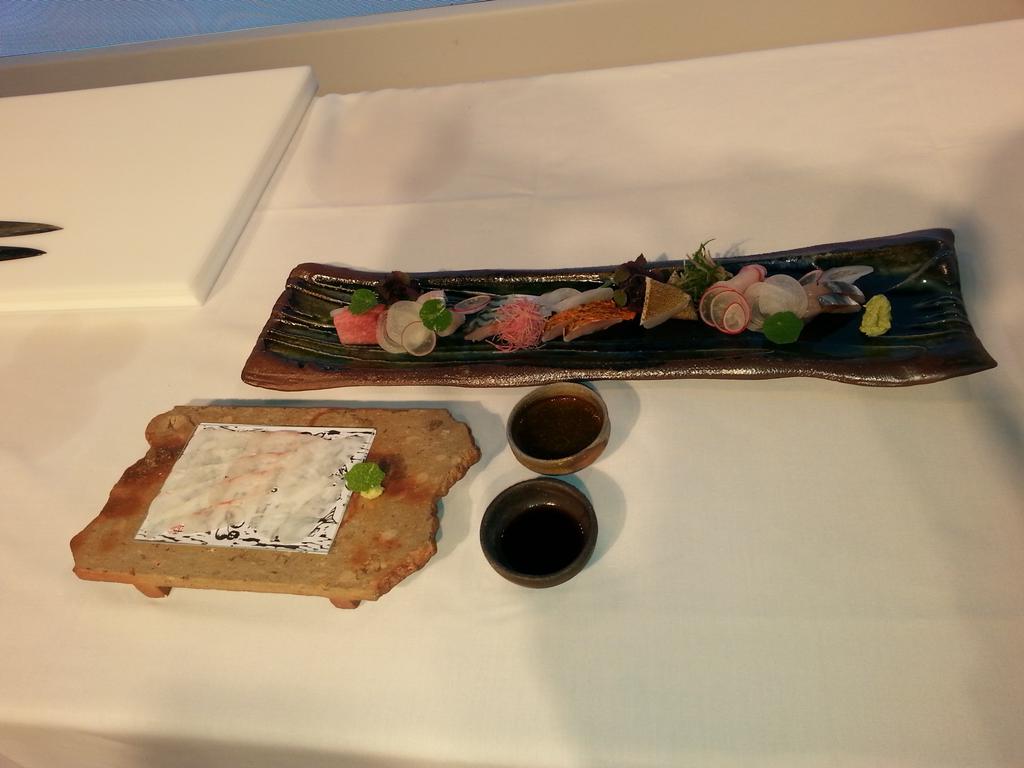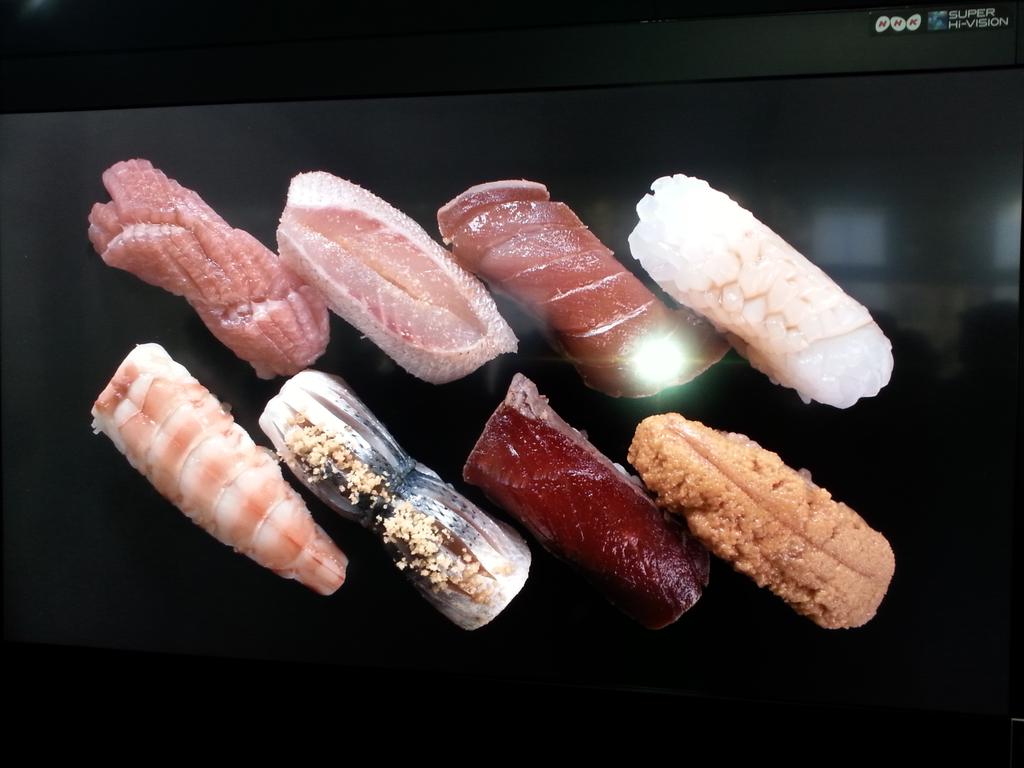 We also experienced a sake masterclass from Ryosuke Mashio, Head Sommelier at Umu Restaurant, where we learnt about the three different types of sake and six different varieties distinguished by the brewing method used; and that you can enjoy them cold, room temperature and warm which will change its characteristics making them pair well with different ingredients and dishes. Did you know that there is a sparkling sake? Neither did we! It turned out to be our favourite during the course of the food and drink pairing talk – it is carbonated sake, with a mouth feel reminiscent of champagne.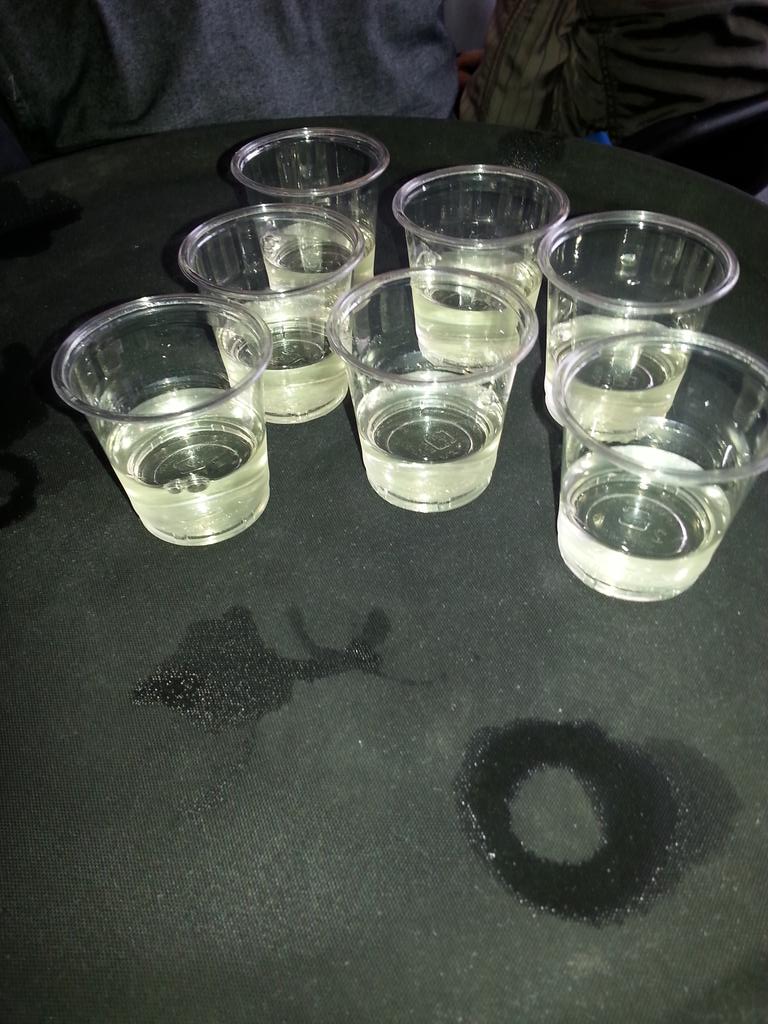 Chef Brett Graham then also shared his passions for Japanese cuisine during the next linked presentation on food pairing.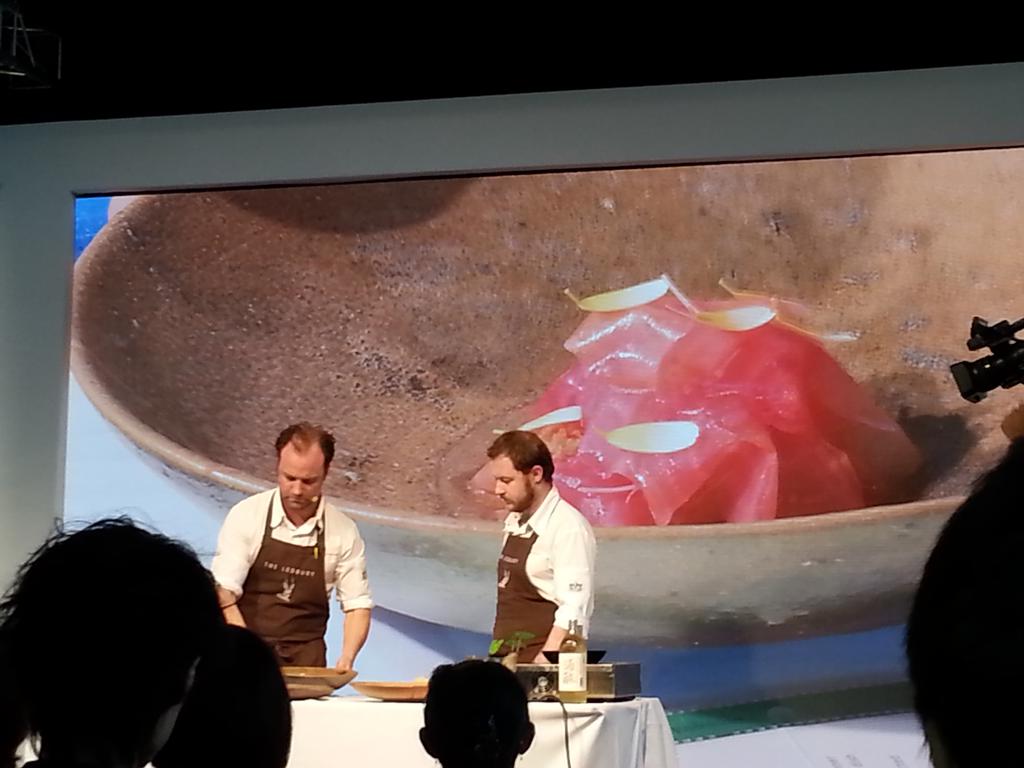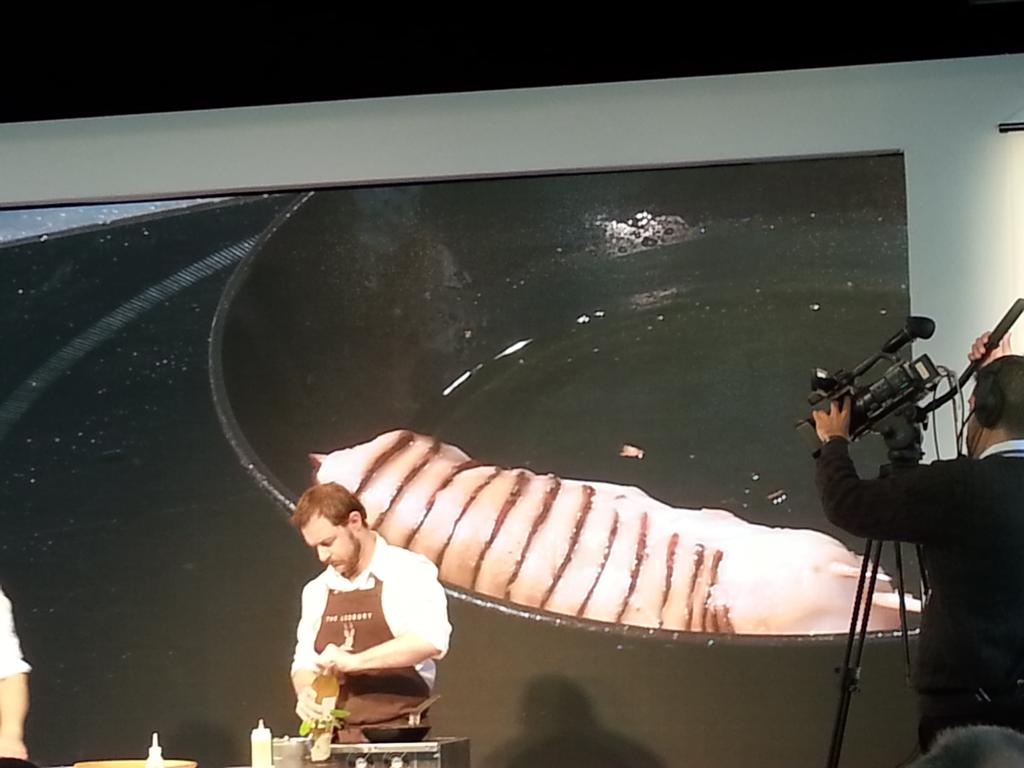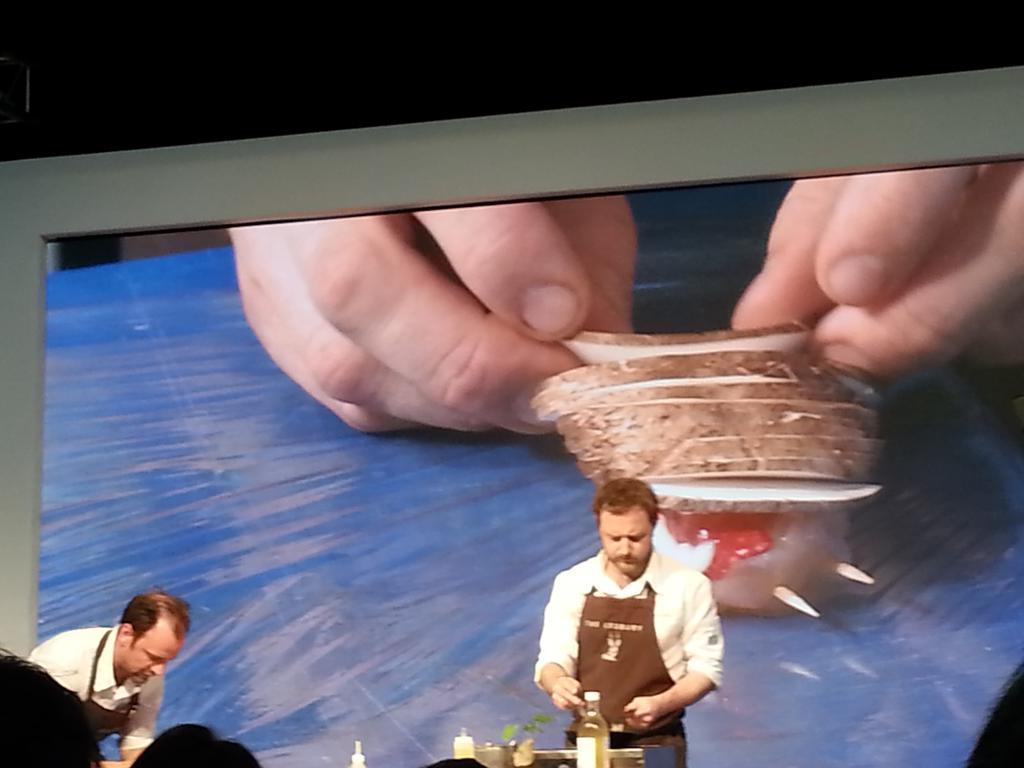 This then lead onto the following sake and food pairings:
Creations by Chef Yoshino Ishii:
Squid and Caviar – paired with cloudy sake
Crab – paired with clear sake
Creations by Chef Brett Graham:
Mussels, cream and caviar – paired with a Damon (transparent) sake
Flame grilled mackerel with avocado and shisho – paired with cloudy sake
Lobster with Shitake Mushroom with dashi vinegar
Sherry dashi with cauliflower and goat's cheese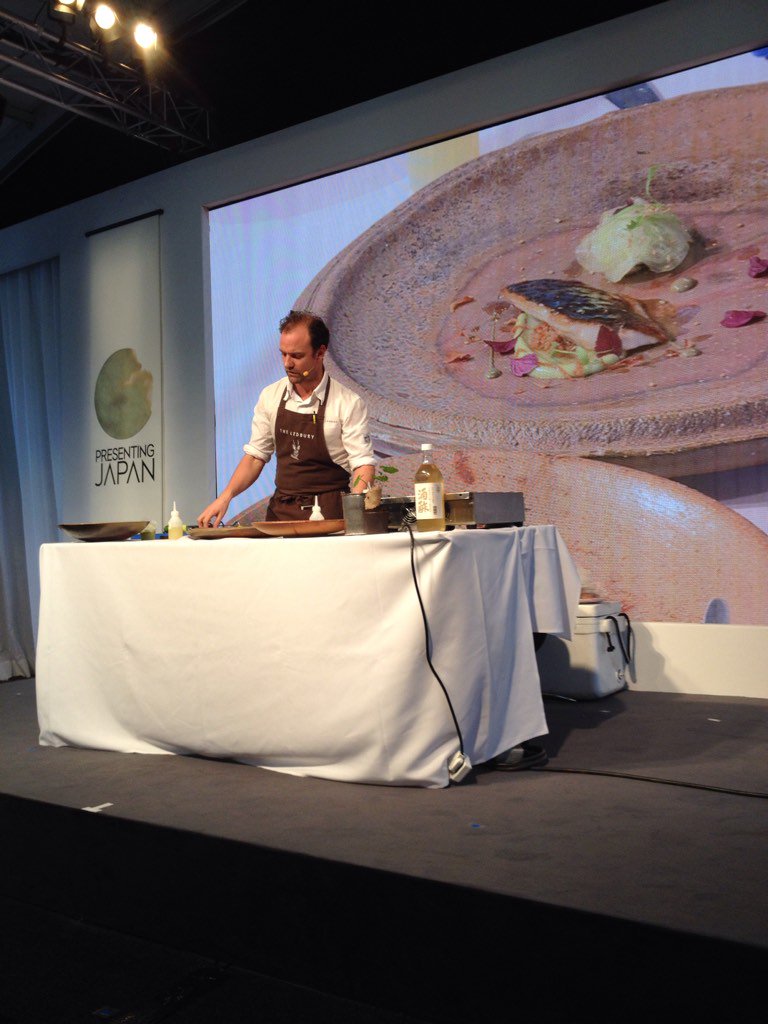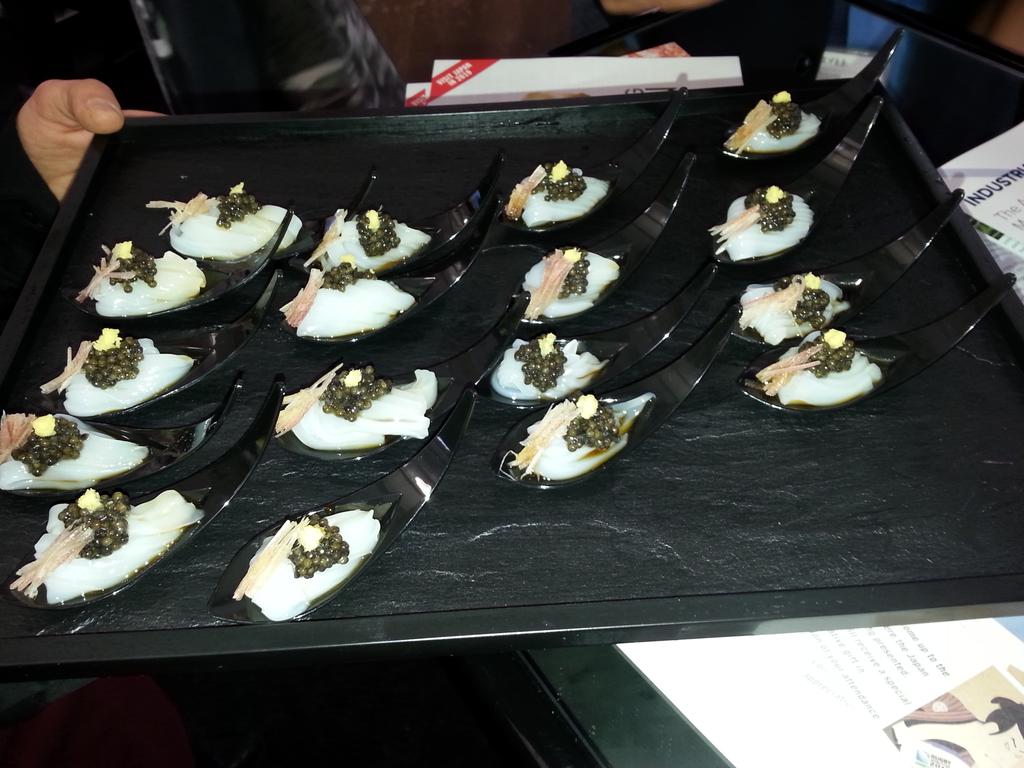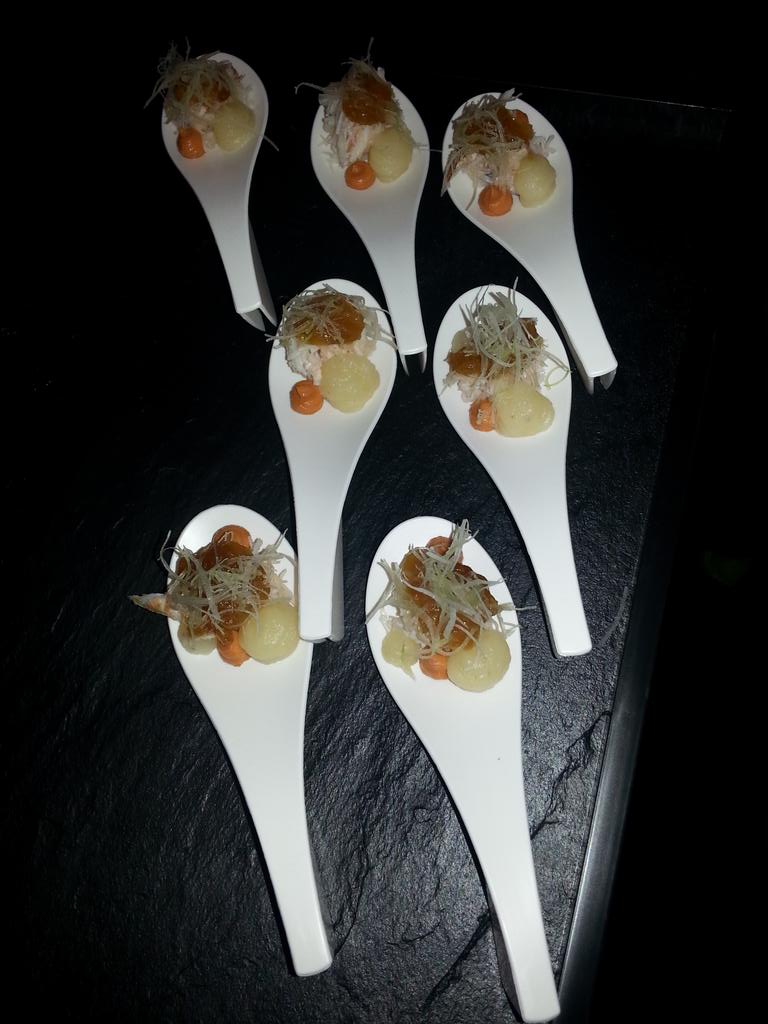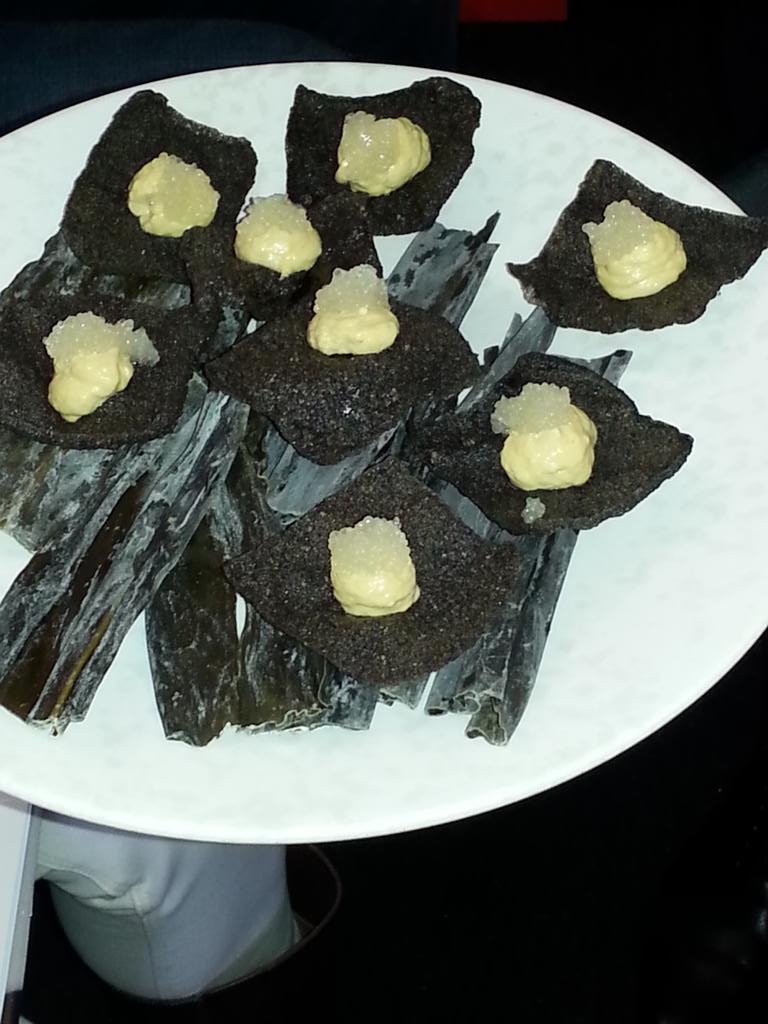 Look forward to meeting you Chef Ishii and Ryosuke again at Umu restaurant to get more of a Japanese immersive experience, and improve our knowledge about food and drinks pairings with Ryosuke!
Next, we were enthralled by the pottery skills and creations of Kazuya Ishida.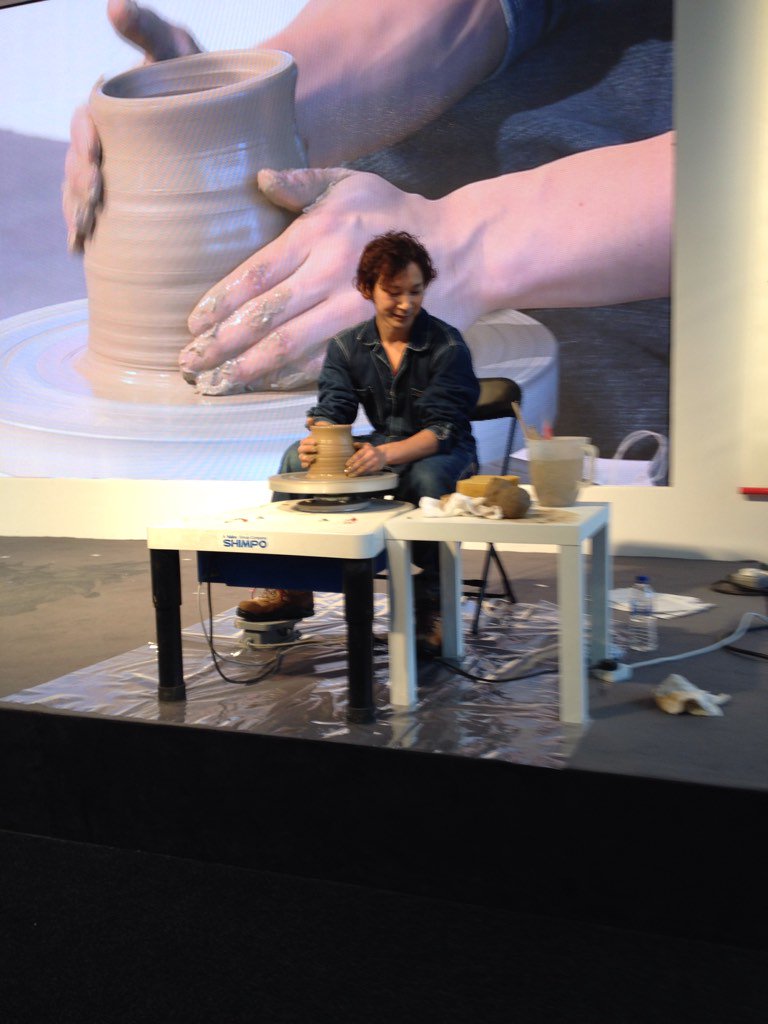 After a short break taking in the London landmarks around Westminster and stopping for tea, we returned to the QEII centre as we were excited to also be able to go to a special invite only Presenting Japan evening event, where we met fellow food blogger friends Vi Vian , Maria and Felicia and whose company we enjoyed during the evening.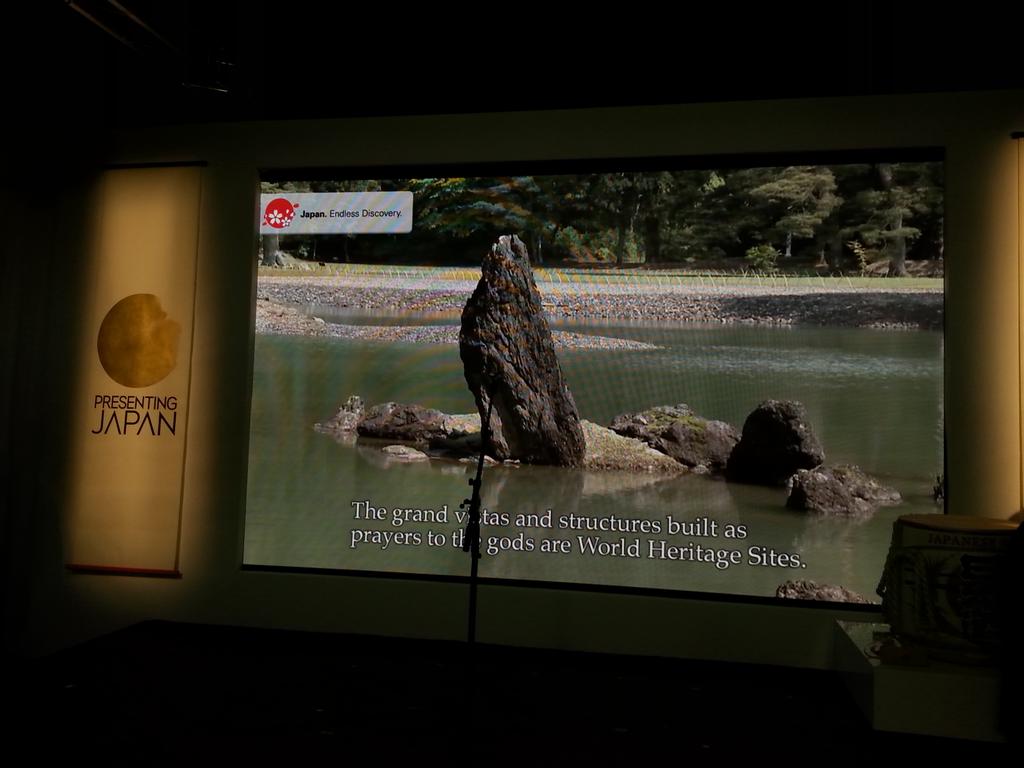 The evening included watching a traditional Sake blessing ceremony and breaking of the sake barrel, and sampling various sakes and Japanese 2 Michelin star dishes from Umu Restaurant and The Ledbury.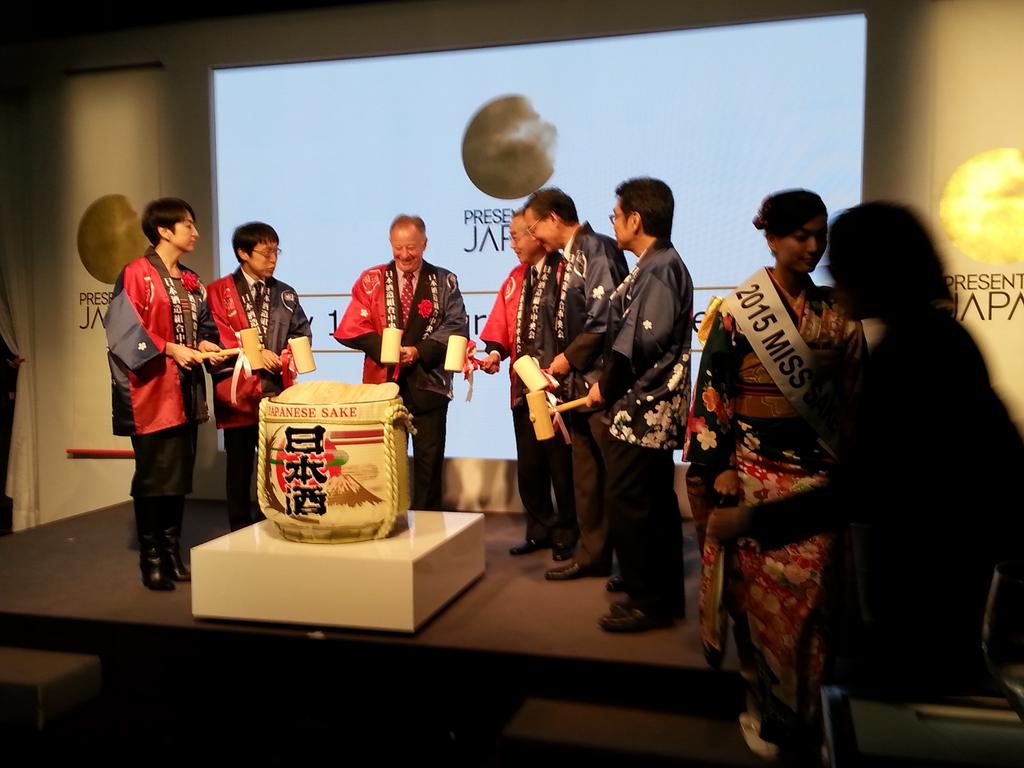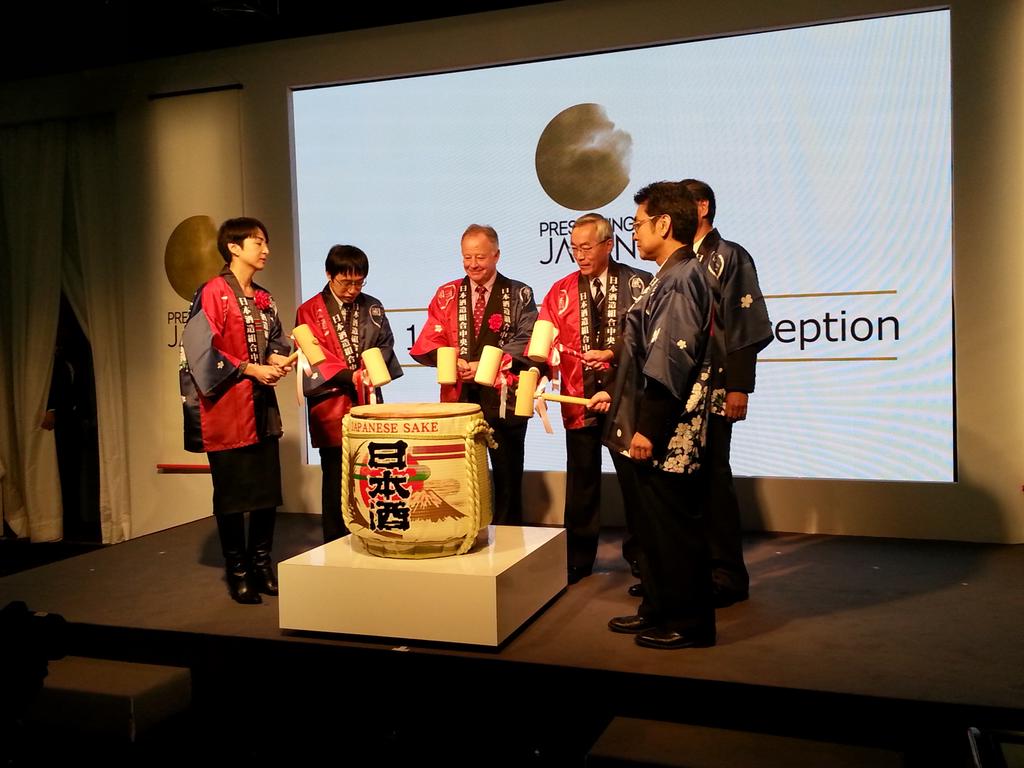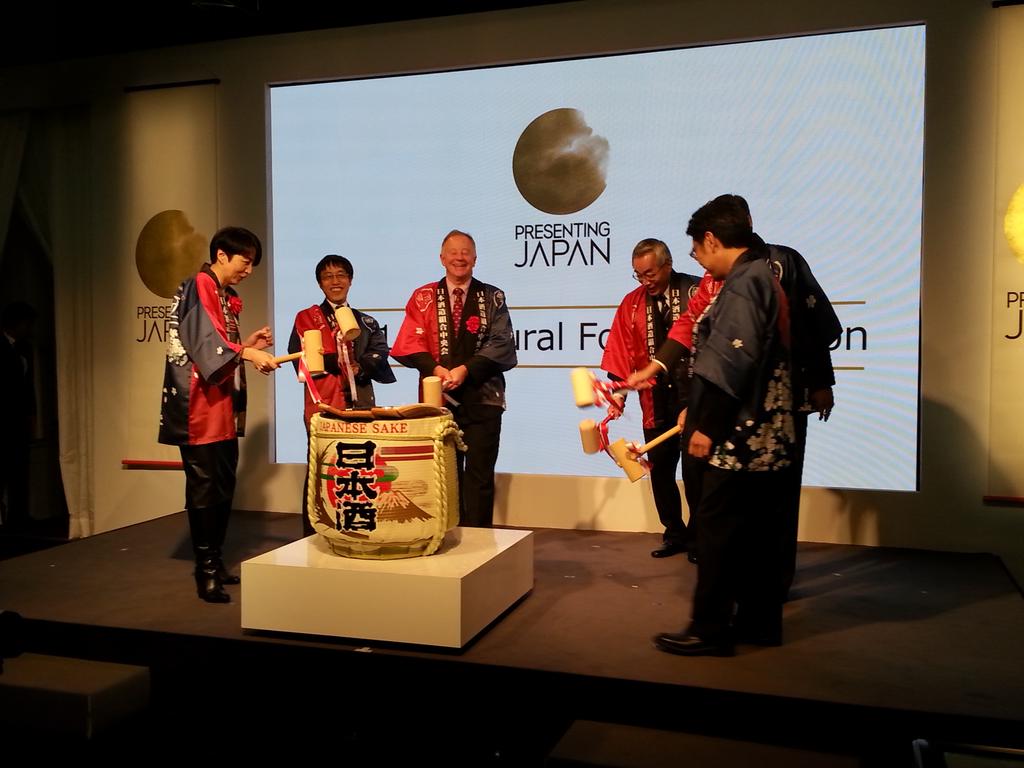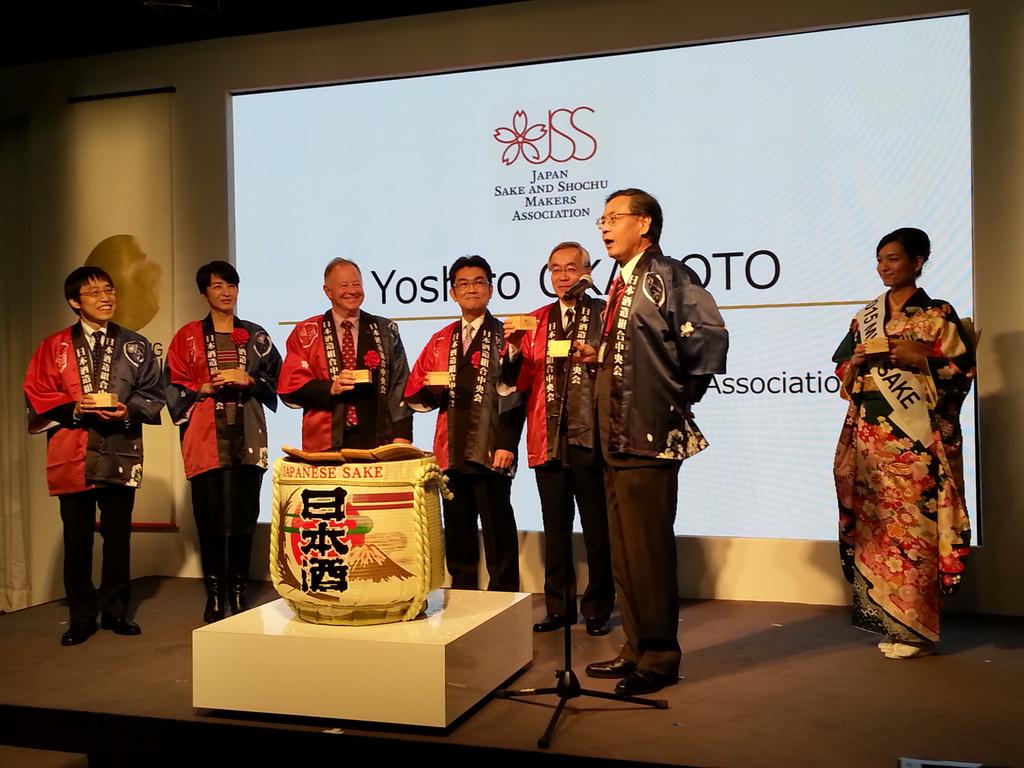 Whilst we tried the various types of sake, we sampled red bean paste and white bean paste with chestnuts from Tokimeite restaurant – the chestnut was an enlightened addition which raised the white bean paste snack to another level.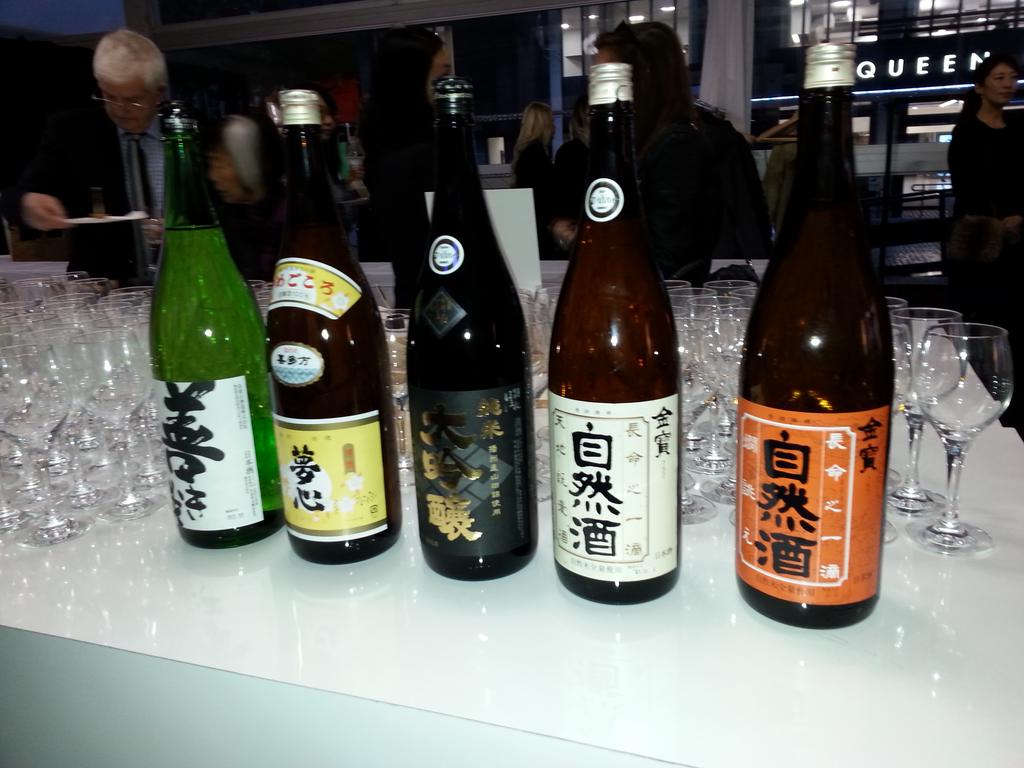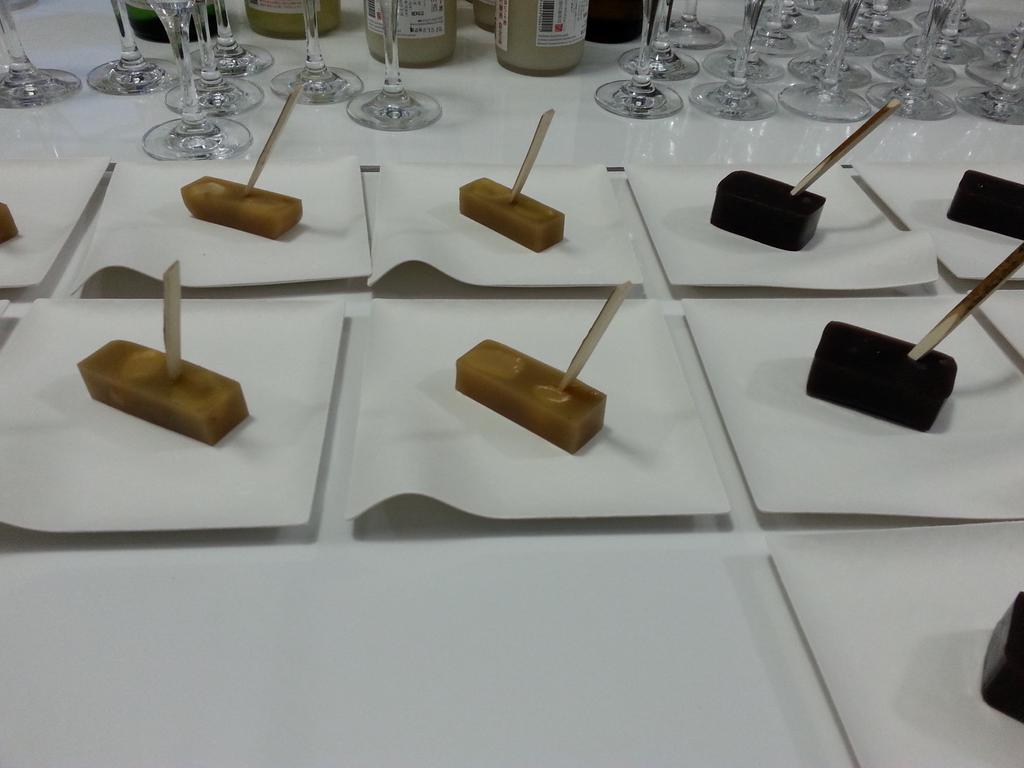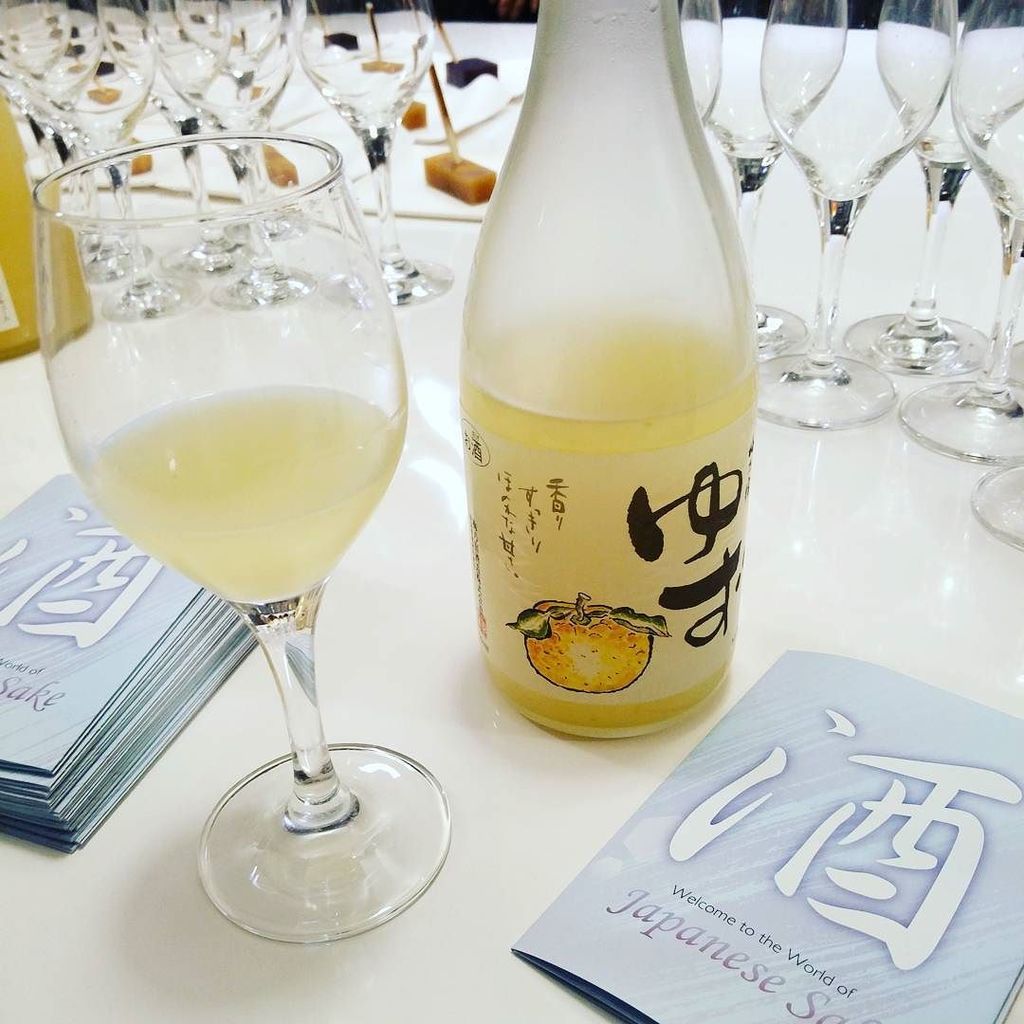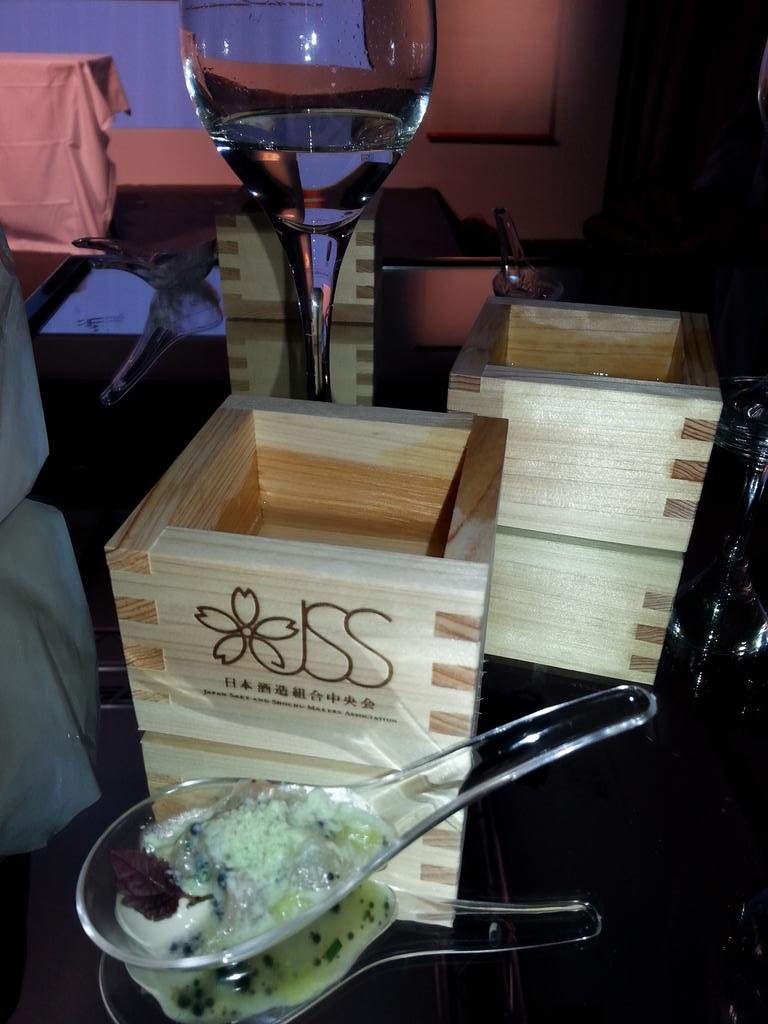 .. and we got to meet Miss Sake 2015 :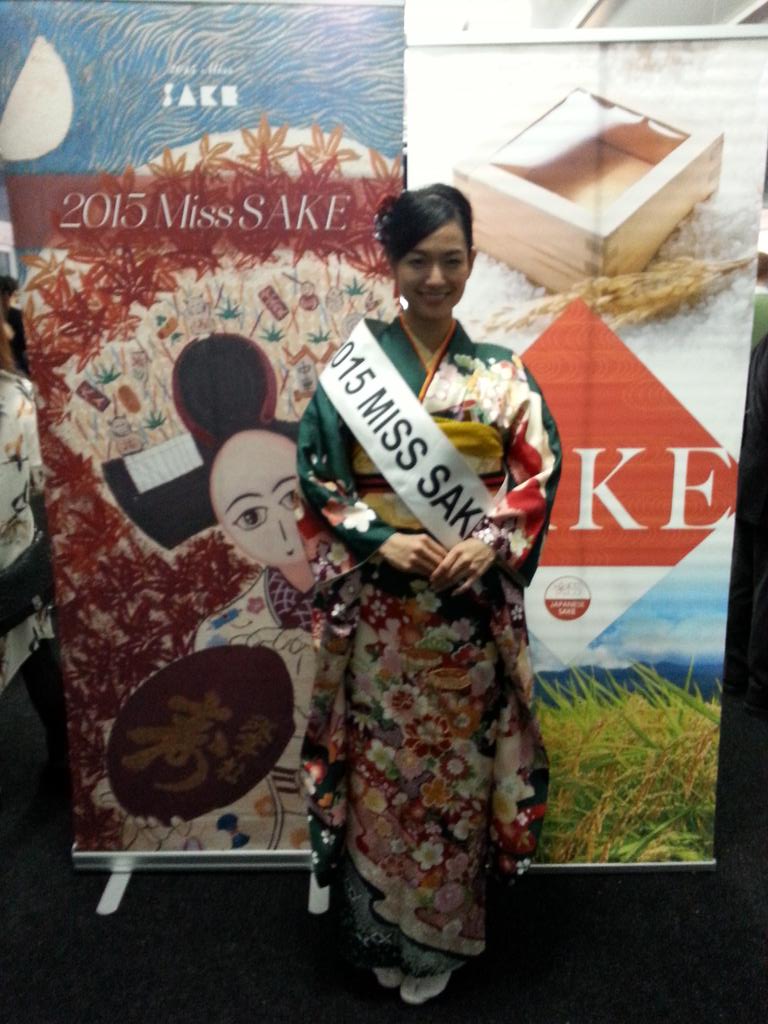 We dined on:
Kombu cured Artic charr with char egg
Turnip soup with Cornish crab meat, topped with miso and orange zest (a combination which we were not a fan off)
Japanese Wagyu "Tataki" Japanese Herbs
Oyster Chantilly, Shisho and Bream Tartare, frozen English wasabi
Steamed Pork Jowl, Chestnut, celeriac and Japanese pear
and rounded off the meal with:
Fig Leaf Ice cream with Goat's milk and Miso caramel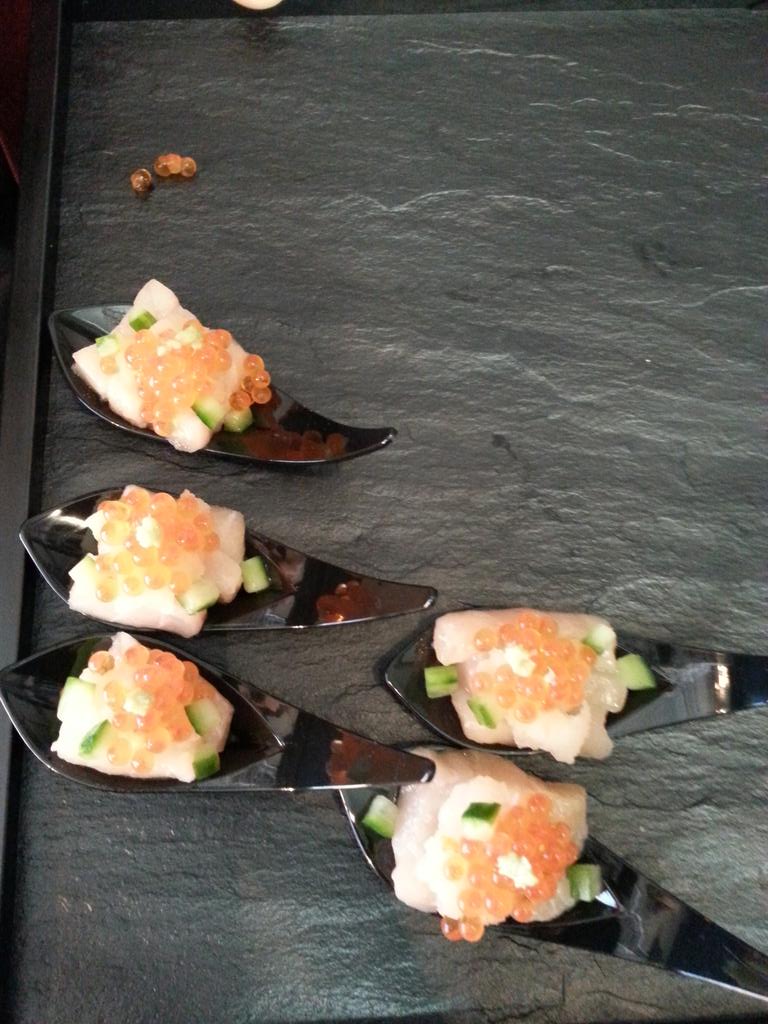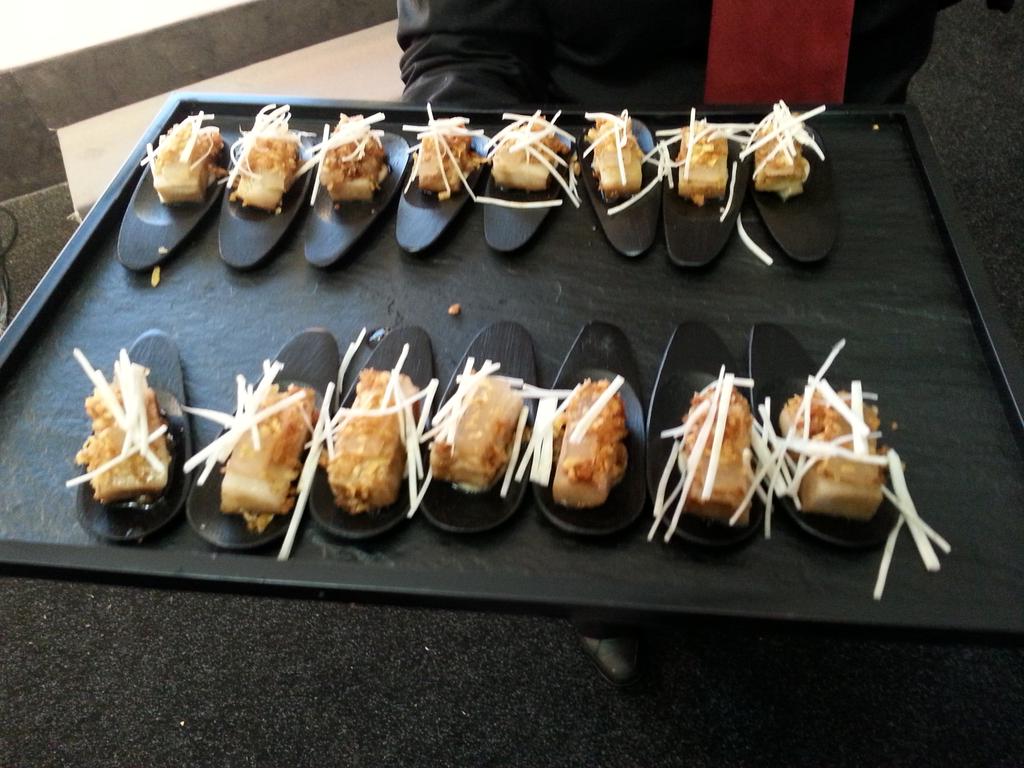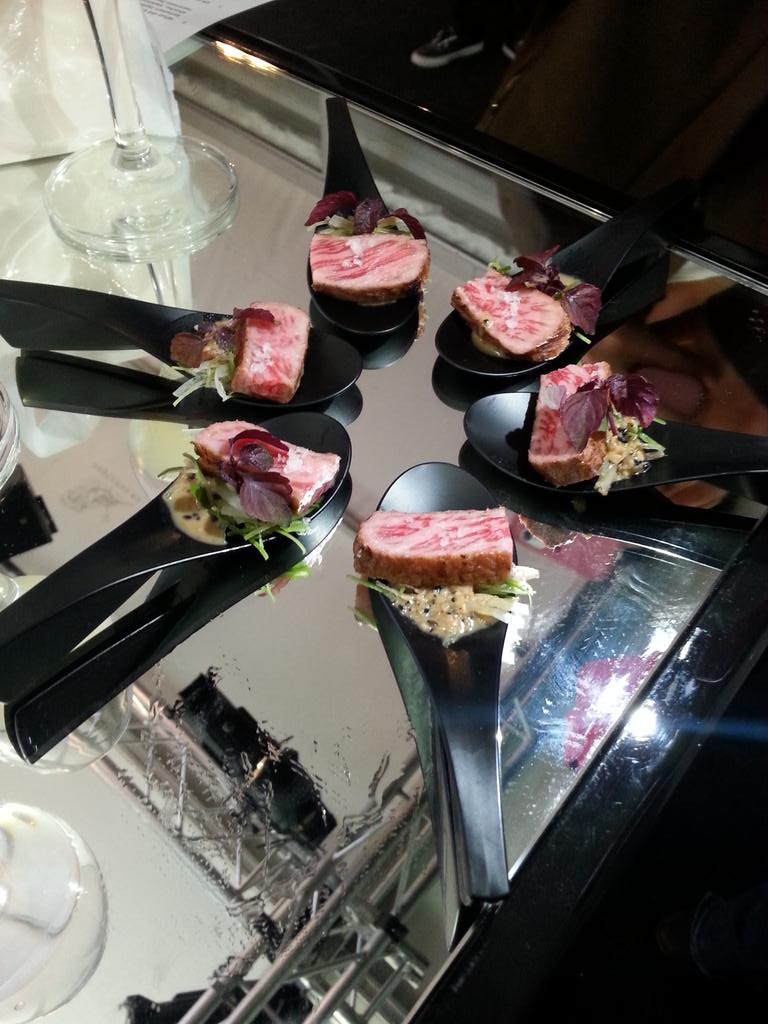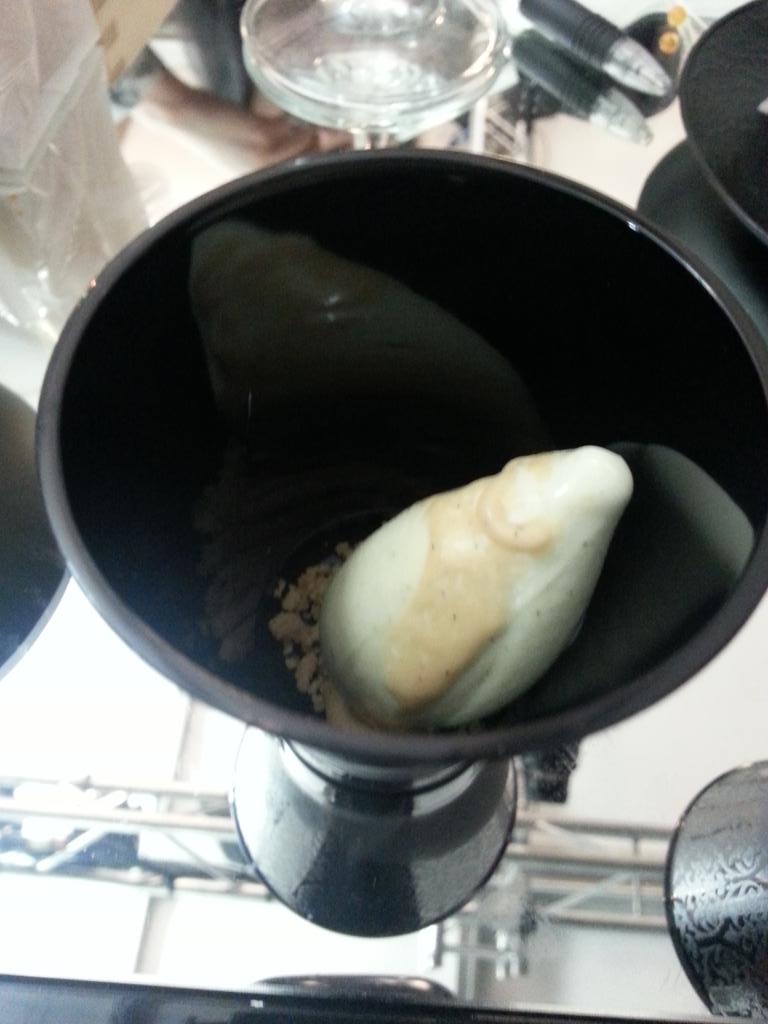 The highlights of the evening were the Wagu beef – with its trademark fine marbling, which you can see in the above picture, and which makes the slices of Wagu so succulent that they melt in the mouth; watching mochi being skillfully created by Hiromori Uchida into flower masterpieces, as well as seeing the beautiful presentation boxes that link in with the washoku philosophy; and meeting Brett Graham, Executive Head Chef of The Ledbury – we are huge fans, and are looking forward to visiting soon with some of our other fellow food blogger friends, who you also met on the evening: Vi Vian , Maria and Felicia ! We are already co-ordinating diaries.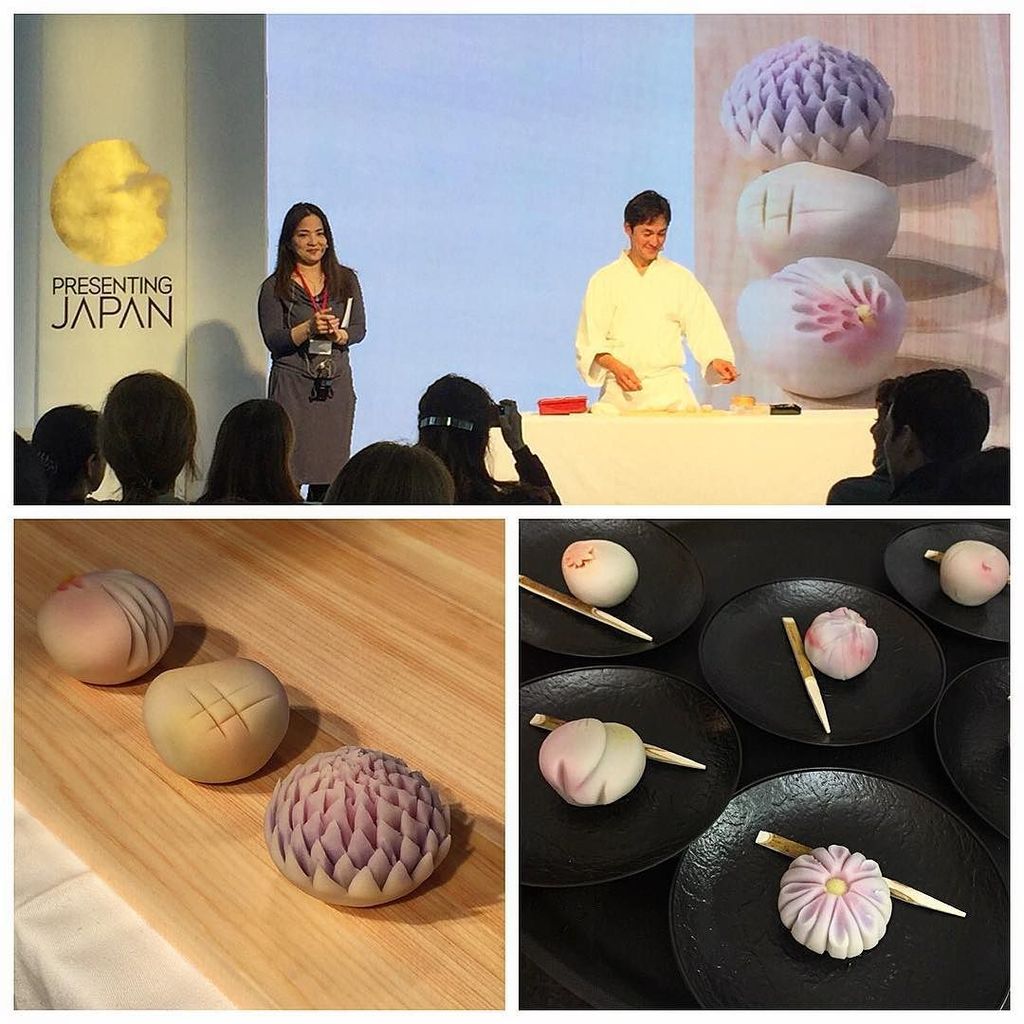 Our favourite design, the flower: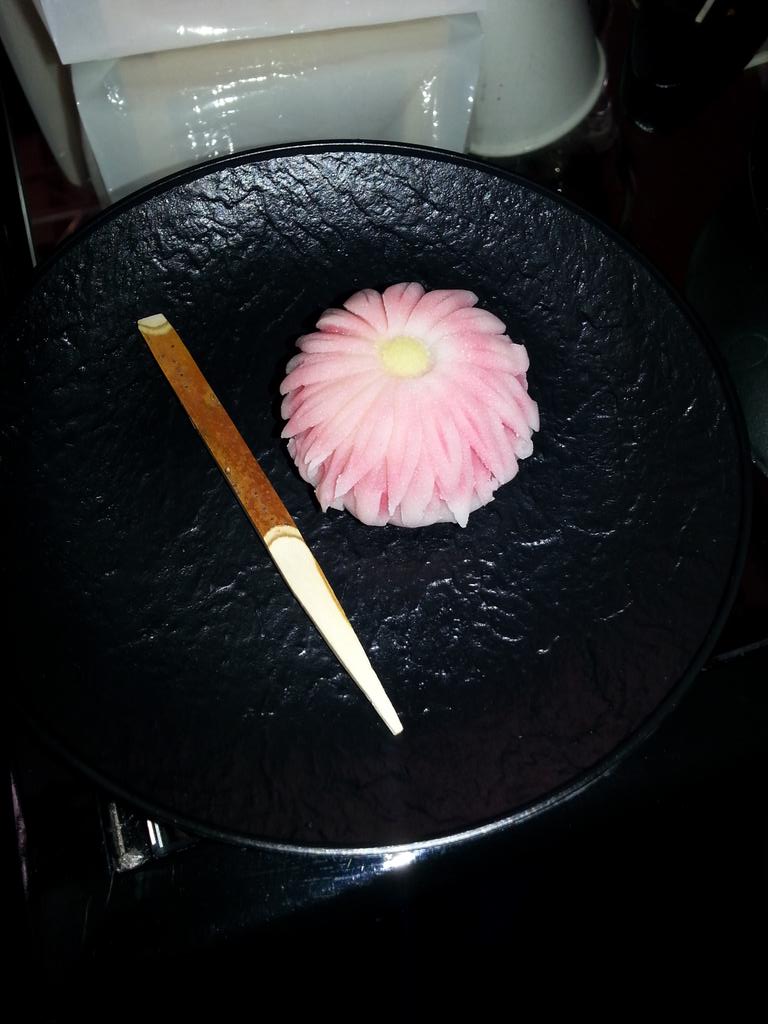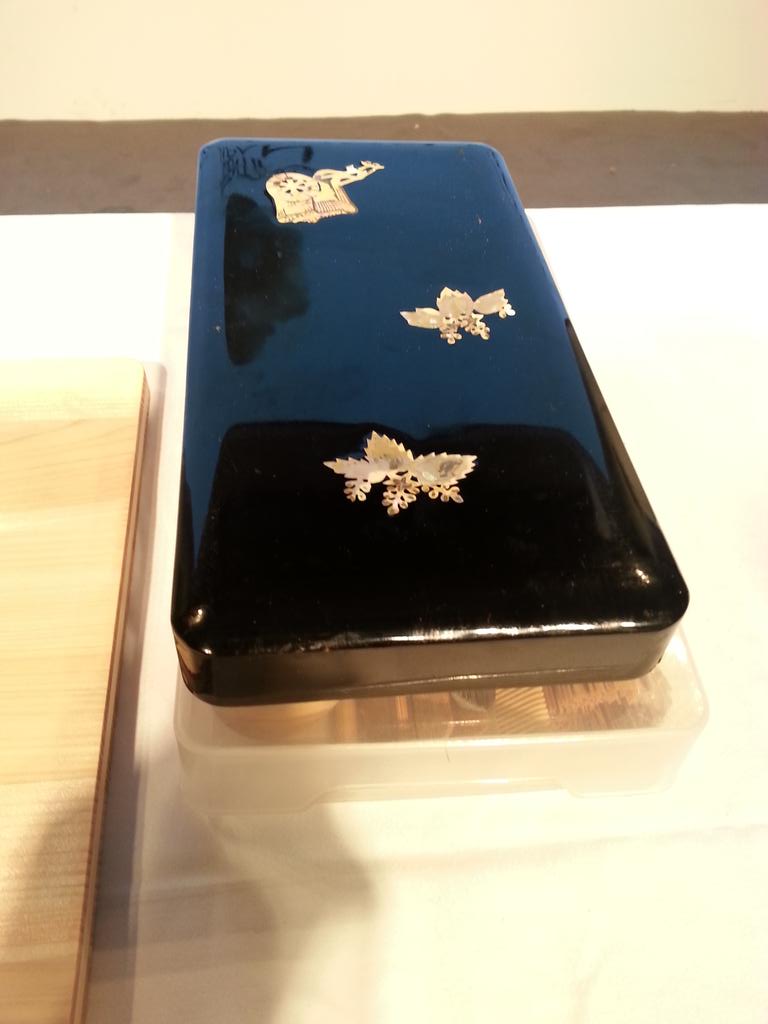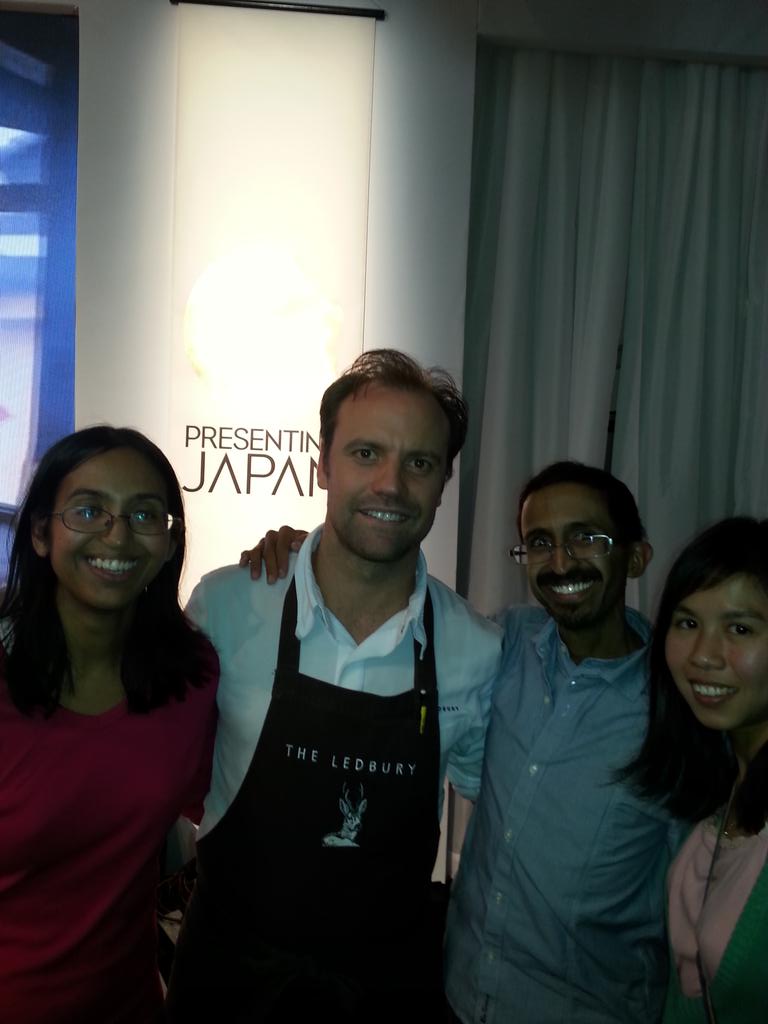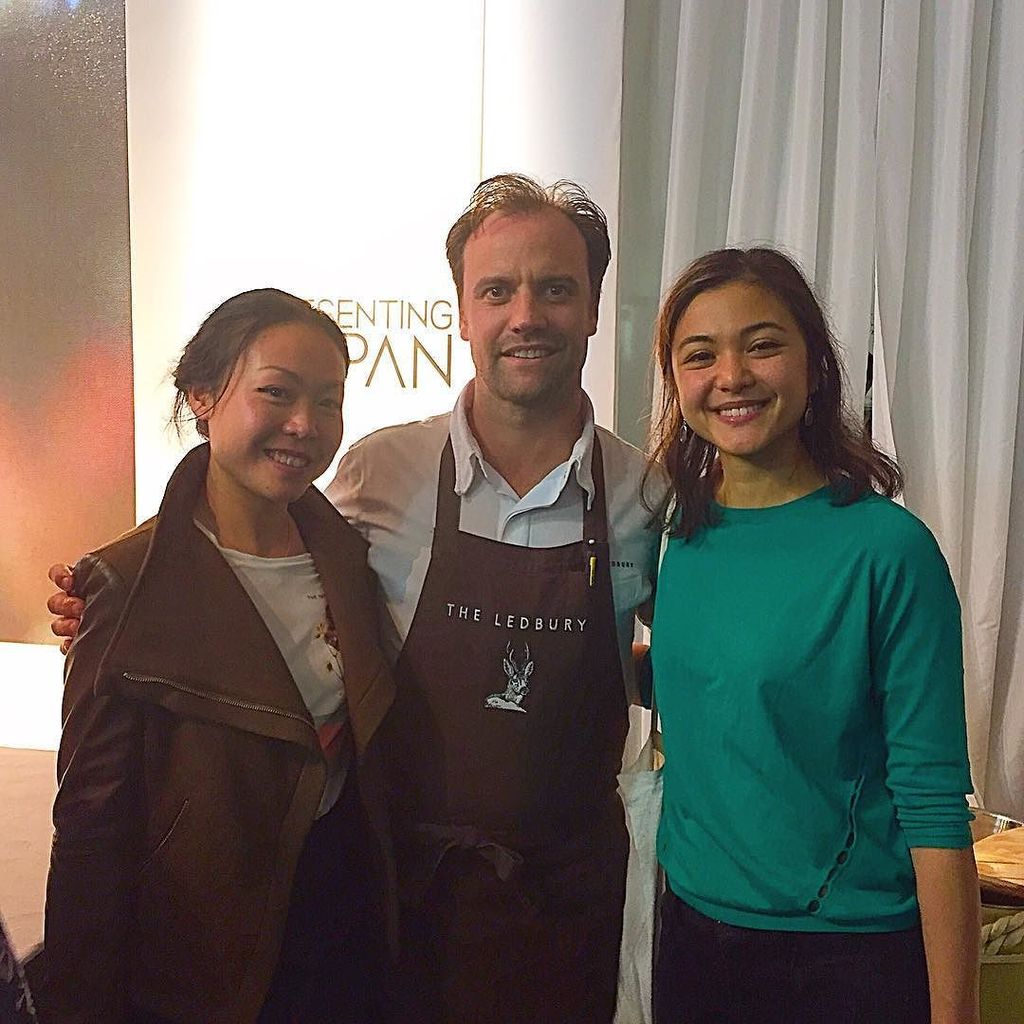 Twitter: #presentingjapan #culturaljapan #Japanese #Culture #Food @JETRO_intro @MAFF_JAPAN @qeiicentre #Chef #Ishii @Umurestaurant #BrettGraham @TheLedbury @The_Ledbury #2MichelinStars @JapanGov
@DentsuPR #whitefoxstudios @SquareMeal @MichelinGuideUK @experiencejapan @InsideJapan #JapaneseFood @jpflondon @TimeOutTokyo @JSS_MAFF @SybilKapoor @tokimeitelondon
#sake #foodpairings @vi_woo @the_cheeksterx @MariaSisci
#travel #transportedto #Japan @flyme360magazine
http://www.presenting-japan.jp/
http://www.umurestaurant.com/umu.htm
Instagram link capturing our highlights:
Thank you to JETRO, Presenting Japan, Chitose Nagao (Dentsu Inc Japan  – PR Division), Chef Yoshinori Ishii, Chef Brett Graham, Sommelier Ryosuke Mashio and Carl Stanley (Director of Photography, White Fox Studios – Official Photographer for Presenting Japan) for the invites and wonderful hospitality during the day and evening. It was great meeting you all and hope to see you all again soon!
http://www.whitefoxstudios.co.uk/#!/index
For more about the previous Presenting Japan event we attended in May, 2015 at the Intercontinental Park Lane, check out the link below:
https://goantolondon.wordpress.com/2015/05/08/experiencing-premium-japanese-food-and-drink-at-intercontinental-park-lane/