We went to Union Street Café for their Prosecco Pranzo, a lazy Italian Sunday lunch, to which you can add unlimited Prosecco for another £10 per person. We actually went on Easter Sunday so the open plan kitchen was in a particularly festive mood.
We got a warm welcome from Davide (Head Chef)!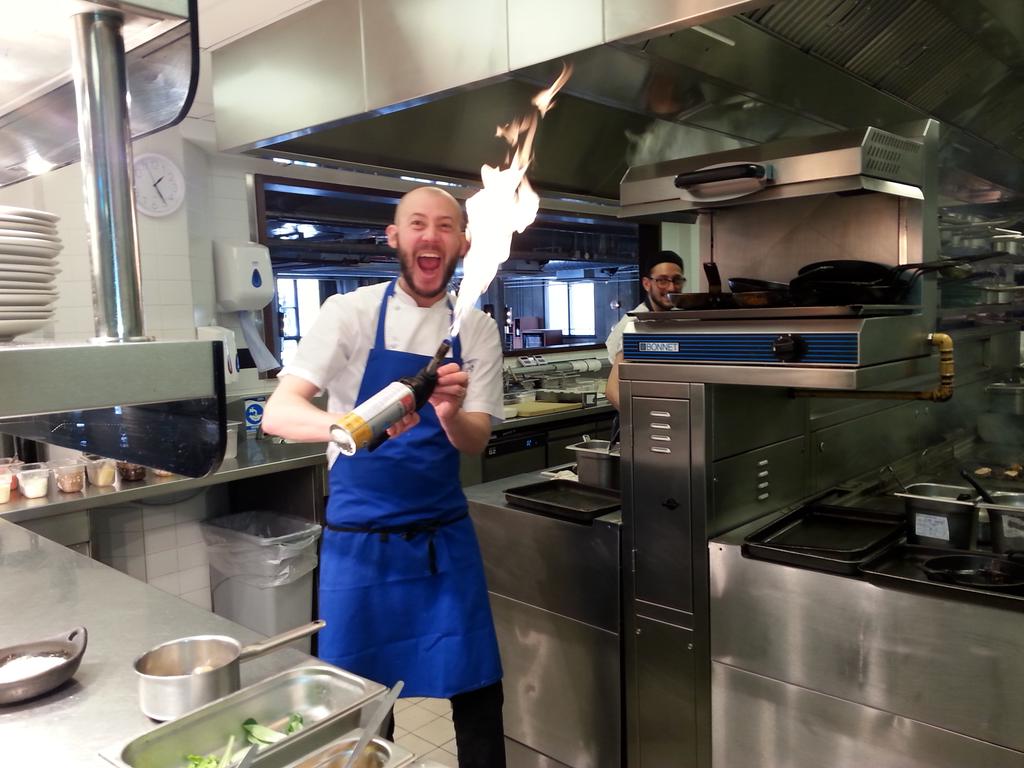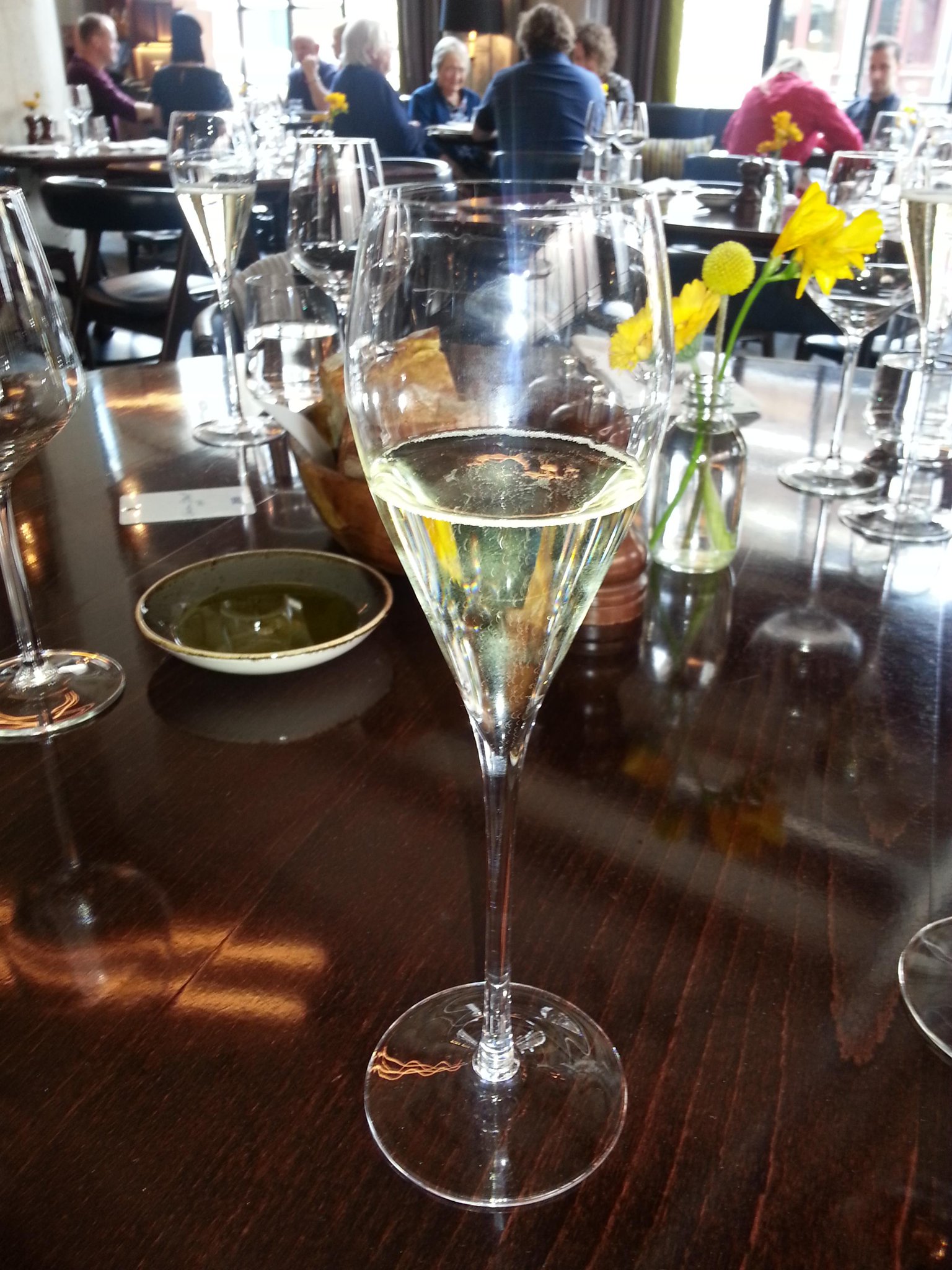 We kicked off with antipasti. I opted for the baked eggs topped with a parmesan sauce. This was like the best breakfast ever, runny golden eggs topped with a creamy, cheesy sauce. I mopped it all up with some of the excellent bread and wondered if I was going to have room for the 3 remaining courses! Lighter options are available if you choose not to follow in my rib sticking footsteps.
J opted for the lighter option of Stracciatella d'Andria – wonderful and creamy like the centre of burrata – served with a refreshing combination of peas, broad beans and mint that added a great combination of textures.
These were  served with crusty bread and extra virgin olive oil.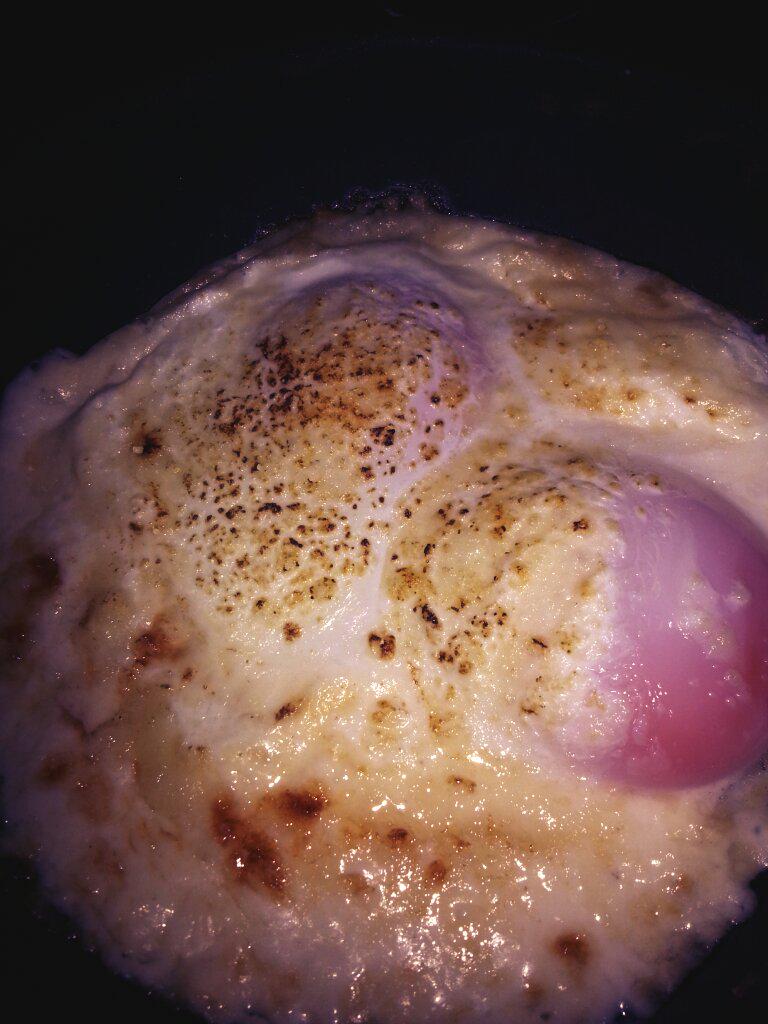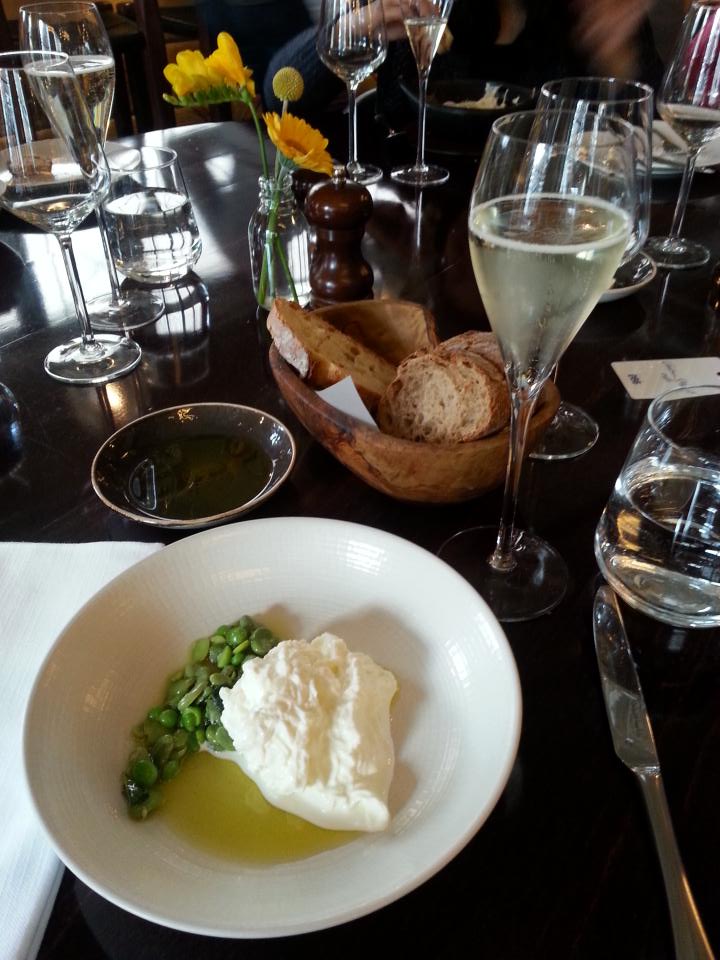 I followed this up with gnocchi with smoked leeks and marscapone (more cheese!). Sadly this didn't quite live up to the gnocchi I've had in Italy which have been feather light, I also found the sauce a bit too floury for my tastes.
J went for a primi of tagliolini all'vovo (egg pasta) with cheese, pepper, asparagus and decorated with courgette strips and parmesan shavings. He said that it was like being back in Rome!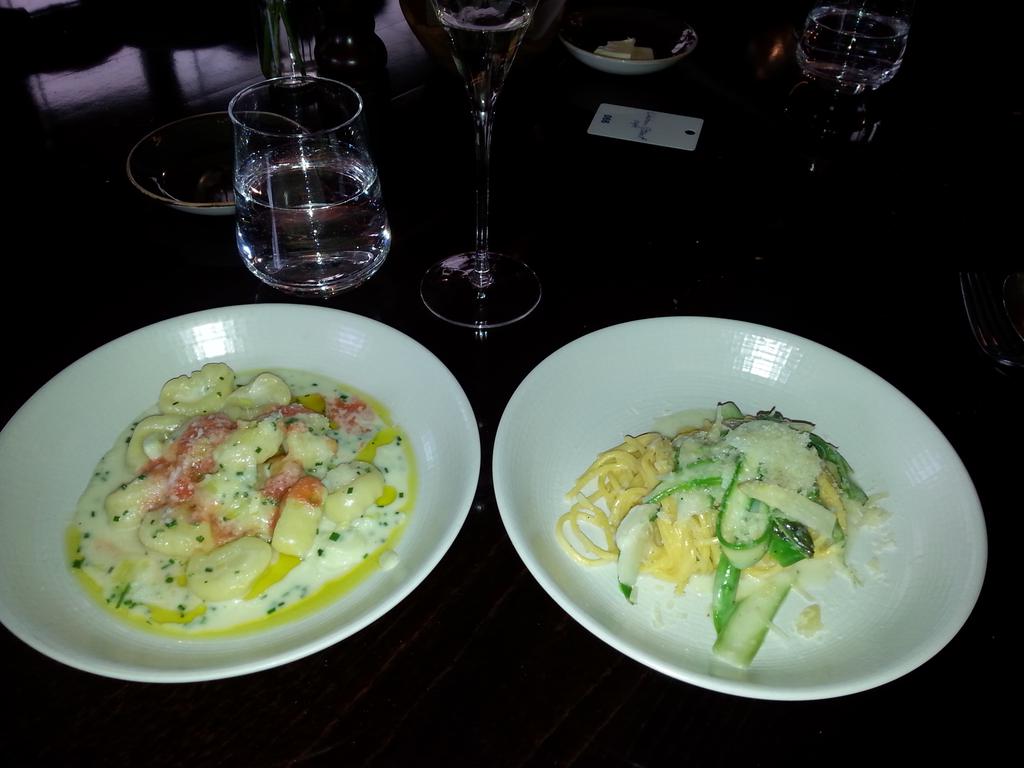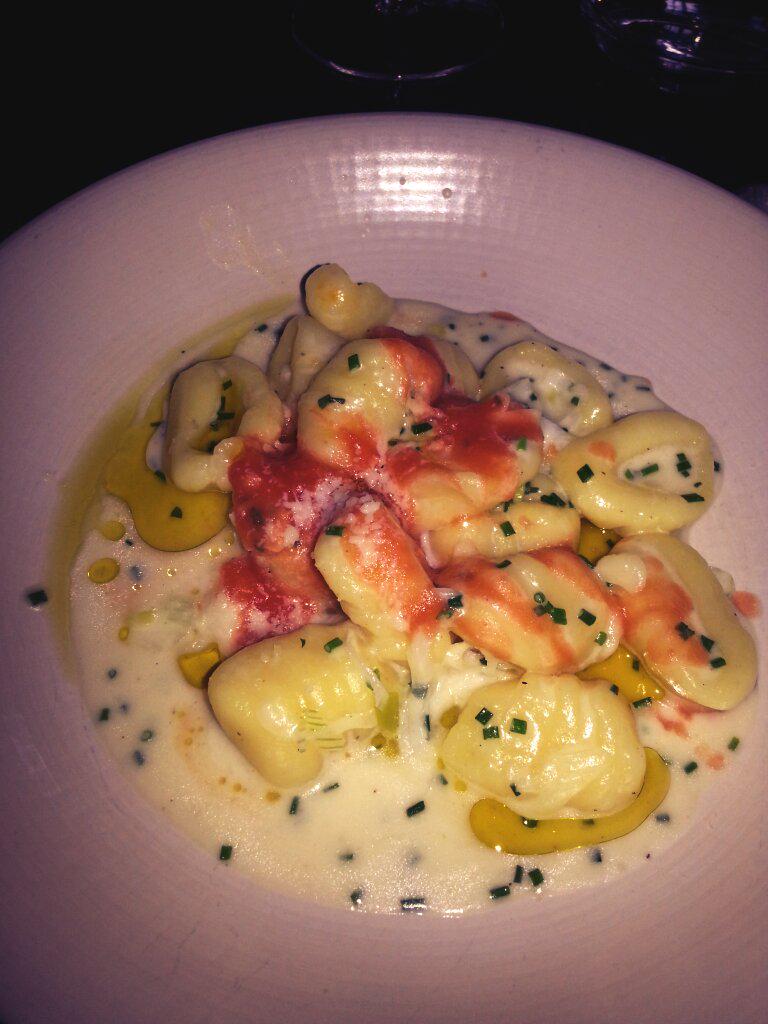 Bartender Aleco created some entertainment barside whilst making peach bellinis with flare.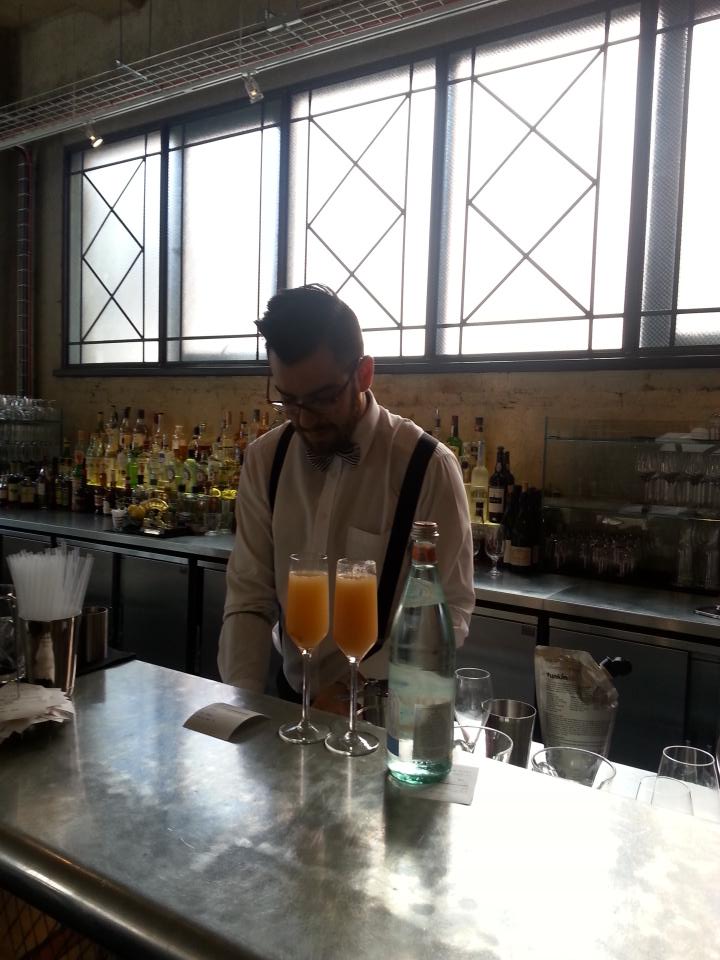 For my secondi I had the duck legs in a balsamic glaze accompanied by a side of delicious parmesan mash (yes I had cheese in every course, it was Easter ok!). I'm a sucker for duck and this was tender and falling off the bone complemented by the rich glaze.
J loves seafood and opted for seabass served on a bed of borlotti beans, smoked carrots and nduja (spicy sausage). It was the perfect main as the base added a sweet, spicy, smokiness that complemented the natural sweetness from the seabass and the crispy skin.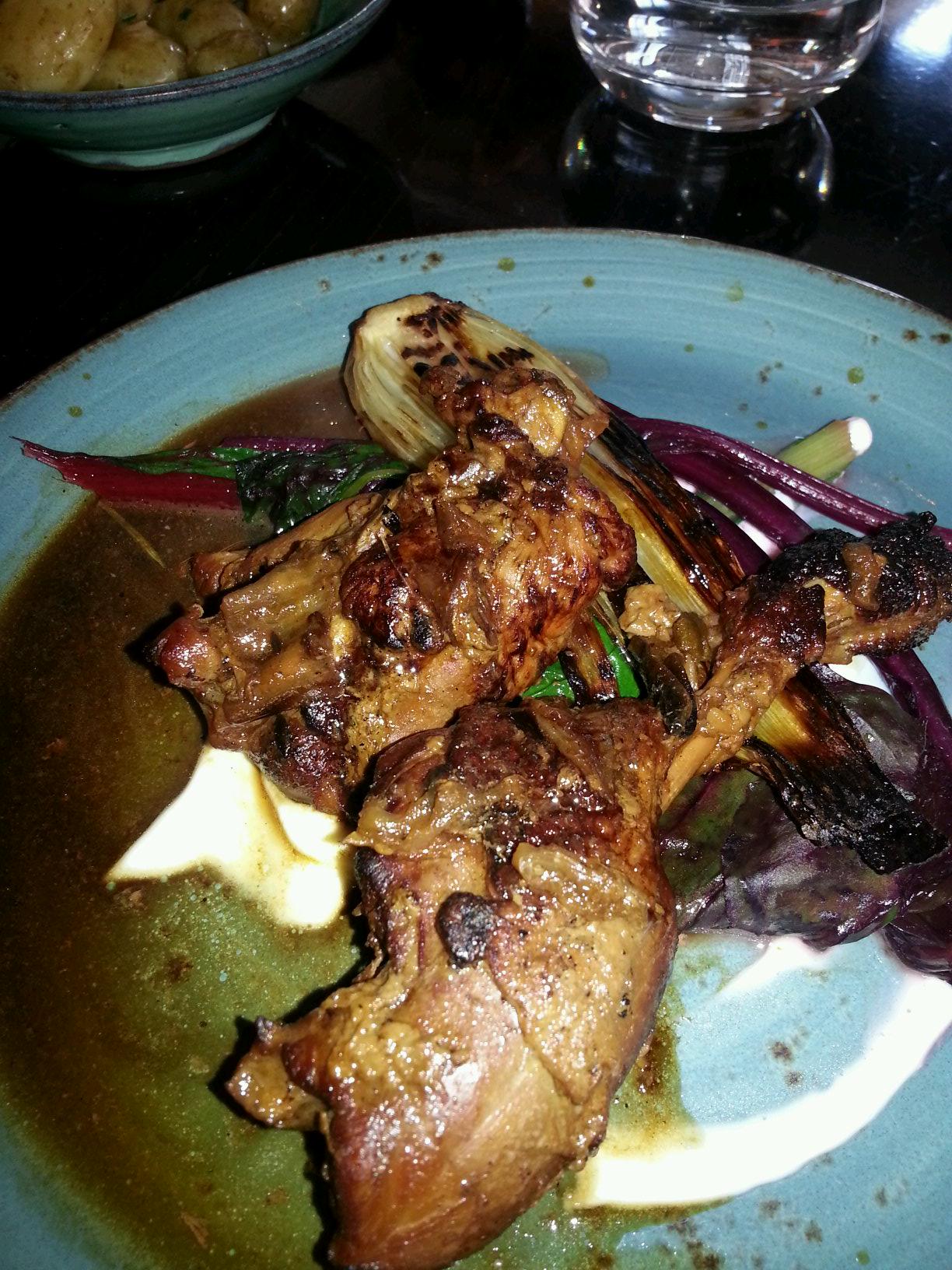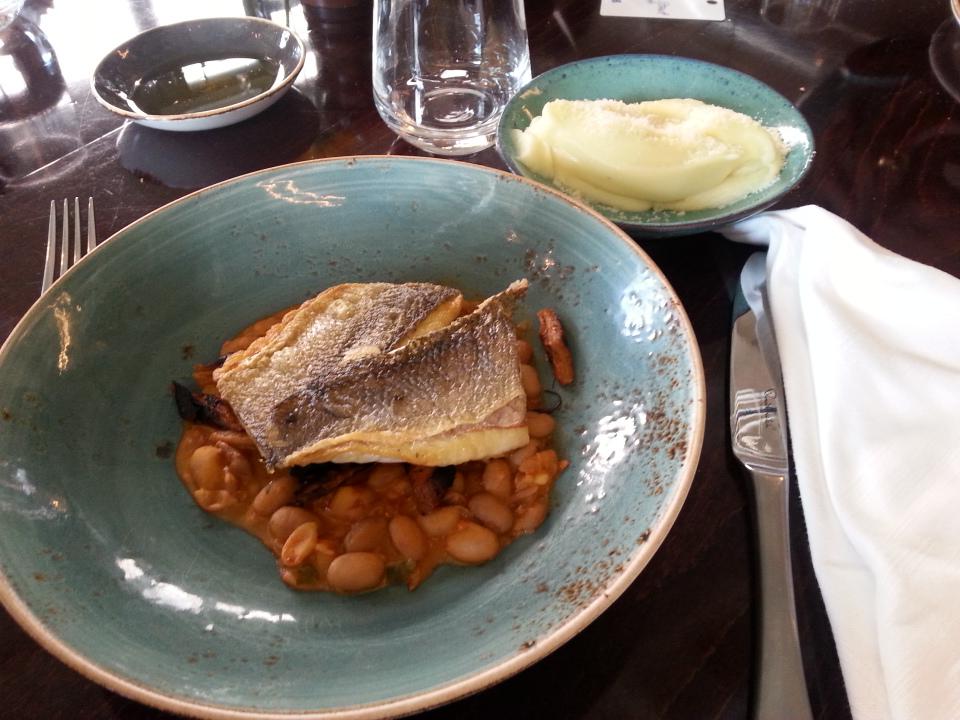 Finally in the small amount of space I had left I managed to squeeze in dessert. I chose the Earl grey panacotta with rhubarb. Although the pannacotta had a lovely soft set, the Earl grey flavour didn't come through as strongly as I would have liked. In this case I had dessert envy as I tried a spoonful of my mum's budino al cioccolato & amaretti, which was a rich chocolate pudding flavoured with amaretto.
J went for their specially created dessert: The Golden Chocolate Easter Egg. It had an edible gold leaf white chocolate shell with a mango pannacotta centre and was served on chocolate soil with a blackcurrant sorbet. He loved the interpretation of a runny yolk centre as you broke through the shell of the egg. He also enjoyed the clever presentation and the flavour and texture combinations.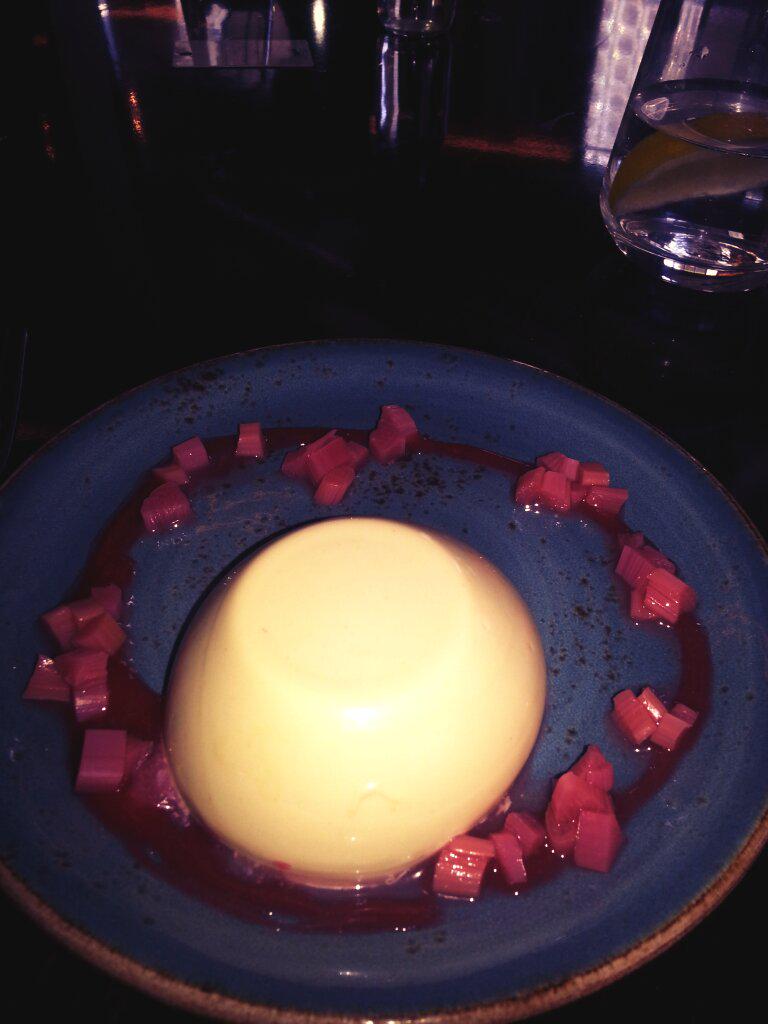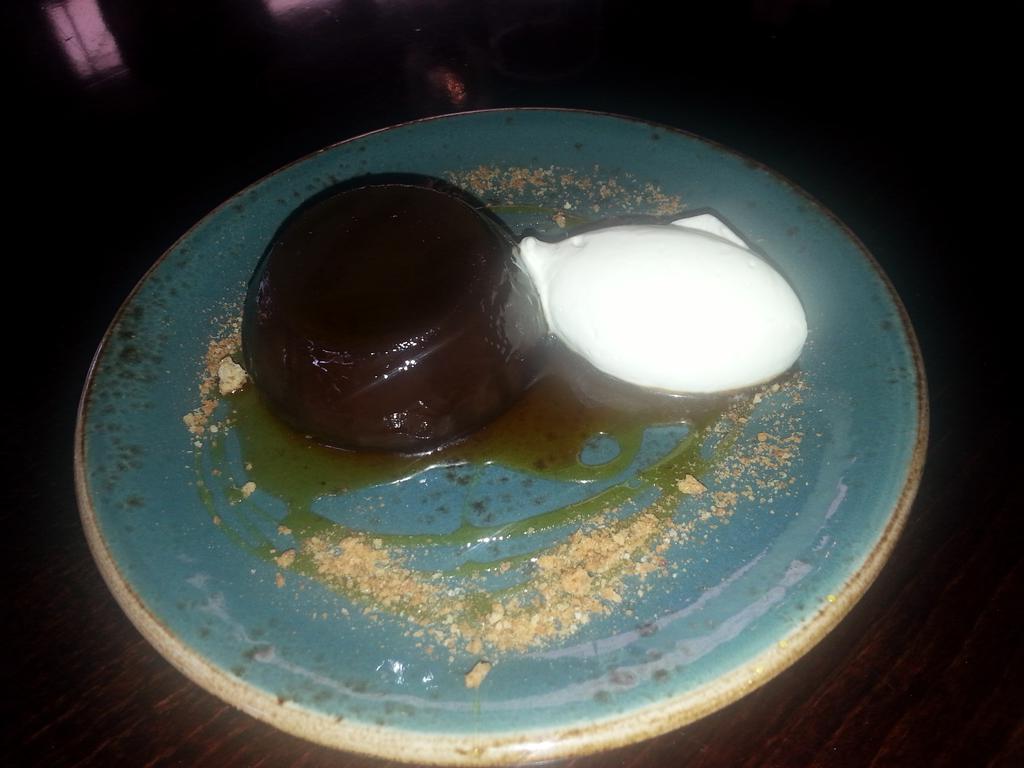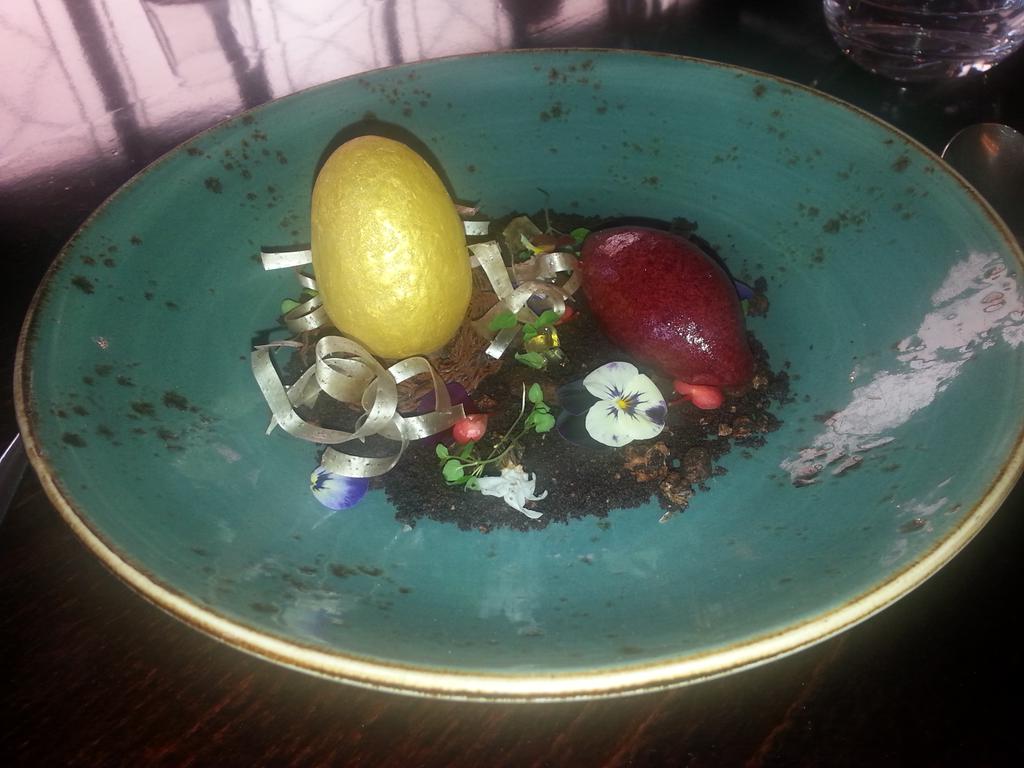 If you have no plans on a Sunday, I can't think of a better way to spend it than sipping on Prosecco and devouring Italian food!
Twitter: Thx @SquareMeal @elecrossland #prosecccopranzo @unionstreetcafe
#EasterSunday #lunch #chocolate #golden #eggs 
#great service #Davide #HeadChef #Roberto #RestaurantManager #Megan #Carlo #Aleco
The specially created Easter Sunday Prosecco Pranzo menu: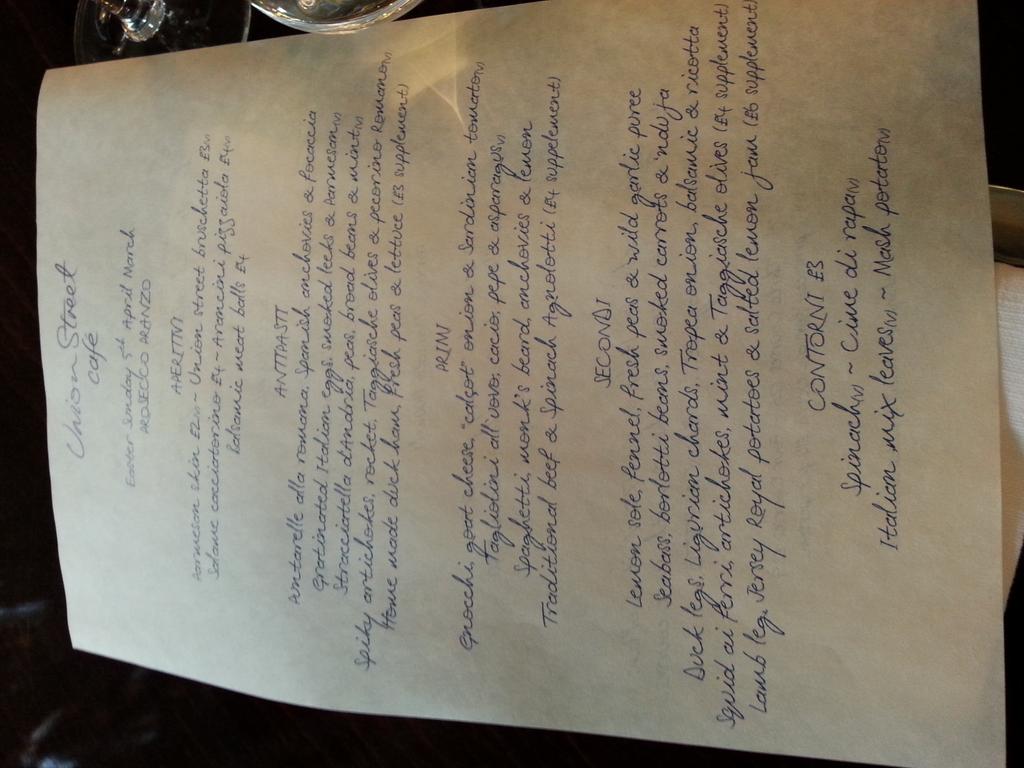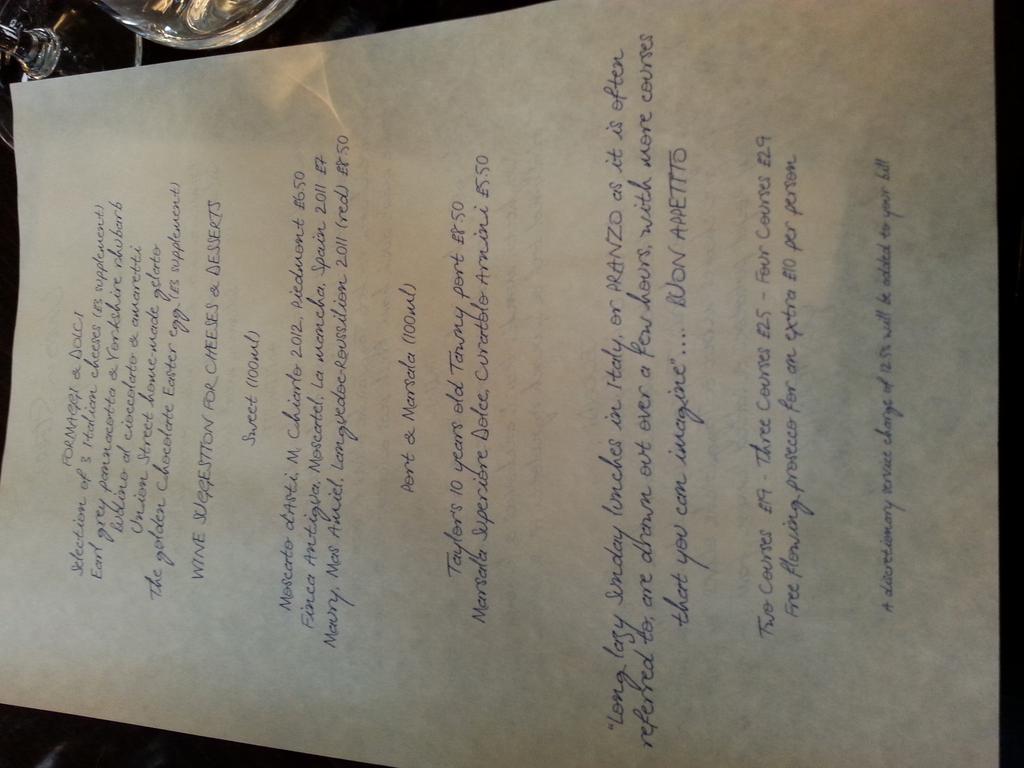 Please see our Facebook photo album for more pics from our visit.