I (J) was keen to experience Emilian cuisine and hospitality, and was happy when I won an invite to this I Love Your Hat Supper Club; as we have been on holiday to Northern Italy but as yet not ventured into the Emilia Romagna region – said to be one of the best foodie places in the world! (Sadly, C was unwell so was unable to join in this dining experience.)
The supper club was held in the lovely surrounding of the Frizzante restaurant attached to Hackney City Farm, only a five minute stroll from Hoxton Station.
Behind I Love Your Hat are the lovely couple Carmen and Marco. Carmen trained as a pastry chef; Marco is of Emilian heritage and he has worked in various Michelin-Starred restaurants both as a chef and sommelier (including the three Michelin-starred Osteria Francescana) before dedicating himself to the cause of Slow Food, a global movement that promotes good, clean and fair food. He was also the founder of the Osteria London Supper Club, serving contemporary seasonal local food and wine products.  Knowing the history behind the couple, I knew my tastebuds were in for a treat.
Carmen kindly sat me with Roberto, one of Marco's close friends from his village and also a fellow sommelier, who talked me and my fellow table guests Lucas and Amy through what each menu item was and the wine pairings.
During the evening, we were served carefully selected  Emilian wines from one of their favourite suppliers, Passione Vino, that has been promoting natural, artisan wines in the last fifteen years in Shoreditch. (£6 glass – £22 bottle) I particularly loved the white wine which had fresh citrusy notes that went perfectly with our starter of warm fluffy Emilian bread discs which you then filled with the great combinations of home-made lardo and parmesan (made from cow's milk), and mortadella and pecorino (made from sheep's milk).
We then moved onto wonderful ravioli with lamb's leg: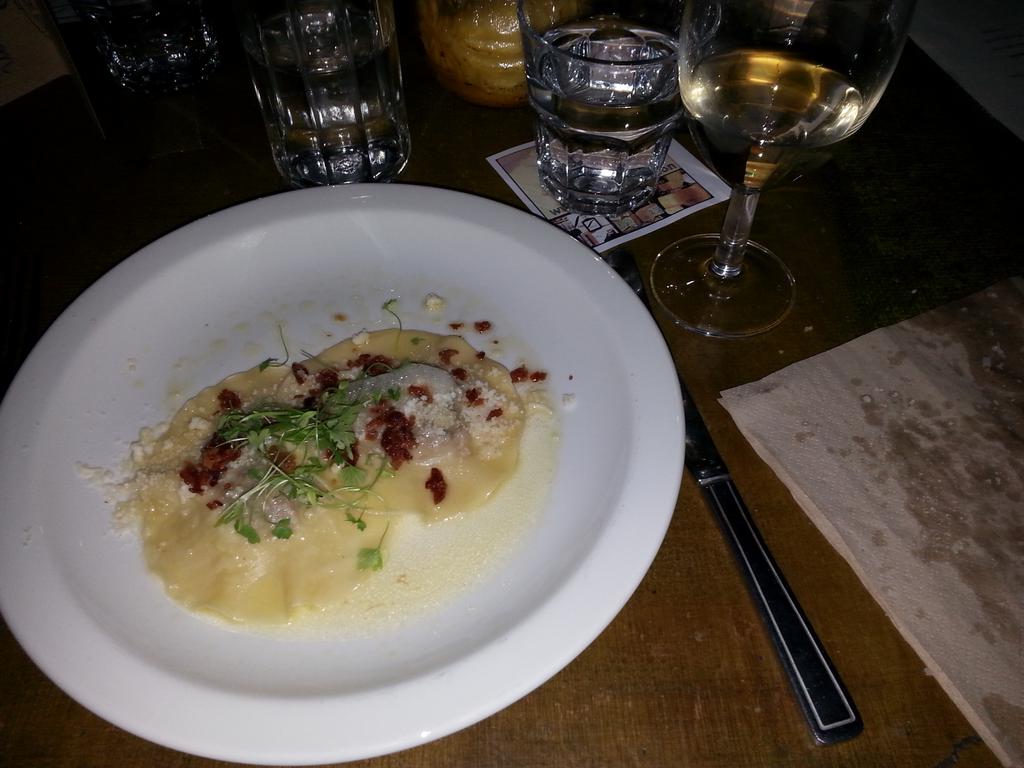 Next arrived an unctuous risotto served with a crisp walnut salad – an amazing flavour combination!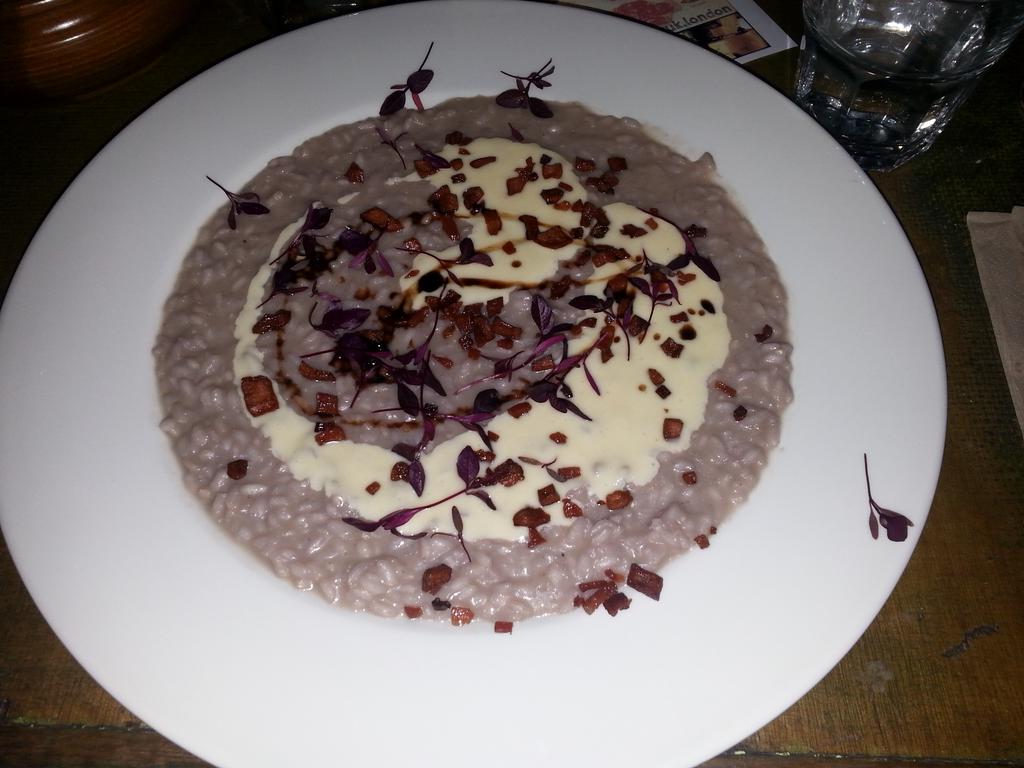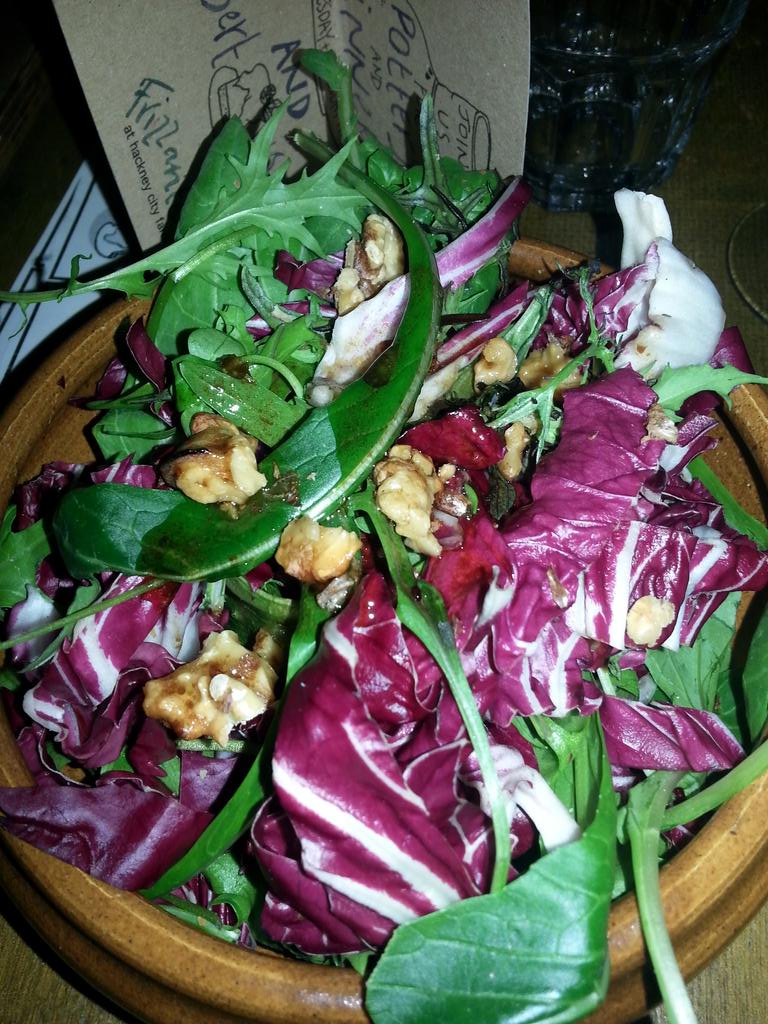 I was in seventh heaven when we ended on a traditional dessert of mascapone foam and chocolate Barozzi cake – a light but moreish chocolate version of a traditional Modena almond tart. A perfect end to the meal!
Skillfully created and beautiful cuisine created by Marco during the evening was like a fun rollercoaster of foodie exploration through new flavours and textures, and wonderful hospitality from Carmen as if you were in their home. We will be back again soon!
Twitter: @LoveYourHat @Frizzanteltd #ILoveYourHat #HackneyCityFarm #Shoreditch#SupperClub @OsteriaLondon #food #bloggers @slowfooduk @Marco_Carboni_ @massimobottura @PassioneVinoUk @RobyBal79
Price:
The tasting menu included four courses and cost: £25.
The menu from our evening:
– Wholemeal tigelle with melted home-made lardo+parmesan and mortadella+pecorino.
-Raviolo of prosciutto di Mora and brown lentils, raw butter and chicken reduction, rosemary air
– Risotto al Lambrusco, Parmigiano-Reggiano fondue and Aceto Balsamico di Modena 8 years Old
(served with crunchy seasonal Emilian salad)
– Mascarpone foam with "Barozzi" cake
Booking and info: Frizzante
Cafe and Restaurant | Time Out's Best Cafe Hackney 2014
1 Goldsmith's Row, London E2 8QA
t. 020 7739 2266 e. info@frizzante.co.uk w. www.frizzanteltd.co.uk
To make a table booking of 6 or more people, please provide credit card details.
http://osteriafrancescana.it/index.php
http://www.passionevino.co.uk/
Please see our Facebook photo album for more pics from our visit.