After a warm greeting from Ian and team, we settled down to dinner. As we did not know where to start, we decided to opt to be in the capable hands of Ian providing us with a chef's selection of an array of their dishes. Whilst chatting to Ian, he explained that some of the items, like the Mantou buns for the Peking Duck, were inspired by his travels.
We kicked off with a Passion Fruit Kiss (£10) and Blooming Hibiscus (£12) cocktails – an appropriately decadent way to start Wednesday evening! Both were very pretty and bursting with colours, and their was even an open hibiscus flower at the bottom. The Passion Fruit Kiss was a wonderful balance of sweetness and sourness and contained one of our favourite spirits: cachaca, plus the Hibiscus' Tanqueray Gin added a great citrus note with the added bonus of the sweet, edible hibiscus flower to consume at the end of the cocktail; a perfect way to complete a refreshing cocktail.
Passion Fruit Kiss: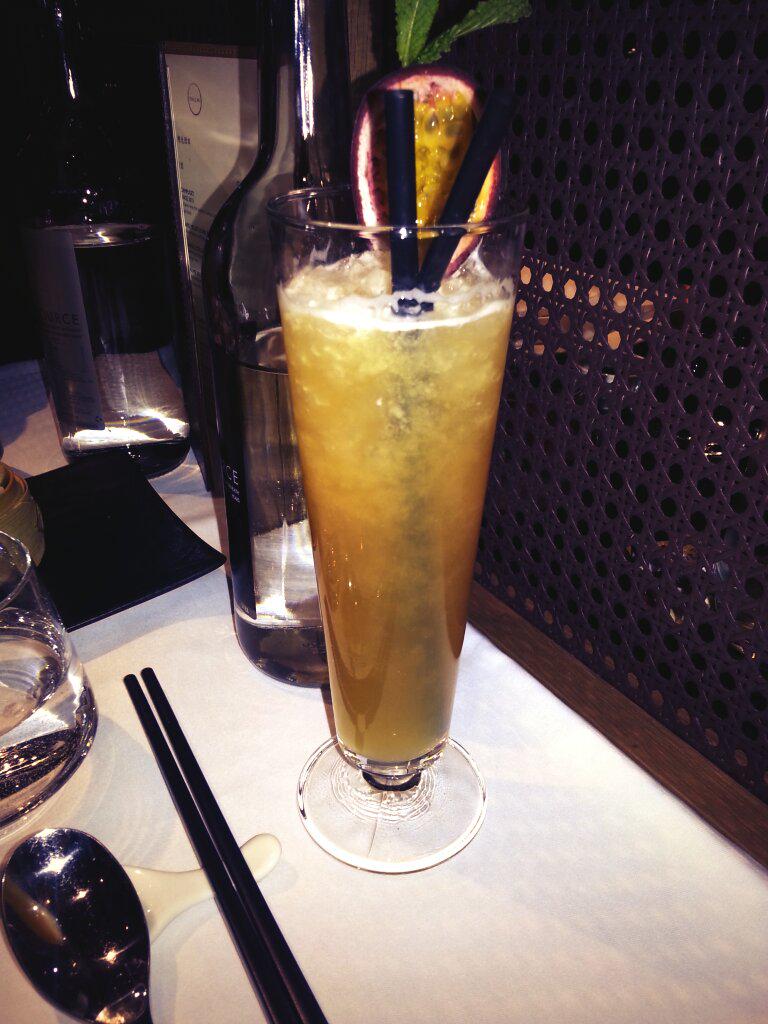 Blooming Hibiscus:
These were accompanied by delights of a gold topped dim sum platter selection (£32) of: vegetarian dumpling with goji berries, lobster dumpling topped with caviar, sea bass with gold leaf, prawn with truffle, seafood with truffle, and scallop with axo sauce; salt and pepper squid with red chillies and Szechuan peppercorns (£15); and Wagyu Puffs (£18) with black sesame seeds and gold leaf. The dim sum were velvety and brimming with colours and flavours, and we particularly loved the seafood with truffle and lobster with caviar dumplings. They reminded us of our enjoyable family trip through eastern China a few years ago. Also, the Wagyu Puffs were pillows of decadence and did justice to the Wagyu beef inside. However, the squid may have been slightly overcooked as it had gone a bit rubbery but loved the heat from the Szechuan peppercorns.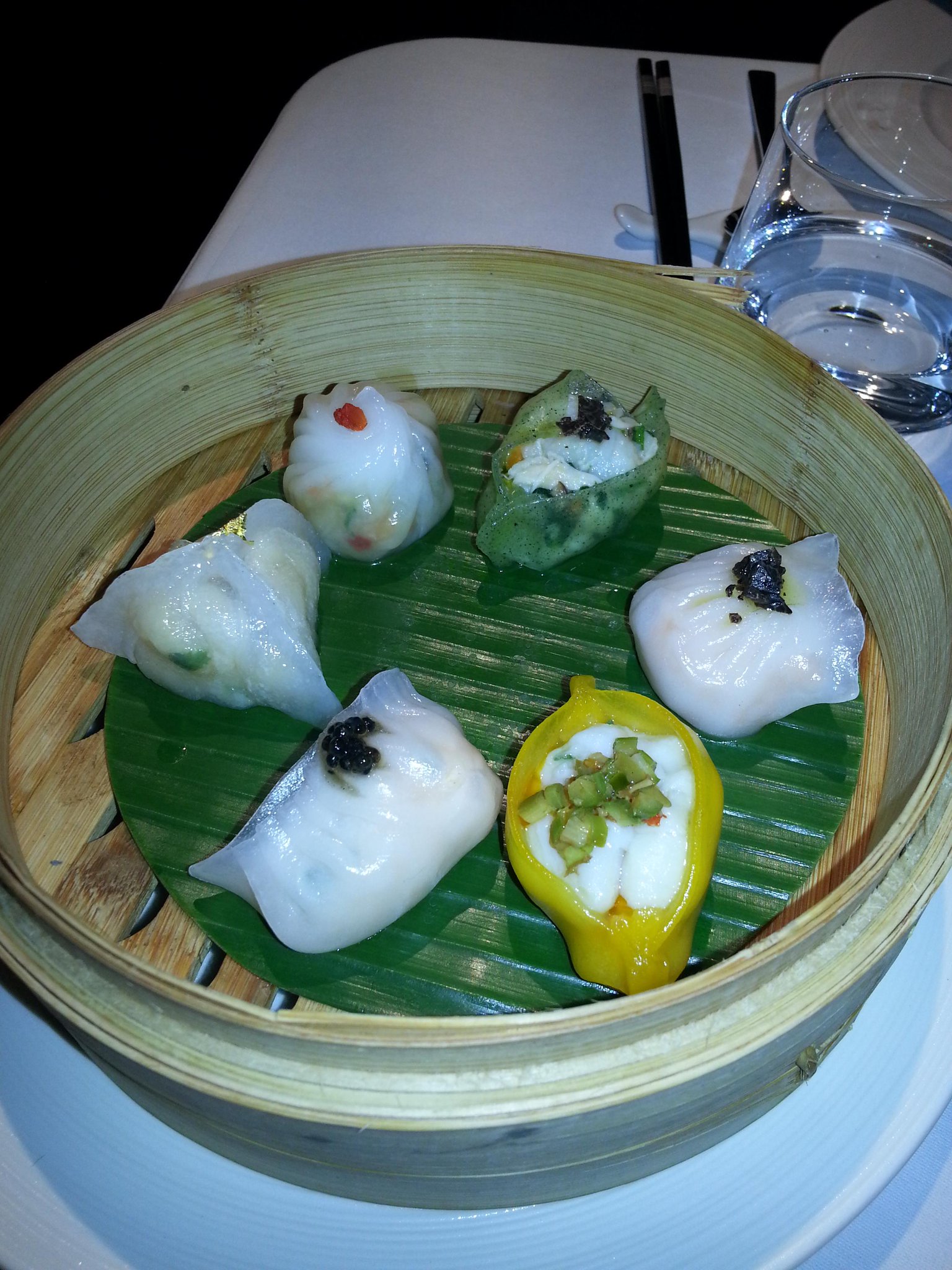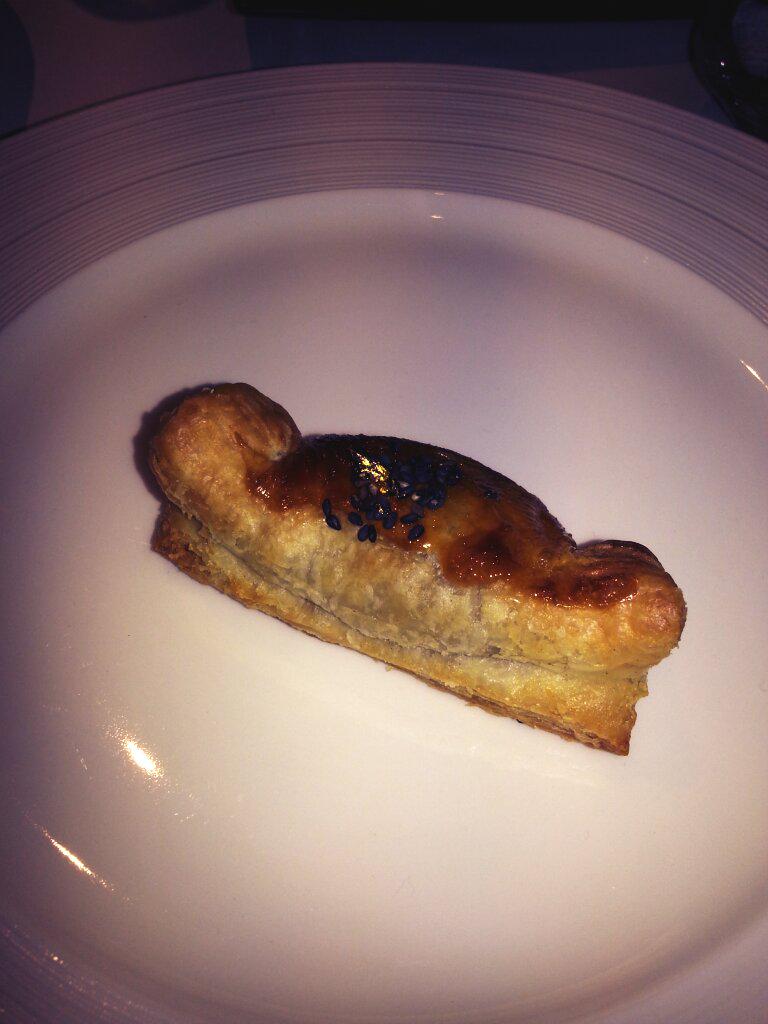 Next we were served a chef's selection of sashimi which made a spectacular entrance arriving on billowing dry ice! Our favourites were the salmon and swordfish.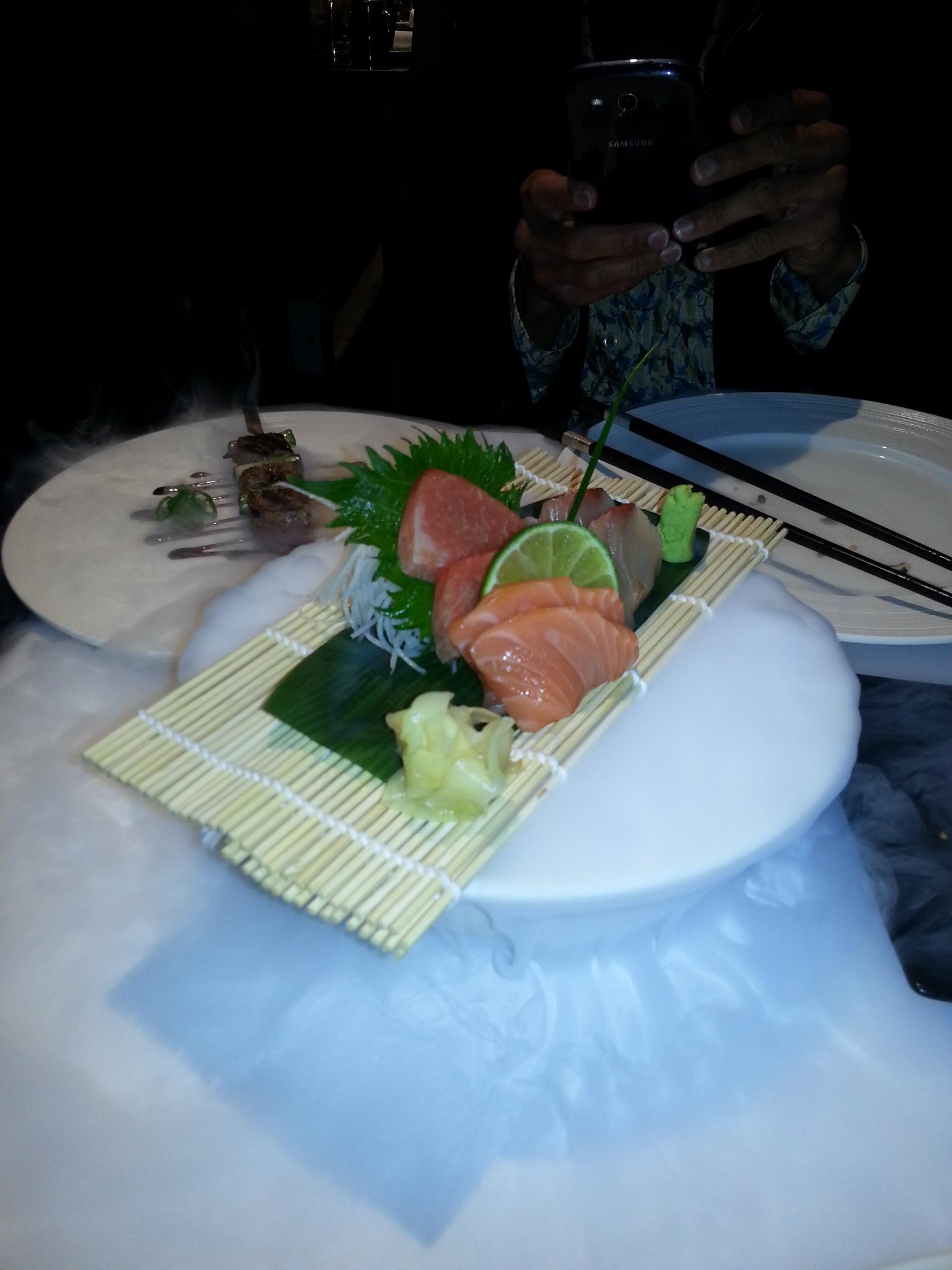 This was accompanied by Wagyu Beef skewers (£29) which were surprisingly chewy and a bit of a disappointment.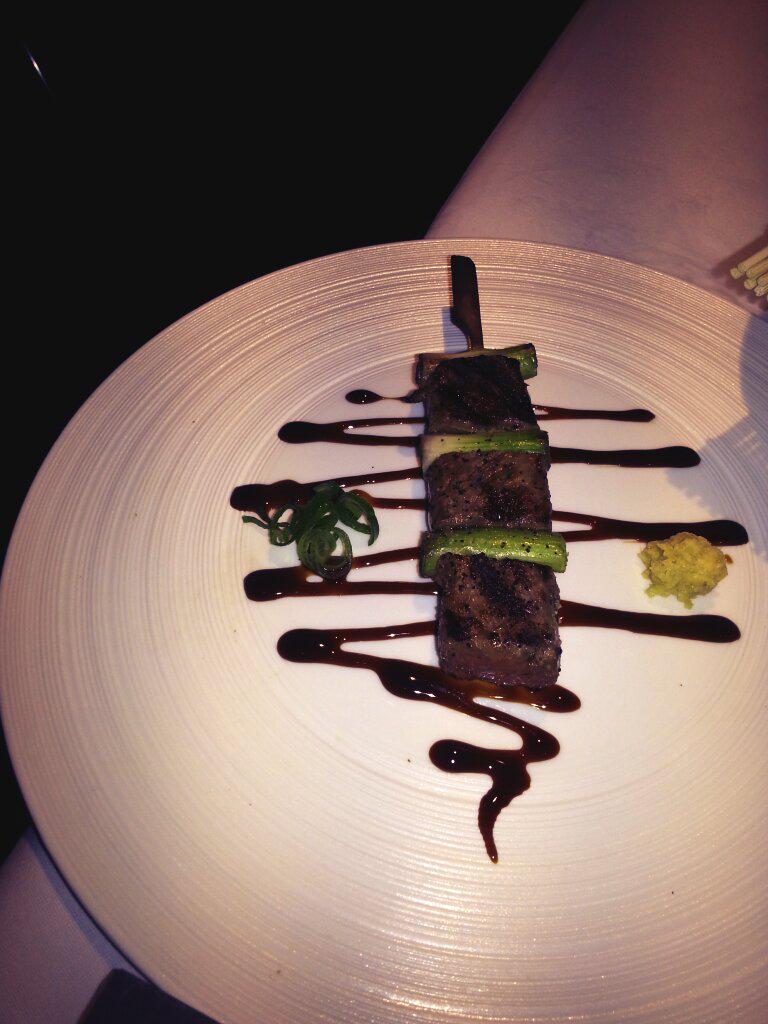 Then arrived Chai Wu's signature dish of Beijing Duck (half duck £42 / full duck £68) served with various sauces and designed to hit all the senses. It was carved ceremoniously at our table. Wonderful crispy skin and served with pancakes and Mantou buns (a traditional Chinese bread). It was much better than the crispy ducks we ate whilst on our China tour, so credit to Ian for create such a fantastic and memorable dish (we are still talking about it)!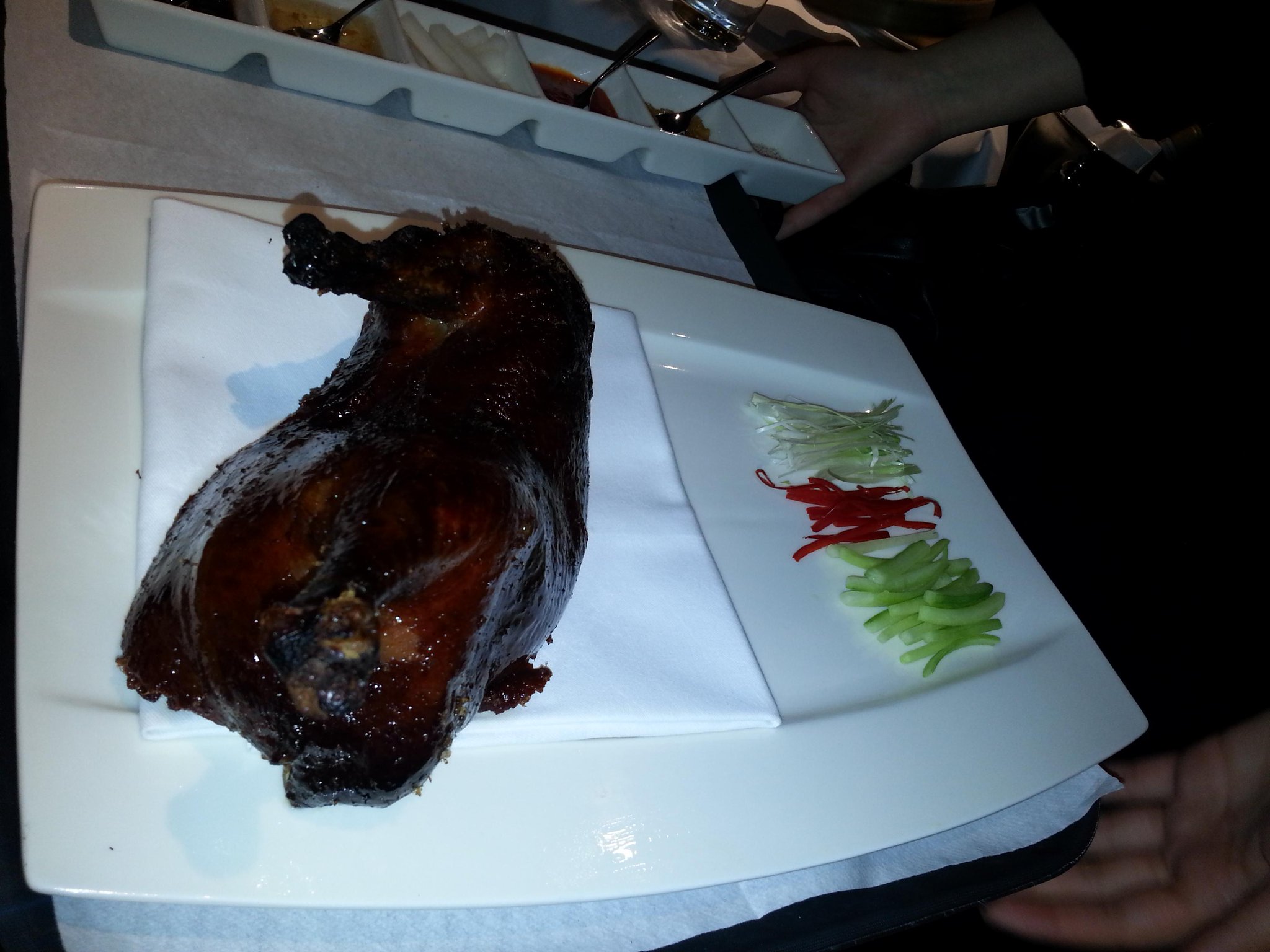 The other half of the duck was used to create minced duck served on lettuce leaves.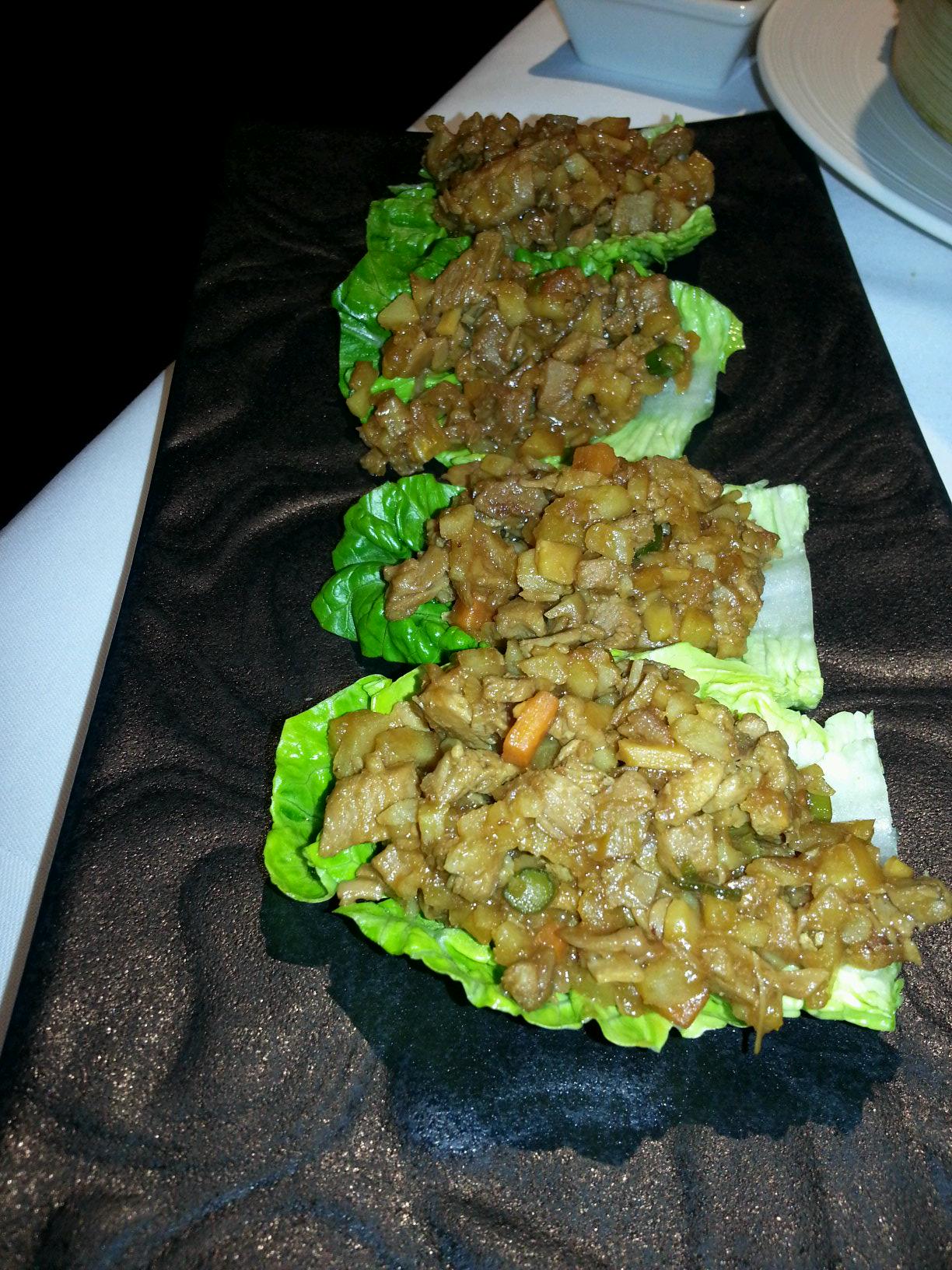 Next arrived sweet and sour chicken with dragon fruit (£18) which was very pretty, and J was especially happy as dragon fruit is one of his favourites. The crispiness of the chicken was complemented by the natural sweetness and texture of the dragon fruit.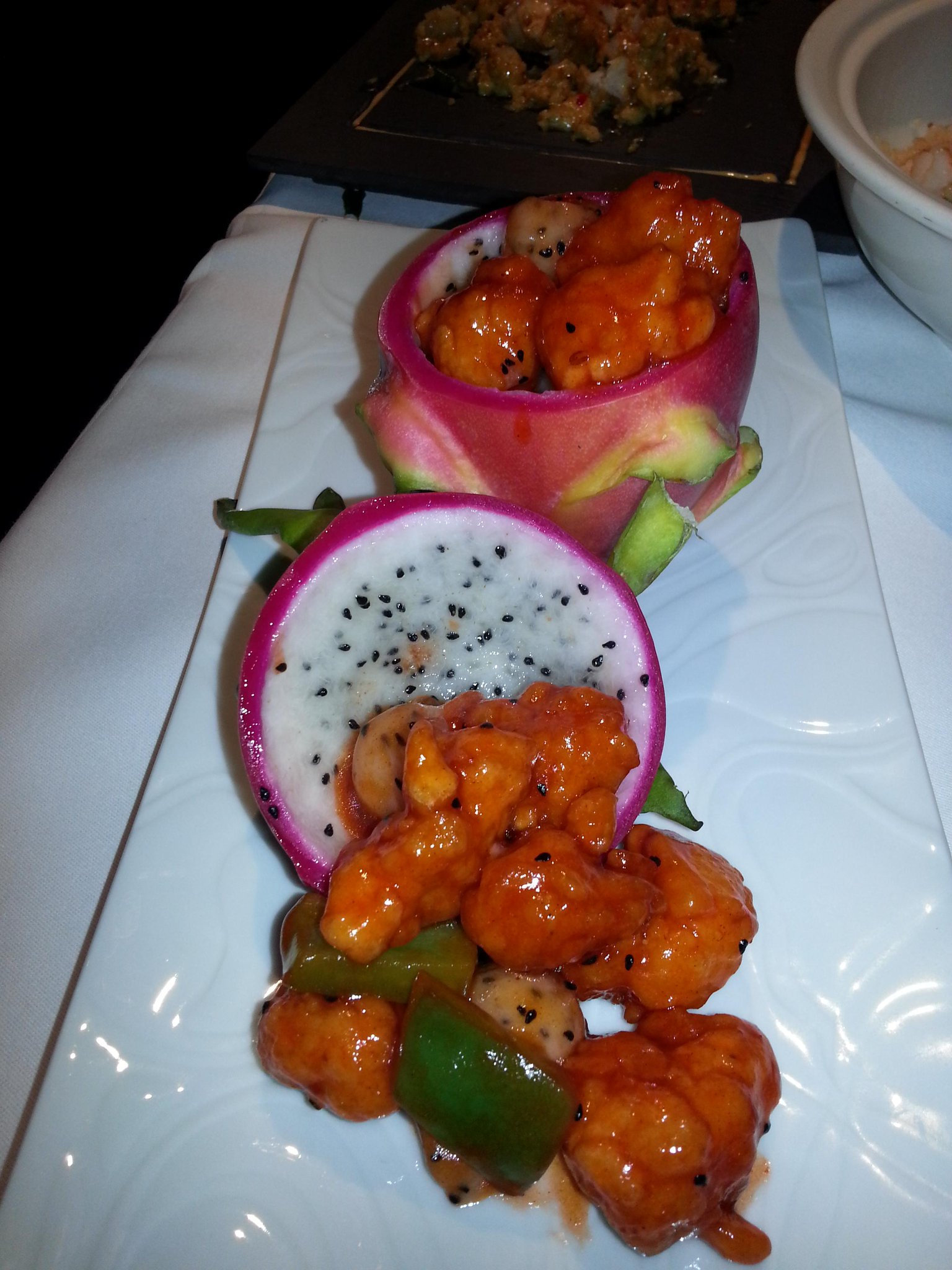 Chai Wu fried rice, coconut prawns, Chilean seabass with champagne and honey sauce followed. The Chai Wu rice (£21) was full of spring colours and flavours with its Prawns, Alaskan king crab, and fresh peas. The coconut prawns (£23) were sweet and juicy in flavour and we loved the texture and crunch from the fresh coconut. The Chilean seabass with champagne and honey sauce (£28) was delicate and flaky and complemented by the champagne foam and sweetness of the honey sauce.
J chose to opt for a Chai Wu Fizz (£16.50) recommended by our pleasant waitress Alice, a champagne cocktail which she said went well with the above dishes as the Midori, lychee juice and champagne complemented their flavours. J agreed.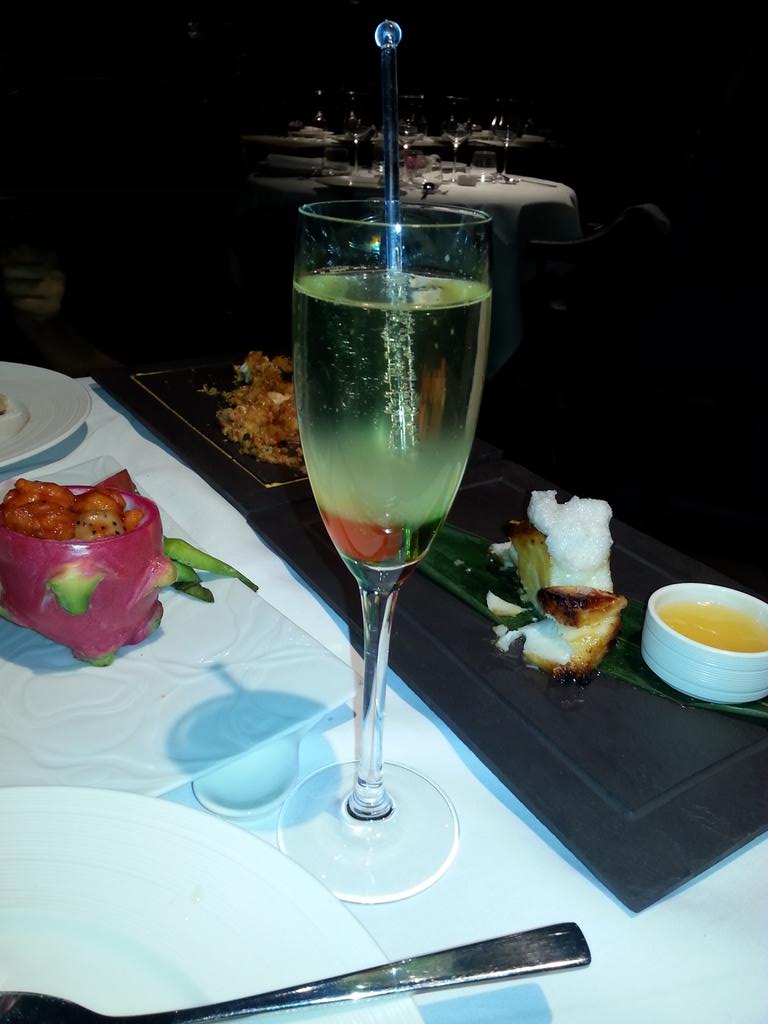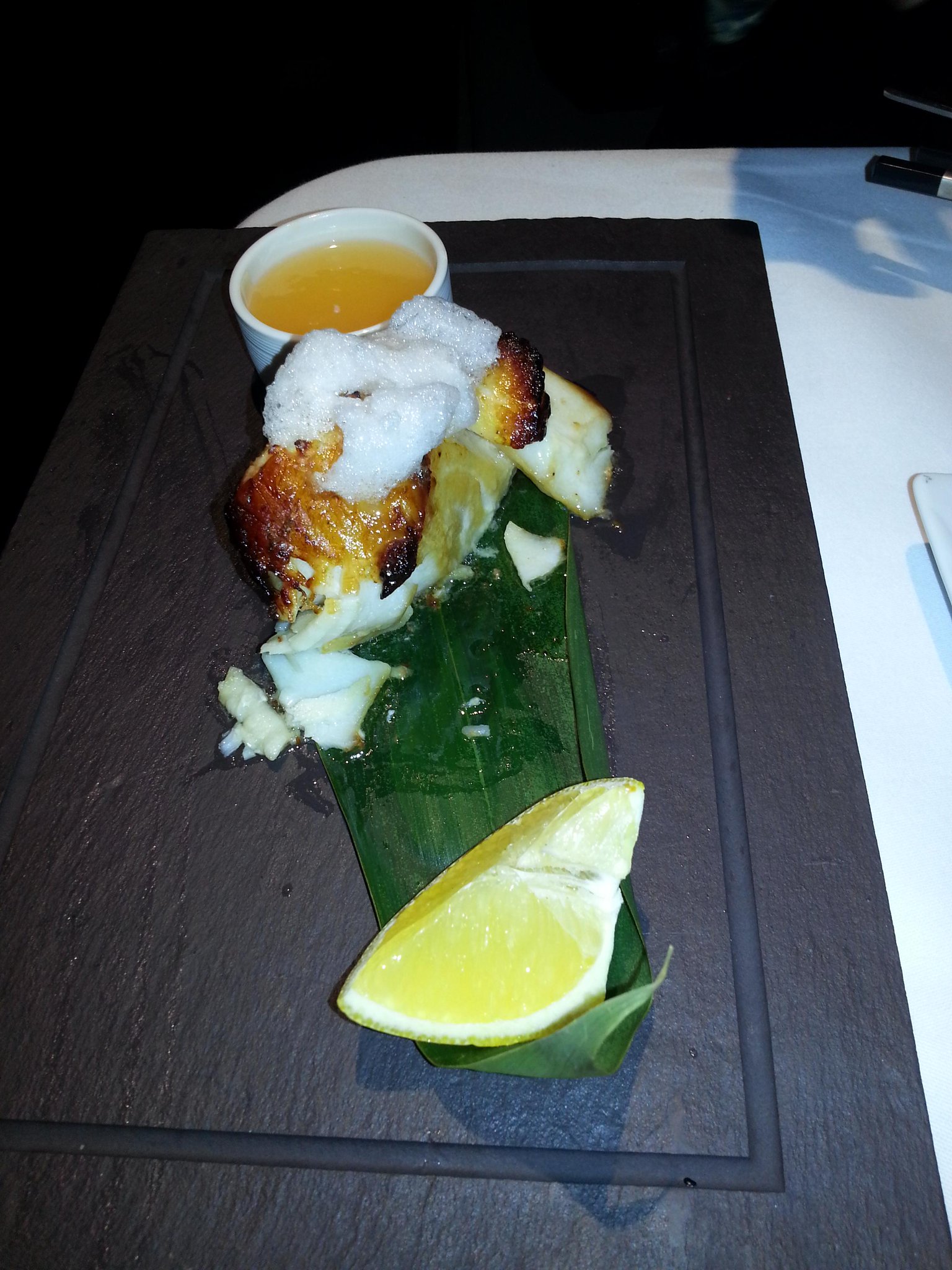 Being dessert obsessed, we had checked out the dessert menu before arriving and had both agreed that our desserts of choice were the chocolate sphere & green tea chocolate fondant. Ian must have read our minds as these were exactly what arrived …
Chocolate sphere in the process of being melted by hot white chocolate stream/ sauce (£9):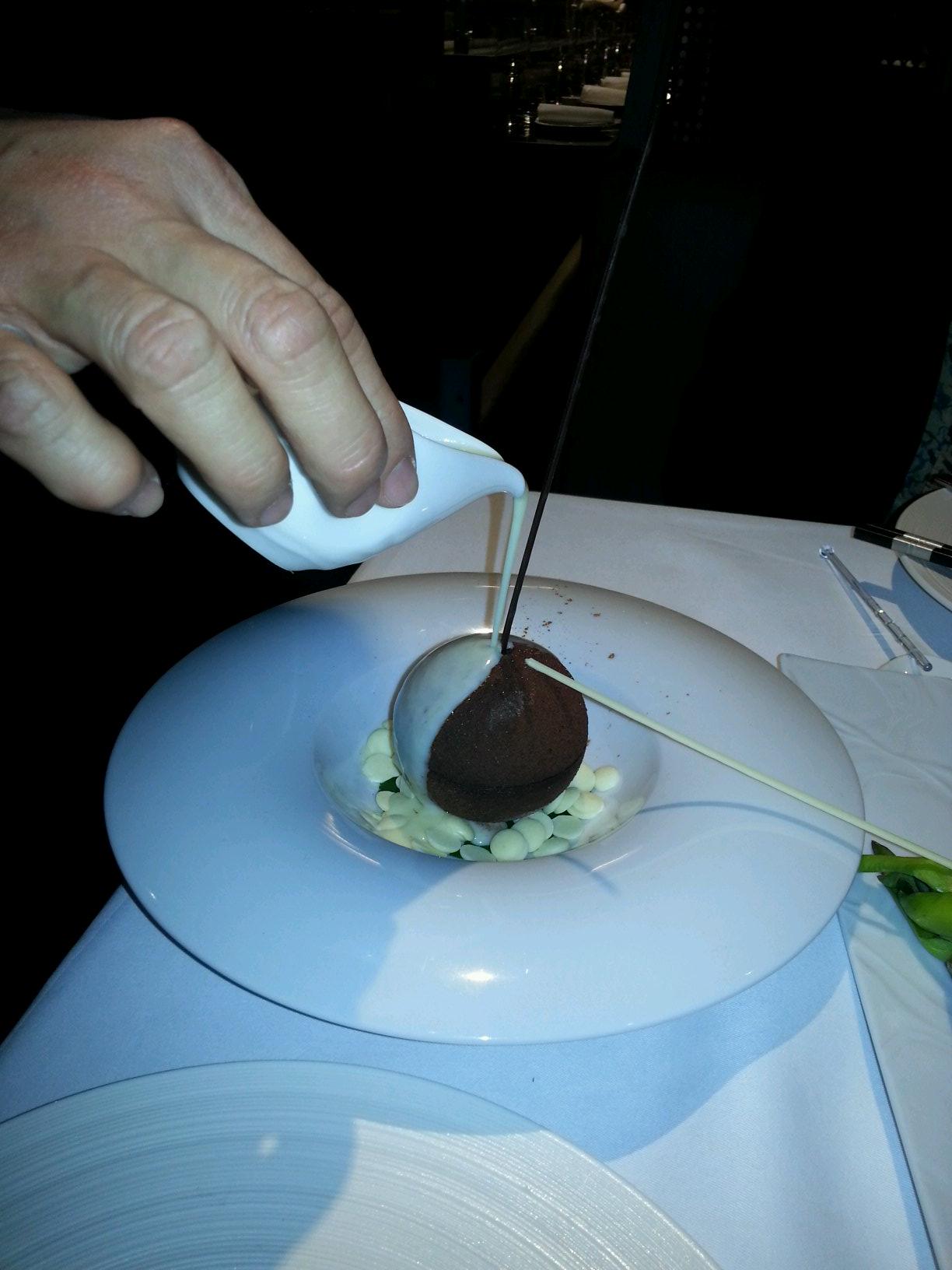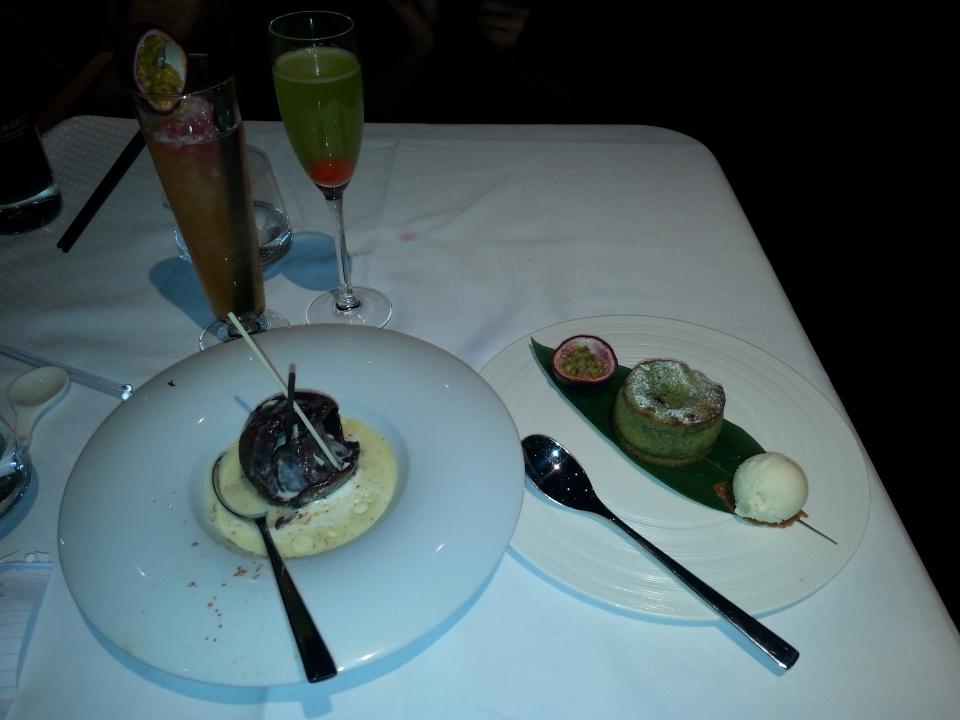 C got a Strawberry Champagne Bellini (£16.50) to accompany her dessert.
Green tea chocolate fondant (£8):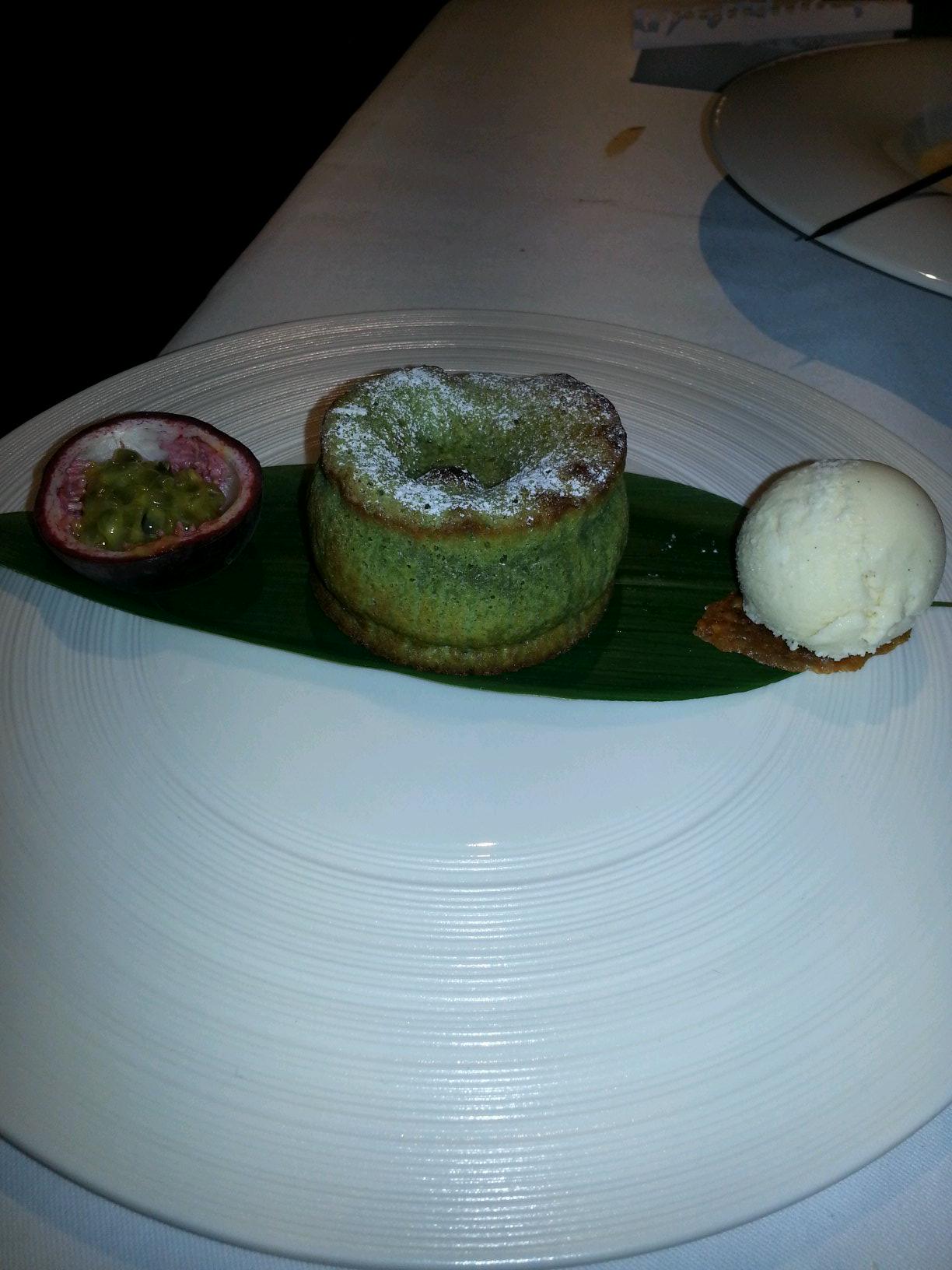 Sadly, even though we love desserts, the white chocolate stream/ sauce was way too sweet for our liking and masked the flavours of the dark chocolate sphere and the Madagascan vanilla ice cream held within. Maybe a mango coulis or a passionfruit jelly would work better.
Our favourite dessert was the green tea chocolate fondant with light, warm exterior encasing its gorgeous bright green liquid centre – that was dying to escape!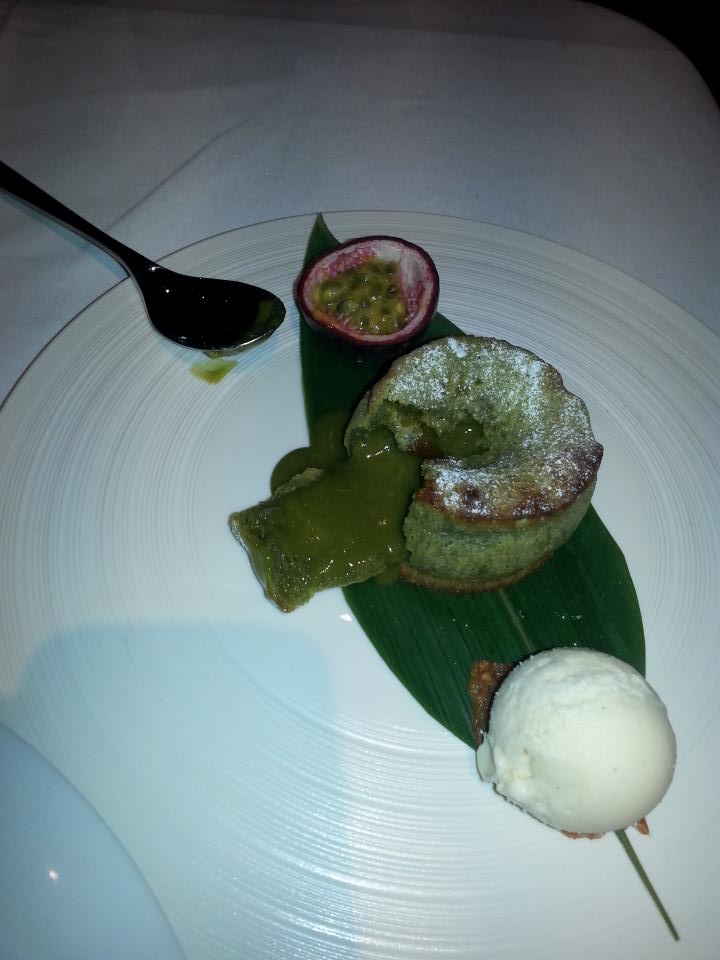 And the money shot!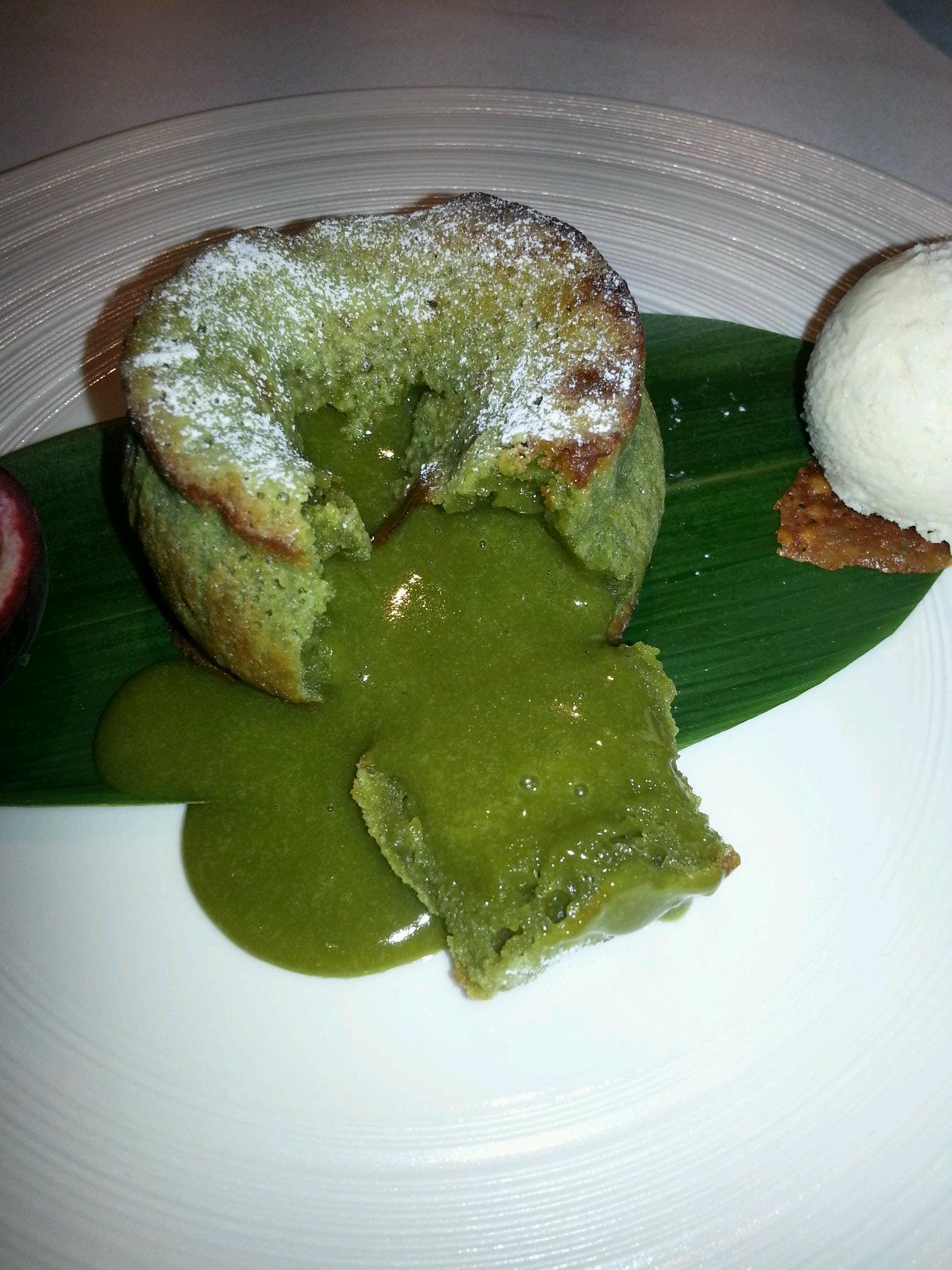 Chai Wu is a peaceful oasis away from the shopping frienze around Knightsbridge and in Harrods serving fantastic food. Highly recommended, especially if you are looking for an elegant option for a celebration serving the finest of Chinese cuisine. See you again soon!
Twitter: @ChaiWuLondon @IanPengelley @SauceComms
Please also see our Facebook page for more photos from our visit.
Thank you to Faye and Rose at Sauce Communications and Zillah (PR for Mango Tree Group) for organising our dinner.