We went for a joint mother's day/ our parents 40th wedding anniversary celebrations to The Drift in the Heron Tower. The entrance is tucked down a little side street next to the building rather than at the front. When you go up the stairs make sure you stop to admire the stunning aquarium with exotic fish that stretches the length of the lobby. Apparently the aquarium is so huge it needs a scuba diver in full regalia to go in to clean it!
We went for brunch and because it was Mother's day, Mum got a welcome glass of Prosecco with a little pansy pinned to it, which I thought was such a cute touch. I love thoughtful gestures like this, it really makes me warm to a restaurant.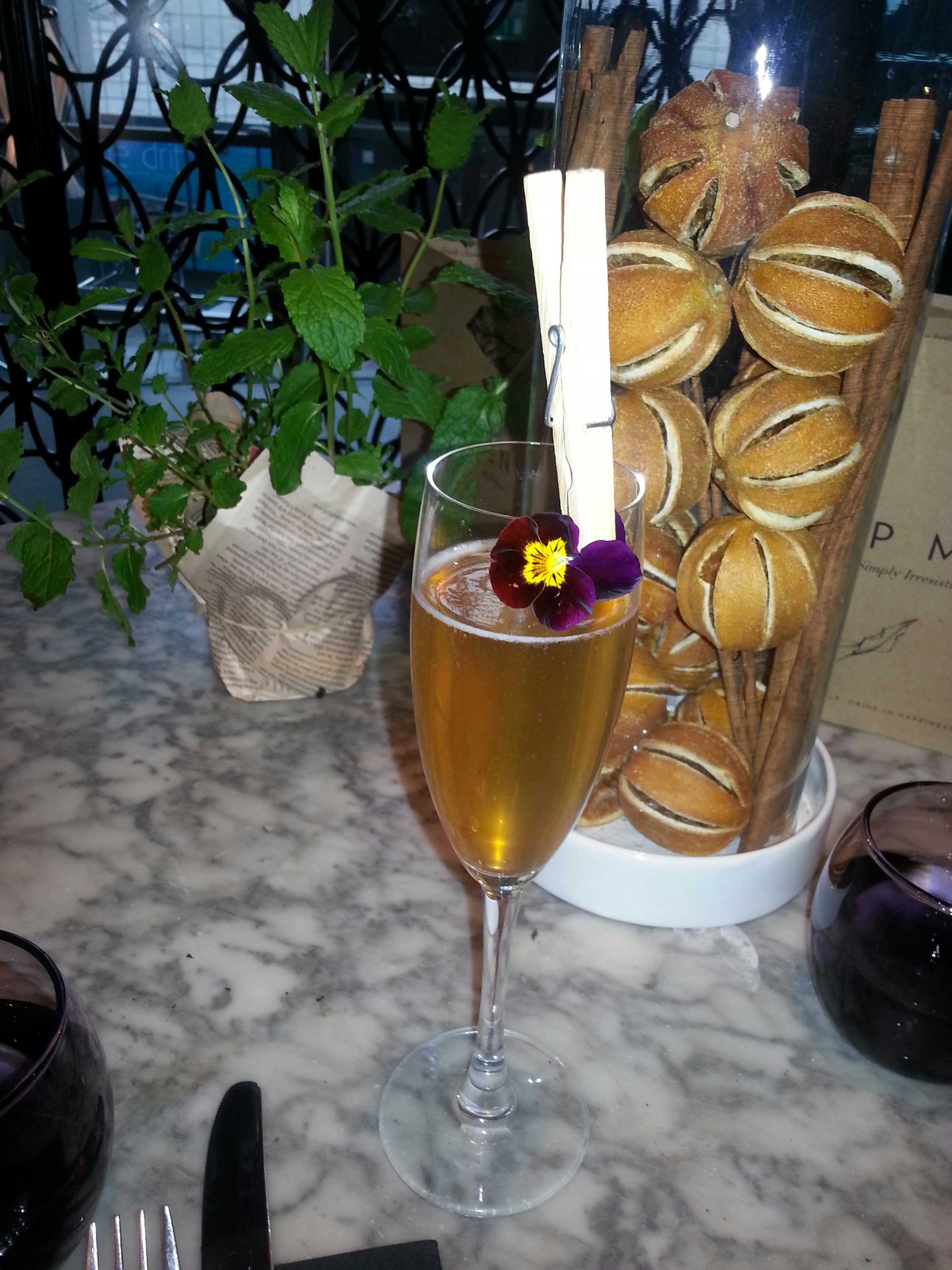 J and my Dad both went for The London Brunch, which is a monster behemoth featuring (deep breath!) 4oz Scottish rump steak, 6oz bacon chop, Londoner sausage, bone marrow, smoky baked beans, field mushrooms, grilled plum tomatoes, two fried eggs, hash browns & fried bread. Sadly on the day we were there, they didn't have any bone marrow but they gave us extra sausages and hash browns to make up for it. The meat is sourced from Allens of Mayfair and you can tell the produce is really good quality, I tried a bit of the bacon chop and it was tender and juicy. The only little downside was we got the Chemex for two for coffee; there was such a small amount of lukewarm water you couldn't really get two cups of coffee out of it. We just asked for more hot water and our lovely server Kristine (for whom nothing was too much trouble) ran to get us some.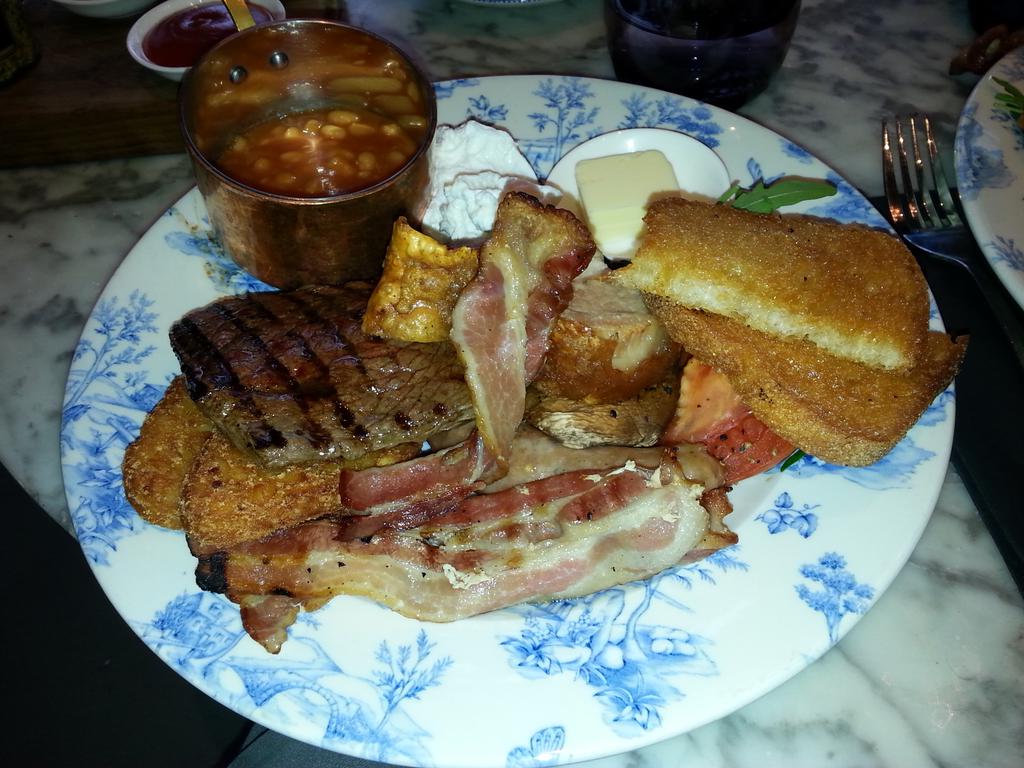 Mum and I opted for the lighter option of unlimited toast with preserves, and the Portobello Road flatbread : a fab combo of juicy Portobello mushrooms, parma ham, velvety brie, sweet red onion and peppery rocket on soft, fluffy flatbread with a drizzle of truffle oil which added an earthy dimension. Again really good quality bread, but unfortunately a running theme was that everything was a bit on the cold side. I'm not really sure how this could be addressed, maybe cloches on top of things like The London Brunch, but I think it would steam the toast and make it go soggy.
As a final sweet touch, Mum and Dad were brought a chocolate brownie with Happy 40th Anniversary piped around it and two glasses of champagne.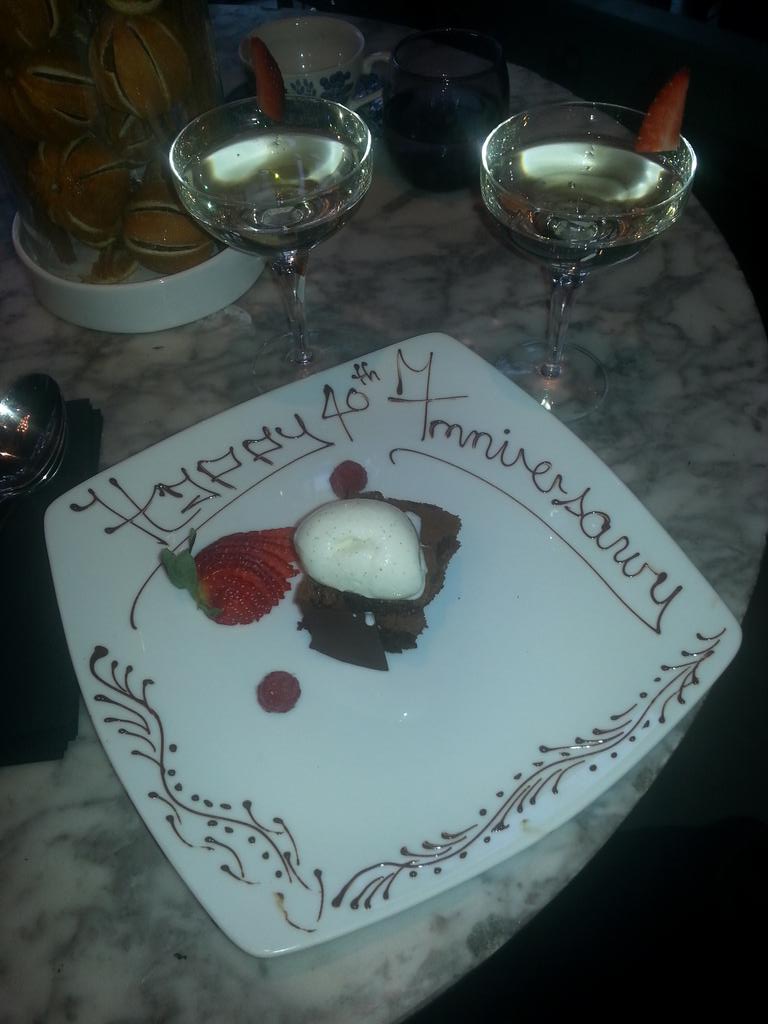 We would definitely go back to The Drift, it is a very cool space and a real testimony to the power of great service.
Twitter: @thedriftbar @LatveK #MothersDay #brunch #wedding #anniversary #celebrations