You have to walk down some fairly nondescript stairs to reach this basement cafe. But when you get there it is as if you are walking into your grandma's living room. Cozy in all senses of the word, you will get up close and personal with your fellow diners, or in this case high tea-ers. We settled in on the sofas at the end and prepared for a serious case of Indian style overfeeding. If you've never experienced Indian hospitality before remember to pace yourself, there's lots of food to come!
This slideshow requires JavaScript.
We kicked off with masala chai (Indian spiced tea), meethi (Indian savoury crackers made with semolina flour and fennel seeds), rich tea biscuits and a variety of sandwiches (Cucumber, Mint & Apple; Mix Veg; and Garam Masala Chicken). Though the sandwiches were pleasant, we felt that the aniseed notes in the chicken were slightly overpowering. It would be nice to have the crusts cut off!
Masala chai is made with ginger, cardamom, cloves, loose teas leaves, plus milk and boiled to get that authentic taste. Theirs was the perfect balance of spices and complements the sandwiches and chai bites during the afternoon.
Love the mixture of different crockery and cute teapots.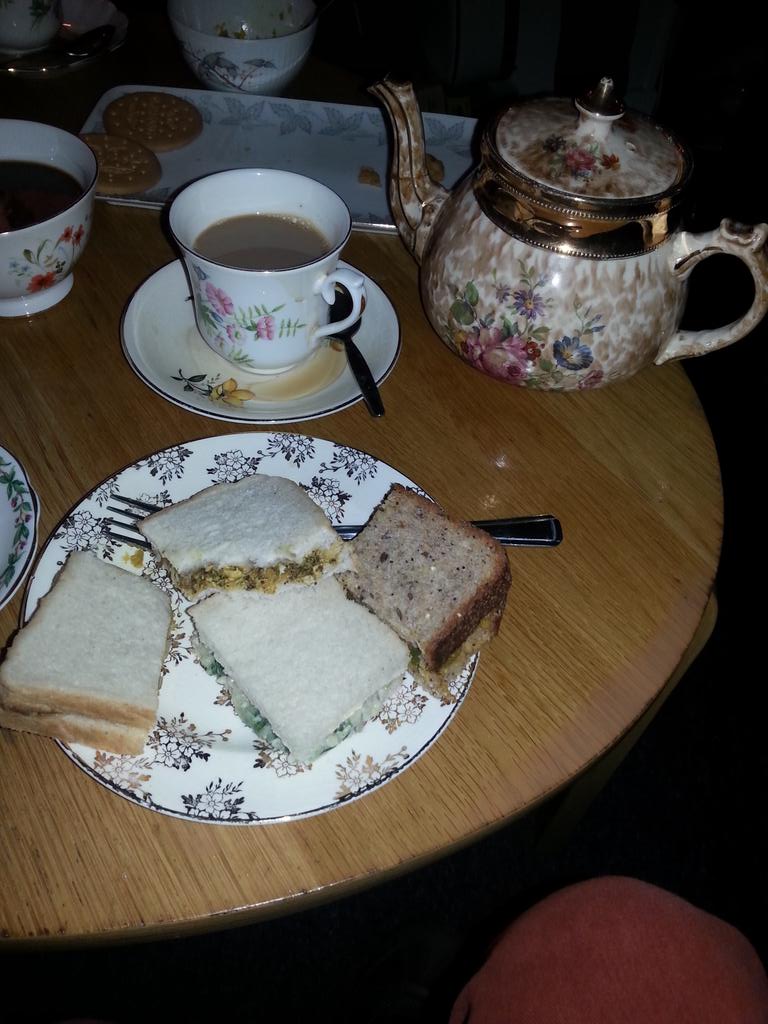 Next, onion and sweetcorn bhajias (gramflour fritters) served with tamarind chutney: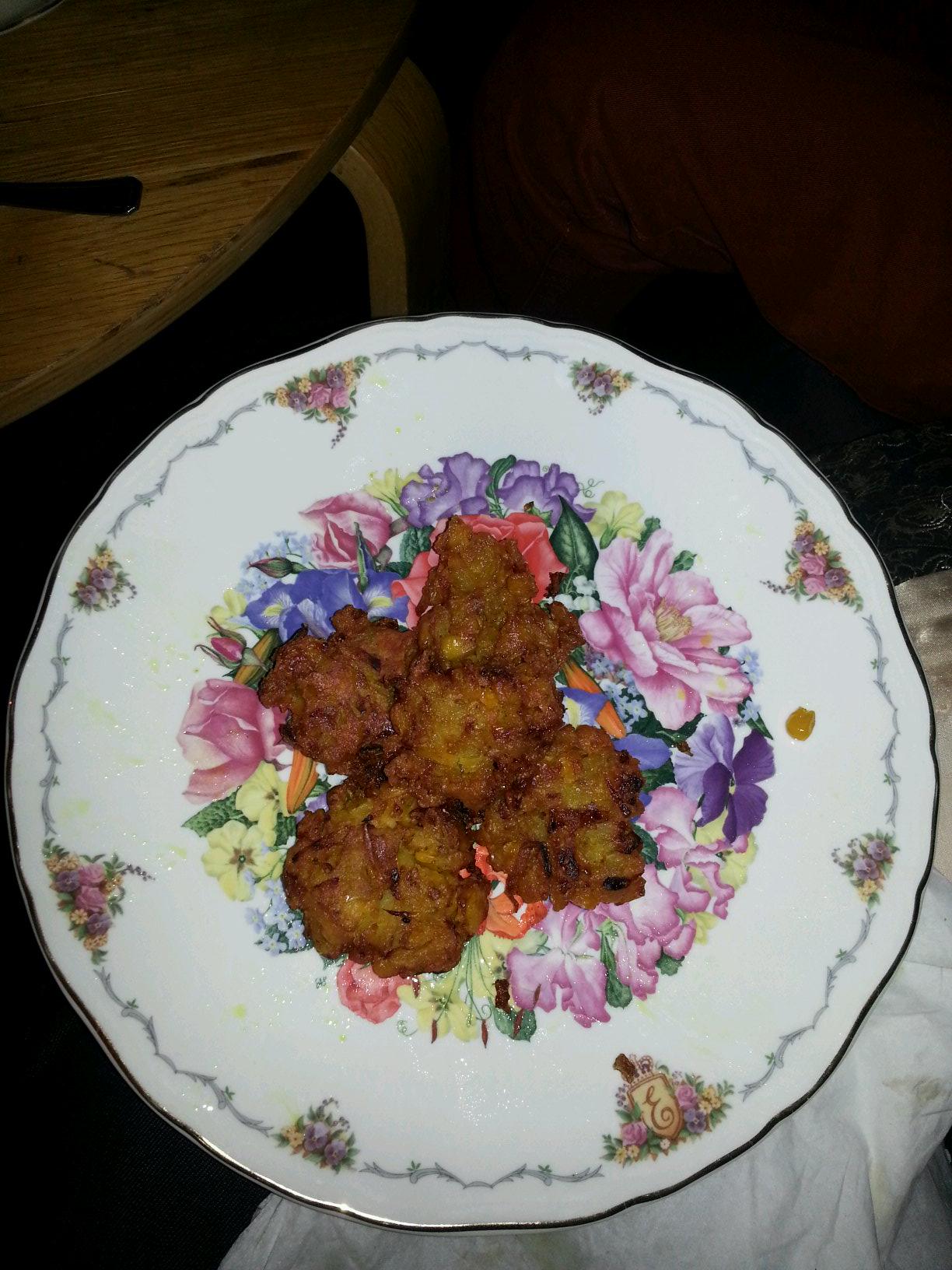 Then mini uttapams (semolina pancakes) with chicken or veggies served with an apple and pear chutney (veggie one below). Loved how Arti and Upma sprinkled them with chaat masala (made with coriander seeds, fennel seeds, raw mango powder and black salt) which brought the pancakes to life, and when coupled with the chutney they were light, heavenly mouthfuls. (The chaat masala gets its distinctive flavour from the black salt used to make it.) It added a fantastic zingy, tangy element to the dish.
We loved the Kache Kele & Mattar ki Tikkiya (Raw Banana & Peas Mini Cutlets) which was an inspired addition to the menu by Upma, as they had a crispy exterior with a similar flavour to plantain. In a word, gorgeous!
We first tucked into Aloo (Potato) Samosas and later Keema (Lamb) Samosas (below) – made with proper samosa pastry as opposed to cheating with filo! Loved the ajwain (carom seeds; a smaller version of cumin) in the pastry too. Ajwain has a similar flavour profile to thyme and adds a distinctive flavour to a dish. Though would have liked the samosas to be a bit spicer, we appreciate that this is personal preference so may be a chilli chutney could be left on the table to allow people to adjust the heat level.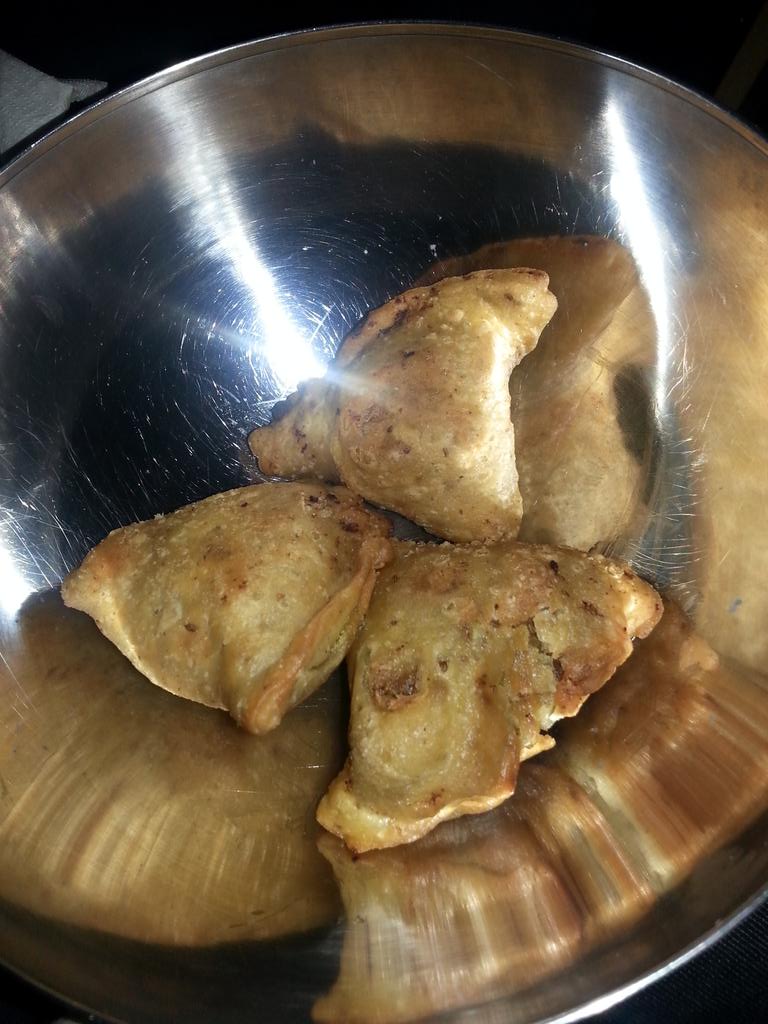 We ended on a Dessert platter: Gajjar (carrot) halwa, coconut halwa, saffron & cardamom shrikhand (strained yoghurt) and shahi toast (crispy bread soaked in sugar syrup topped with cream and pistachios). You need to have a sweet tooth to appreciate Indian desserts but my favourites were the shahi toast which I've never had before and the shrikhand. Saffron is an unusual addition to this and I was worried it would make it taste too savory but the balance of flavours was just right.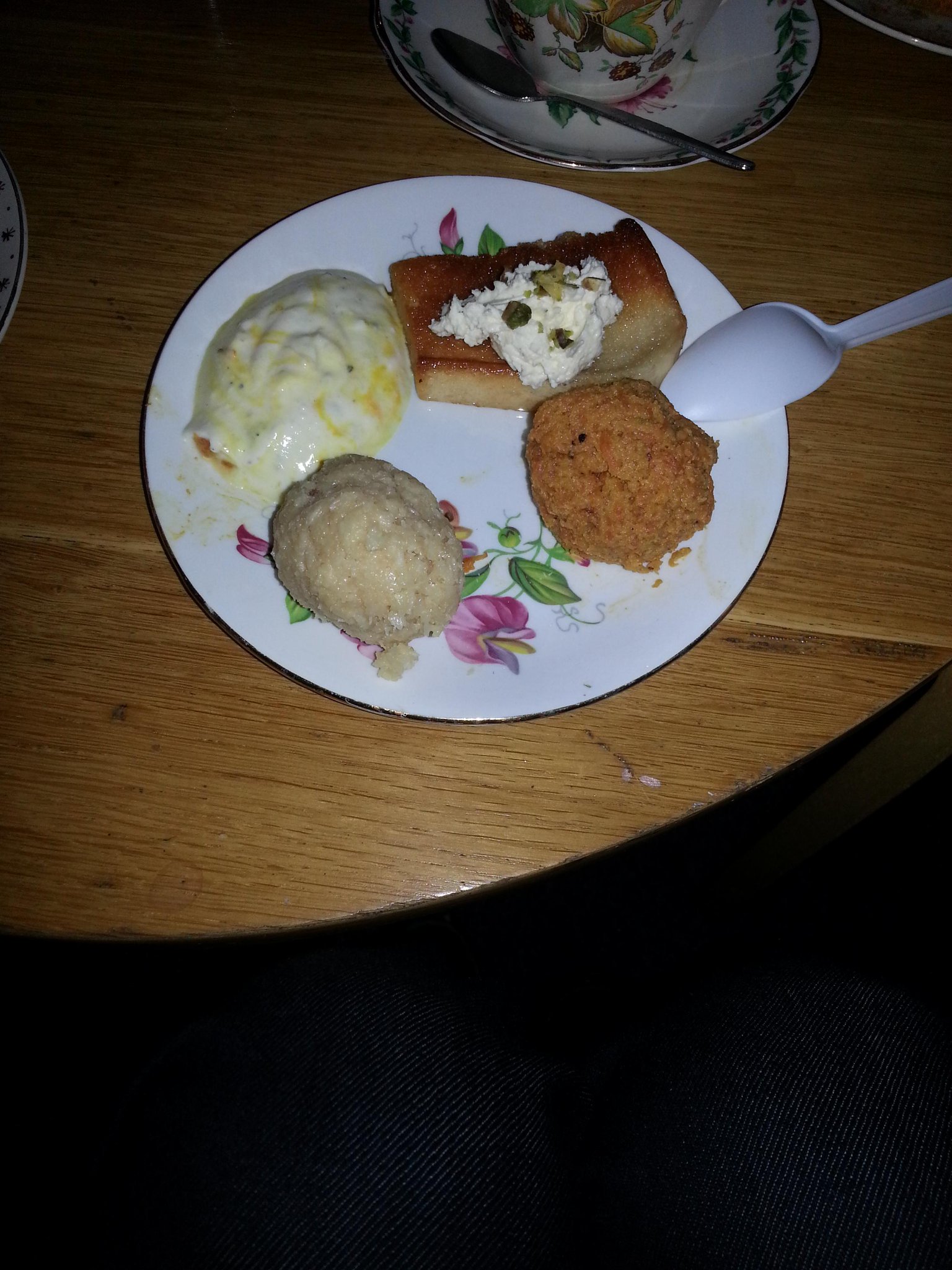 Arti and Upma did a really good job of working as a team in the small galley kitchen and this tea is definitely a quirky and unusual experience. There is more of an emphasis on the savory rather than sweet, but I think this is for the best as Indian sweets can only be consumed in small quantities! They did a good job of keeping everyone tea topped up. And you  will never leave a Dhaba Lane tea knowingly underfed, making this tea great value for money (£25 per person)!
Highly recommend visiting and checking this place out for lunch and tea, and soon dinner as well!
Twitter: #Indian # High Tea @DhabaLane with @AmoFranklin . #FoodieChats @edible_exp
Menu:
http://www.edibleexperiences.com/p/303412059/Dhaba-Lane/90001/Indian-High-Chai
Recipe for Meethi:
http://foodviva.com/snacks-recipes/methi-puri-recipe/
<a href="http://www.edibleexperiences.com/p/303412059/Dhaba-Lane/90001/Indian-High-Chai"&gt;
<img src="http://www.edibleexperiences.com/blog_review/303412059/90001/icon&#8221; alt="Read more about Indian High Chai on Edible Experiences" width="130″ height="54″/></a>