Most of you will know Paul as the French bakery chain (personally I think they're one of the few places in London to do authentically great croissants on par with ones you would find in France).
But they've now got a proper sit down restaurant attached to their Covent Garden branch. As you might have guessed they do classic French food at very reasonable prices, especially given the touristy location. The pre-theatre menu is £9.95 for 2 courses or £12.95 for 3!
We went for breakfast and kicked off with a selection of beautiful, buttery pastries including fabulous dark chocolate pain au chocolat and fluffy butter croissants, which came with pats of French butter and pots of homemade Strawberry jam.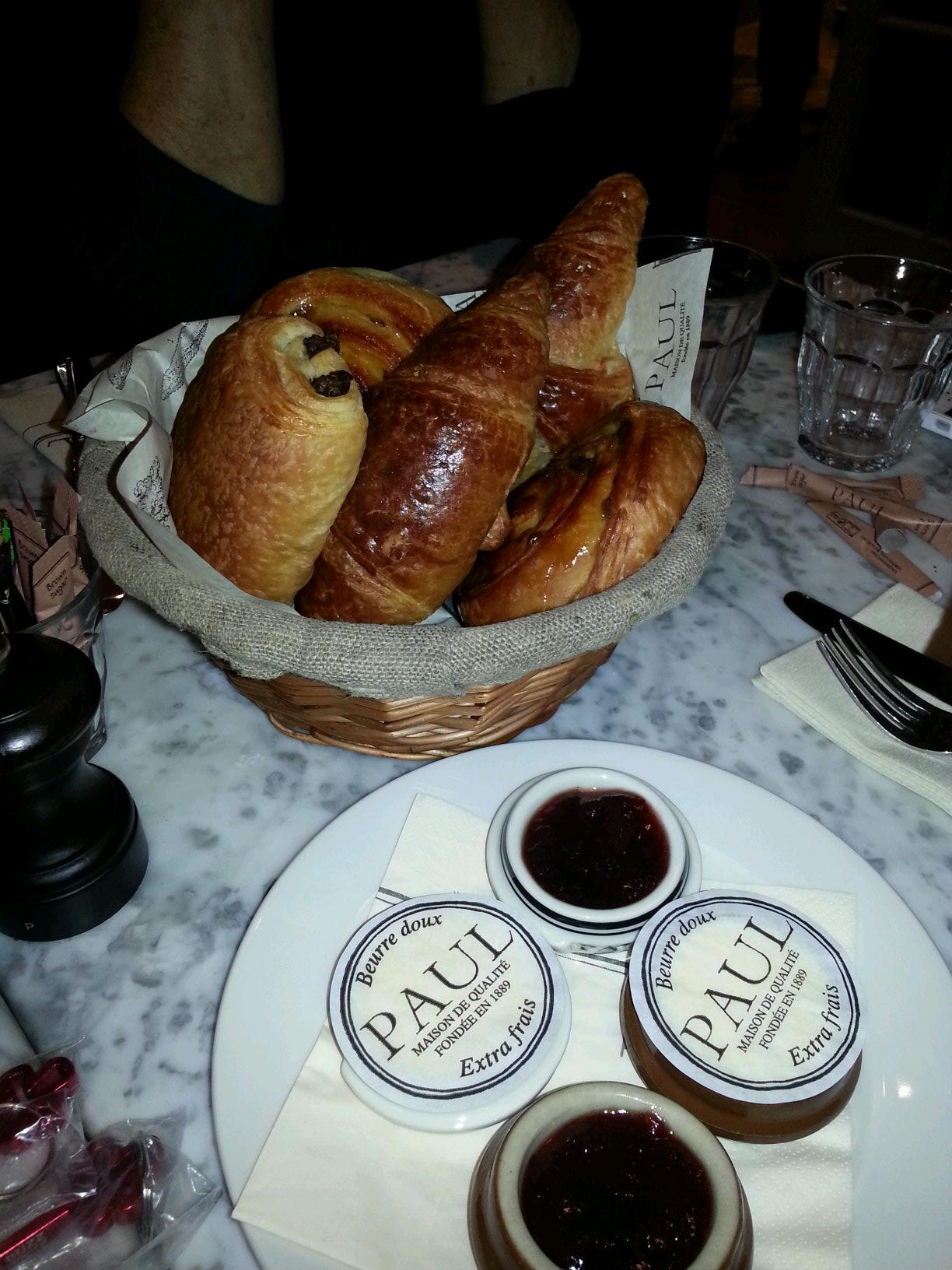 J got talking to Carine (Head of Marketing for Paul UK) as he was impressed by the way they had converted the beautiful old style traditional open-plan French bakery with its lovely beige tiles, and she informed him that they had tried to maintain that traditional atmosphere of walking into a traditional bakery but wanted to have that modern feel. Their kitchen is now a beautiful black and stainless steel design with half-glass walls, so you can still see the theatre of the kitchen like you could previously.
For the main affair, I had the oeufs royale (poached eggs with smoked salmon on toast) and J had the oeufs Florentine with spinach.
We also indulged in a shared brioche French toast which came with a crisp outer exterior as they had caramelised the sugar almost like a crème brulee! This comes with a choice of crème anglaise, apricot coulis or warm chocolate sauce – the perfect accompaniments to a brioche perdue. (Our waiter was kind to us as we could not decide between these so he brought us both the apricot coulis and the warm chocolate sauce.)
Our sights are on the Salade Aveyronnaise (with smoked duck breast) and the Croque Madame (Croque Monsieur topped with a fried egg) to try next time we visit for lunch!
A little hidden gem tucked behind the church in Covent Garden.
Twitter: @PAUL_BAKERY  @RocheCom
PAUL Covent Garden Le Restaurant de PAUL
29 Bedford Street
LONDON WC2E 9ED
Tel :
Le Restaurant de PAUL all day dining from 7:00am.
Our Bakery closes at 22:00.
Opening hours* :
Monday 07:00 – 23:00
Tuesday 07:00 – 23:00
Wednesday 07:00 – 23:00
Thursday 07:00 – 23:00
Friday 07:00 – 23:00
Saturday 08:00 – 23:00
Sunday 08:00 – 22:00
Menus:
Breakfast & Brunch Menu:
Restaurant Menu: