We trekked across from North to South London to visit the newest foodie experience to arrive in South London – Wild Serai at The King & Co gastro-pub on Clapham Road, near Clapham Common! We adore Malaysian cuisine and were very excited to be checking them out with our lovely friend and fellow blogger Amy Franklin ( feedingfranklin.co.uk ).
We settled down with a bottle of the recommended red wine of Cotes de Rhone Les Combelles, whilst we chatted and perused the menu. As we were finding it hard to make decisions as to what to try, we enlisted the help of Wild Serai chef-owner Yolanda. She advised us on national dishes to try plus a few others, so we ended up with a great tapas selection of dishes to work our way through. Love the additional option of being able to select from the specials chalk blackboard!
Whilst chatting to Yolanda, we found out that she is an Oncologist by profession but has taken a short career break to do some supper clubs before setting-up this pop-up, as well as get married; and she is also a fellow colleague at Guy's Hospital where J also works. Yolanda introduced J to her kitchen team consisting of her father and friends Nerea and Sharif.
We kicked off with moist, charcoal grilled mixed (chicken and beef) satay platter, crispy pork belly wraps and crispy soft shell chilli crab.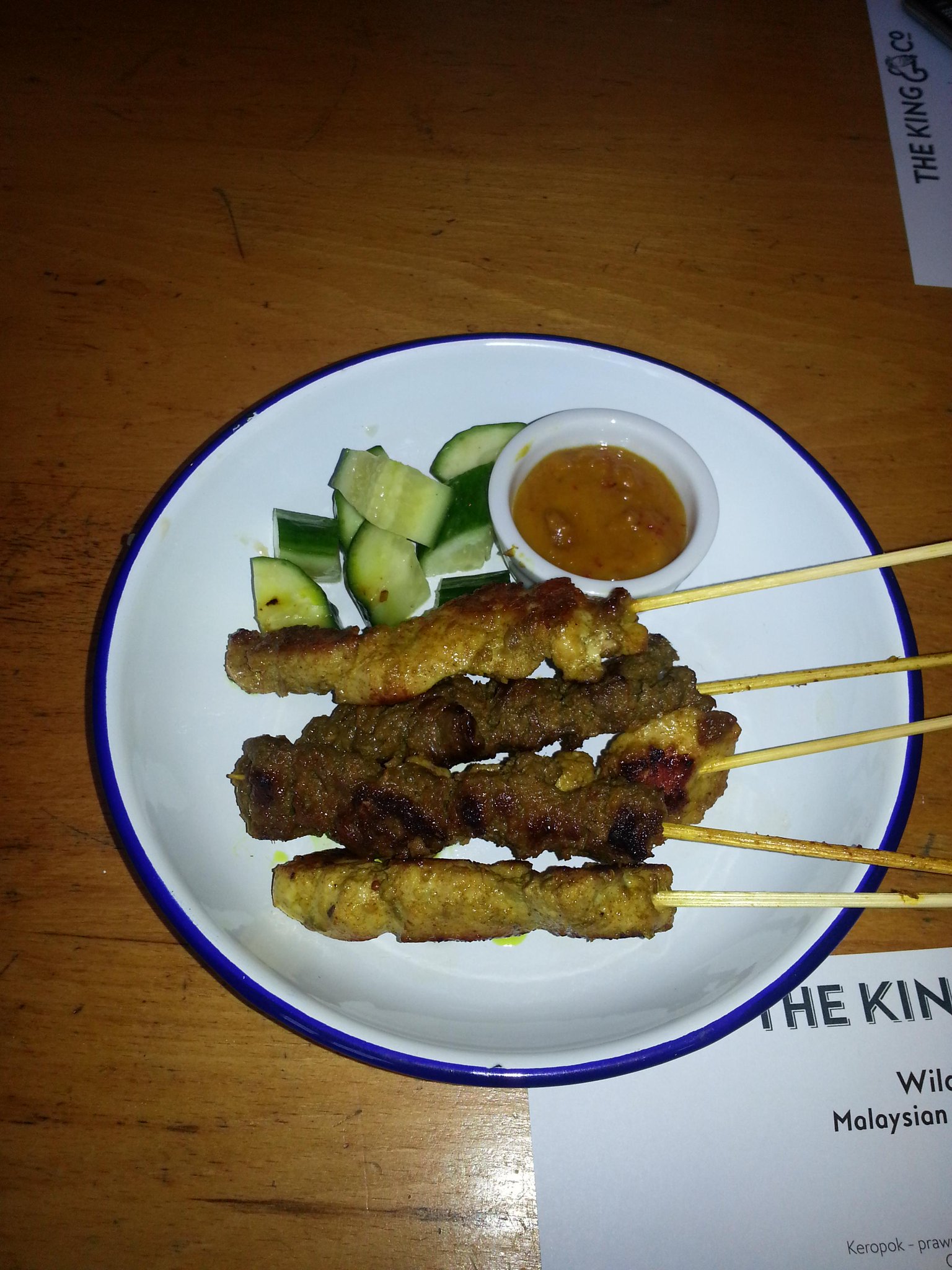 The satay sauce was a balance of fruity, spiciness from the sriracha, a tanginess from the tamarind, and crunch from the peanuts.
The pork had a wonderful smokiness from the charcoal grill and was served with a few pieces of crisp crackling. These juicy pieces of pork belly were served with sweet gem lettuce leaves and a dipping sauce made from soy, lemongrass, sweet vinegar and bird's eye chilli which perfectly complemented the sweetness of the pork.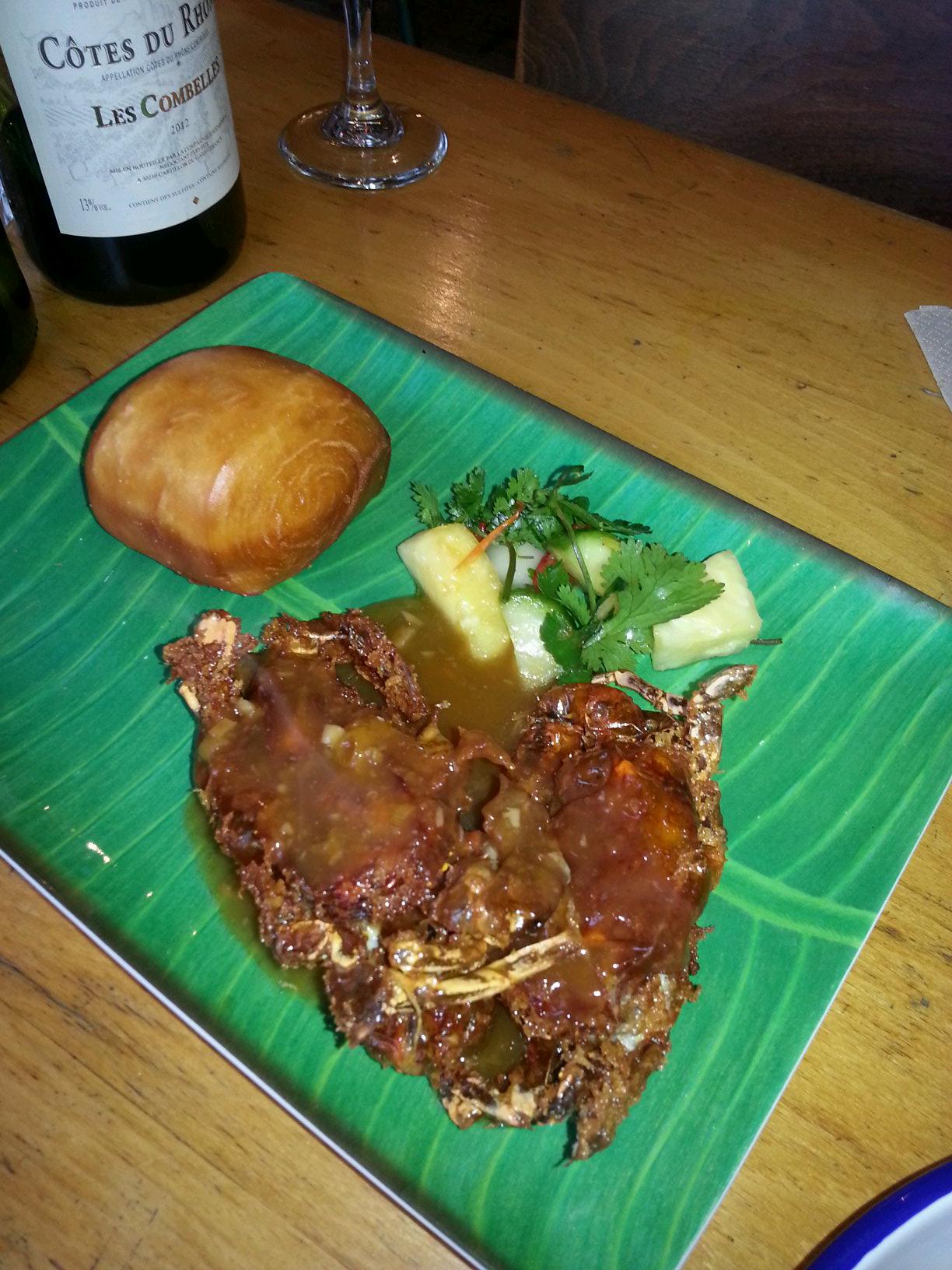 The crab had a crisp exterior and a soft, velvety interior of crab meat; textures of which worked well with the lemongrass, lime leaf and bird's eye chilli sauce, and was served with refreshing pieces of pineapple as well as a fluffy, warm mantou bun (like a brioche roll).
Next we moved onto mains of Nasi Lemak and Ox Tail Stew, which were complemented by the fruity flavours of blackberries, cherries and redcurrants accompanied by a hint of spice in the afternotes from the Cote de Rhone.
Nasi Lemak is the national dish of Malaysia and comprises of coconut rice garnished with boiled egg, cucumber, peanuts, anchovies and served with a warm prawn sambal and a piece of Inchi Kabin (Nyonya Fried Chicken). The difference between Inchi Kabin and other fried chicken is that it is twice-fried making it especially crispy! It was coated with a traditional tangy and appetizing sauce made of red chilli, lime juice, sugar and mustard, and placed on the charcoal grill prior to serving.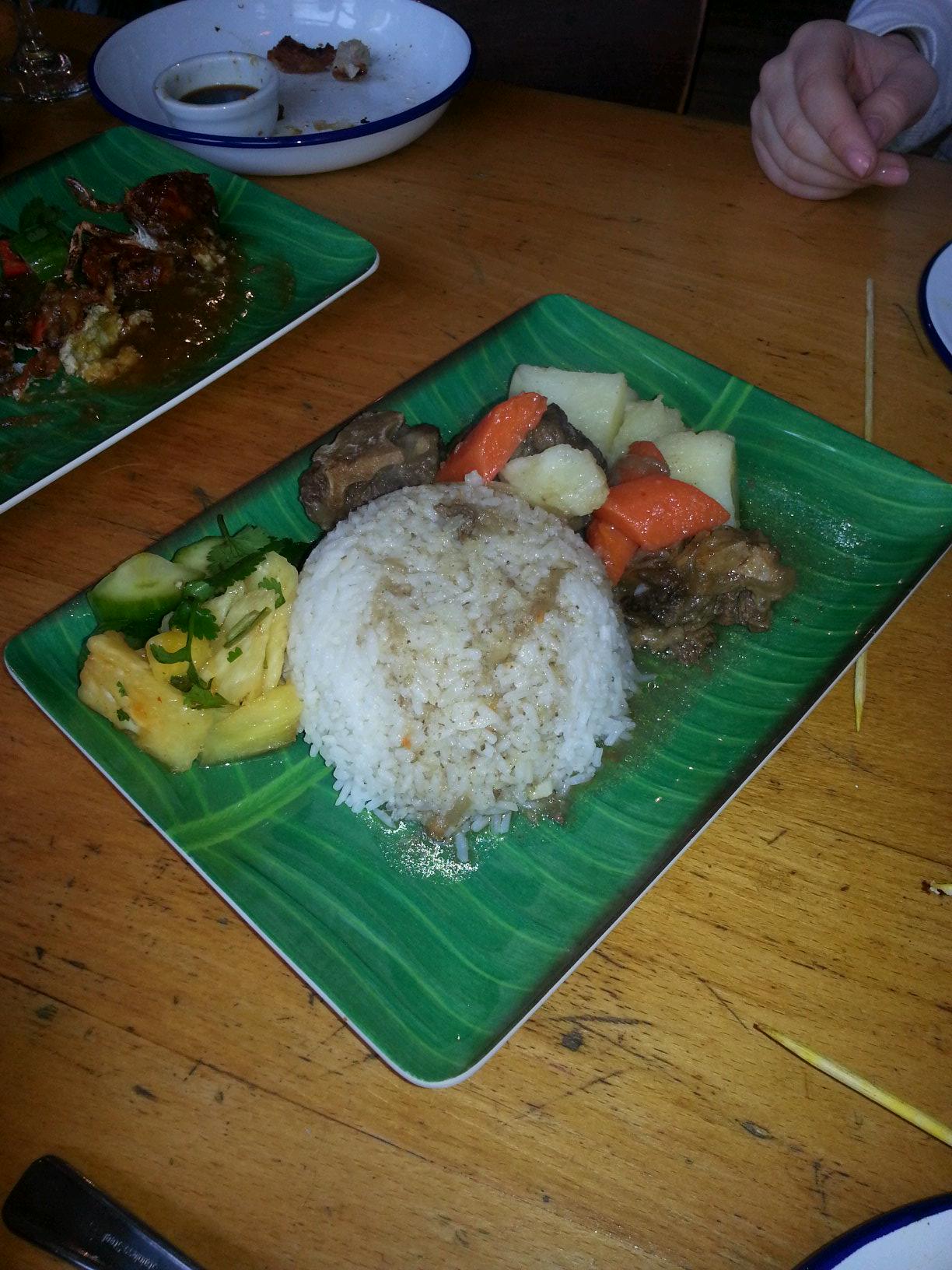 We rounded off our meal with desserts of Bubur Cha Cha (coconut milk, sago, sweet potato, banana and palm sugar) and Cengkodok (deep fried banana balls), accompanied by more Cote de Rhone and liqueur coffees.
The traditional Malay dessert was a bit too sweet for our liking, even for our sweet tooth, and could also have been brightened up with a bit of more colourful fruits like dragon fruit and passionfruit which would have helped to counter some of the excess sweetness. Also, the banana fritters were good but a bit lack luster as they could have been accompanied by something like kaya (a delicious rich and aromatic Malaysian jam made with coconut, eggs and caramel).
[ Recipe for Kaya if you are interested is at: http://rasamalaysia.com/kaya-recipe-malaysian-coconut-egg-jam/2/ ]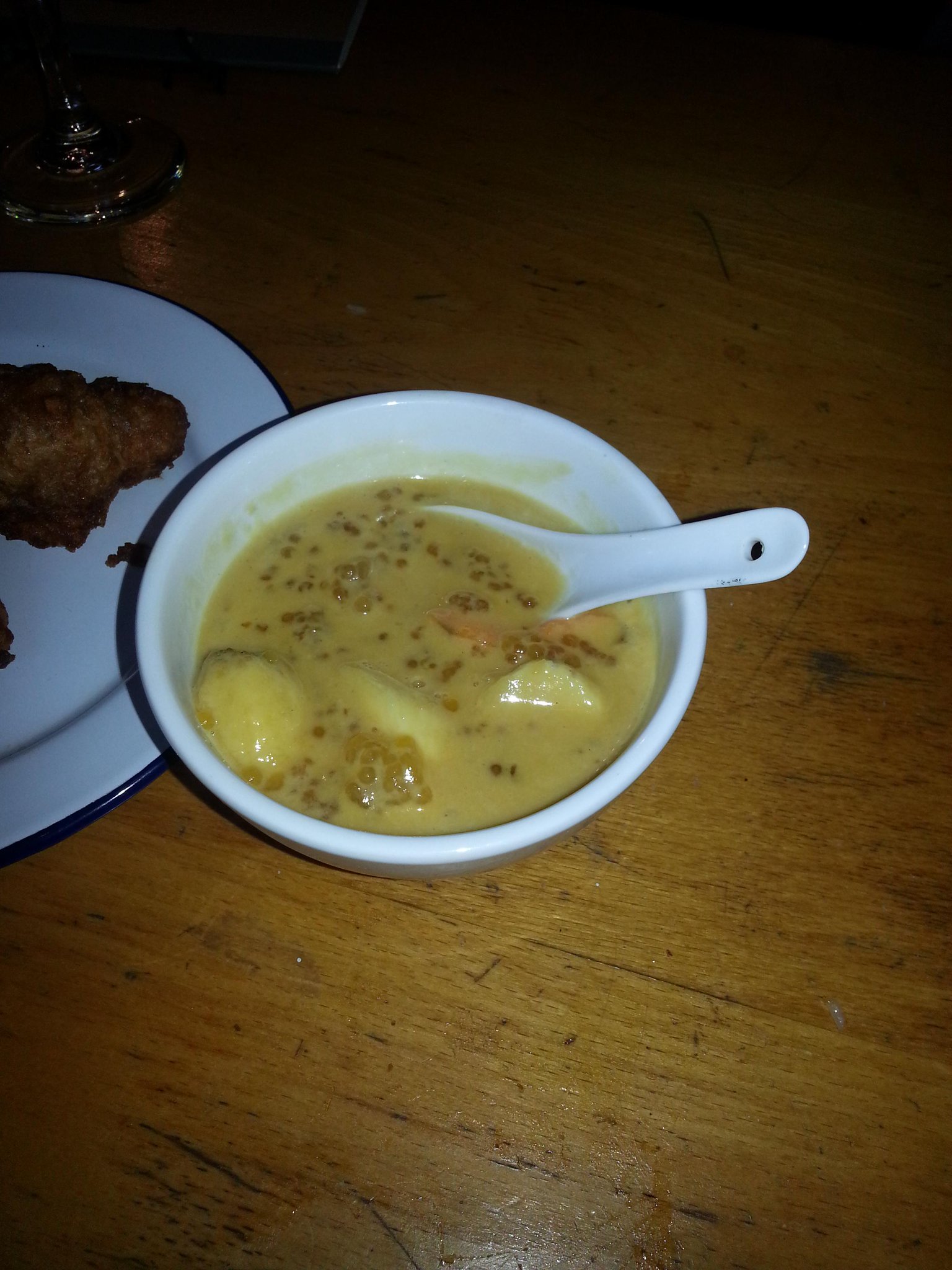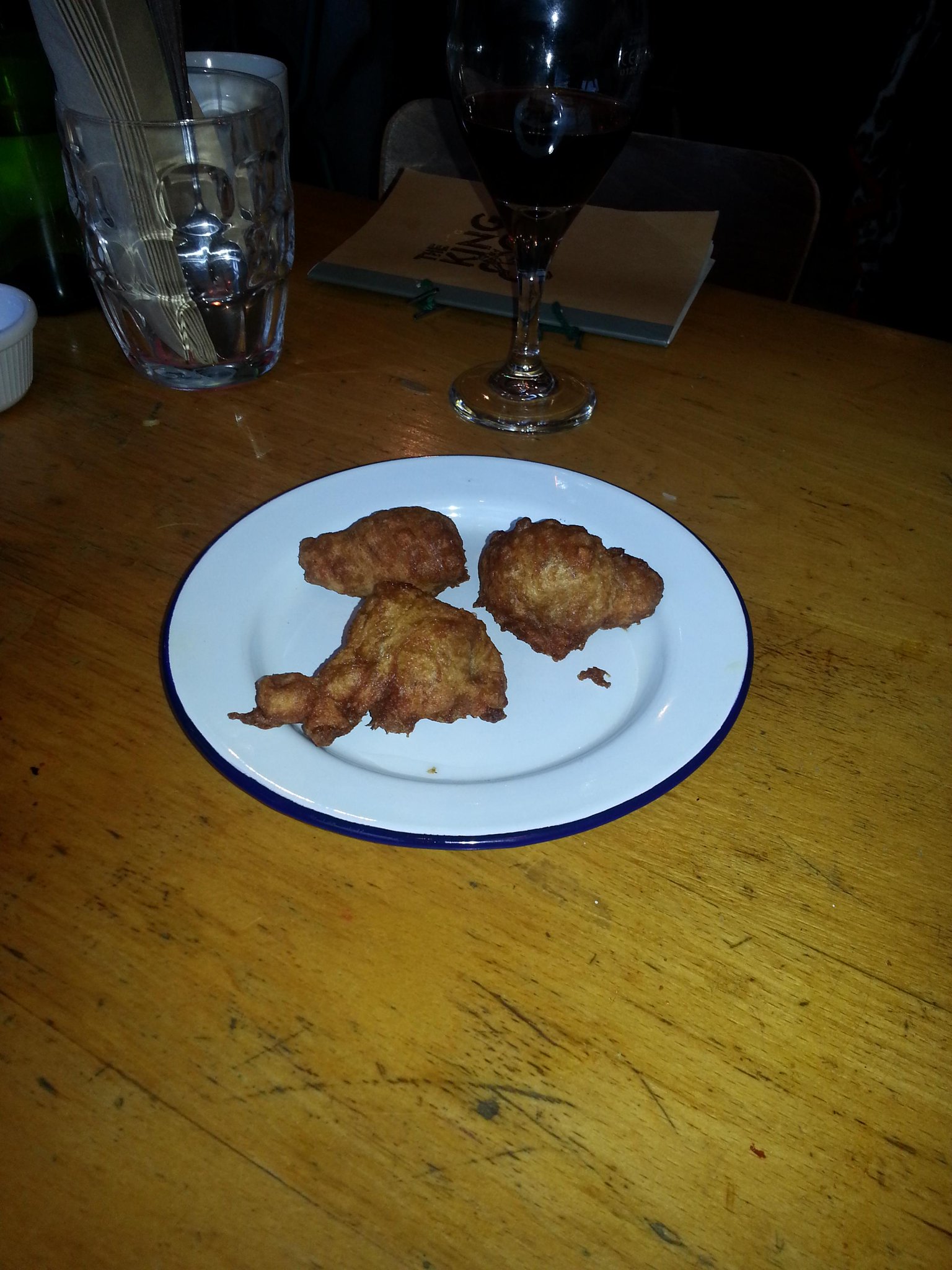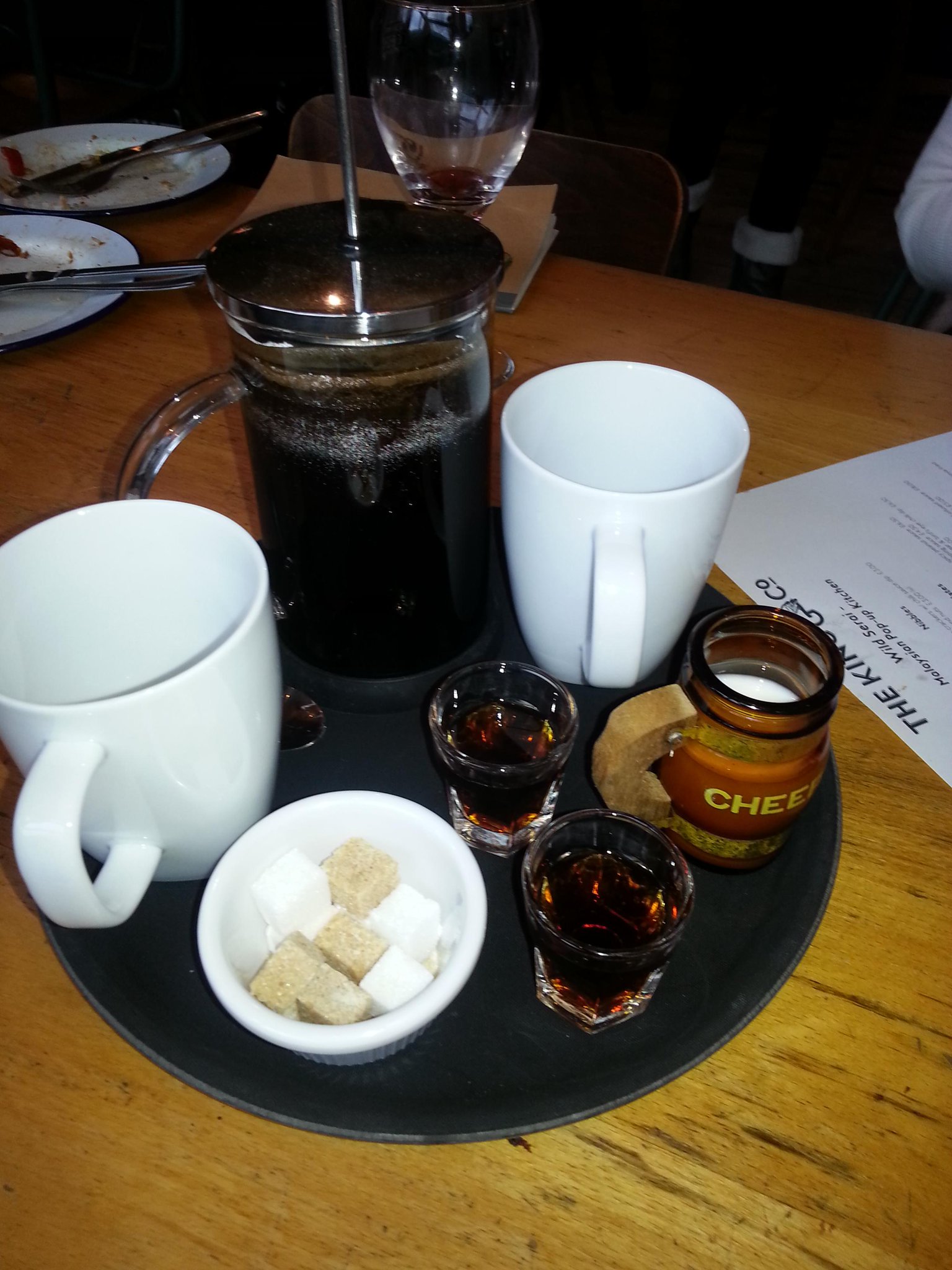 Pleasant service also from The King & Co bar tenders Anthony and Joe.
Wild Serai is only at The King & Co until 31st January, 2015, so what are you waiting for – head over there now and check them out! We are sure you will enjoy it as much as we did.
Twitter: @wildserai @365nerea #Malaysian #cuisine #pop-up @TheKingandCo #Clapham @rasamalaysia
Wild Serai information link:
http://thekingandco.uk/events/wild-serai/
Please see our Facebook photo album for more pictures from this visit.